This is it. This is what you've been waiting for: The ultimate guide that covers everything you need to know for how to find cheap flights.
Flights are often the biggest expense when planning a trip, especially now with flight prices skyrocketing … but they don't have to be. By using the right tools, having the right mindset, and employing some money-saving strategies, you can cut the cost of your typical flights in half – or more. You don't have to be a pro: Affordable airfare is in reach.
But to do it, you need the right information. There's plenty of bad guidance out there on the best tips and tricks to find cheap airfare and discount flights. It's hard to tell what you should be doing when you're on the hunt for a cheap flight. What is the secret to finding cheap flights?
We understand the struggle, so we've narrowed down some of our most important tips on how to find cheap flight tickets. There's a lot to unpack here, but here's what it boils down to…
1. Ignore the Cheap Flight Myths
Anyone looking to score a deal on flights has encountered their fair share of myths for how to book cheap flights. When money is involved, there's no shortage of so-called "experts" or influencers peddling bad intel.
These are some of the most common myths you've likely heard – or maybe even believe yourself – that you should put to rest if you really want to book flights for less.
Myth #1: "Tuesdays are the best day to find cheap flights"
"Do flight prices go down on Tuesday?"
We know you've heard it. Maybe you've even stayed up into the wee hours of the morning in hopes of snagging a bargain.
Don't be embarrassed, you're not alone. From friends and coworkers to supposed studies and even major publications, the myth that airlines sell their best, cheapest airfares on Tuesday has cemented as a universal fact. But the fact of the matter is that this recommendation on finding cheaper flights to anywhere, well… it's wrong. Sorry, but there's no magical best day to book flights in order to score a cheaper fare.
That old myth about finding cheap flights on a Tuesday is outdated. You can find great discount flights any day of the week. And big travel days like Black Friday, Cyber Monday, and Travel Tuesday are more about marketing than real savings.
While it's convenient to think you'll nab a cheap flight by searching on a special day, it's just not the case. Flight prices are constantly changing. Airlines load new fares every hour, and they can add or subtract how many flights are available at a certain price at any moment. We're sorry to say that it's unpredictable when the cheapest flights on the flights you want may pop up.
What's more, airlines never advertise their best, lowest budget fares. So if you're on the hunt for an insane mistake fare or a deeply discounted flash sale to Europe or the Caribbean, you probably won't get it by seizing on a Black Friday sale or entering an airline promo code.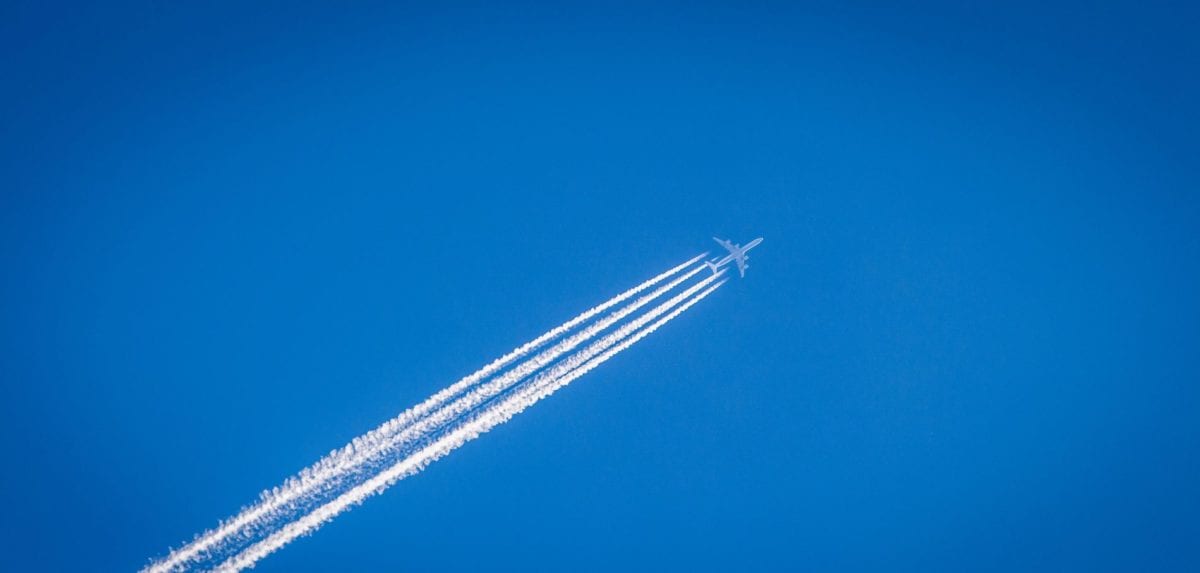 Instead, jump on the best deals whenever you see them. And there's one surefire way to make sure you see all the cheapest flights – but it may what you thin…
Myth #2: "Do flight prices go up the more you search? Are airlines tracking your searches?"
That old "flights are cheapest on Tuesdays!" trope is just the tip of the iceberg of myths surrounding cheap airfare that you need to purge from your memory.
We hear this one again and again and again, so let us put it to rest.
Do cookies increase flight prices? No. Don't bother clearing your cookies! Airlines are not tracking your searches and increasing the price on you. So long as you're searching with Google Flights or directly with the airline, you're safe. Trust us: We search for flight deals all day, every day. If airlines were tracking our searches, we'd never find cheap airfare, period.
You don't need to worry about using an incognito browser either, for the same reasons above. It's just not a thing, but this myth has taken hold.
Bloggers and influencers pass these "travel hacks" on like they've stumbled on some big secret. Travelers want to believe it because it's a simple, easy-to-understand explanation.
But the truth is that they're flat-out false.
2. Keep Your Plans Flexible & Book Your Flights First
There's a familiar script when planning travel: Pick a spot, plan your dates, book your flights, and go. There's just one problem: That process is costing you money. 
Setting your travel dates in advance before booking flights is the single costliest travel-planning mistake you can make – it can easily cost you hundreds of dollars. It's time to break the habit. And you can do it by following what we call The Flight First Rule.
Flip that script on its head and start by searching for flights, letting the price guide you to the cheapest dates possible. If you can be flexible with your travel dates, you can often score huge savings on flights by just slightly changing your tentative travel dates.
For example, Google Flights will alert you when shifting your travel dates by just a day or two can result in huge savings. If you've already booked your hotels, you may not be able to take advantage.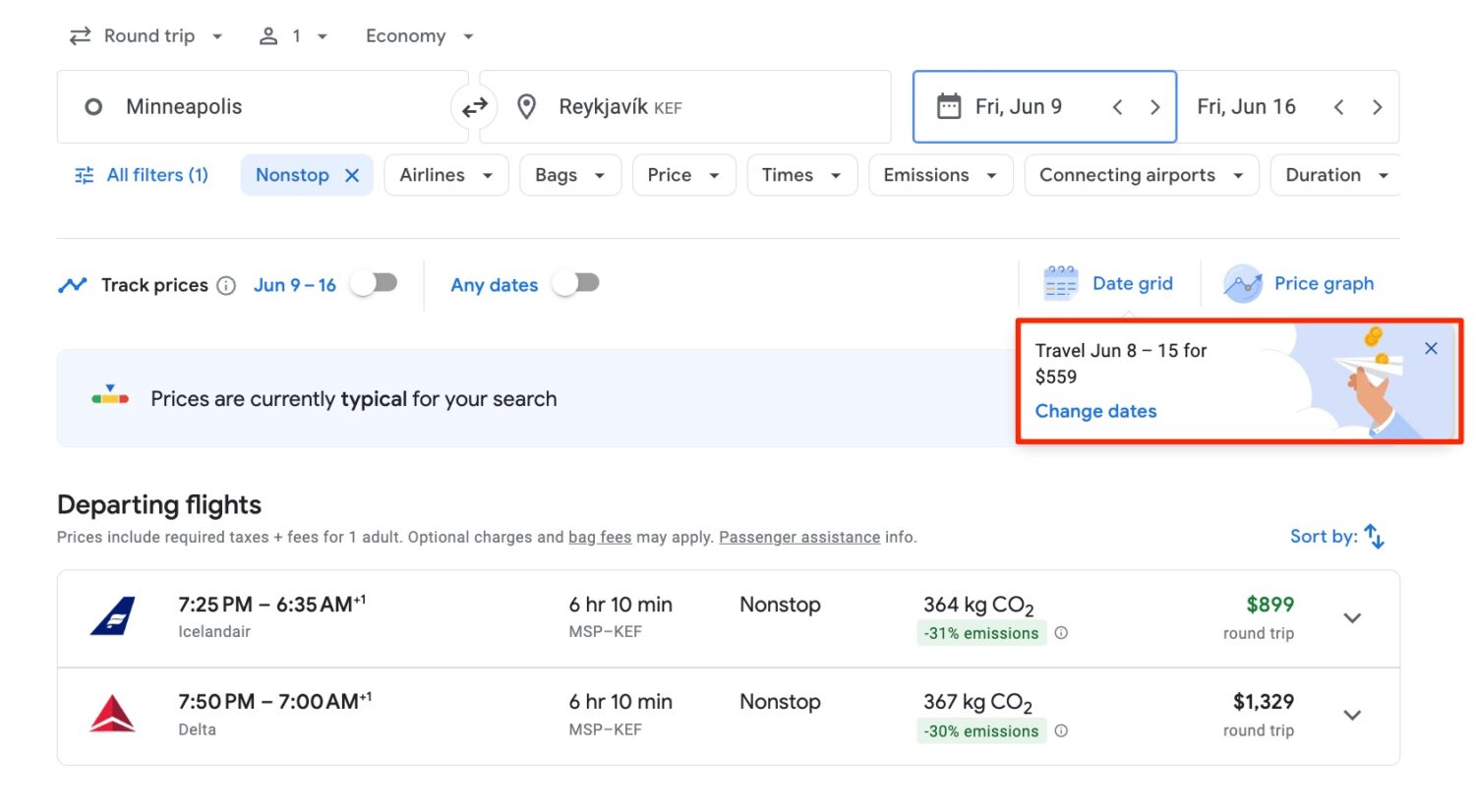 Google Flights also has a handy calendar view which will guide you, using green, to the cheapest dates to travel. You can easily skip from month to month to scope out the savings.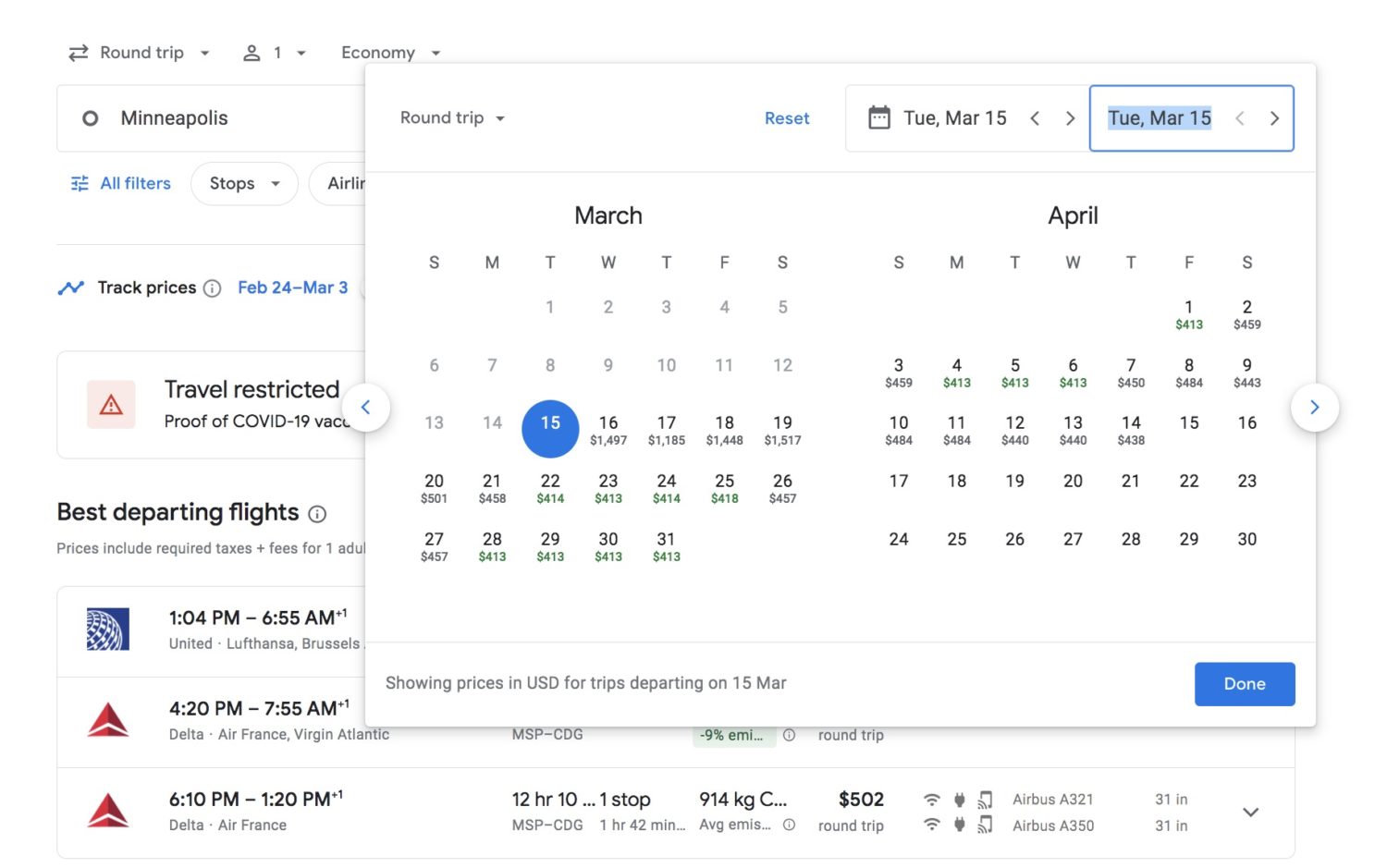 Lesson learned: Book your flights first! Then move on to the rest of your trip.
3. Flying Direct Can Cost More Money than Time
Say it with us again: Flexibility is key. And when you're trying to score big savings, it can go beyond shifting your dates and destinations. Being flexible with your route can help you save even more.
We get it: You want to fly nonstop as much as possible. We do too. And while it may seem counter-intuitive, sometimes taking an extra stop on the way to your final destination can pay off with savings so big that it's worth it – especially if you're crossing an ocean.
Here's an example of how to book cheap flights with this method:
Let's say a nonstop flight from Chicago-O'Hare (ORD) to Paris-Charles de Gaulle (CDG) will cost you $950 or more. But by opening your search up to one-stop flights, you find flights for $430 that makes a pitstop in Reykjavik (KEF) on the way to Paris.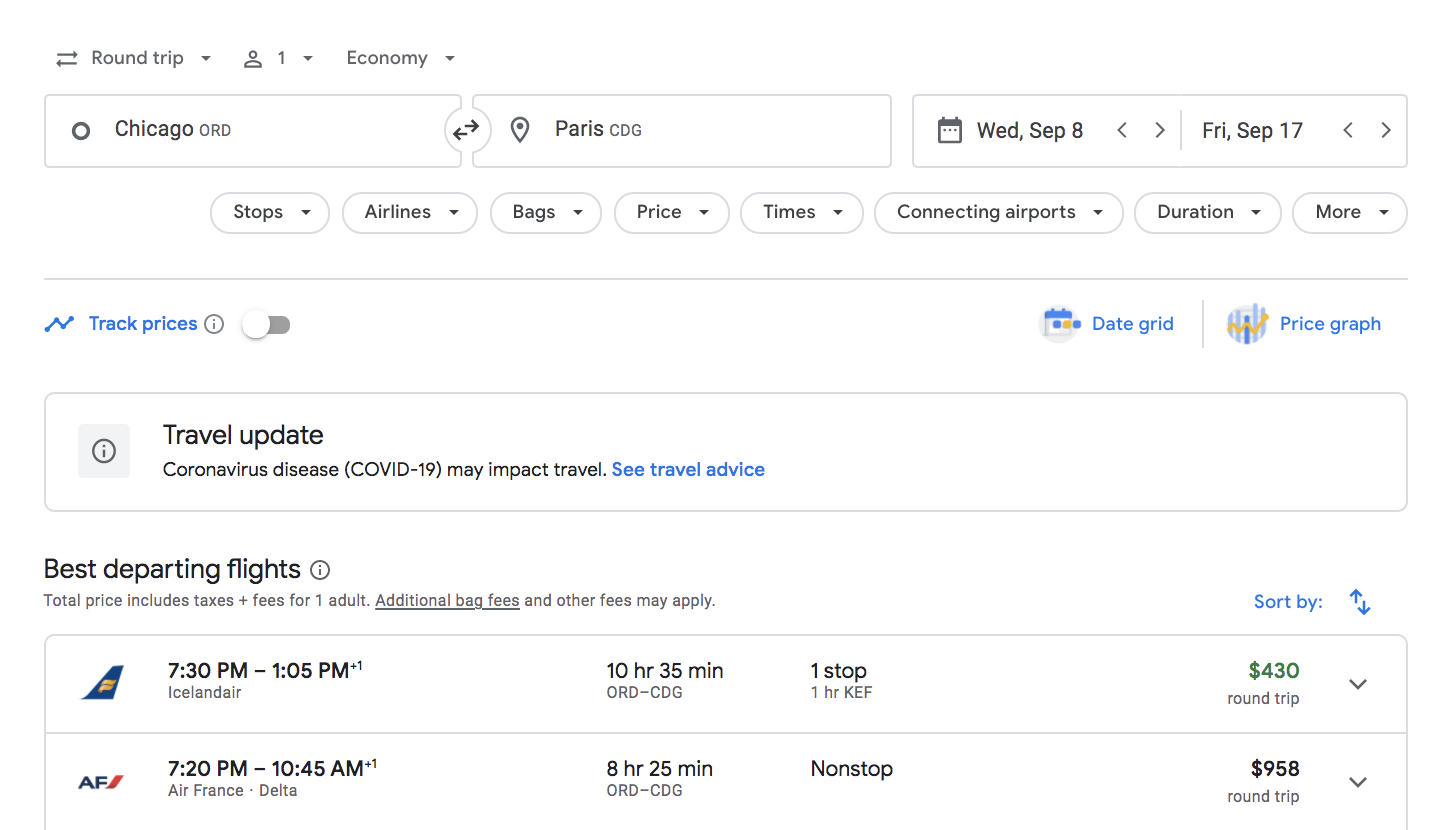 Yes, the savings can be that massive. Of course, it's up to you if you're willing to spend a bit more time traveling in exchange for a deal. But paying less than half the price sounds like a good tradeoff, and it's a great way to find cheaper flights.
A savvy traveler can get creative when it comes to flights and save even more on travel. Here are some of our favorite ways to think outside the box and save hundreds on flights:
Use Google Flights to search to – and from – multiple different airports in an area. Flights into London-Heathrow (LHR) might be expensive, but look into whether you can save more by flying into London-Gatwick Airport (LGW) instead. You can search to and from multiple cities in Google Flights – here's how to find cheap airfare using Google Flights.
Book multi-city or open jaw flights to cover more ground on your trips without backtracking and wasting time (and money).
Use stopovers to see two cities for the price of one! Several airlines offer free (or very cheap) stopover programs to spend up to seven days in their home city. Take advantage and make your travel budget stretch further.
4. Book Cheaper Flights By Traveling at the Right Time
Getting a good deal on flights can all come down to timing. And in many cases, it's less about when you buy your flights and more about when you actually get on the plane. It's all about capitalizing on the cheapest days to fly.
Flying on off-peak days like Tuesdays, Wednesdays, and Saturdays is often much cheaper. Avoid busy travel days like Sundays, Mondays, and Fridays when you can.
The shoulder season (from May through June and August through September) is your best friend. Prices are often much higher during the peak summer, as well as around Christmas and New Year's Eve
Want to shake up your Thanksgiving plans? Turkey Day is a great time to travel internationally at low prices.
Don't wait until the last minute to book! It's a common misconception, but last-minute fares are mostly a thing of the past. Always book at least 30-45 days in advance whenever possible. For international flights, plan even farther ahead.
Speaking of when to book your flights…
5. Sign Up for Discount Flight and Cheap Airfare Notifications
How can I get a cheap flight fast?
Most people don't have all day, every day to be searching for hidden flight deals, unadvertised flash sales, and mistake fares.
We do. And we've got you covered.
Sign up for Thrifty Traveler Flight Deals and you'll get some of the best international and domestic flight deals we find each day right to your inbox.
Once you sign up for alerts for cheap flights, consider upgrading to Thrifty Traveler Premium+ to get 90% more flight deals. Premium members get domestic and international deals, as well as award alerts to use points and miles plus business and first class deals tailored to your home airport so you only see the flight deals from your hometown.
And that even includes insane mistake fares like this one: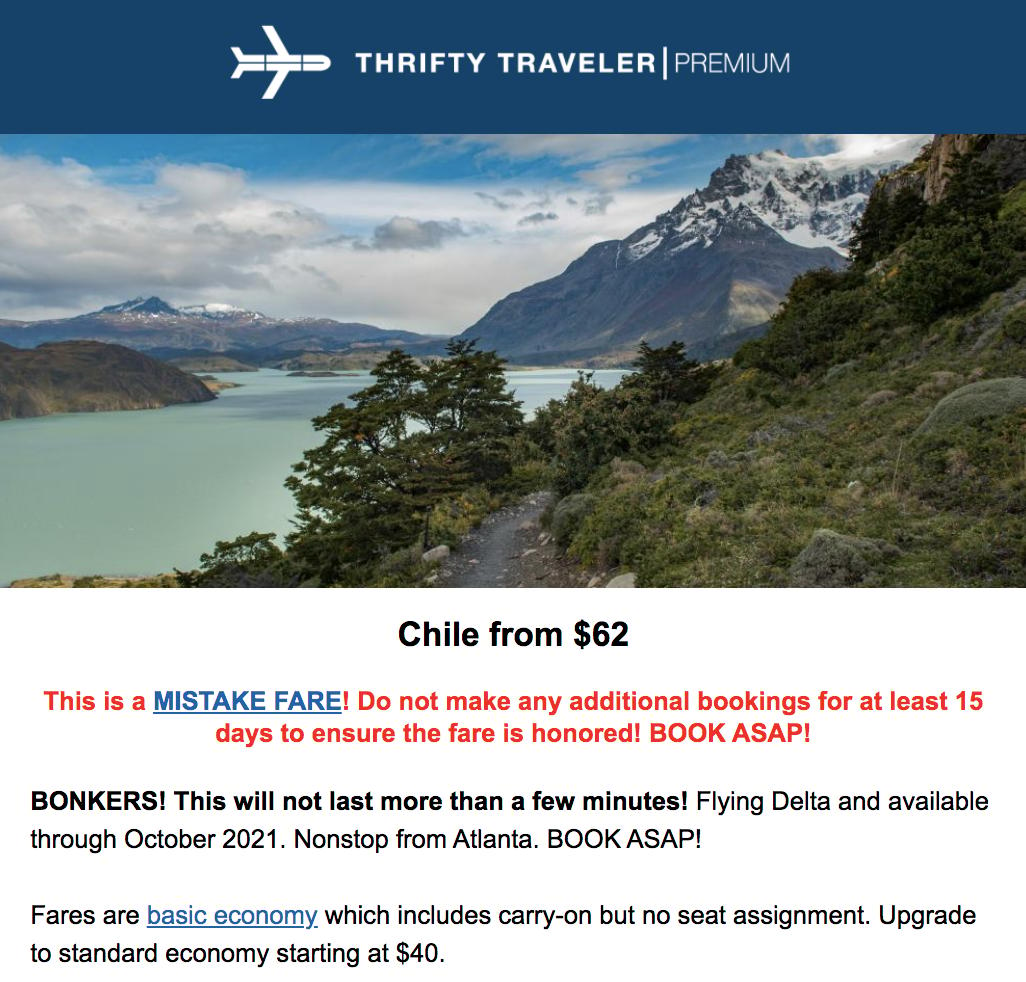 We're not the only flight deal service out there (though we're a bit biased!) We recommend checking out other flight deal websites like The Flight Deal to keep your eyes peeled for awesome deals.
6. Start Your Search with Your Best Friend, Google Flights
There are dozens of sites out there promising to help you find cheap flights. Ignore them all and start every search with Google Flights.
Google Flights is hands-down the best flight deal search engine out there: it's one of the main tools we use to find affordable flights deals every day! You should start each and every search for cheap airfare with Google Flights. It's packed with powerful features that other search engines simply don't have.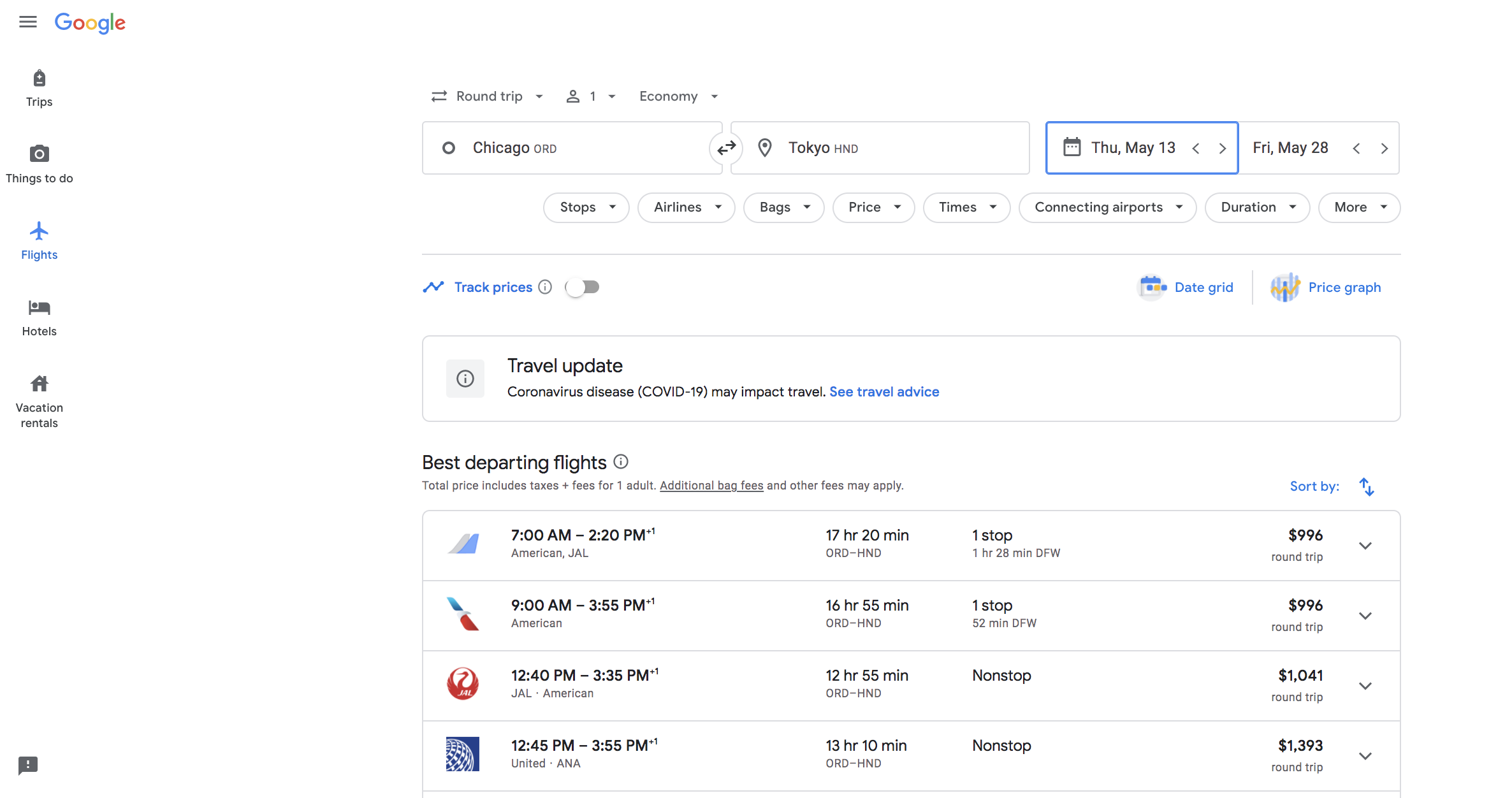 If you're new to using Google Flights, don't worry. We're happy to share what we know on how to get cheap airline tickets. And if you couldn't already tell, we are a little obsessed and have written about nearly every tool and feature it has to offer.
Get started below and learn even more on how to get cheap airline tickets using Google Flights!
7. Use the Best Flight Search Engine Tools, But Beware of OTAs
If you're thinking to yourself, "What's an OTA?" you're not alone.
OTA stands for Online Travel Agency. Think KAYAK, Priceline, Expedia, Orbitz, and many others. Some of the most popular sites and smartphone apps out there for finding cheaper flights are OTAs.
These sites purchase fares from airlines and then sell them to travelers, sometimes at a mark-up … and sometimes even cheaper than you can get them directly from the airlines. And then there are even more popular platforms like Skyscanner and Momondo, which act as OTAs of OTAs. They aggregate the cheapest flight deals from tons of small online travel agencies.
Because of the way these sites operate, online travel agencies can save you money – and sometimes a lot of money. They're worth checking out, though we still recommend starting any search with Google Flights before you check with some of these sites to see if you can save even more.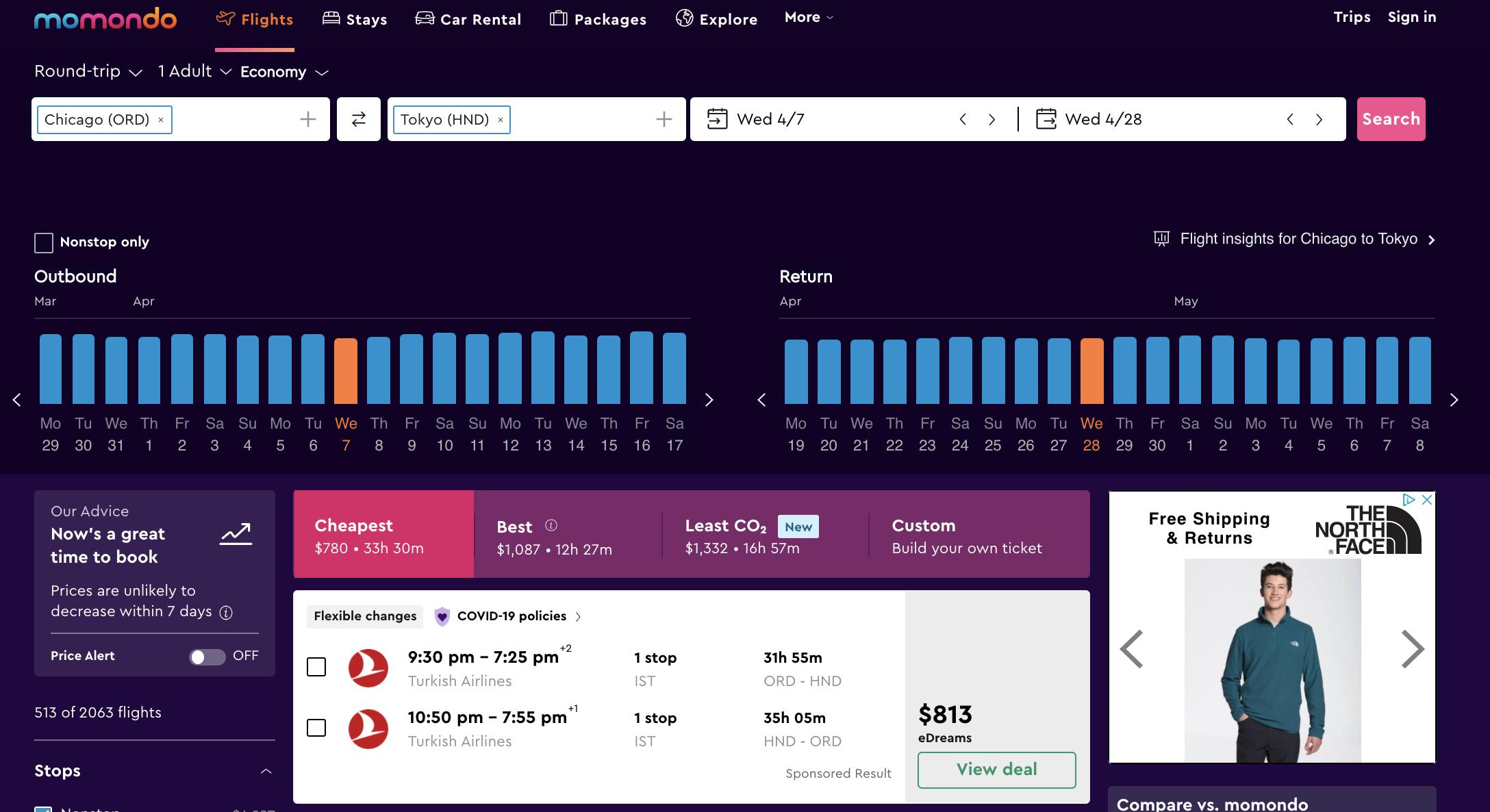 And most importantly, these savings from third-party sites can come at a cost. There are tradeoffs to booking through an OTA. Chiefly, you're using a middleman to book your flights. If you book with Expedia then need to change or cancel your trip, you have to go through Expedia to do so – not the airline you're flying with. Some major sites may have the customer service to handle your request, but many smaller sites (with the biggest savings) do not.
And in this day and age, booking directly with the airline is more important than ever. So do the mental math and make sure those savings are worth it.
Read more on why we recommend booking directly with the airline when you can.
8. Use the 24-Hour Airline Rule to Your Advantage
The 24-hour cancellation rule is your excuse to be impulsive.
The U.S. government has a federal law that requires airlines to provide a full, 100% refund for any flight that touches U.S. soil if you cancel within 24 hours of booking. It doesn't matter if you're flying a U.S. carrier like American or Delta or a foreign airline like Lufthansa or Copa: If your flight departs from or arrives in the U.S., you're covered.
There are a few important caveats to this rule to keep in mind:
U.S. regulations require airlines to offer either a 24-hour refund policy or the option to lock or hold a flight at the current price – but not necessarily both.
It may not work last-minute: Airlines are only required to offer a free cancellation window for flights booked at least seven days before departure.
Some of the major online travel agencies (OTAs) like Expedia honor the 24-hour rule, but many smaller sites do not.
Put it all together, and you can use the 24-hour rule to book an insanely cheap flight the moment you find it. After that, do the legwork to make sure you can get the vacation time or your favorite travel buddy can come with. Not going to work out? Just cancel within 24 hours of booking and get your money back.
Read more on the 24-hour rule, and why it's such a great way to find flight deals.
9. Get to Know Budget Airlines and Save with Low-Cost Flights!
What's the cheapest airline to fly?
We like to focus on finding cheap flights through deals on the major, full-service carriers. These are the big airlines with names you know like Delta, American, and United or big foreign carriers like Lufthansa, SWISS, Japan Airlines, and Emirates.
But there's no question that budget airlines have their place for travelers looking to save. Whether you're flying within the U.S. or down to the Caribbean, criss-crossing your way through Europe, or heading all the way over to Asia, there are a ton of low-cost carriers (or even ultra-low cost carriers) that pride themselves on offering low fares.
But be warned: These cheap fares can be a mirage. These airlines survive by nickel and diming passengers for everything imaginable, with high fees to check a bag, bring a carry-on, pick a seat, and buy food onboard. Some of these airlines even charge an extra fee for printing purchasing tickets online – a fee you can avoid by buying your tickets from the airport.
So if you're content traveling with just a backpack, you can often come out way ahead on these fares. But for anything else, you'll want to do the math and make sure you're actually saving once you've added up all those "extra" costs that may come free with a spendier ticket.
We've rounded up some of the best low-cost carriers, arranged by continent.
Budget Airlines in the U.S.
Budget Airlines in Canada
Budget Airlines in Central and South America
Budget Airlines in Europe
Budget Airlines in Asia & Australia
10. Use Positioning Flights to Save Big Bucks on Airfare
Not seeing cheap deals from your airport? Think you're stuck paying $1,000-plus to fly to Europe or Asia? Think again.
Positioning flights can be a game changer to save hundreds on international travel. These are short domestic flights from your hometown airport to a second hub in order to hop on a cheaper fare. You can score huge savings by booking an international flight from major airports like Los Angeles (LAX), San Francisco (SFO), Boston (BOS), New York City (JFK), or Chicago-O'Hare (ORD), then book your positioning flight to get there.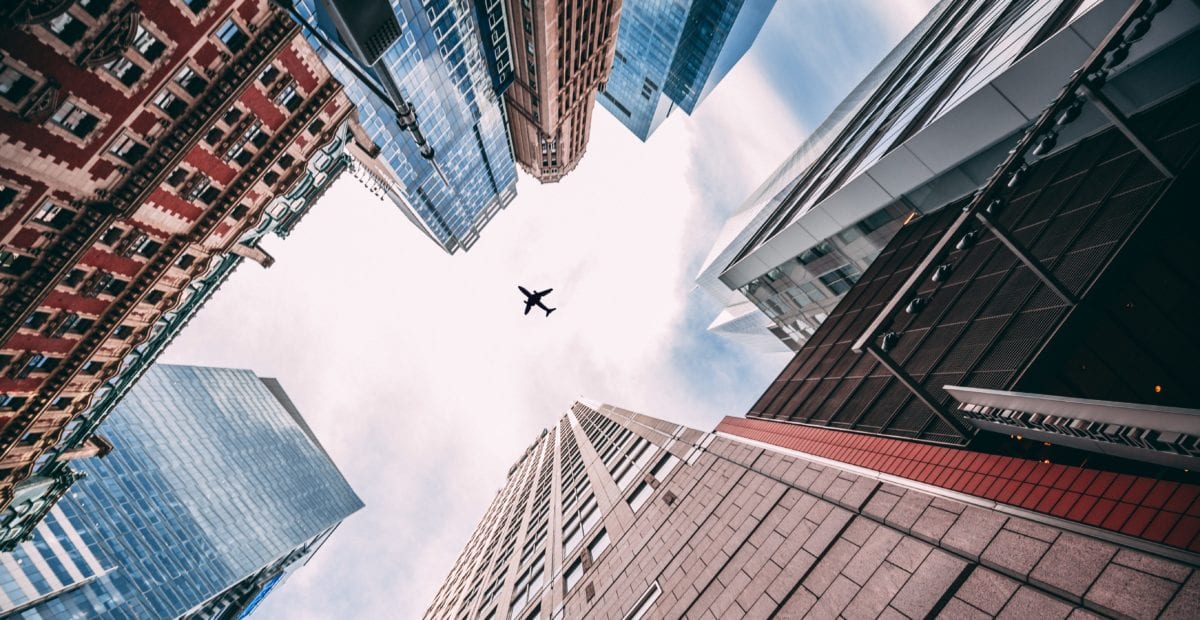 If you've got international travel on the brain, broaden your search to some bigger airports that are relatively cheap to fly (or drive) to. Just be sure to give yourself enough time between these flights in case things go wrong. And consider packing in a carry-on bag to simplify your connections.
Read our guide to using positioning flights to score huge savings on international travel! 
11. Use Points and Miles to Book Flights for Nearly Free
What's better than learning how to book cheap flights? Learning how to book free flights.
We know points and miles can be intimidating at first. We've been there. But trust us, it's worth the effort to save even more on flights. The good news is that there are a few points and miles programs that are perfect for getting started. If you're looking to dip your toes into points and miles, we've got a few favorites.
This is our top card for beginners – and for good reason. Chase points are extremely valuable and easy-to-use, as you can book flights straight through the Chase travel portal (it looks just like searching with Expedia!) with points. Find flights for $400? Make it free using just 32,000 Chase points from your Preferred Card.
Want to know more? Read our full review of the Chase Sapphire Preferred Card!
You can currently earn a 60,000-point bonus after spending $4,000 within the first three months of card membership. And there are some amazing ways to put those Chase points to use.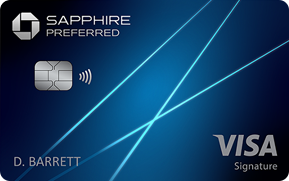 Click Here to get more information about the Chase Sapphire Preferred Card.
There's a new travel card on the scene, and it might just be the best we've seen in years.
Launched last year, Capital One launched The Capital One Venture X Rewards Credit Card – a souped-up version of the ever-popular Capital One Venture Rewards Credit Card that's chock full of extra benefits. That includes access to Capital One Lounges and Priority Pass lounges, a $300 annual travel credit for bookings through Capital One Travel, a credit for Global Entry or TSA PreCheck, great travel and rental car insurance protection, and more. The annual fee clocks in at $395 a year, but the benefits can easily outweigh that. It's the reason why we think the Venture X annual fee shouldn't scare you off. 
Here's the best part: You can currently earn 75,000 Venture Miles after spending $4,000 in the first three months. Considering you earn at least 2x for every dollar you spend on the Venture X Card, you'll earn a total of at least 83,000 Venture Miles.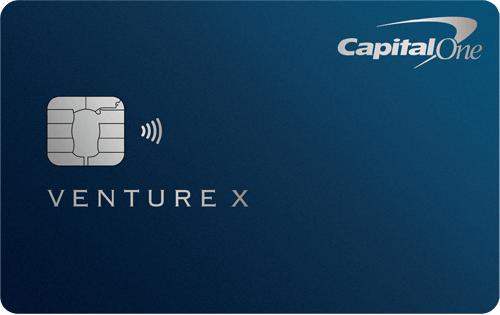 Click Here to learn more about the Capital One Venture X Rewards Credit Card.
Chase Sapphire Preferred vs Capital One Venture X Card: Which one is right for you?
If you're ready to learn more, read our guide to getting started with credit cards, points, and miles. From there, check out our Points Principles series, where we tackle hot travel rewards topics and reader questions.
Bottom Line
That's it. That's all it takes to find cheap airfare and start flying more for less. There's no magic in how to buy airline tickets, or magic day or time to book cheap flights. If you're really set on finding cheaper airfare, it all comes down to using the right tools and, more importantly, having the right mindset.
Use these tips and tricks to rethink the way you book flights, and save hundreds on your next trip. If you do, you'll discover a whole new world of discount flights – and that finding cheaper flights isn't rocket science.