Trying to book Delta flights with miles only to see you'll need 150,000 SkyMiles for a big trip abroad? And or more like 400,000 SkyMiles for a business class seat? We know. And we've got a solution for you.
Delta SkyMiles have taken a big hit lately as the airline has been making cuts and raising award rates across the board, meaning your SkyMiles don't go nearly as far as just a year or so ago. But thanks to airline partnerships, you can also book Delta flights using miles from carriers like Air France and Virgin Atlantic … often for a fraction of the miles that Delta itself is charging for the exact same flight!
From trips to Hawaii and Mexico to business class award tickets to Europe, we've been finding and sending Thrifty Traveler Premium+ members deal after deal using these workarounds to book amazing flights for less. And the miles are even easier to earn: While you can't send your SkyMiles to Virgin Atlantic or Air France, you can transfer points from travel credit cards like the Chase Sapphire Preferred® Card, the American Express® Gold Card, or the Capital One Venture X Rewards Credit Card and easily get what you need to book Delta flights.
It's the difference between forking over nearly 200,000 SkyMiles for that bucket list trip to South Africa…
… and booking those exact same flights for just 70,000 points roundtrip! 
And that's just the start. Check out some of the other amazing deals we've found to book Delta flights for fewer miles.
Attention, Thrifty Traveler Premium+ members: You've likely already received these deals! If not, you might want to log into your account and adjust your departure airport settings – or select "All Cities" to see every deal!
Hawaii from 30K RT Points
Unless you luck out with a Delta SkyMiles flash sale, getting out to Hawaii and back could easily empty your piggybank of Delta SkyMiles.
Booking Delta flights through Virgin Atlantic is one of our go-to methods to save miles. From several West Coast cities, you can book nonstop Delta flights to the islands for just 30,000 miles roundtrip.
It's still a great deal on even longer flights like Minneapolis-St. Paul (MSP) to Honolulu (HNL) at 45,000 Virgin Atlantic Flying Club points compared to the 120,000 SkyMiles or more Delta often charges. And if you time it right with one of the frequent 30% transfer bonuses to Virgin Atlantic from Amex or Chase, it gets even cheaper: Just 35,000 points is all you need!
Only Thrifty Traveler Premium+ members get award alerts like these to use their points and miles!
Plus, you're booking standard main cabin economy fares here – not Delta's stingy basic economy award fares – so you get to pick your seat for free and board the plane earlier, too. You're using fewer miles and still getting more.
Virgin Atlantic points couldn't be much easier to earn: Virgin is a Chase transfer partner, an Amex transfer partner, a Capital One transfer partner, a Citi transfer partner, and even a Bilt Rewards transfer partner. No matter which travel credit card you're using, you're set.
Read more about booking Delta flights through Virgin Atlantic! 
Europe for 60K Roundtrip or Less!
Sick of seeing 150,000 SkyMiles or more for a trip to Europe? Us too.
How about this instead: Flights to Paris-Charles de Gaulle (CDG), Amsterdam (AMS), Madrid (MAD), Munich (MUC), and beyond for just 60,000 points roundtrip … even during the exorbitantly expensive summer!
These flights are gone now – get the next deal with Thrifty Traveler Premium+!
Get this: Delta is charging double the miles for these same flights to Paris. Once again, using Virgin Atlantic is the key.
Whether you're planning a trip to Europe in the spring, fall, winter, or even peak summer, Virgin charges 30,000 points each way to fly Delta economy overseas. And unlike business class, finding these flights on VirginAtlantic.com isn't like pulling teeth – it's typically fairly easy to score a Delta economy seat across the pond for 30,000 points each way.
Just a few weeks ago, we alerted Thrifty Traveler Premium+ to some wide-open availability on many nonstop Delta routes to Europe late this summer. Throw in a 30% transfer bonus, and you could book these same flights for as few as 47,000 points from a card like the Chase Sapphire Preferred® Card.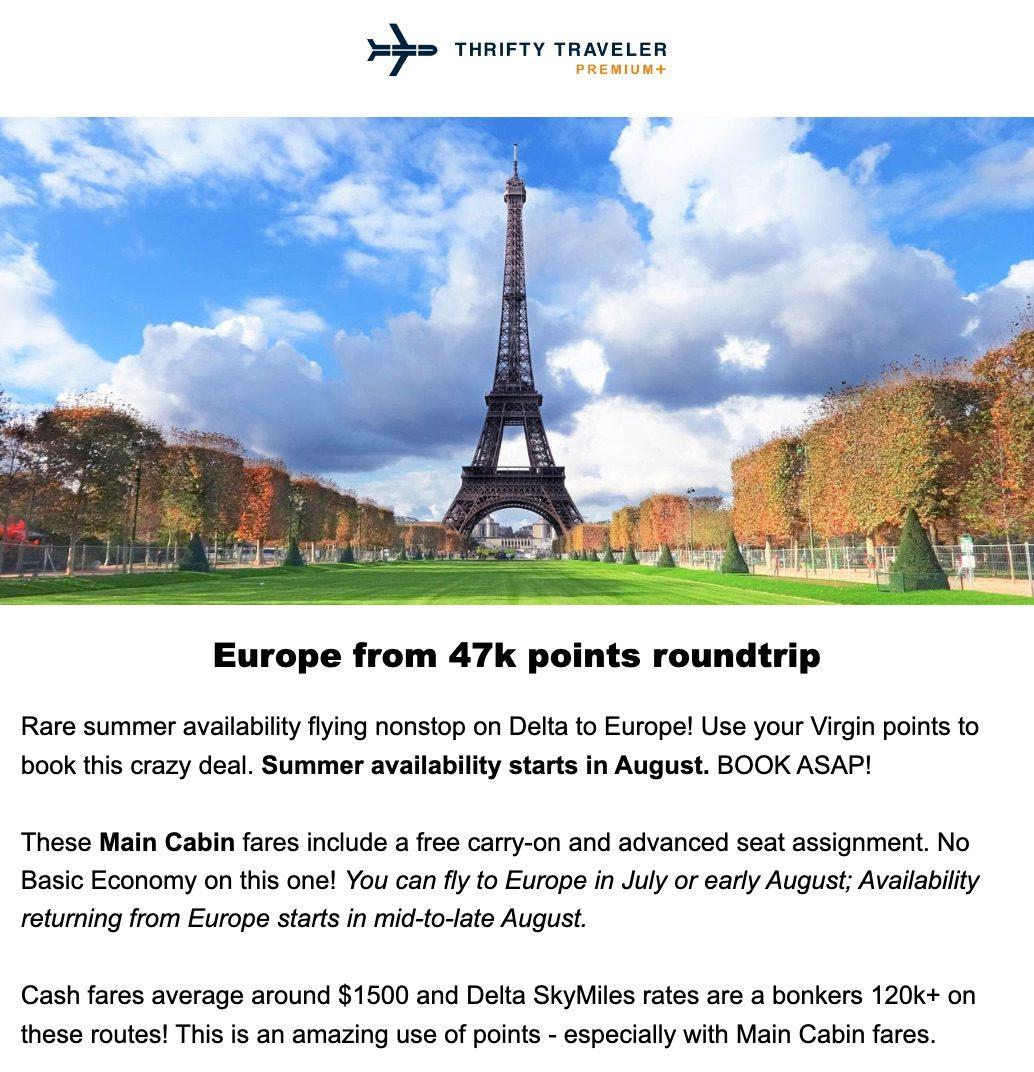 London in Delta Business Class as Low as 54K!
You've got your heart set on London and want to get there in business class for a good night's rest.
Here's what you'll likely see searching through Delta with your SkyMiles. Ouch.
Here's how you should book it instead. Talk about a no-brainer, right?
That's right: The same Delta One business class seat into London-Gatwick (LGW) for … 260,000 fewer miles. In this case, you'd be booking this Delta deal using Air France/KLM Flying Blue miles – yet another Delta partner airline.
Finding the award availability to book Delta business class at these dirt-cheap rates can be really tough. But that's the beauty of Thrifty Traveler Premium+: We do all the legwork for you. We let you know exactly when these sweet spots are bookable and the best ways to book, with in-depth instructions to make it happen.
That includes this recent award alert to book Delta business class to London … including this summer! Factor in a 25% transfer bonus to Air France/KLM at the time, and you could book for just 54,000 Amex or Chase points!
Our Thrifty Traveler Premium+ members booked all these seats – get the next deal, sign up now!
Mexico & the Caribbean for Less
There can even be huge savings flying somewhere warm for the winter.
Whether you're looking to get to Mexico City (MEX), Cancún (CUN), Puerto Vallarta (PVR), or somewhere further, you might be able to save some serious SkyMiles by turning back to Virgin Atlantic points instead, thanks to the airline's distance-based pricing format for these relatively short flights.
Here's an example: While Delta wants 52,000 SkyMiles for these flights from Minneapolis-St. Paul (MSP) to Cozumel and back next winter, you can book those exact same flights for just 25,000 Virgin Atlantic points – less than half the cost!
But the savings go beyond the beaches of Mexico. We recently sent Thrifty Traveler Premium+ members an alert to book Delta flights from across the country down to the Caribbean for under 25,000 Virgin Atlantic points each way – or even less with a transfer bonus. Just check out all the amazing destinations you could get to with this alert!
Delta One Suites to Europe for 50K
This is the holy grail. And while it's hard to pull off, it's the best deal in the world of points and miles if you can make it work.
Delta is infamous for charging an arm and a leg for award flights in Delta One business class. Seeing 300,000 SkyMiles or more for a one-way flight to Europe is not out of the norm. All these workarounds booking through Virgin Atlantic don't get much better than this: That exact same flight can be booked for just 50,000 points.
Finding the award availability through Virgin Atlantic to actually book these Delta business class seats can be a chore – especially lately, as it's been practically impossible. But when you can make it work, it's a steal. The exact same flight – same date, same plane, same Delta One seat – for 200,000 fewer miles? That's the definition of a no-brainer move.
Want award alerts for opportunities to book flights like this? Get them delivered straight to your inbox with Thrifty Traveler Premium+, along with cheap domestic and international fares!
But when we say this is tough, we mean it. You can scroll through months of flights without seeing a single seat – or your search may just error out.
That's where Thrifty Traveler Premium+ comes in. We're always digging for when these flights pop up and alerting our members when they do, like this incredibly rare chance to fly from Minneapolis-St. Paul (MSP) to Amsterdam (AMS) in Delta One last year.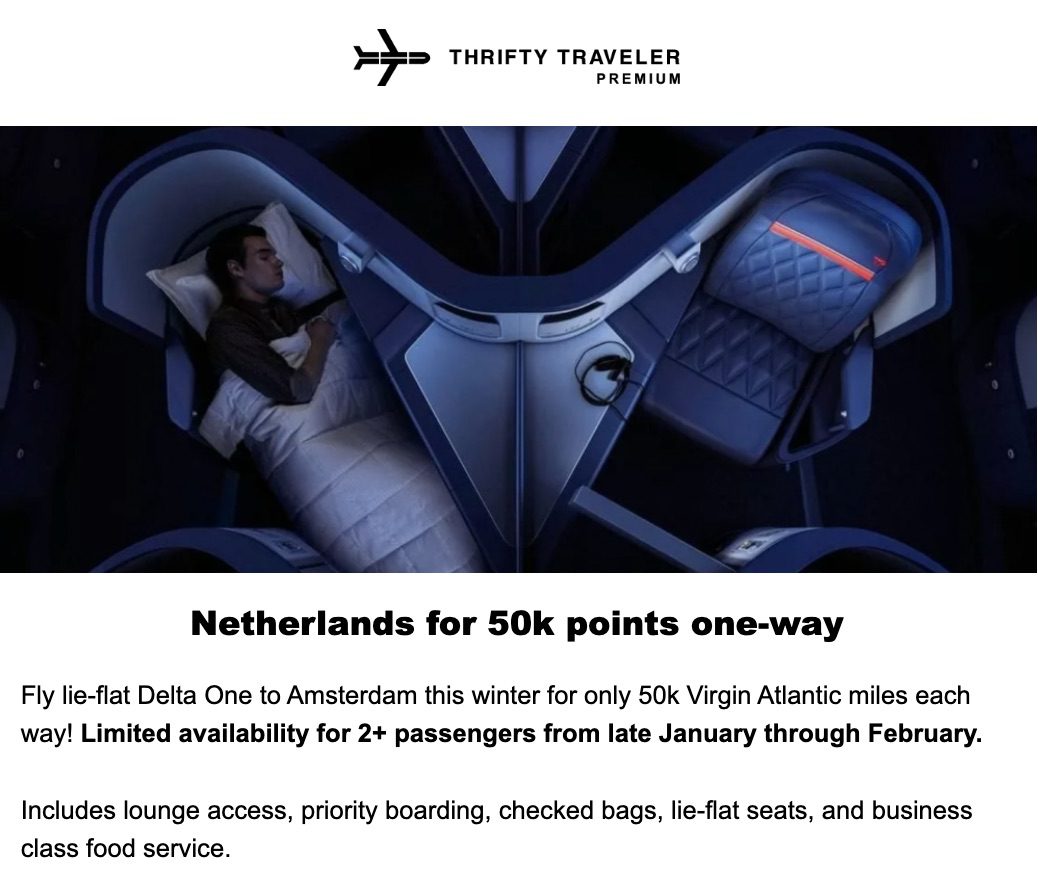 These seats are gone now, get the next award alert for open Delta One seats to Europe with Thrifty Traveler Premium+!
Last year, we also found plenty of dates this winter and into spring 2023 available at 50,000 points each way flying from New York City to Amsterdam as well as an incredibly rare chance to book Delta One business class between Salt Lake City and Paris. Best of all, these routes are flying Delta's A330-900neo – Delta One suite, anyone?!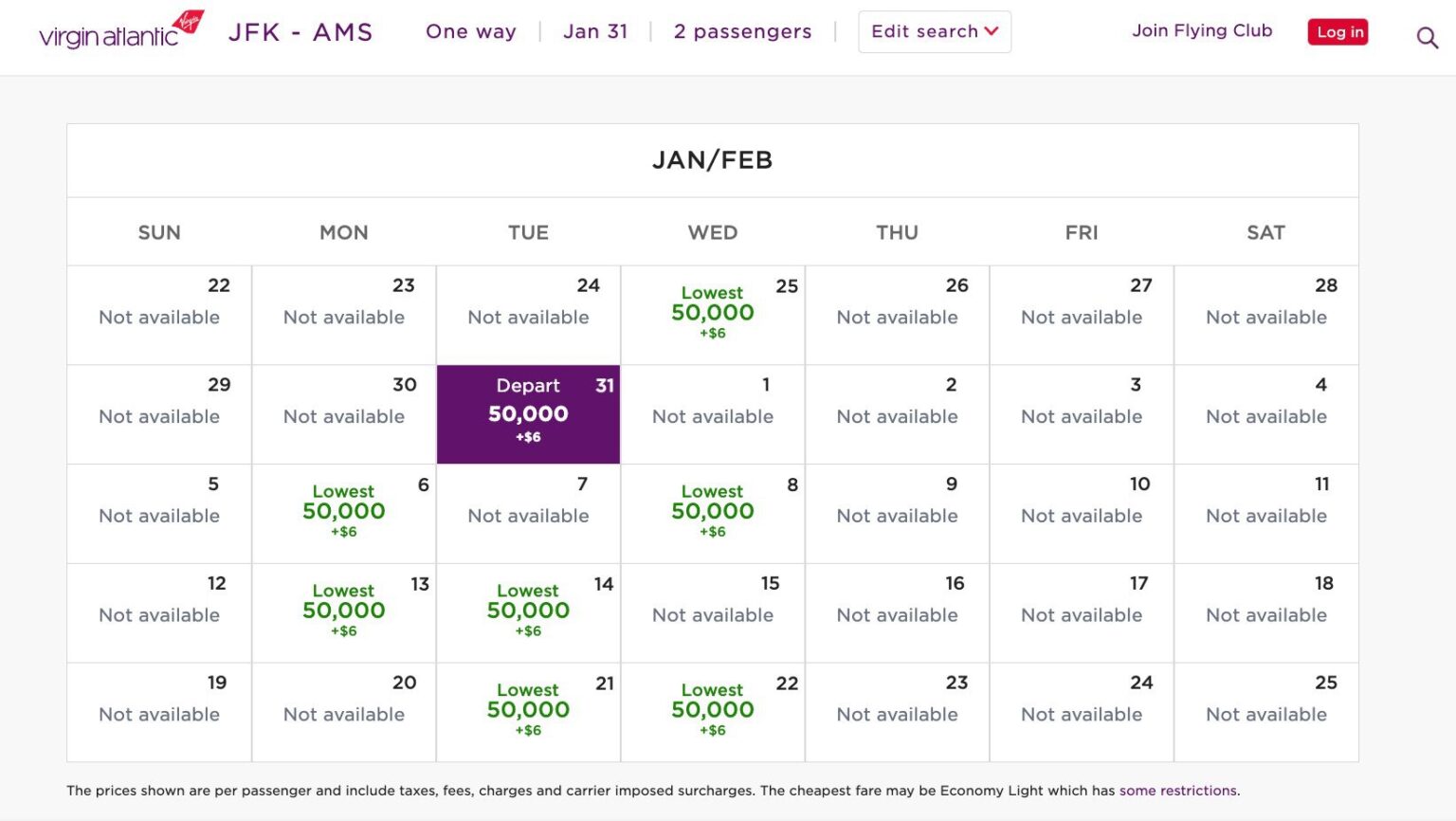 Fly Delta to Japan from 55K Roundtrip
Another quirky to fly Delta using – you guessed it – Virgin points is Seattle (SEA) to Tokyo-Haneda (HND) for only 55,000 miles roundtrip in economy.
Due to the longer distance, nonstop flights to Tokyo from other U.S. cities like Los Angeles (LAX), Minneapolis-St. Paul (MSP), or Detroit (DTW) will run you 70,000 Virgin points roundtrip, which can still be a decent deal. But the savings in Seattle are substantial.
Plus, we're always looking for ways you can stretch your credit card points even further. With this recent Thrifty Traveler Premium+ deal, you could transfer as little as 43,000 Chase or Amex points to Virgin Atlantic, get a 30% bonus, and book roundtrip flights to Tokyo next year … including peak cherry blossom season!
Get the next amazing deal to fly Delta using your points and miles with Thrifty Traveler Premium+!
South Africa for 70K
We saved one of the longest flights in the world for last.
Delta flies to both Johannesburg (JNB) and Cape Town (CPT) from its hub in Atlanta (ATL). But booking those flights will cost you … and cost a lot, like up to 200,000 SkyMiles or more. That's a silly amount of SkyMiles to fork over for an economy seat – especially when there's a much better way.
How about this instead?
Yet again, half the miles for the exact same flight. And, yet again, it gets better: With a 30% transfer bonus to Virgin Atlantic from both Chase and Amex, this flight could be yours with just 70,000 credit card points from cards like The Platinum Card® from American Express or Chase Sapphire Preferred® Card.
Bottom Line
Scan this list and the value of using miles from some of Delta's partner airlines to book your next Delta flight is obvious. In almost every instance, you're using half the miles (or even less!) compared to what Delta charges in SkyMiles to book the exact same flight. It's ridiculous, but it's real.
This is what Thrifty Traveler Premium+ is all about. Alerting you when these flights are available to book using your points and showing you the absolute best way to do it.