More than a year ago, Condor turned heads with a big-time fleet refresh including a bizarre new paint job that looks like a flying beach towel. But it's what's on the inside that counts, right?
And what's inside Condor's new Airbus A330-900neos flying from many of its North American gateways to Frankfurt (FRA) is spectacular – especially at the front of the plane in Condor business class. Condor's outdated business class seats that don't fully recline into a bed are long gone, replaced with state-of-the-art lie flat seats, ultra-sharp 4K seatback screens you can pair with your own Bluetooth headphones, and plenty of privacy. Delicious meal service and special touches (like Jågermeister onboard!) rounded out an excellent experience.
After flying from Toronto (YYZ) on the airline's latest-and-greatest planes earlier this month, I can confidently say this new and much-improved Condor business class puts many other airlines flying across the Atlantic to shame. And that's a major feat for an airline that's largely written off as a just another budget carrier – if you've even heard of them at all.
Read on for the full review.

Booking Condor Business Class
Condor is best-known for selling cheap fares to cross the Atlantic Ocean. Fortunately, there are some great ways to book Condor business class, too – whether you're on the hunt for a cheap business class fare using cash or trying to use miles.
Using miles, you can't beat Alaska Mileage Plan for as low as 55,000 miles each way. It's a solid option with low fees, making it a very valuable use of Alaska miles. But to do that, you need to find the award availability to actually put those miles to use.
We found some great business class award availability recently and alerted our Thrifty Traveler Premium+ members to it in an email as soon as we found it.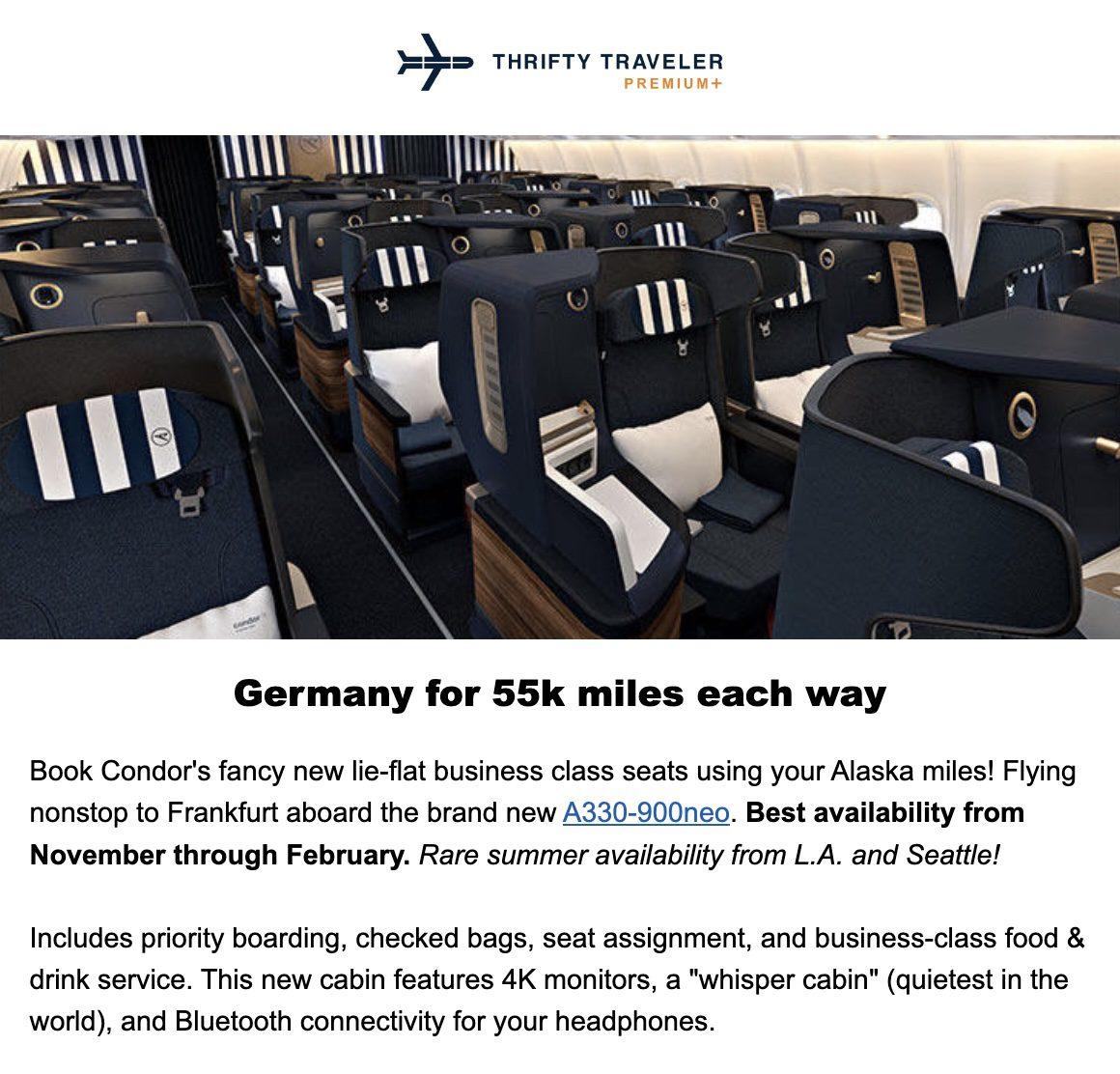 But Condor prices out its tickets different than most major airlines flying across the Atlantic, making cash a compelling way to book Condor business class. Unlike other carriers that have outrageous one-way fares to and from Europe compared to roundtrip pricing, they typically cost half the roundtrip fare with Condor. That gives you some additional flexibility to book a business class ticket with Condor and find another way home.
In this case, I found a one-way flight from Toronto (YYZ) to Frankfurt for $1,062 – Condor isn't flying its new A330-900neos from my home airport of Minneapolis-St. Paul (MSP) just yet. But I didn't pay that in cash.
Instead, I used Membership Rewards points from The Business Platinum Card® from American Express to cover that cost. With that cards 35% rebate on all first or business class redemptions, it came out to roughly 69,000 Amex points.
Throw in a cheap positioning flight up to Toronto, and I was on my way to Frankfurt.
At Thrifty Traveler, we don't accept freebies. We use our own points, miles, or cash to pay for every single flight or hotel you see reviewed here – including this one.
Boarding & Condor Business Class Cabin
Things didn't start out great on my Condor business class flight, but the chaotic boarding process was the only real drawback of the entire experience.
On most airlines, a business class ticket gets you priority boarding before other passengers. That … didn't happen here.
About an hour before the scheduled departure time, gate agents began the boarding process by calling up those who need extra time to board: Elderly passengers, those with disabilities, and families with small children, which proved to be a large group of about 50.
But after that, there was no transition to separate groups. A gate agent merely announced overhead "all passengers, all groups," leading to a frenzy of passengers trying to get onboard. It was far from an orderly process and certainly could be annoying for some passengers who were expecting a chance to board early with a business class or premium economy ticket.
Upon entering the plane, I showed the flight attendant my ticket and received a warm welcome as she ushered me to turn left into the business class cabin. Any frustration with the disorganized boarding process washed away as soon as I stepped inside Condor's beautiful new business class cabin.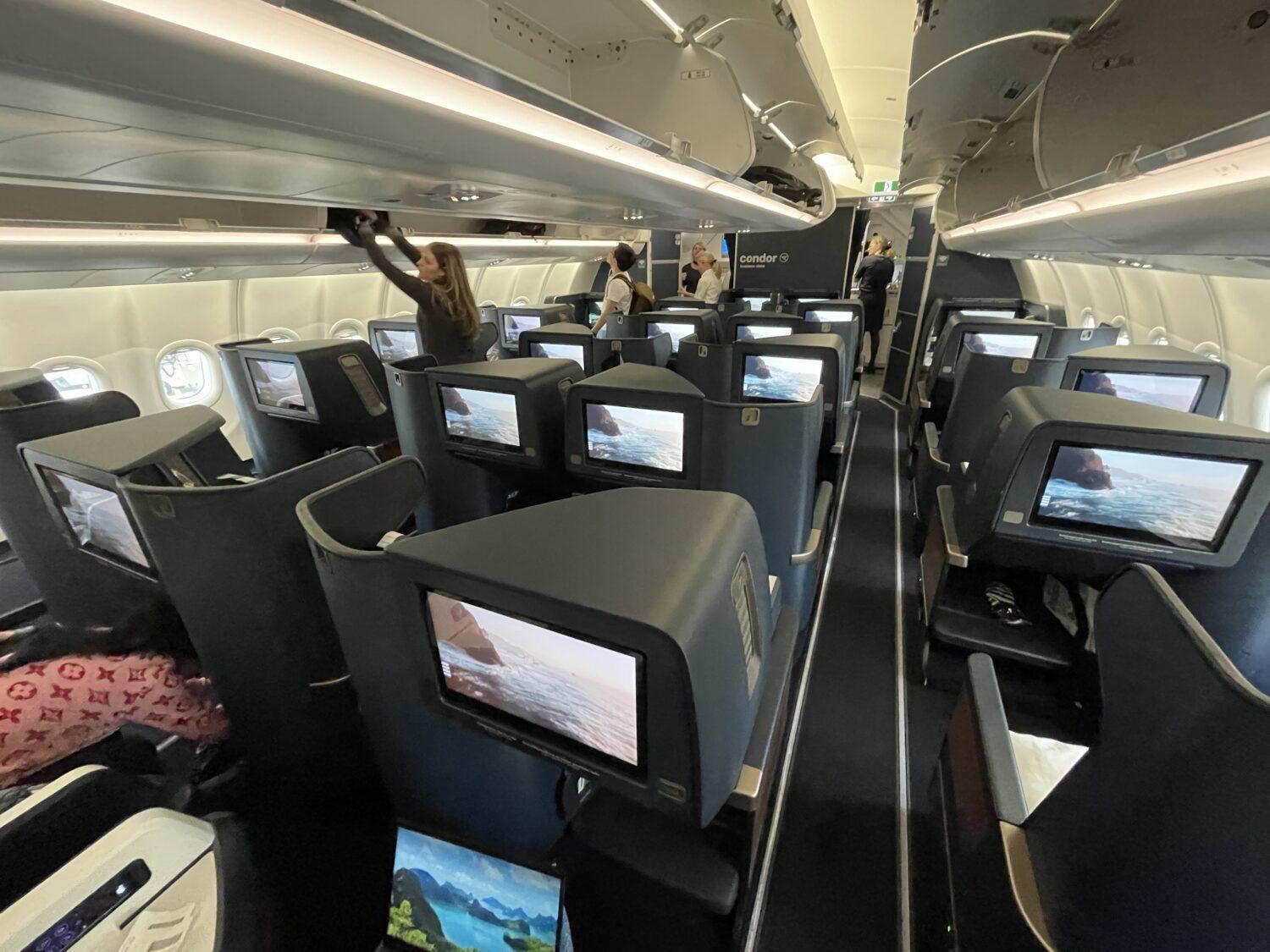 Condor's A330-900neo has a total of 30 business class seats arranged in a 1-2-1 configuration. You'll find solo seats along either side of the plane and two seats in the center section, so every passenger has direct aisle access.
Everything felt fresh and new – and it was. The design was sharp with navy dominating the color scheme, punctuated by bright white stripes accenting the seats. The cabin looked swanky. The seats and TVs look incredible at first glance.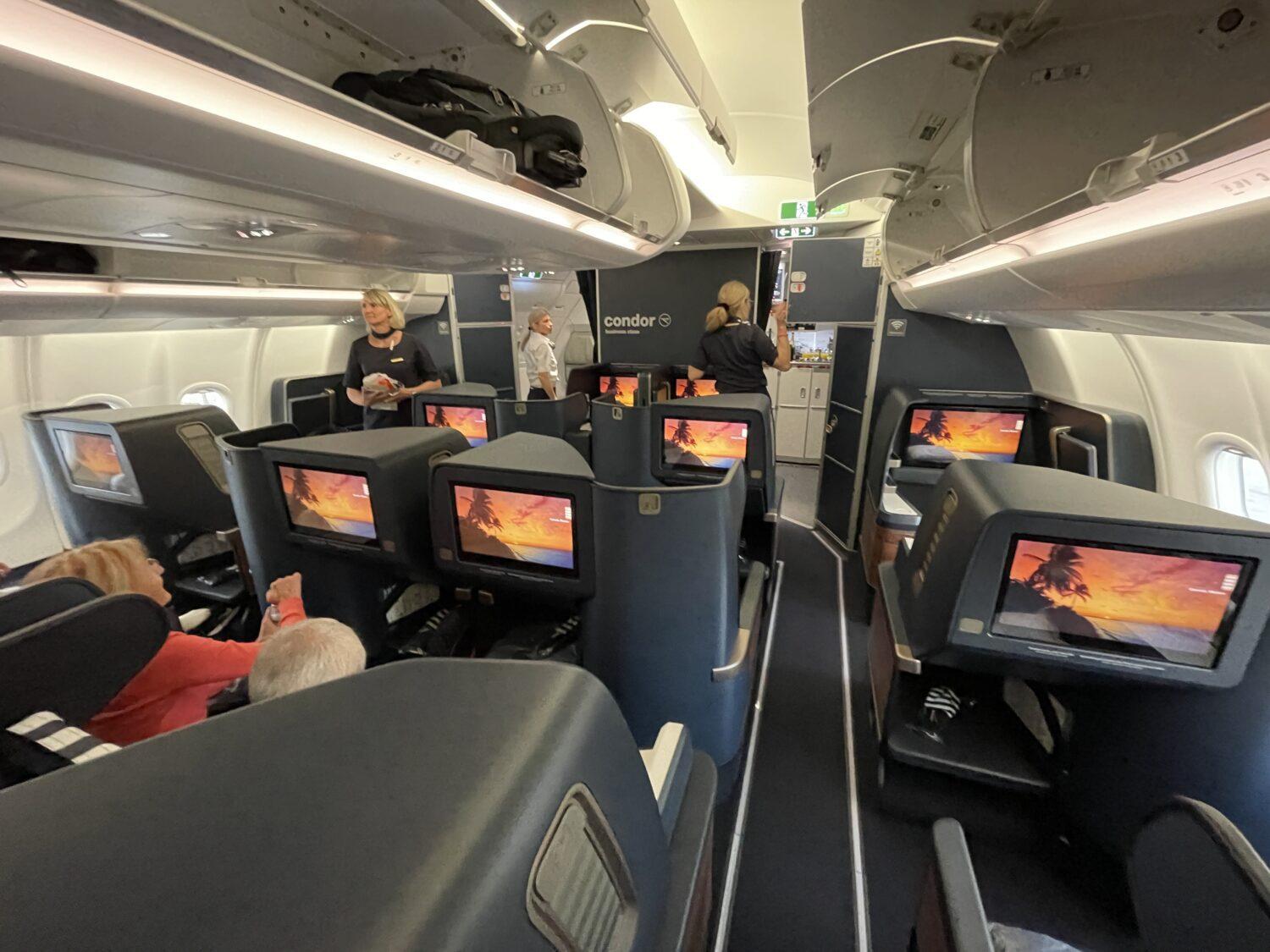 Condor is also touting their new "whisper cabin" which is supposed to be the quietest cabin in the world. I'd have to agree: This was a very quiet ride.
From my point of view, there are no bad seats in Condor business class. But some are definitely better than others.
Front to back, the seats are staggered: Some are positioned closer to the aisle while others are further away for more privacy. If you're flying solo, opt for seats along the windows in even-numbered rows, as those are further away from the aisle while odd-numbered seats are closer.
Couples or travel companions should snag the odd-numbered seat in the center, as those are much closer together. Even-numbered seats in the center section of the plane are positioned closer to the aisle and much more exposed to fellow passengers.
But undoubtedly best seats in the business class cabin are called the "Prime Seats" at the front of the cabin. Think of them as First Class lite – you get much bigger screens, a massive ottoman to rest your feet, more storage, and some extra amenities.

You can select these seats during your booking process, but it's a pretty hefty additional cost of about $350. I did not choose to upgrade to Prime Seats but would like to experience those someday.
There were three lavatories onboard: One at the front of the cabin and two at the rear. That seemed to be the right amount: I never had to wait to use one. Each bathroom had plenty of headroom which I feel is hard to come by these days, even on some of the nicer aircraft.
The striped theme continued in the bathrooms on both of the side walls. There was nothing too spectacular about these bathrooms, though they remained clean for the entire flight.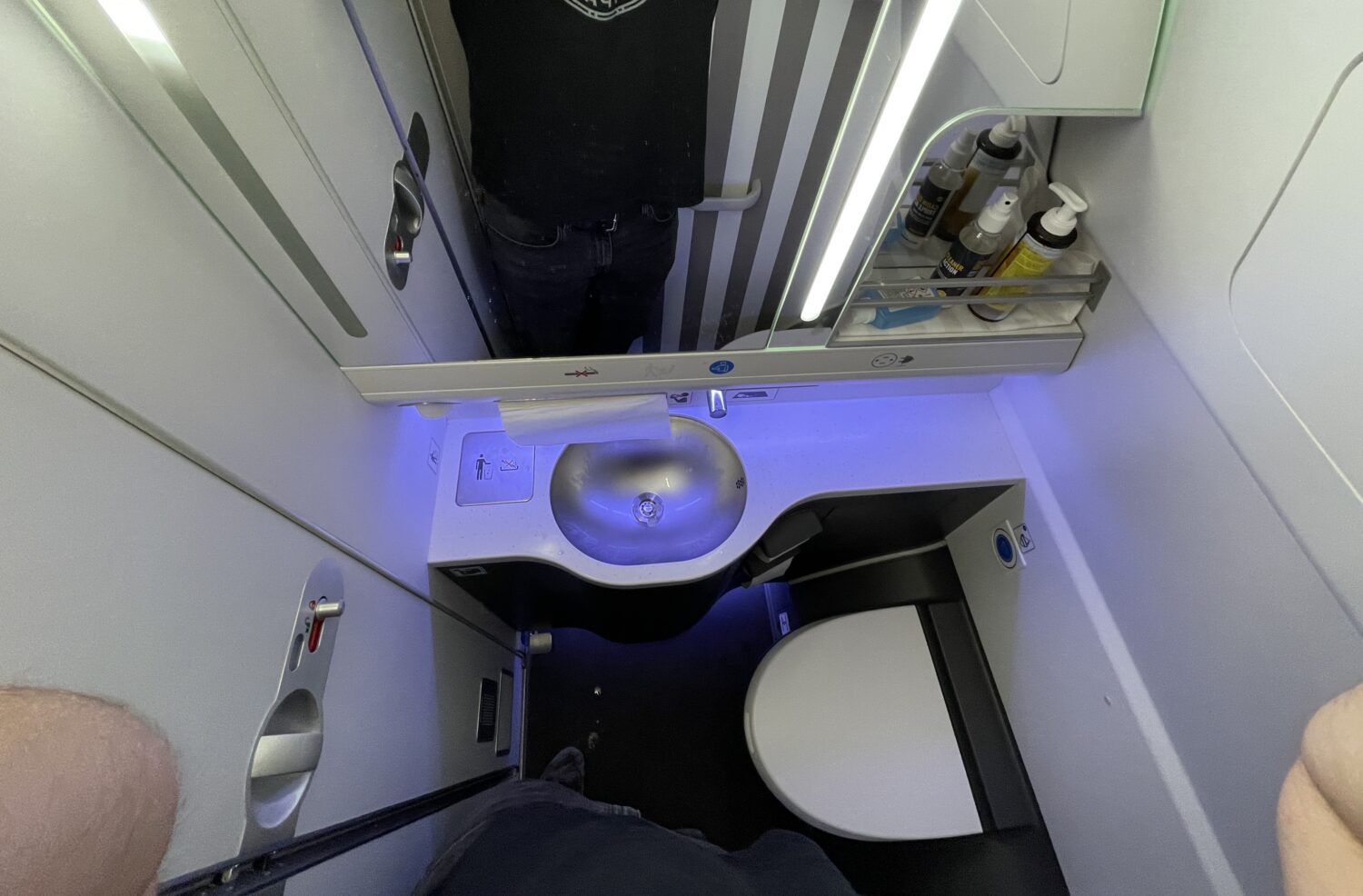 Shortly after departure, the cabin lights were dimmed to a soothing orange and blue tint. The side and ceiling lighting illuminated the classy cabin as we were on our way. It was pretty easy to see just how big and clear all of the 4k TVs are as they brighten up each seat.

Condor Business Class Seats
I've been lucky enough to fly some amazing business class seats on top-ranked airlines, from EVA Air to Singapore Airlines to the incredible Qatar Qsuites. Yes, it's difficult to live up to the hype of Qsuites … but the seats on Condor's new A330-900neo hold their own.
I chose seat 6K, one of the seats along the windows near the center of the cabin. It's positioned closer to the window and separated from the aisle by a storage console table for some additional privacy.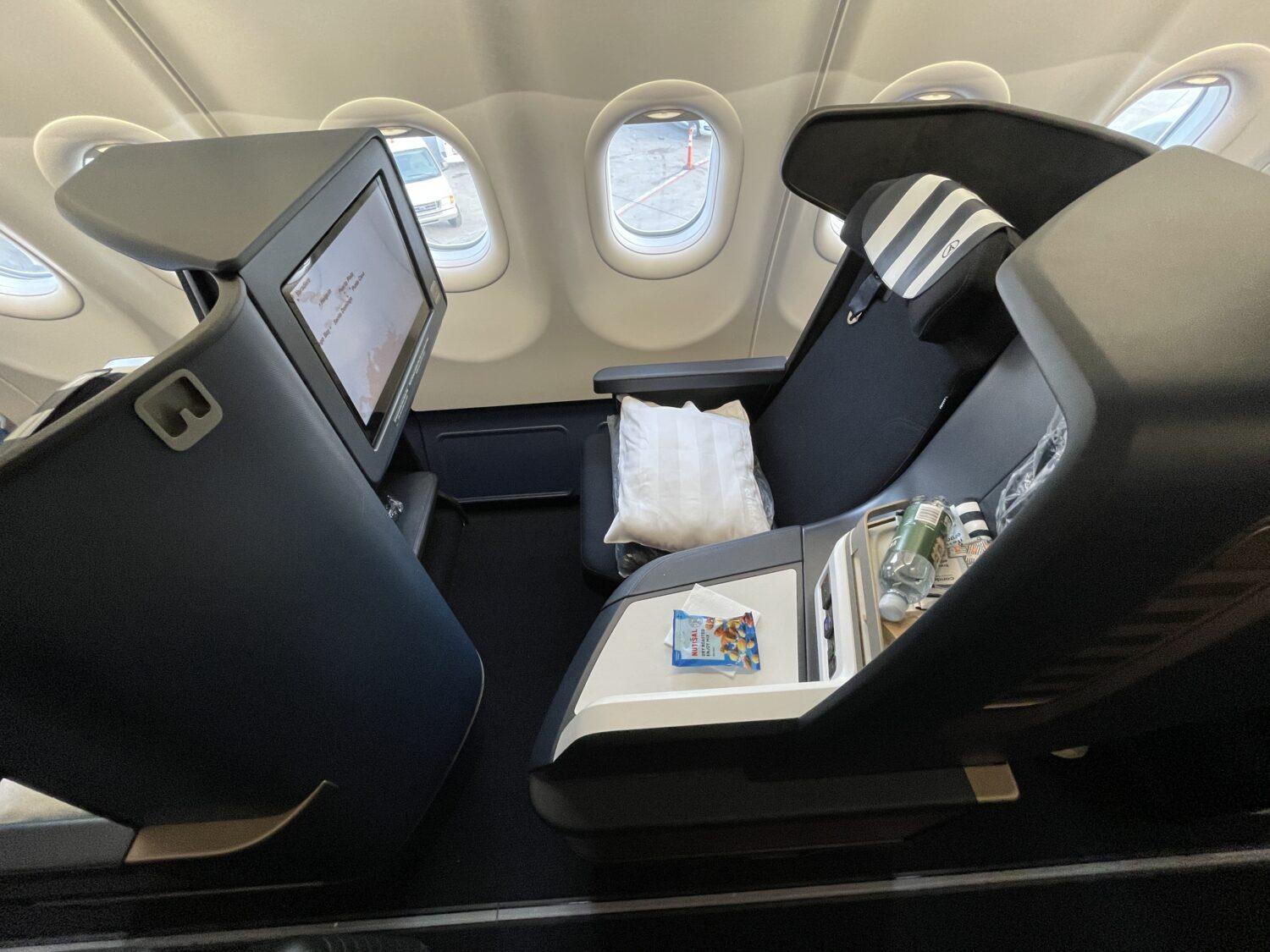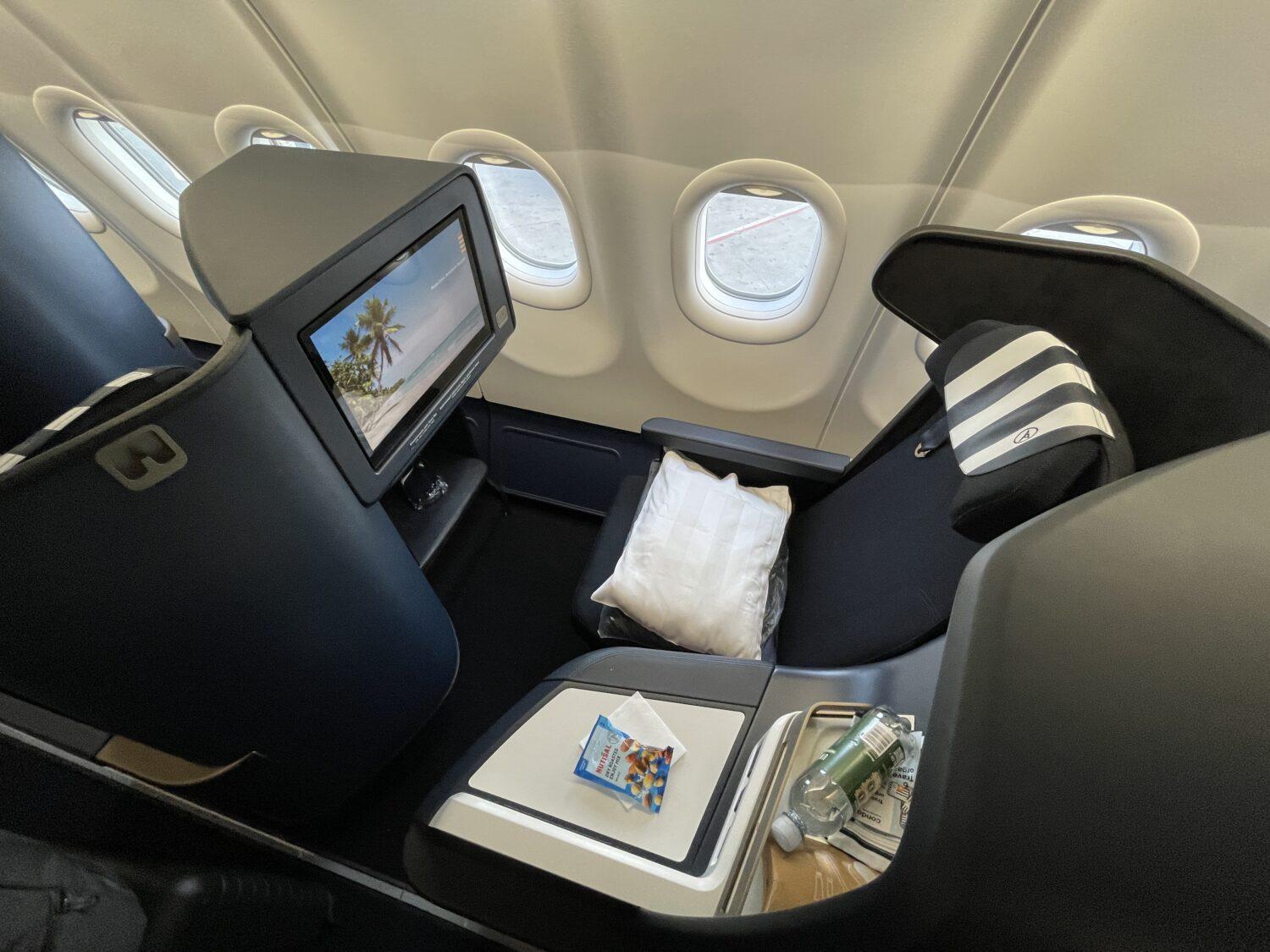 One of my first takeaways from getting acquainted with my seat was just … elegance. From the dark color scheme with bold navy seats and trim to the nicely placed wood paneling to the abundance of space, it was a great space for the eight-hour flight to Germany.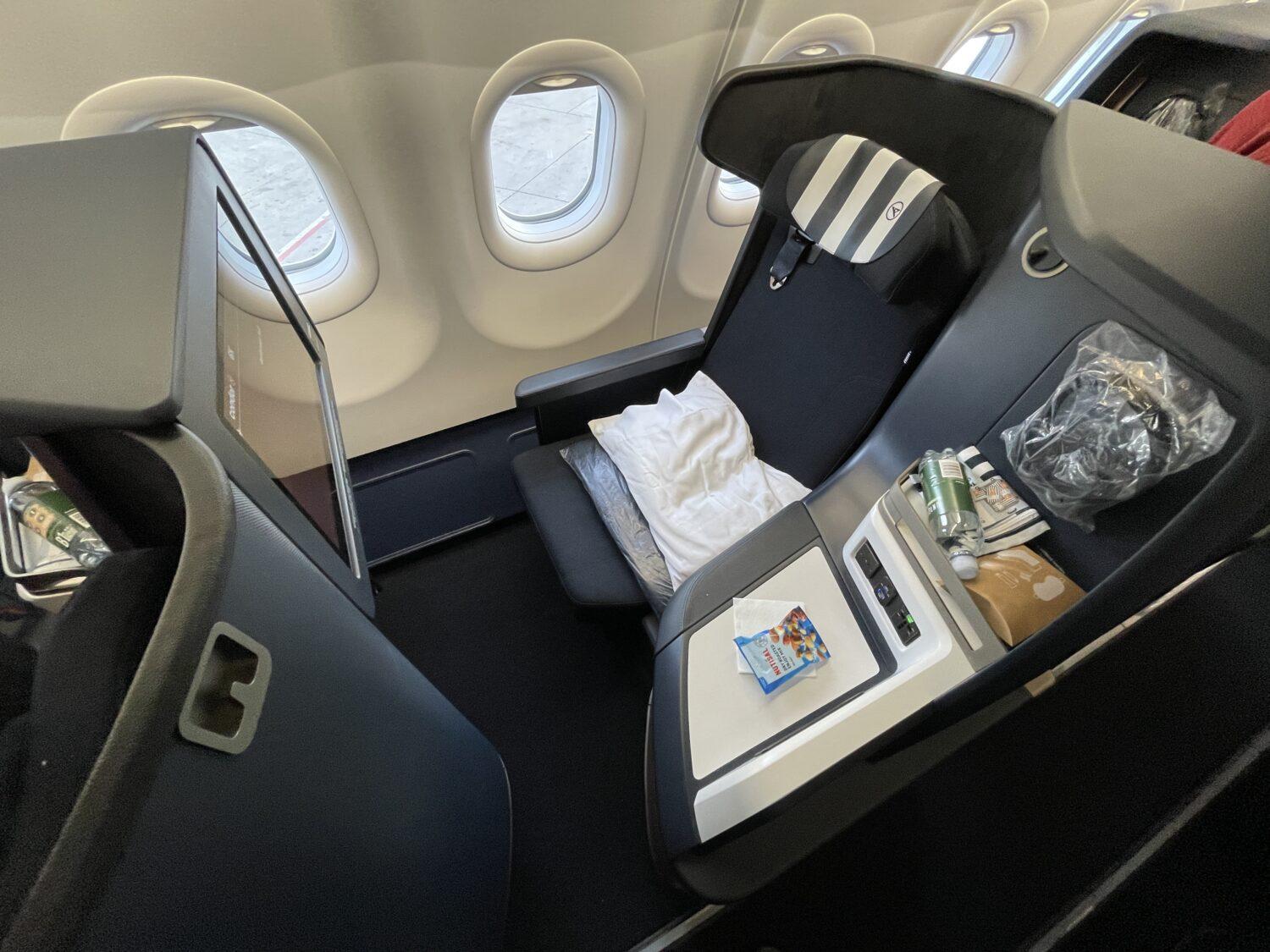 Similar to other airlines, Condor did a great job of having all the amenities neatly organized to the side. I had tons of room to make myself comfortable as I unloaded what I needed from my bags for the flight.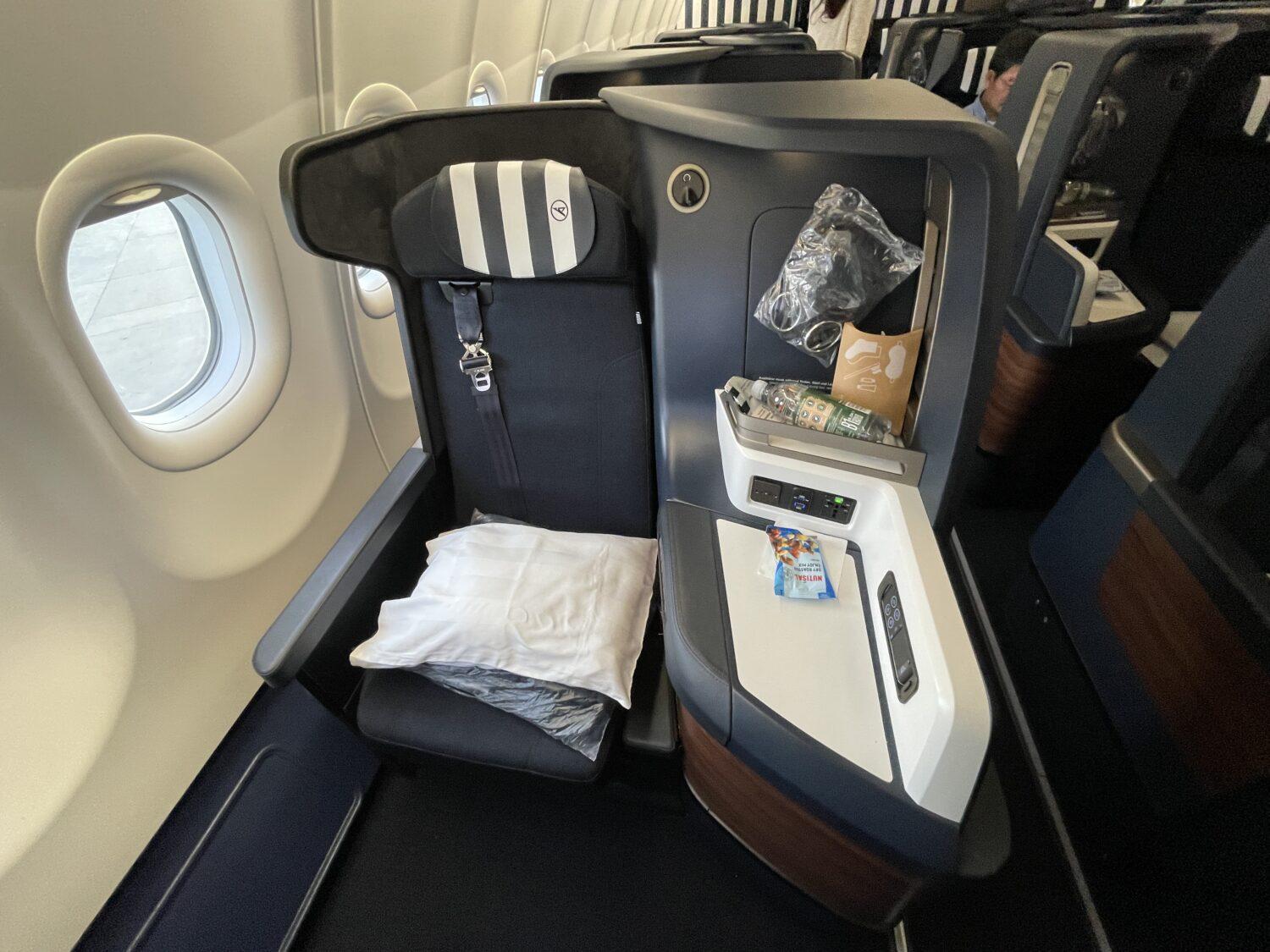 The headrest was well padded with adjustable flaps that could be positioned for extra support on both sides, and the top of the seat had Condor's stylish padding secured over it. Also, just off to the right was a small reading light which could come in handy if you didn't want to use the bigger overhead light.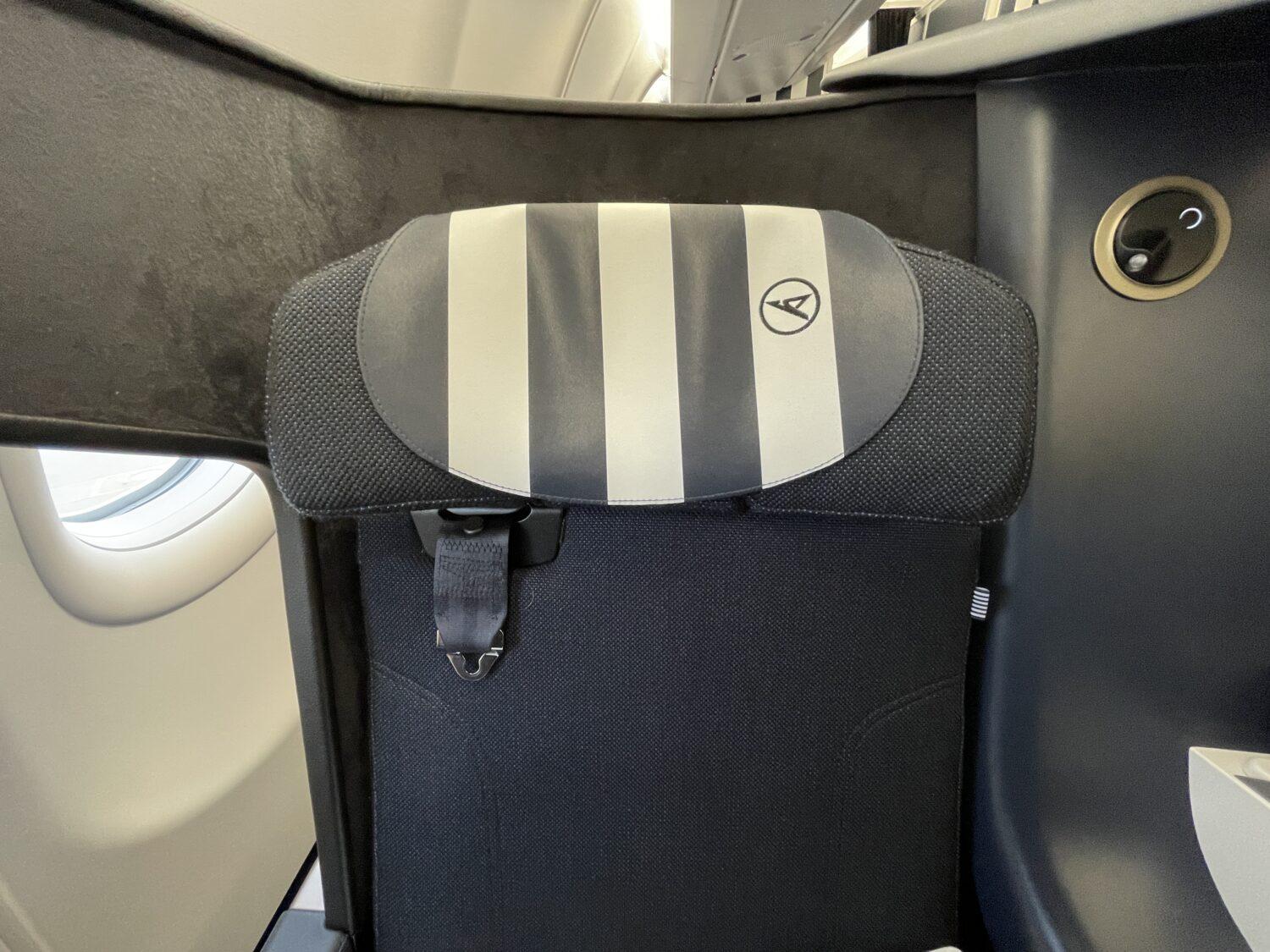 Being a taller guy at 6 feet 3 inches, I was honestly surprised at the amount of space I had in these seats. Not only did I have a ton of legroom, but also, width-wise, these business class seats offered a huge amount of space.
I felt like the armrests were comfortable and at the perfect height, and the side table was larger than other business seats and was positioned in just the right spot. The floor was also slightly angled just under my feet, which made it even more comfortable – this was a small addition that some people may not notice, but I think goes a long way to add extra comfort.

The extra privacy of these even-numbered window seats went a long way, some much-needed distance from fellow passengers and crew.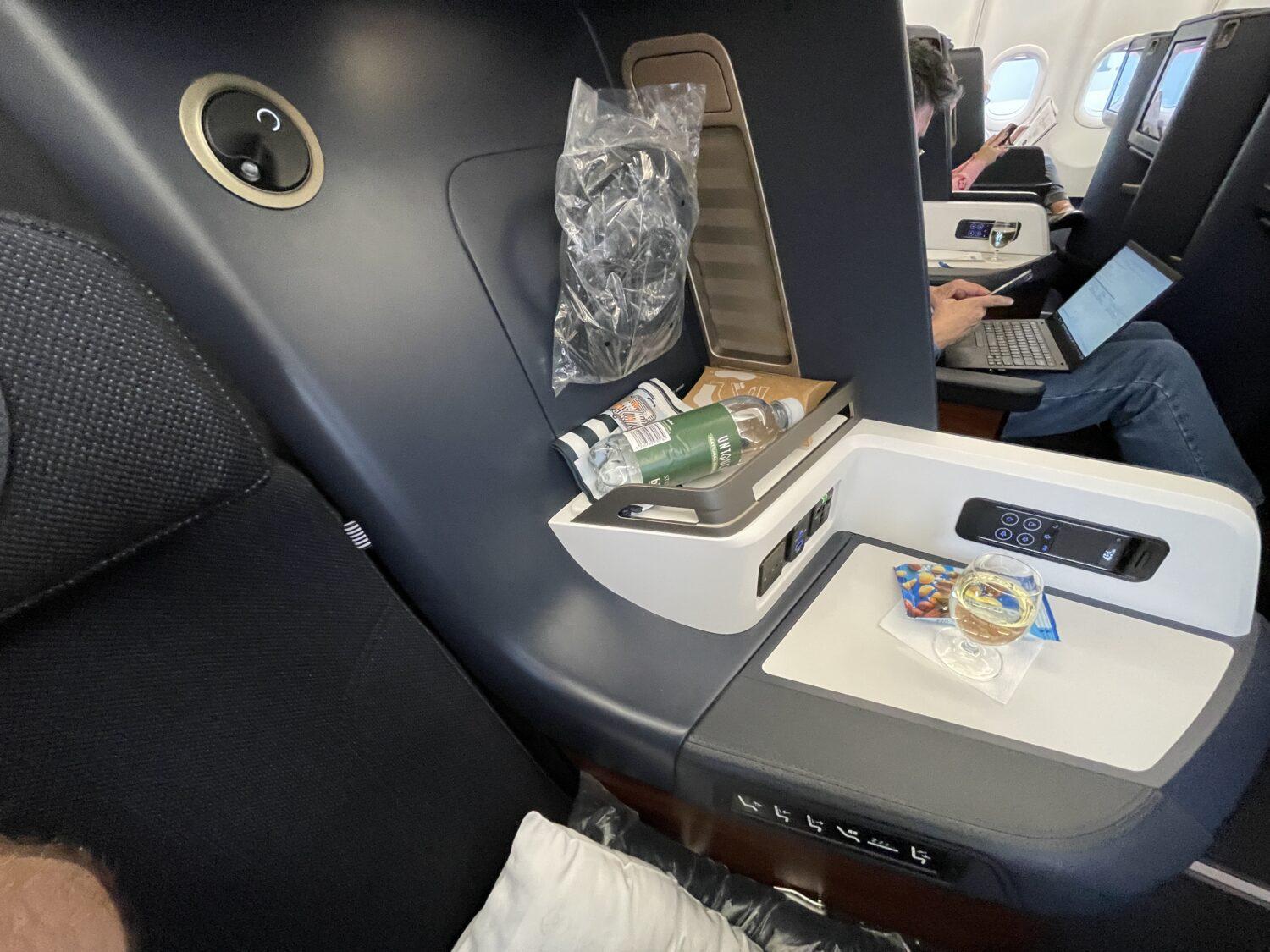 On the side table, they already had a bag of mixed nuts and came by with a glass of champagne that I ordered while I was greeted onboard. Above that, there's an elevated section with a smart rail to store some more items, including a water bottle and amenity kit. Below that, there's a well-placed charging station fully equipped with USB-C and standard USB sockets and an international power outlet. There was also a port for headphones, if needed.
To the right of the power station was a retractable remote that has several different features on it including TV volume adjustment, calling the flight attendant, overhead light switch, and also more TV controls. A touchpad was also located on this remote but I found it to be a little trickier to navigate the TV selections than simply using the touchscreen monitor. But the remote was helpful when my seat was reclined or lying down and couldn't easily touch the screen.

Just under the lower table and armrest were the controls for the seat. There were a few different buttons that were easy to use but I really only needed to use the lie-flat mode and upright mode, both on the far right. The seat quickly moved up and down and there were no issues with the control functionality.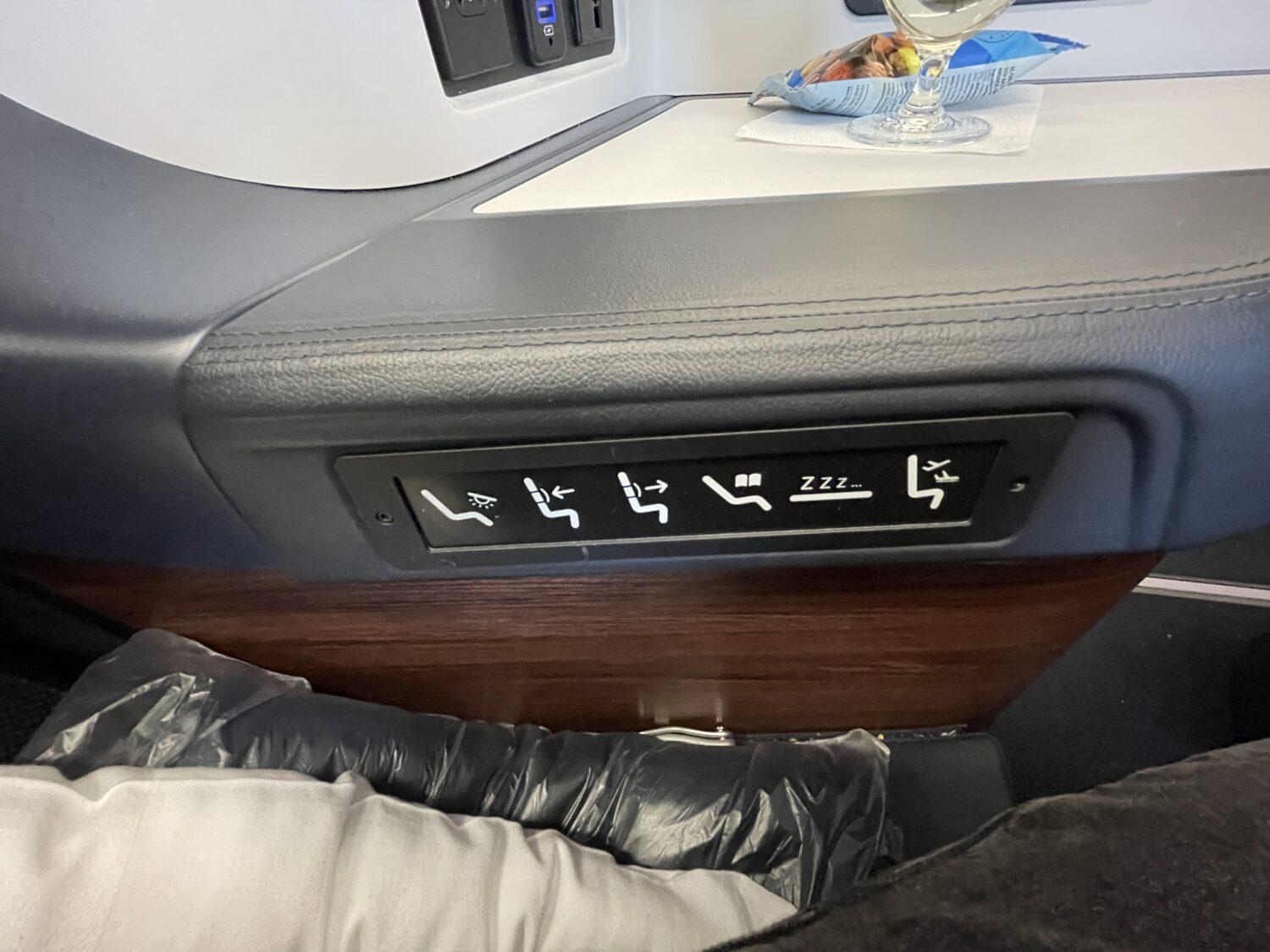 I also liked the position and functionality of the dining table. Some airlines have this table buried into an armrest and can seem a little tricky to open and close, but Condor placed these directly under the TV with a large button to release the unit. There are also slide rails that operate really easily to pull the table into the perfect position.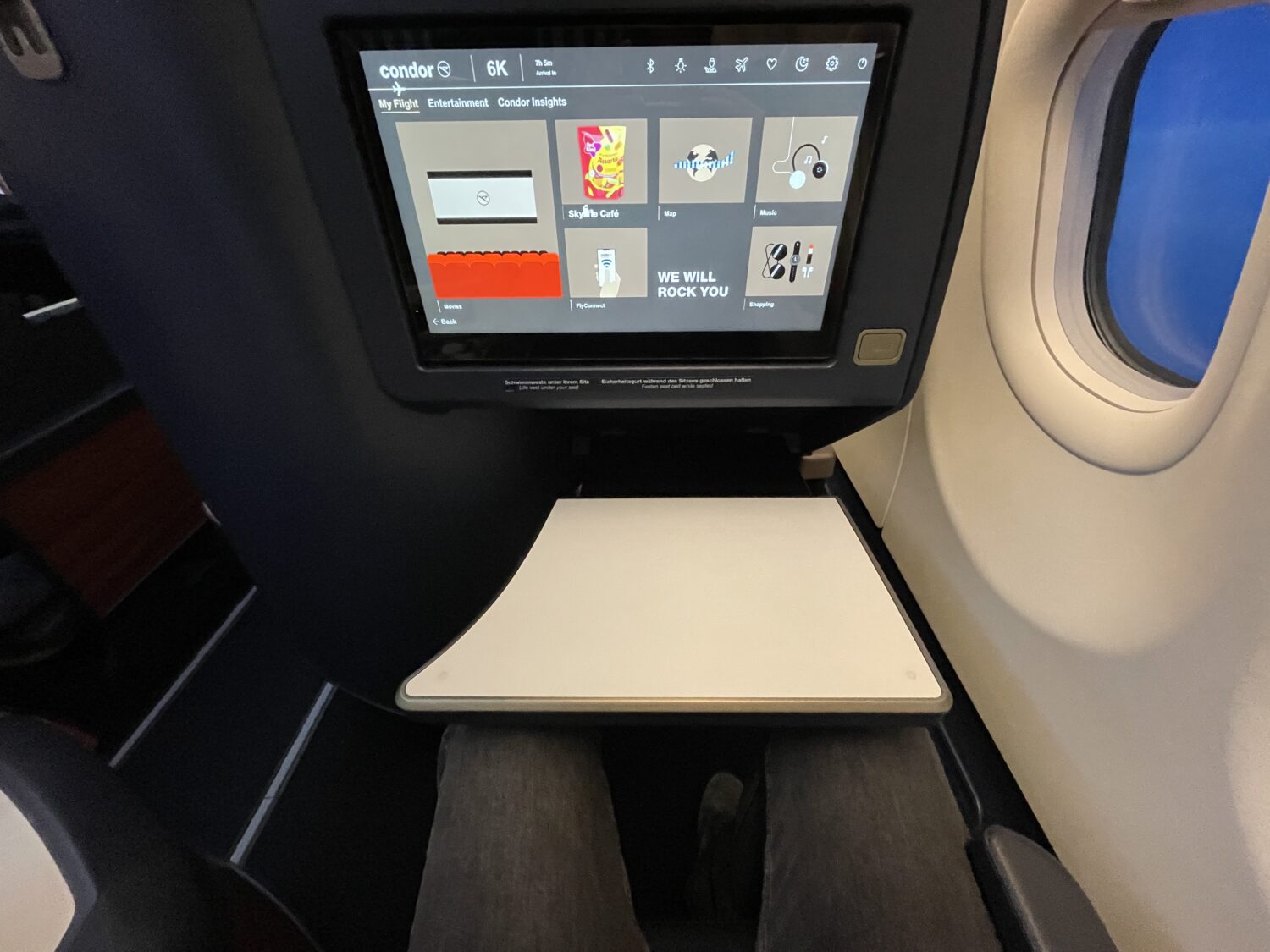 Probably the highlight of the business class seats is the 17.3-inch 4K TV. This was easily the best entertainment screen that I've seen in my experiences flying business class. These could be operated by just touching the screen or using the remote located on the side table. It was pretty easy to stay entertained with these beautiful TVs.

When I was finished with dinner, I decided to put my seat in lie-flat mode. I really enjoyed stretching out and relaxing with the seat positioned at a 180-degree angle. My feet just touched the end wall but it wasn't a big burden and it felt comfortable still. It was pretty easy to relax and still see the TV with the seat completely down.

The seat was right in the Goldilocks zone: not too firm, not too soft – it suited me just right. I was able to get a couple of hours of sleep on this flight.

Amenities
If there's one shortcoming of Condor business class, it's with amenities.
The amenity kits fell far short of what you get from many other airlines in business class.. It consisted of a small box containing an eye mask, a pair of cheap socks, and a toothbrush and toothpaste. There was also a small bag they labeled as a "travel organiser" colored in Condor's navy and white striped theme.

There was also a stick of lip balm and a note which stated the Condor is doing their best to keep the environment clean. The note also relayed that earplugs are available only upon request.

A pair of slippers was also included among the amenities which were – surprise surprise – striped. I tried these on for a bit and they were a little small but nice to wear for a while if you want to kick your shoes off.
The blanket and pillow, meanwhile, were nice and soft. The pillow was just the right size and had plenty of support to keep me comfortable.

For those passengers who don't bring their own headphones, Condor supplied a decent pair of over-ear styled noise-canceling headphones. These were placed in a plastic bag and hung on a hook over the side table.

I didn't end up trying these out because I brought my own pair of Bluetooth noise-canceling headphones and was excited to use the Bluetooth feature on Condor's entertainment system to get connected, which I'll get more into later.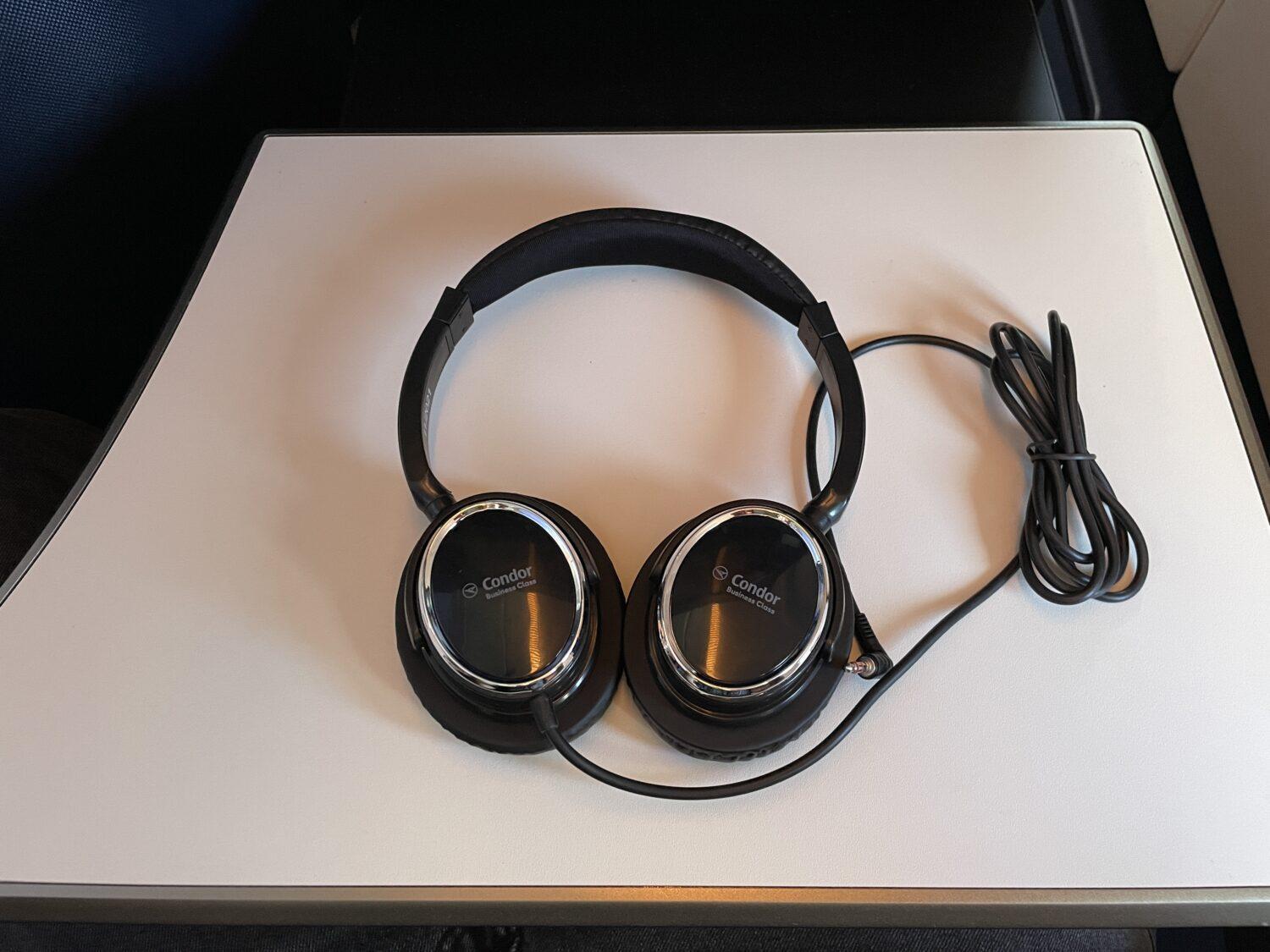 Overall, I felt like Condor did a decent job providing just enough amenities that a passenger could possibly need on this transatlantic flight. But there was nothing surprising here, either.
Dining & Service in Condor Business Class
I'll start this off with a confession: I'm a picky eater. I like simple food and big servings. I lucked out with Condor's food service.
This was one of my favorite dining experiences that I can remember flying business class. I was happy to see the selections when I first grabbed the dining menu.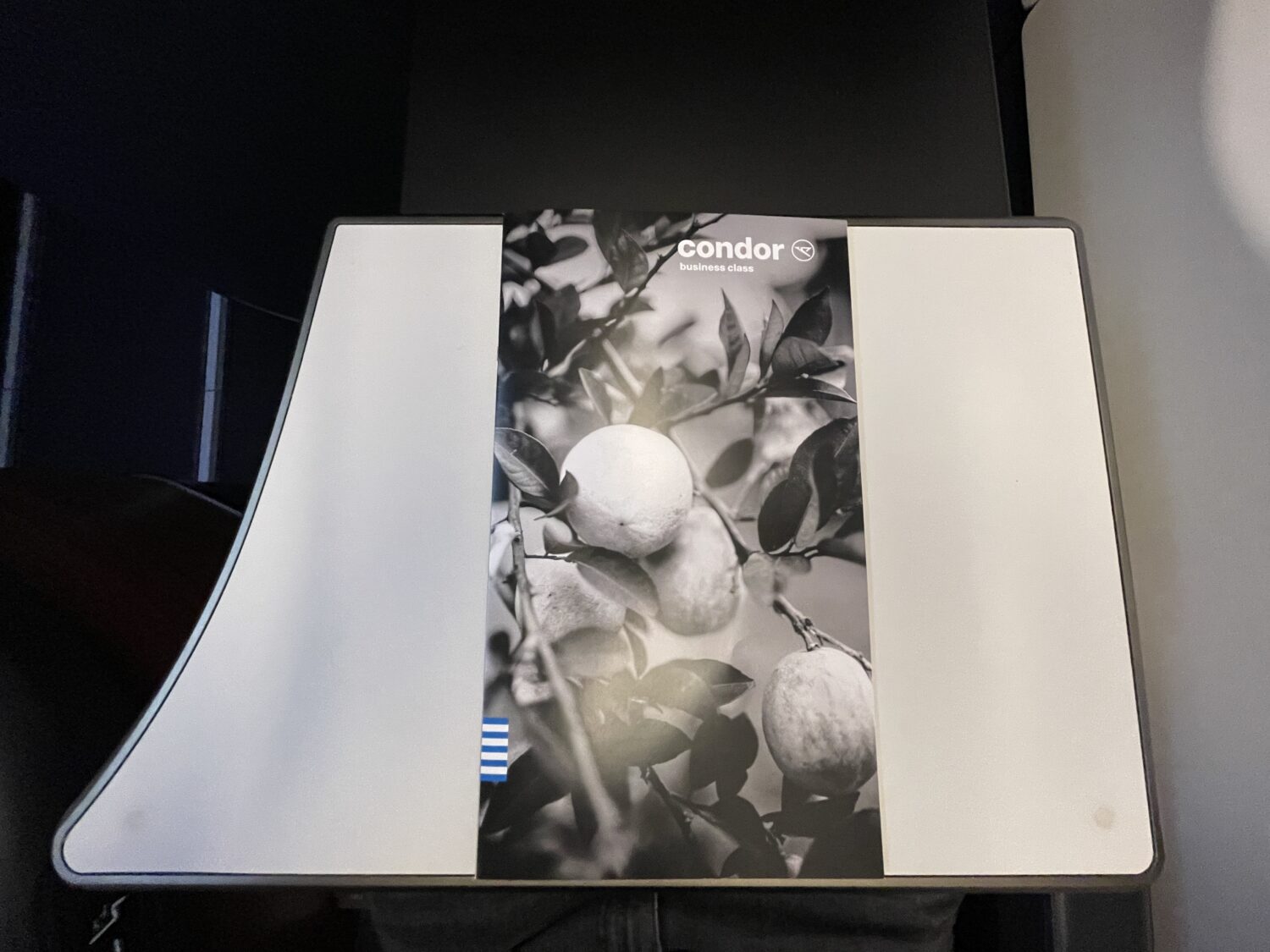 First things first, I was in need of a beverage(s). The first page of the dining menu showcased the champagne they had on board: Jacquart Mosaique, and it did not disappoint. There's nothing better than relaxing with a cold glass of champagne up in the sky.
Of course, there were more beverage items to choose from if champagne doesn't interest you. They had a solid list of other drink selections. I was surprised and tempted by the presence of Jägermeister onboard, too. But I decided against it to make sure this review turned out OK….
While some airlines will give you an option to mix-and-match from several different options for each course, Condor offers a simply food menu: You've got just three choices for entrees, and that's it. Everything looked good but I settled with the Chinese braised beef shortribs, which seemed much more appetizing than the cod or lasagna. I think I made a solid choice.

To start, the flight attendants quickly brought out the first plate of starters which actually had much more food than the main course. I was a little surprised (and happy) to see this much food at once that did not include the main meal.

This was one of the first flights that I can really remember truly enjoying everything I ate – and finishing it all.
The salad was just the right size prepared with fresh greens and cherry tomatoes, along with a raspberry vinaigrette dressing. Next, I devoured the turmeric chicken, which was served cold but still had great flavor and was tender. And the tuna was delicious, with just the right amount of seasoning on it. And a quintessentially German pretzel, which was warm and soft with amazing flavor.
I finished up this plate by trying out the variety of cheeses. All were very good but the sharp cheddar was my favorite.
Right as I finished this plate, the flight attendant cleared it and dropped off the main course. And the Chinese braised beef shortribs were a hit. The sauce was a great complement, while the yams, asparagus, and squash was just OK.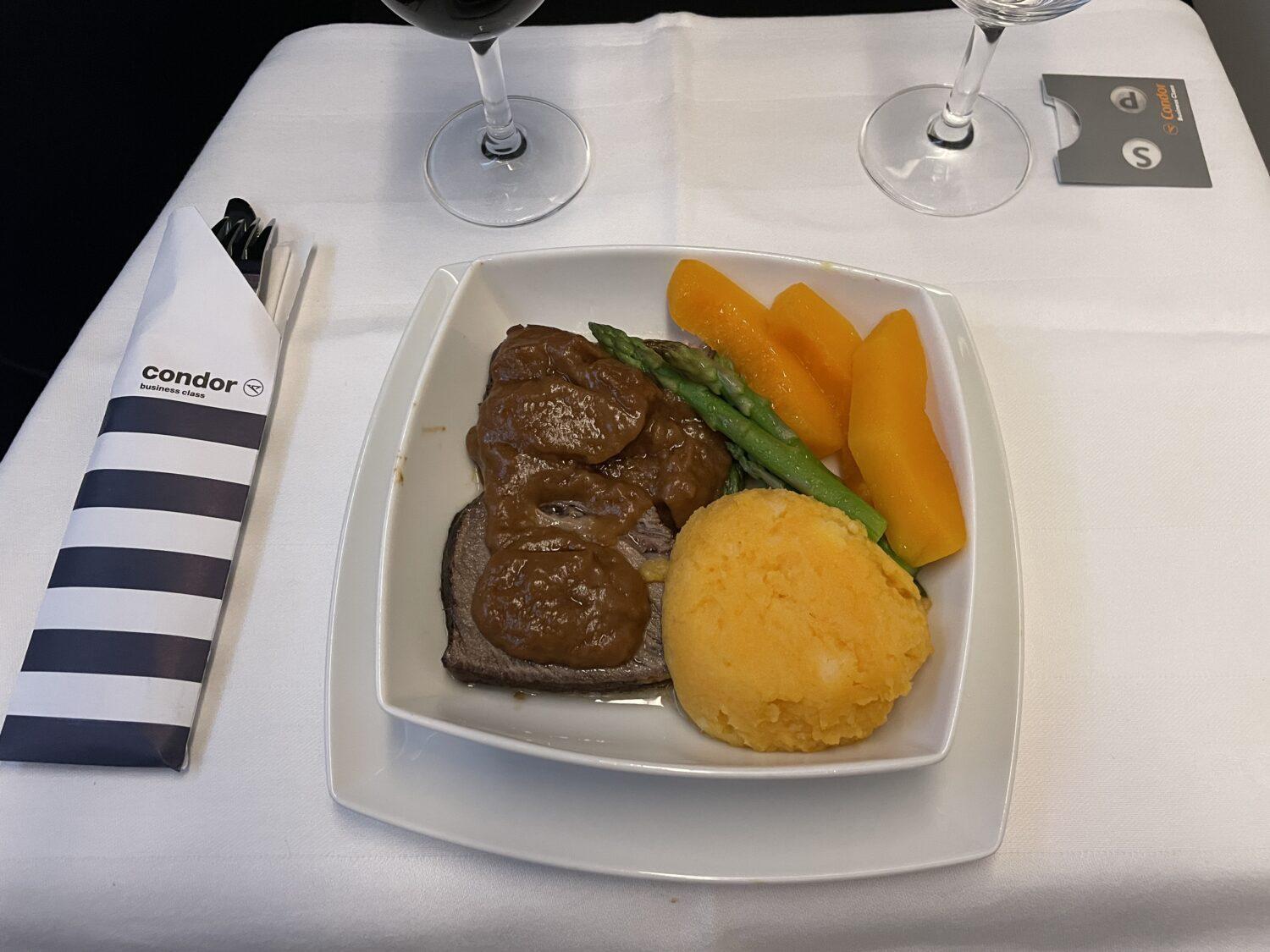 To finish up the first meal service, the service concluded with dessert. The lavender creme bar was a tasty finish to an already very impressive meal. I finished this up quickly along with the strawberry on the side.
Close to two hours before arrival in Frankfurt, the flight attendants began their breakfast service. As is the case on most airlines flying to and from Europe, it was a pretty simple service: A plate that consisted of ham and cheese on a croissant, a fruit bowl, and a pastry with berries. I also got orange juice, water, and a coffee with this meal.
I really wasn't that hungry since dinner was just a few hours earlier, but the breakfast meal was great. It was nice to get some more energy before arrival.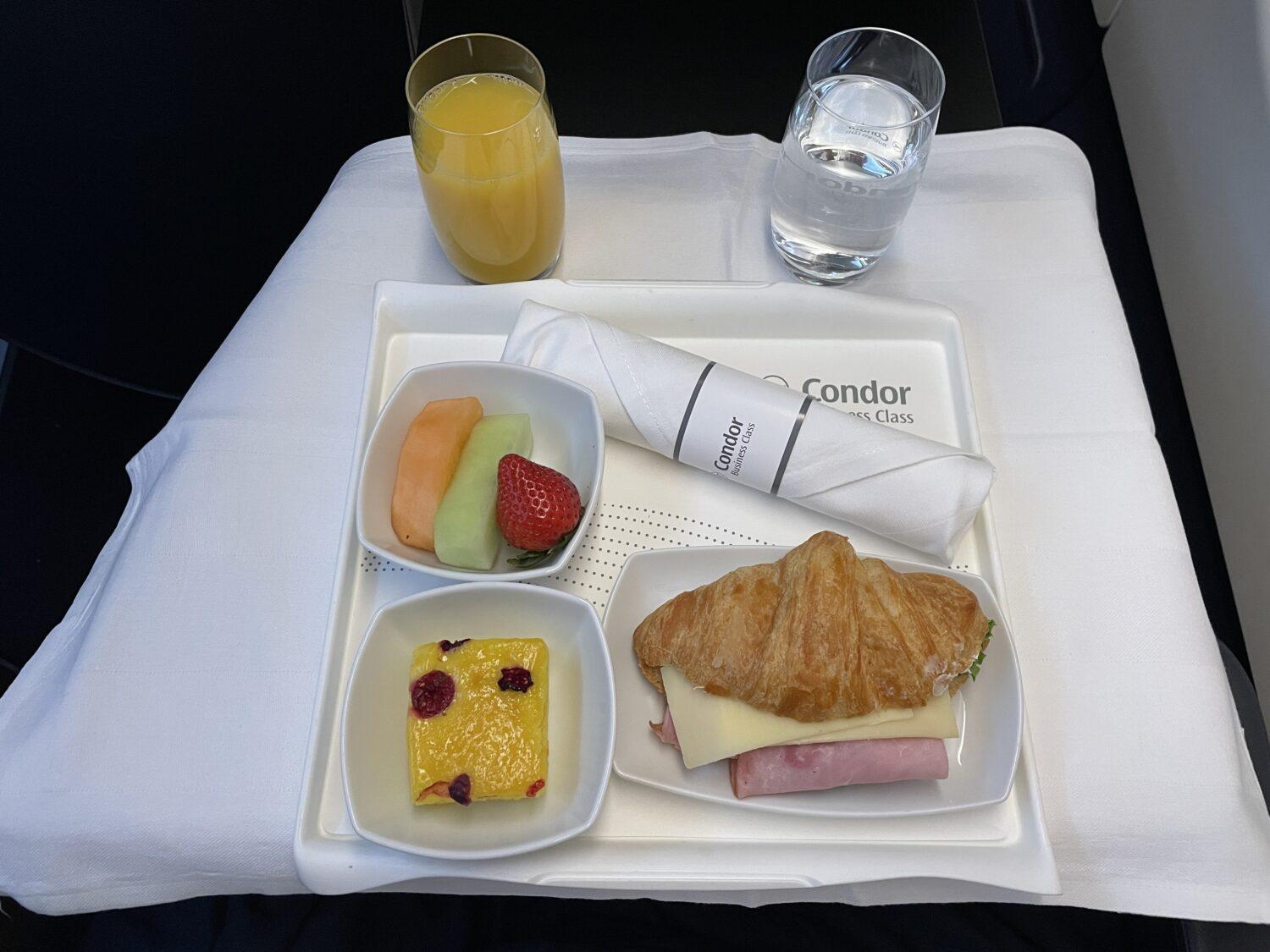 Entertainment
This might be the highlight of Condor business class.
Brand-new 4K monitors aren't common even on five-star, top-ranked airlines, but Condor has got them. And these 17.3 touch screens were very, very impressive: not just in size but in the crisp quality of the display.
It's clear Condor recognized the importance of this part of the passenger's experience, and they must have put a lot of money and effort into making this a top priority.

You could start by selecting the experience you wanted on the first screen, whether you're an adult or a child. There were also touch features with simple commands on the top field. The following screen was the main menu where you could choose from a wide variety of movies, do some shopping, listen to music, connect to the Wi-Fi, or just follow along the live inflight map.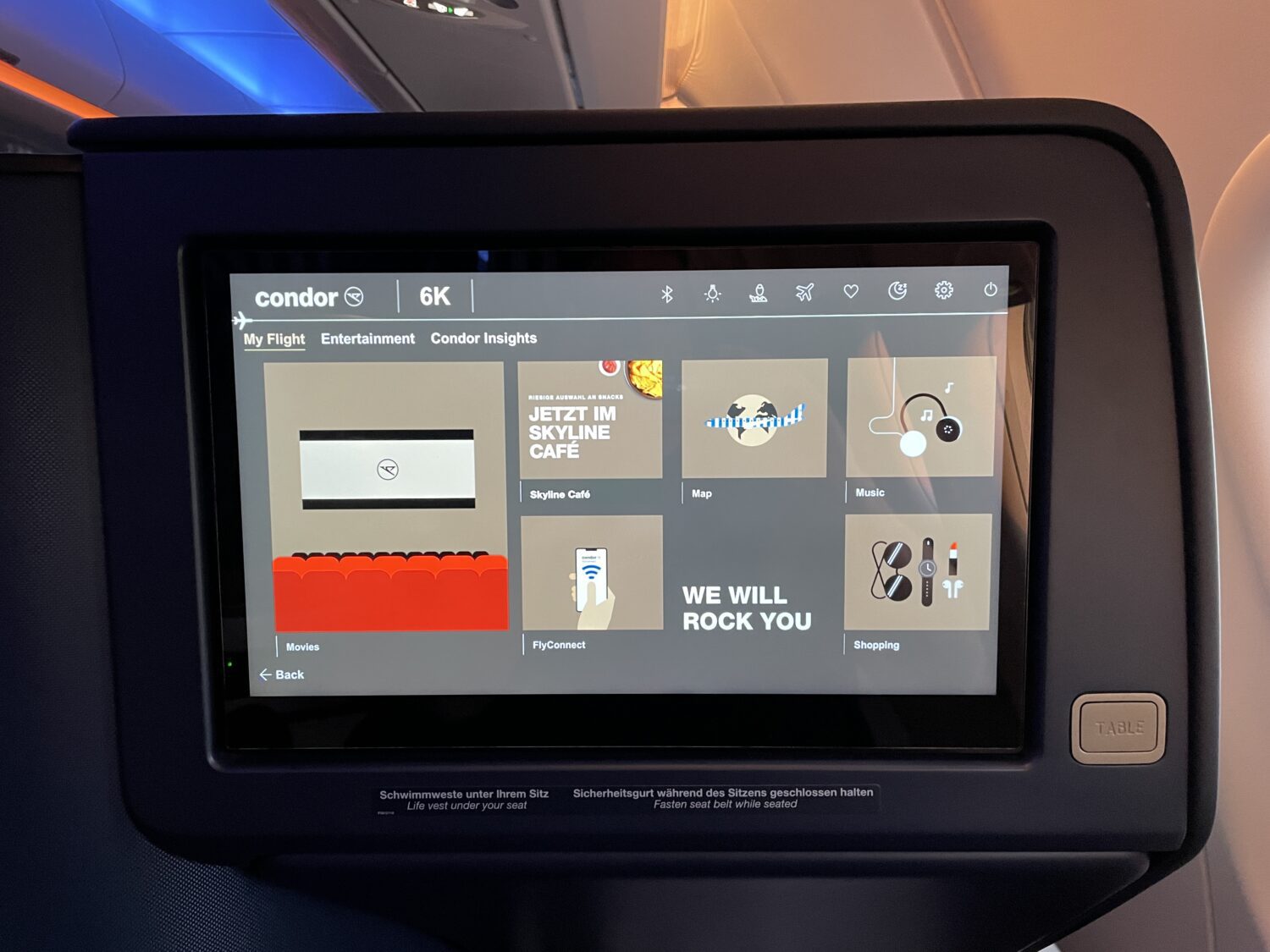 I really liked how all the selections were clearly organized and you could easily filter and toggle exactly what you're looking for. You could also add different selections to your "favorites" category for later on.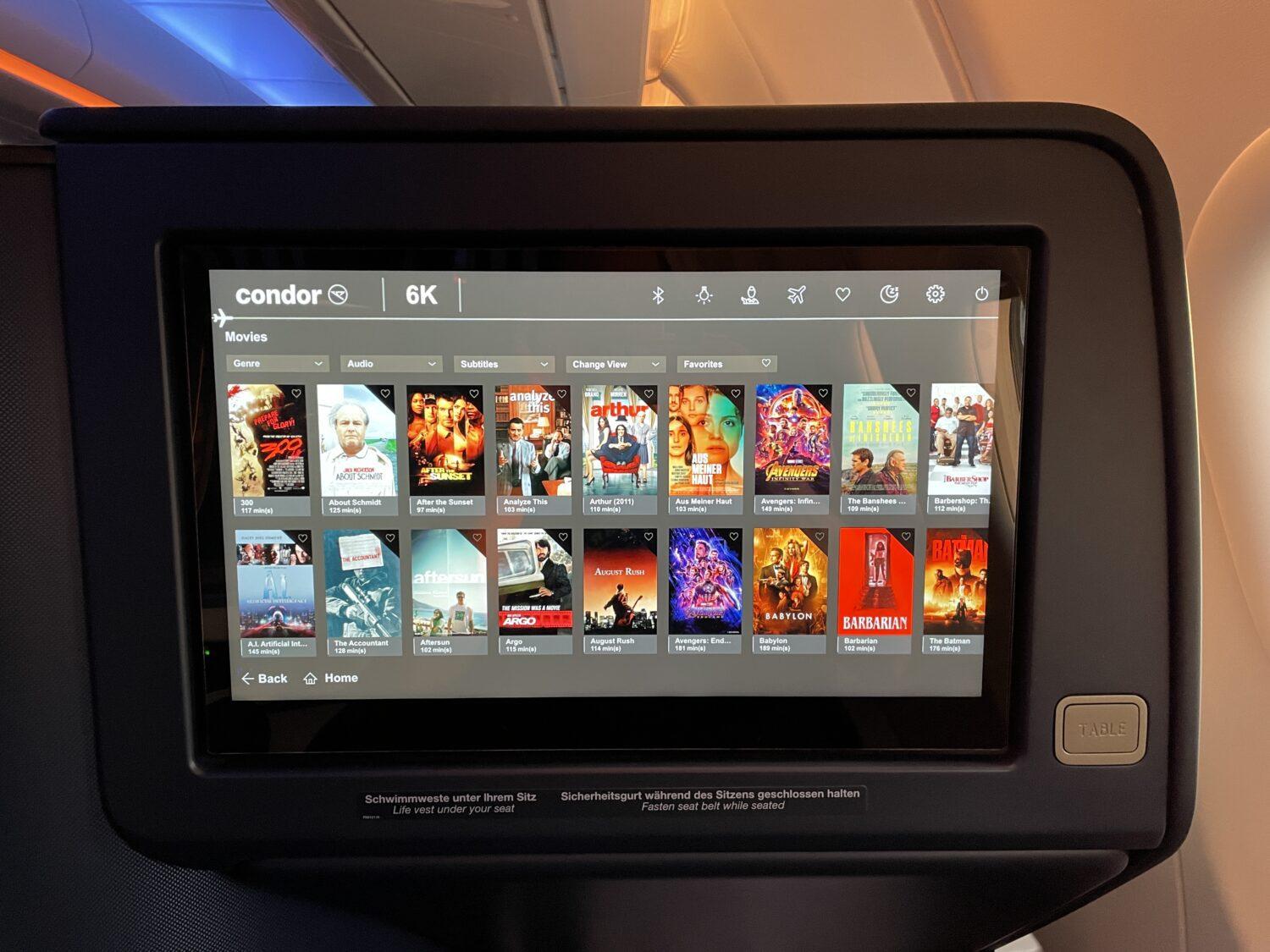 Most impressive of all: The ability to connect your own headphones to Condor's entertainment system via Bluetooth is a huge bonus. This is something that just a handful of airlines have begun to roll out as they've refreshed their fleets or brought new planes onboard. The fact that Condor is one of them is a very welcome surprise.
It was so easy to click a couple of buttons and have my Bose headphones paired with the TV.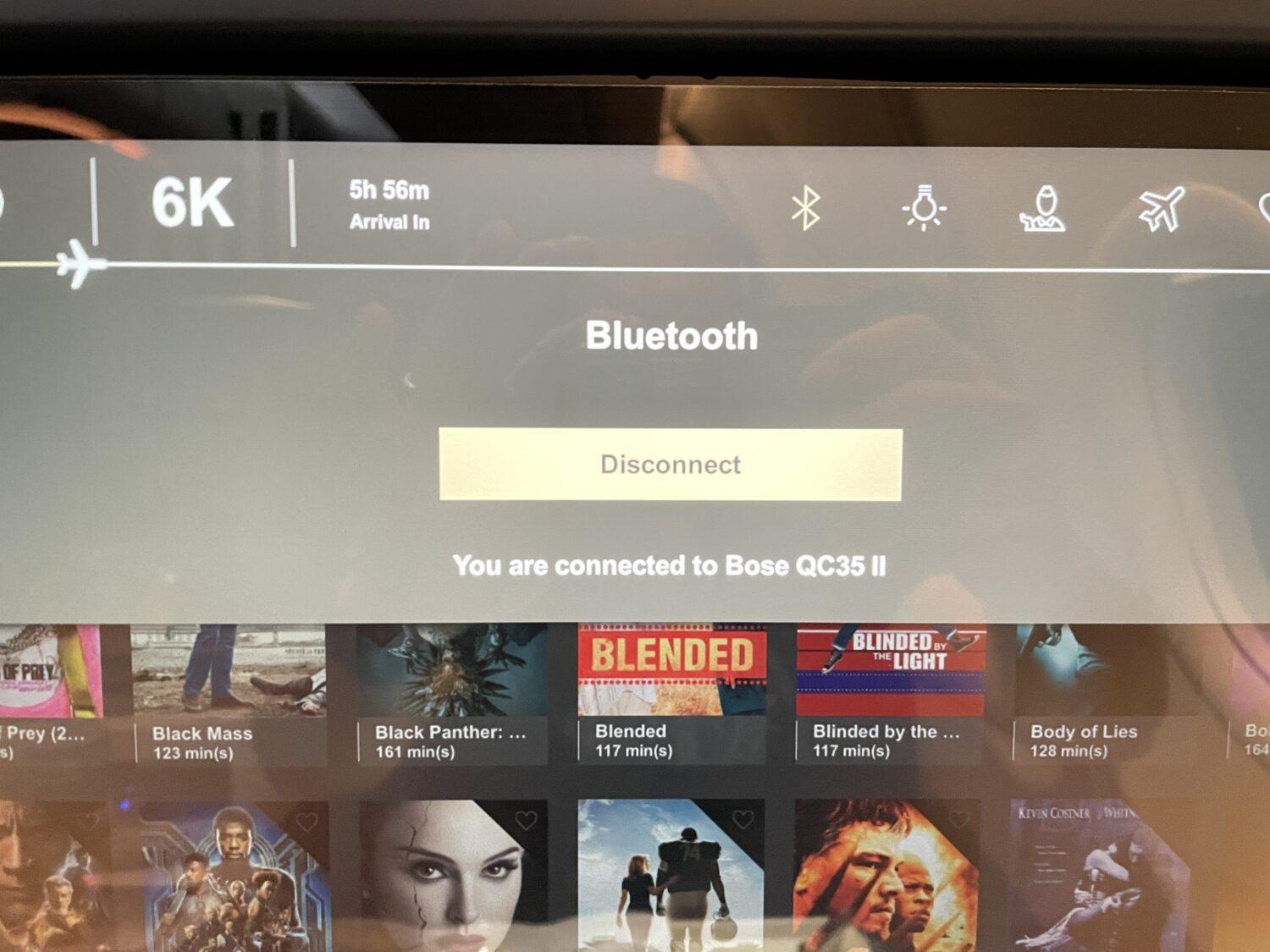 If you needed to get some work done or just can't be offline for too long, there was Wi-Fi available for purchase. But the prices weren't great…
The lowest package was called "Basic" and covered two hours for the price of $12 and the highest package called "Premium" cost $20 and covered you for four hours at a higher speed. There was no option to buy Wi-Fi for the entire flight at a reduced rate. With an overnight flight, I skipped Wi-Fi altogether.

A nice addition that Condor also offered on their entertainment system was the "Do Not Disturb" mode which could easily be enabled through your monitor. I didn't use it, but it's a nice option for those passengers who really need to rest for the entire flight. The flight attendants will not wake you when the meal service starts if this setting is on.

Bottom Line
A year ago, Condor was barely on my radar … and I know I'm not alone. Flying its outdated business class to Frankfurt wouldn't have even crossed my mind.
Now, Condor business class is near the top of my list. In fact, it could easily be one of the best ways to cross the Atlantic in lie-flat business class seats, especially for the price.
From the friendly and prompt service to some of my favorite food to the unparalleled in-flight entertainment with a stylish and comfortable seat, this is an airline that should be on everyone's mind when looking for an incredible flight to Europe in business class.