While countless other flyers and travel sites have written off Delta's frequent flyer program as worthless, we've regularly defended Delta SkyMiles. That ends today.
After years of steady cuts, award rates creeping up, skyrocketing business class rates, and even more recent troubling developments, it's time for a wake-up call: Flyers, readers, and Thrifty Traveler Premium members alike should stop focusing on earning SkyMiles or swiping their co-branded Delta Amex cards to earn miles. 
This doesn't mean you should stop flying Delta – heck, we'll continue flying them ourselves. But unless something changes, earning SkyMiles isn't worth it anymore: You'll probably need far too many miles to book that big trip. It's tough to say it, but we owe that honesty to you, travelers.
Want more tips, tricks and guides to find cheap flights or use your points? Sign up for our free daily newsletter!
Sure, travel bloggers and other so-called experts have been saying this for years. That's largely due to exorbitant award rates of 200,000 SkyMiles or more to book a one-way business class seat overseas … but that's not the only thing everyday travelers care about. All the while, there were plenty of good ways to redeem Delta SkyMiles for great trips – often for fewer miles than you could find from any other airline.
But Delta has taken an unmistakable turn with its loyalty program over the last several months, all but eliminating any remaining sweet spots to get much value at all when redeeming SkyMiles. Consider this:
A steady stream of international Delta SkyMiles flash sales like 32,000 SkyMiles to Europe have disappeared.
Once-or-twice yearly deals to book Delta One business class to Europe or Asia at reasonable rates have vanished, too.
On paper, the new TakeOff 15 benefit for Amex cardholders was great … but in practice, Delta seems to have simply raised award rates, negating that 15% discount while touting it to pump up card applications
Delta is still the only major U.S. airline that sells basic economy award tickets when using miles, without free cancellation or seat selection – and now those pesky fares have spread to almost every route worldwide, meaning you'll pay an extra 10,000 miles or more for "perks" that were once included.
From economy to business class, using SkyMiles to fly partner airlines like Air France or Korean Air was a reliable bargain … but now those partner award rates match Delta's own constantly changing (and often exorbitant) flights
Now, there are still a few good ways to use the SkyMiles you've already got. Domestic flights under 10,000 SkyMiles roundtrip can be fairly easy to find. Flying partner WestJet from the U.S. to Canada and back for 25,000 SkyMiles can be a bright spot, as is using those miles to book flights that don't touch U.S. – like throughout Europe or Asia.
But when one of the best ways to redeem SkyMiles is buying a bottle of champagne in the Sky Club, there's a problem. The overall trend is crystal clear: SkyMiles have sunk to an insulting low. And a one-off sale to Chile or a Mexico-sized loophole to fly Delta One Suites isn't anywhere near enough to change that.
Again, none of this means you should stop flying Delta or cut up your Delta Amex card. SkyMiles aside, it's a good airline! But that's the point: The airline's reliability, solid in-flight experience, and stranglehold on many major hubs has allowed Delta to treat its loyalty program like an afterthought, knowing that travelers will continue to rack them up regardless.
And that's just what they've been doing.
How & Why SkyMiles Have Slid to Rock Bottom
While we feel they've hit a new low recently, SkyMiles' steady decline has been underway for nearly a decade.
Long before other major U.S. airlines, Delta did away with its award chart way back in 2015, removing a critical reference point for travelers to figure out how many SkyMiles it should cost to fly from point A to point B. It's been a steady march toward dynamic award pricing ever since, with award rates tied closer and closer to the cash price. The more expensive the flight, the more SkyMiles it'll generally take to book.
And those rates seem to keep climbing and climbing. While Delta is far from the only airline devaluing its mileage program, the Atlanta-based carrier has practically turned it into an art form.
For years, our mantra was: "Forget what you've heard, SkyMiles are not worthless." But there's no question that flying business class abroad has taken the biggest hit. Delta One business class awards that were once bookable for roughly 60,000 miles each way have ballooned to 120,000 SkyMiles, then 200,000 SkyMiles, and now often 300,000 SkyMiles or more each way.
While competitors like United and American still charge 80,000 miles or less for a business class seat to Europe, this has become all too typical when trying to redeem Delta SkyMiles.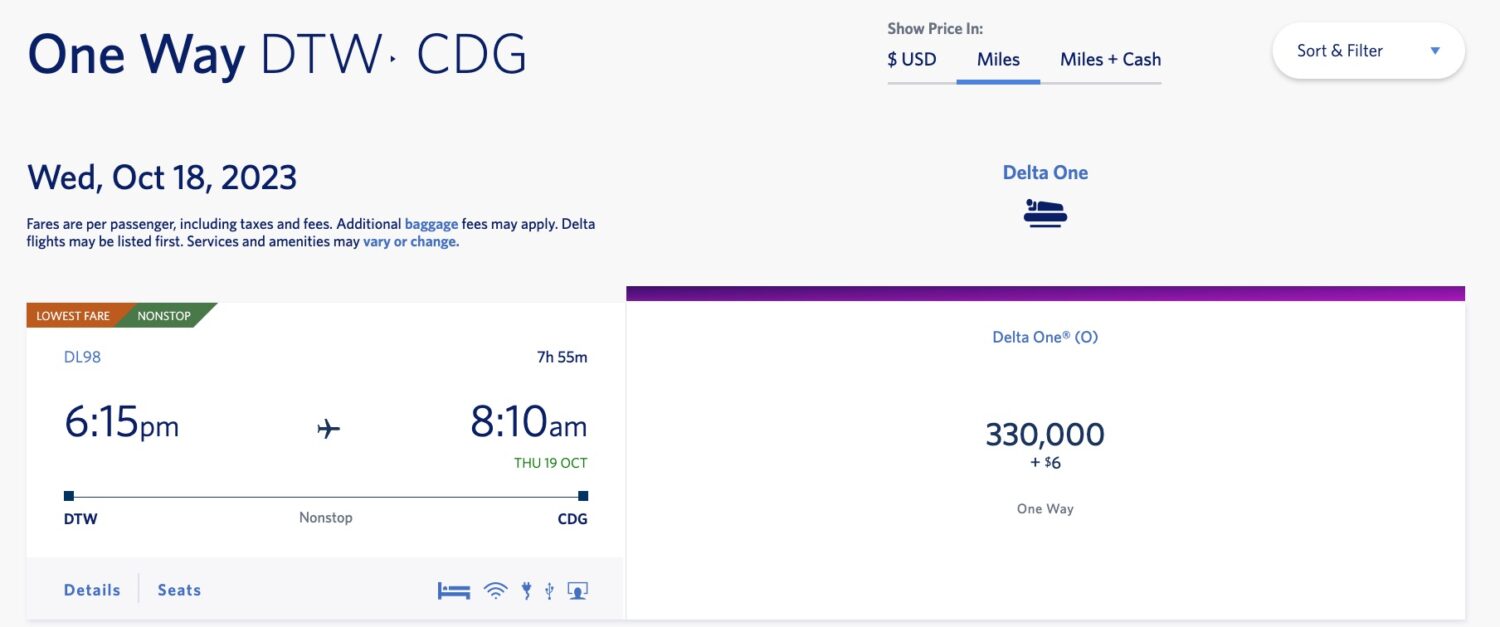 Meanwhile, Delta has also gutted business class award redemptions on partner airlines like Air France, KLM, and Virgin Atlantic through several rounds of award rate hikes, eventually closing the last few workarounds to book at reasonable prices.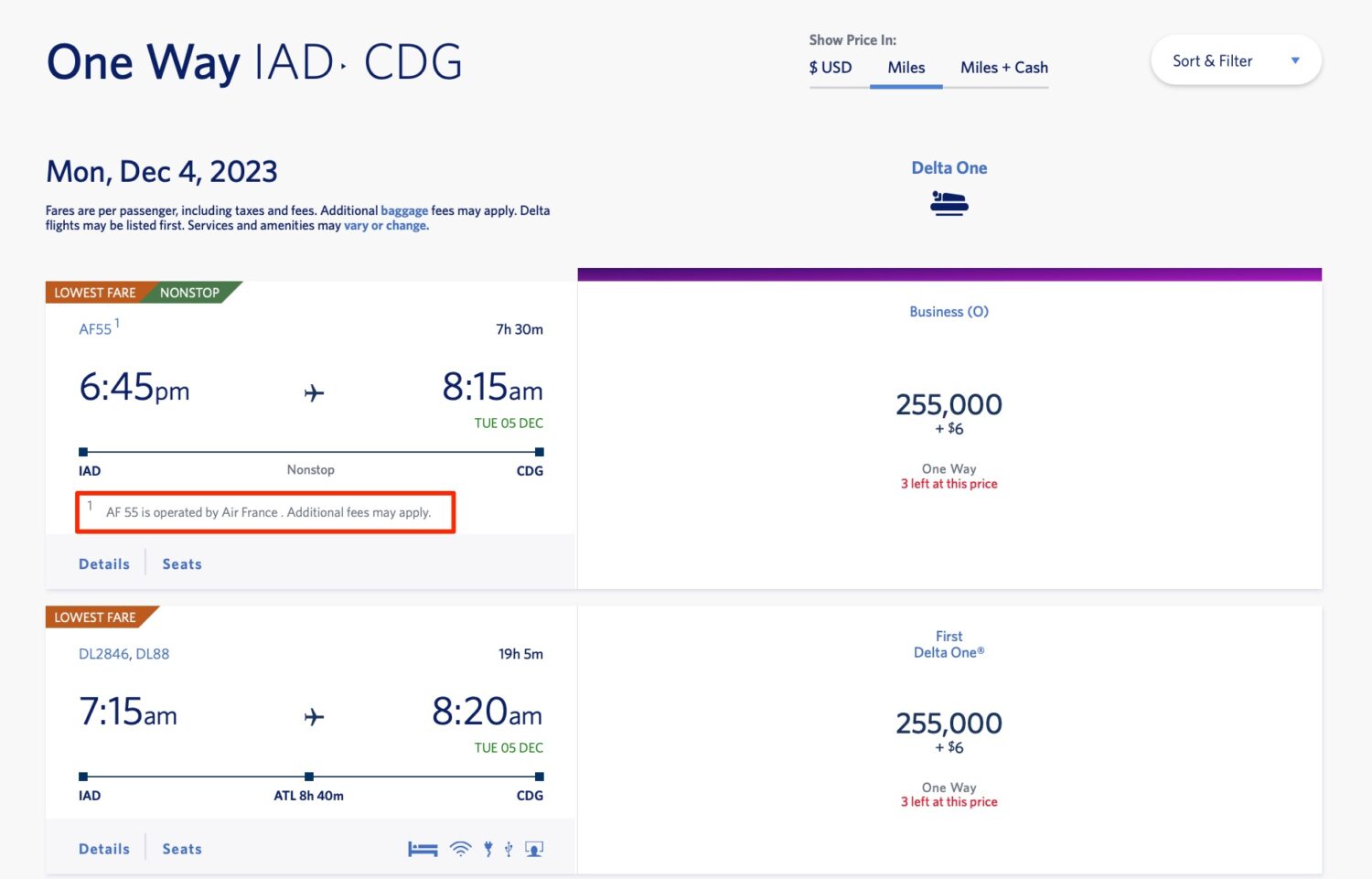 We acknowledged the pain for travelers hoping to fly up front, with lines like: "If flying business class is at the top of your list, earning Delta SkyMiles shouldn't be." But it's not just business class anymore: Exorbitant award rates to fly economy have spread to most routes across the globe, too. 
Travelers hoping to get to Rome (FCO) or Tokyo-Haneda (HND) are likely to see roundtrip flights for 100,000 SkyMiles or more unless they're extremely flexible. And now that basic economy awards have spread worldwide, you'll have to fork over even more.
This isn't a cherry-picked example: It has become the norm. And just as with booking business class, savings when using SkyMiles to fly economy with partner airlines have vanished, too.

Why has Delta done this? In short: Because it can. 
From travelers held captive at major hubs like Atlanta (ATL) and Minneapolis-St. Paul (MSP) to diehard fans who simply refuse to fly other carriers, Delta is counting on its customers to keep racking up SkyMiles almost as an impulse. And between its operational reliability and generally better service, Delta has set itself apart enough from its competitors that it can make SkyMiles less valuable than American AAdvantage miles or United MileagePlus miles … because they know their loyal flyers will probably keep flying Delta anyway.
Delta's main tool to encourage loyalty isn't its loyalty program: It's the airline itself. Earning some SkyMiles is just a bonus – and increasingly, a less and less valuable bonus.
"We look at value … more holistically," Delta's head of SkyMiles, Prashant Sharma, said during an interview last year when asked about the value of SkyMiles compared to other airline programs. "Mileage redemption is a big portion of it, but also just everything else that Delta can provide in terms of the experience and making them come back to us."
So long as travelers keep flying Delta, joining the SkyMiles program (thanks to free Wi-Fi), and signing up for a co-branded American Express card, Delta's strategy won't change. Why offer outsized value for SkyMiles when people keep signing up and earning them regardless?
"Our focus here is to provide consistent and sustainable value where customers want to use their miles. We are not necessarily trying to play the game with customers or with bloggers," Sharma said last year. "We listen to what customers want and we try to offer that."
What We'll Do Now
We're telling you that Delta miles aren't worth what they once were. And we're ready to put our money where our mouth is.
Over the years, we've played a part in travelers' loading up with Delta SkyMiles by promoting the big bonuses of up to 100,000 SkyMiles that the airline and American Express roll out on their co-branded credit cards a few times each year. But with the current state of SkyMiles, those big bonuses should no longer move the needle for the average traveler … and our coverage will reflect that.
Just like many other travel sites out there, we get a cut when you apply for many travel credit cards through us – and that includes Delta Amex cards. But for us, our mission of doing right by readers is far more important. And if we're telling you that SkyMiles aren't worth earning, that's an easy tradeoff to make.
We'll continue to write about those cards going forward, but with an emphasis on the ongoing benefits that provide real value for travelers like free checked bags or Delta companion certificates for once-a-year BOGO flights – not on eye-popping bonuses.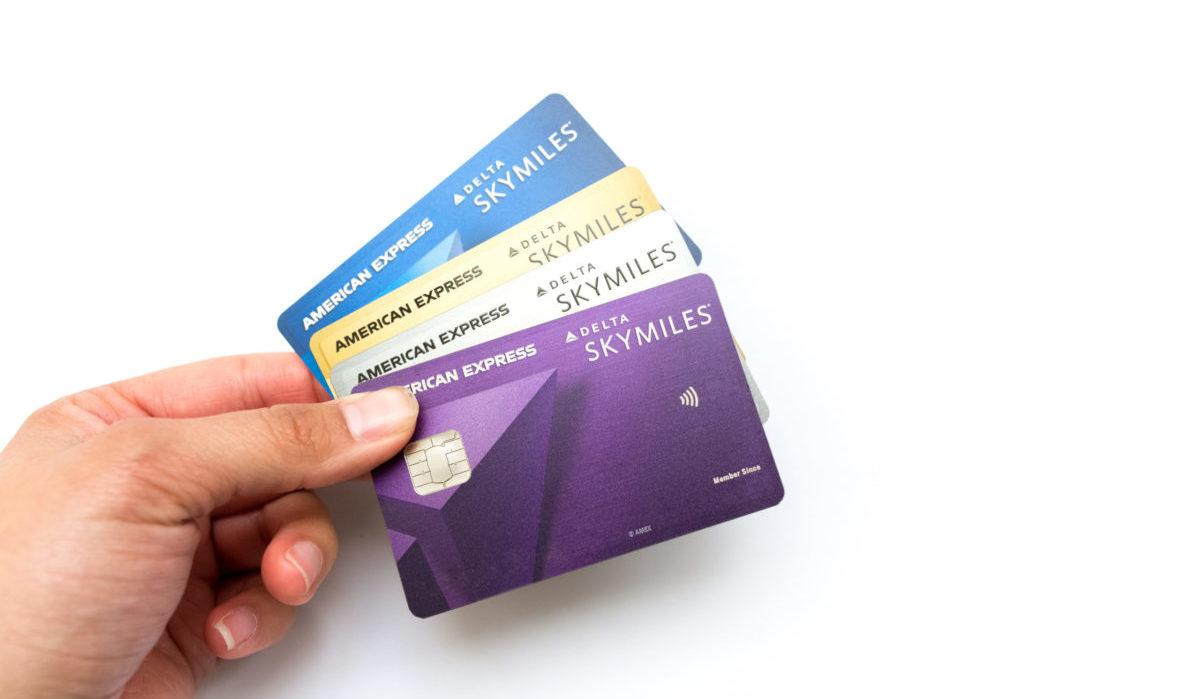 We've sung the praises of Delta SkyMiles flash sales over the year, which had been a major bright spot by offering deeply discounted award rates on flights across the globe. But as the scale and frequency of those sales have dwindled, we're rethinking our coverage.
We'll continue searching for those great Delta deals for our Thrifty Traveler Premium+ members and readers who have SkyMiles to burn, as we always do. But as it stands, Delta's inflated pricing means there simply aren't nearly enough good deals out there to encourage travelers to stockpile SkyMiles for the next one.
We've got homework for you, too.
What You Should Do Now
Wondering what this means for you and your current stash of SkyMiles? We've got some advice:
Stop swiping your Delta credit card everywhere you go! Too many travelers reflexively charge their Delta cards at restaurants, grocery stores, and the gas pump, thinking it's great to keep earning SkyMiles on every purchase. But until award rates start declining, those SkyMiles you're earning on everyday expenses aren't getting you nearly as far as they should.
If you're a frequent Delta flyer, keep your Delta card in the drawer. From free bags to Sky Club access, the benefits from Delta's portfolio of credit cards remain solid. But you don't even need to pay with that card to get a free bag on your next Delta flight.
Focus on earning transferrable credit card points instead. A stash of American Express Membership Rewards points from a card like the American Express® Gold Card beats a bunch of SkyMiles every time. You could transfer those points to Delta if a decent deal pops up … or, more likely, to another more valuable airline program.
Explore other ways to book Delta award tickets without using SkyMiles. Booking Delta flights using Virgin Atlantic points can be much, much cheaper than what Delta itself charges for the exact same flight. Same goes for Air France/KLM Flying Blue.
Feel free to keep slowly adding to your stash of Delta SkyMiles. Partnerships with Starbucks, Lyft, and others make that easy and automatic – as well as when you actually fly Delta, of course. But if it's a choice between earning SkyMiles through a shopping portal or dining program and another airline? Easy: Go with the other airline.
The Best Ways To Use the SkyMiles You've Got
The list of great ways to use your Delta SkyMiles has shrunk and shrunk … but it's not down to zero yet.
While they may not get you the most bang for your buck, here are some of the best ways to use SkyMiles today.
Domestic flights might be the best bet. We regularly find roundtrip fares around 10,000 SkyMiles, sometimes even less. Whether you need to book positioning flights ahead of a bigger trip or just need a long weekend getaway, it's a surefire way to redeem SkyMiles these days.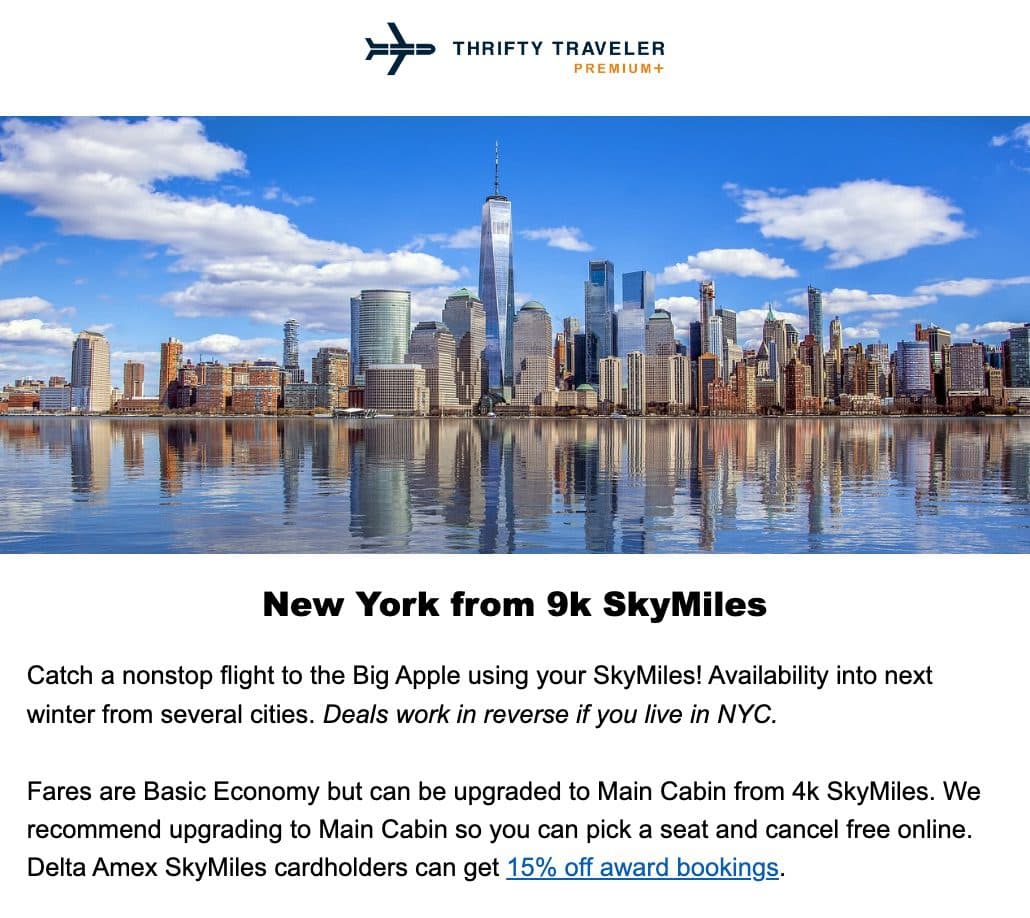 If you're outside the U.S. and need to get around, search with your SkyMiles. Delta award rates are much more reasonable so long as you're not touching U.S. soil.
Whether you want to get to Calgary (YYC), Vancouver (YYC), or elsewhere in Canada, flying WestJet from the U.S. for 25,000 SkyMiles can be a deal.
No, really: Buy some champagne at the Delta Sky Club. SkyMiles are worth 1.5 cents apiece at the Sky Club bar, so buy a nice bottle of champagne to kick off your trip for a few thousand miles.
Upgrade your flights. Few airlines make it so easy to upgrade using miles. And while you're not getting much value out of your miles this way, sitting in Delta first class is always nice.
Search with Delta's "Price Calendar" option. It's the best way to ensure you're getting the lowest rate … even if that rate is still incredibly high.
Be sure you're booking roundtrip. Aside from domestic flights and other destinations closer to home, Delta often charges far more for one-way flights than 50% of the roundtrip rate.
Read more: 8 Tips to Use Delta SkyMiles for Maximum Value
Bottom Line
We wish it hadn't come to this.
For years, we've focused on helping travelers use their SkyMiles wisely rather than bash them. But that has gotten harder and harder recently … and now it's hit a breaking point. SkyMiles still aren't worthless – but they're worth much less than many travelers believe.
Only you can decide what's right for you and your travels. But until the landscape with Delta SkyMiles changes, you're probably better off shifting your focus away from earning them.