One of the best transfer bonuses for American Express Membership Rewards points is back – and it could be one of the best ways to use your Amex points.
American Express is running yet another great promotion with Virgin Atlantic, offering a 30% bonus when transferring Amex points to your Virgin account. This bonus is widely available so long as you've got a card that earns Membership Rewards like the The Platinum Card® from American Express or the American Express® Gold Card – your co-branded Delta SkyMiles credit cards from American Express won't do the trick, sorry. 
This bonus is available through June 14, so you've got a few weeks to take advantage.

Read our guide on Amex transfer partners and how it works!
These transfer bonuses are basically free miles. And while you may not use Virgin Atlantic or know much about their Flying Club program, you should. If you've got Chase points from a card like the Chase Sapphire Preferred® Card, you're in luck: Chase is running an identical 30% transfer bonus to Virgin Atlantic through June 15. 
Thanks to some excellent partnerships, you can use Virgin Atlantic miles to book an amazing flight in Delta One Suites for as low as 39,000 points or even a first class seat to Japan and back at an enormous discount, among other opportunities. This bonus just makes things even sweeter.
But while you may be tempted to cash in immediately, remember: These transfers are a one-way street – once you send points to Virgin, you can't get them back to your Amex account. That means you shouldn't transfer points to Virgin Atlantic (or any airline) until you know the flights you want to book are available.
The Basics on Virgin Atlantic
Virgin Atlantic is a quirky airline with a quirky frequent flyer program. The airline flies from several U.S. gateways to London-Heathrow (LHR), as well as between several international hubs like Dubai (DXB) and Hong Kong (HKG). But you'll rarely see us recommend using Virgin Atlantic miles to fly Virgin Atlantic flights.
While its award chart offers some pretty decent rates for getting to Europe and back, the fees it charges on award tickets are exorbitant. You can expect to pay $500 or more for just an economy roundtrip ticket flying in and out of London-Heathrow. That's just not worth it.
Luckily, there are some incredible partnerships where you can save a ton of miles by booking with Virgin Atlantic, with far more reasonable fees. Add in this transfer bonus from American Express, and it's a no-brainer. You can transfer points to a Virgin Atlantic account from Amex, Chase, Capital One, and Citi as well as Marriott. All of them, including American Express, typically transfer on a 1:1 basis.
However, with this current 30% bonus, Amex is obviously your go-to. If you transfer 50,000 American Express Membership Rewards points, you'd get 65,000 Virgin Atlantic miles. These transfers can take up to a day or two to go through, though transfers often clear immediately. 
One reminder: Despite the type of credit cards Delta uses, American Express Membership Rewards points are different than Delta SkyMiles. Read up below on how to earn these valuable – and transferrable – points.
Virgin Atlantic's website can be a tad difficult to navigate. Getting award flights to show up on a given route can take a few tries. One good trick is to search for airports by country or region and pick them, rather than manually typing in the city name or airport code.
And unfortunately, Virgin Atlantic recently made it even harder by removing a handy award calendar you could use to scroll through a month's worth of flights at a time. Fortunately, there's a workaround you can use to still pull this feature up.
Read our complete guide to using & maximizing Virgin Atlantic Flying Club!
So what can you book? 
Major Delta Deals
We don't need to tell you that trying to understand and use Delta SkyMiles can be frustrating. There's no award chart, so the airline's pricing when booking a flight with miles can be all over the map. Often, a Delta award flight can be obscenely expensive – especially fi you want to fly business class.
Enter Virgin Atlantic. You can easily use Virgin Atlantic to book the exact same Delta flight and save a boatload of SkyMiles. 
The London-based airline offers a far more stable – and frequently cheaper – alternative to book Delta flights than using SkyMiles outright. And considering you can transfer Amex points to both airlines, that's useful to keep in mind.
Case in point, it's next to impossible to find decent rates flying Delta One business class using miles. The airline regularly charges 300,000 SkyMiles or more for a business class seat to Europe, including the new Delta One suites.

But with Virgin Atlantic, it's just 50,000 miles to fly Delta One to Europe. Unfortunately, Virgin Atlantic destroyed a similar sweet spot to get to Asia for just 60,000 miles a few years back.
Still, there's plenty of value here with redemptions to Europe – though you'll have to be flexible, as finding these business class awards at such cheap rates through Virgin Atlantic has gotten much harder recently. But when you can, it's a steal. Here's an example.
Delta was charging almost 350,000 SkyMiles to fly Delta One from Minneapolis-St. Paul (MSP) to Amsterdam (AMS) earlier this year. That's just a one-way flight. Ouch.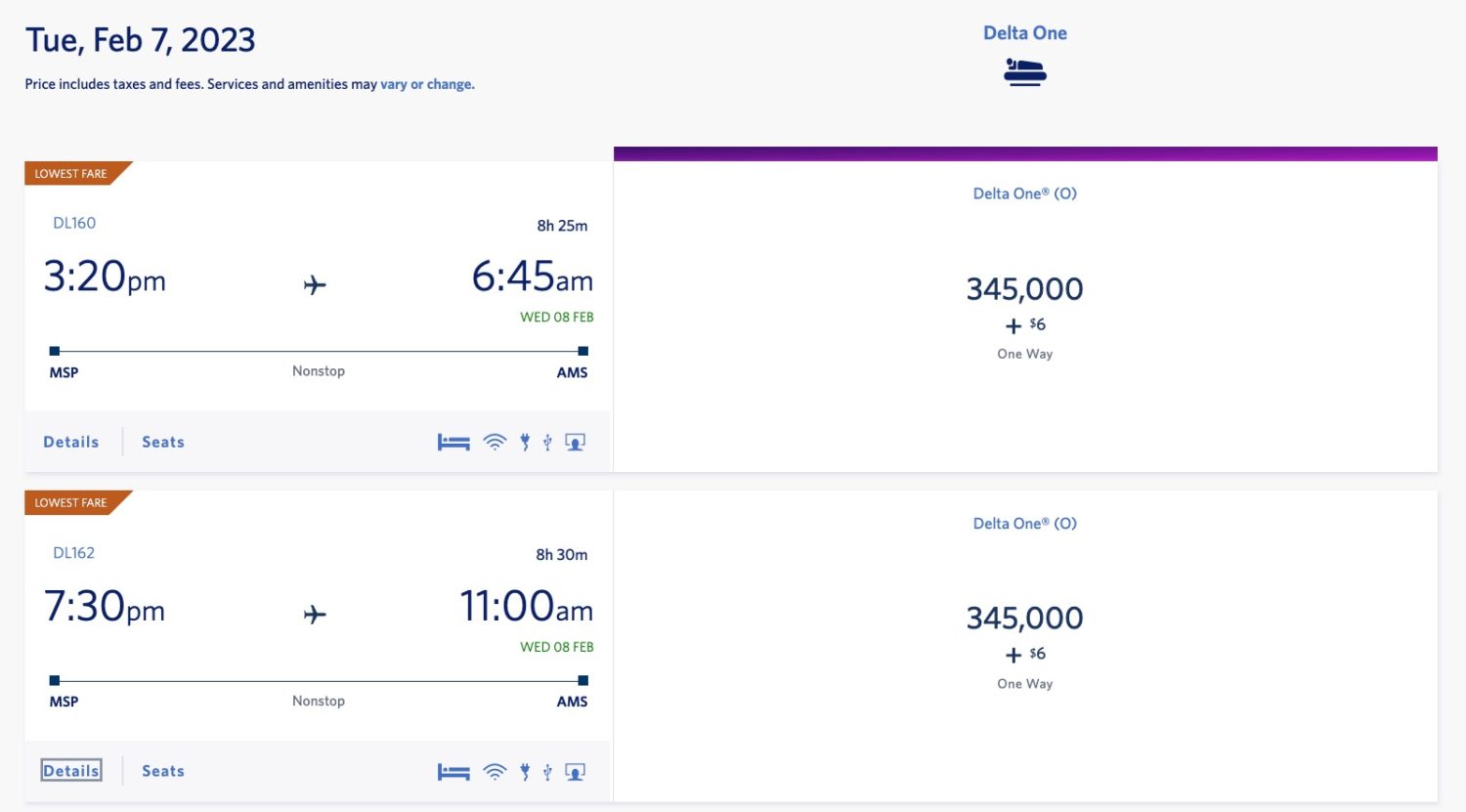 But you could have booked the exact same flight – same plane, same seat, same day – through Virgin Atlantic for just 50,000 miles. Factor in this 30% bonus, and you'd only need to transfer 39,000 Chase points to make it happen.

Booking that for less than 39,000 points is one of the best deals you'll find in the world of points and miles. It can require some flexibility to lock in flights at these low rates. It all hinges on finding award availability, and you won't see that every day – in fact, it's dried up altogether recently. But that's not always the case: We've sent Thrifty Traveler Premium+ members several alerts late last year to book this deal.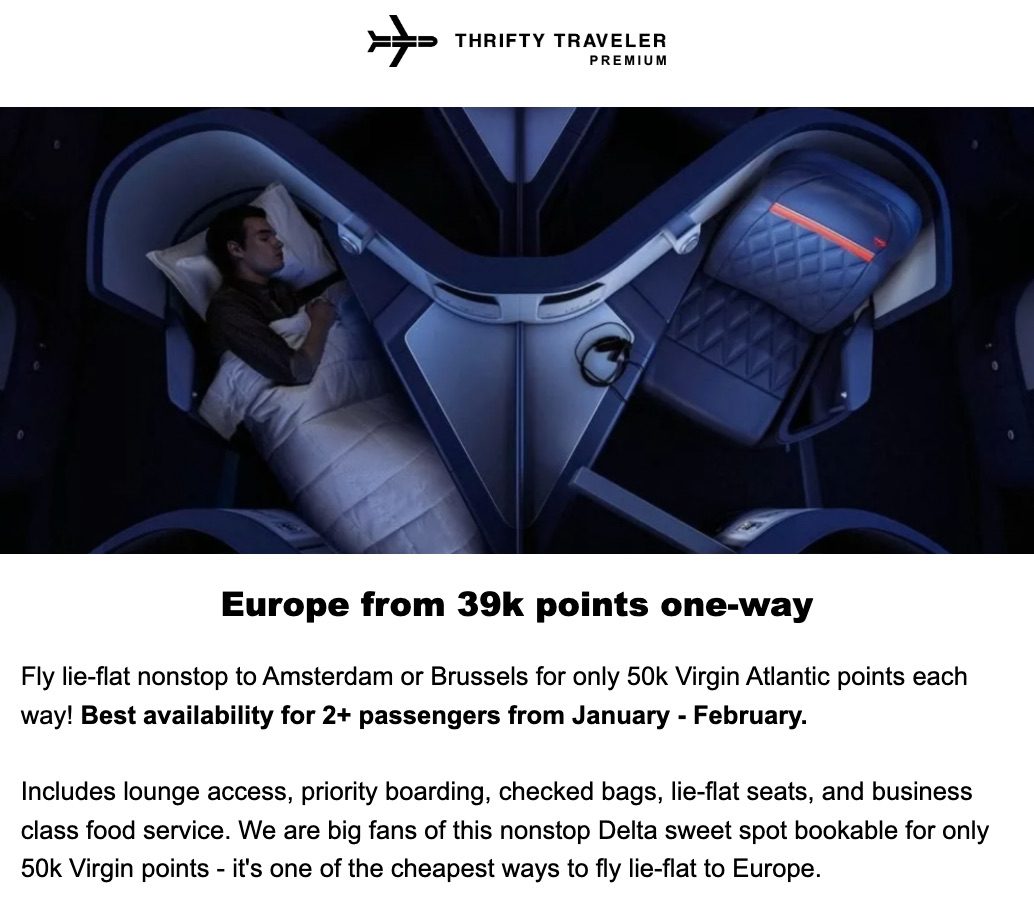 Get alerts for the best ways to use your points and miles with Thrifty Traveler Premium+!
Just remember: Never transfer points to Virgin Atlantic (or any airline) until you know the flights you want to book are available. These transfers are a one-way street – you can't get them back to your Amex account.
Read our guide on booking Delta flights with Virgin Atlantic miles, and you'll be ready to start hunting for the deal of a lifetime.
Flying Delta economy to Europe using 30,000 Flying Club points each way is typically much, much easier. There was wide-open availability from many U.S. cities on Delta nonstop flights this summer. With this bonus, 47,000 Amex points is all you'd need to transfer and book flights that would otherwise cost $1,800 or more!

One other great way to save some SkyMiles on Delta flights? Nonstop flights from the mainland U.S. to Hawaii, which cost 30,000 to 45,000 miles round-trip in economy, depending on where you're starting from. There can be huge savings over what Delta typically charges for the same flights.
Flights from West Coast cities like Seattle (SEA) or Los Angeles (LAX) will run you just 30,000 miles roundtrip, while a midwestern city like Minneapolis-St. Paul (MSP) jumps to 45,000 miles roundtrip. At 45,000 miles through Virgin Atlantic, you could book by transferring just 35,000 Amex points!

Delta typically charges almost 80,000 SkyMiles for these exact same flights!
The same is true for nonstop flights from Seattle (SEA) to Tokyo-Haneda (HND) in economy. But you can book them for just 55,000 Virgin Atlantic points, meaning you'd need to transfer just 43,000 Amex points with this bonus.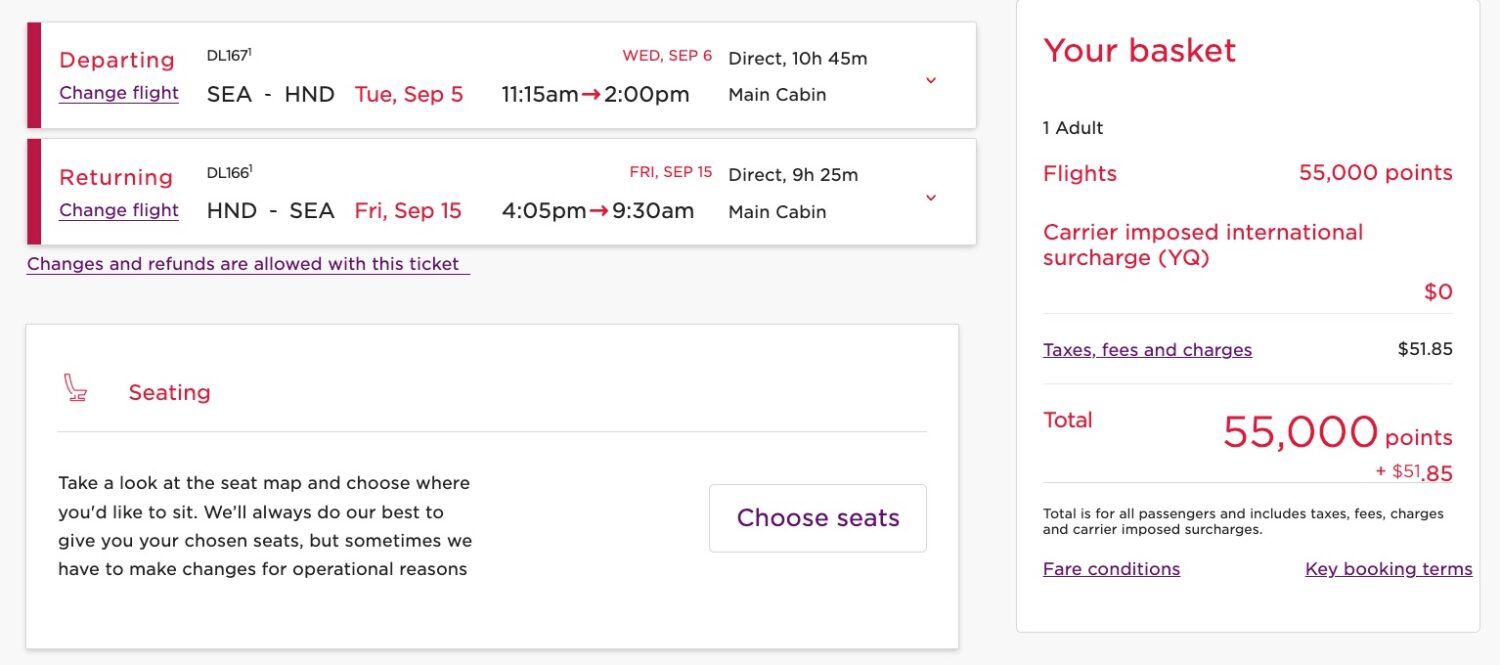 Fly in Style with ANA
Japan is open. You can also use this transfer bonus to score an amazing deal on a trip to Japan on one of the world's best airlines. 
ANA is one of Japan's flag carriers, and it lives up to its five-star reputation. Its first class cabin is spacious, private, and offers some of the best catering in the aviation world. And even ANA business class is outstanding, rivals Qatar Qsuites for #1 in the world, too.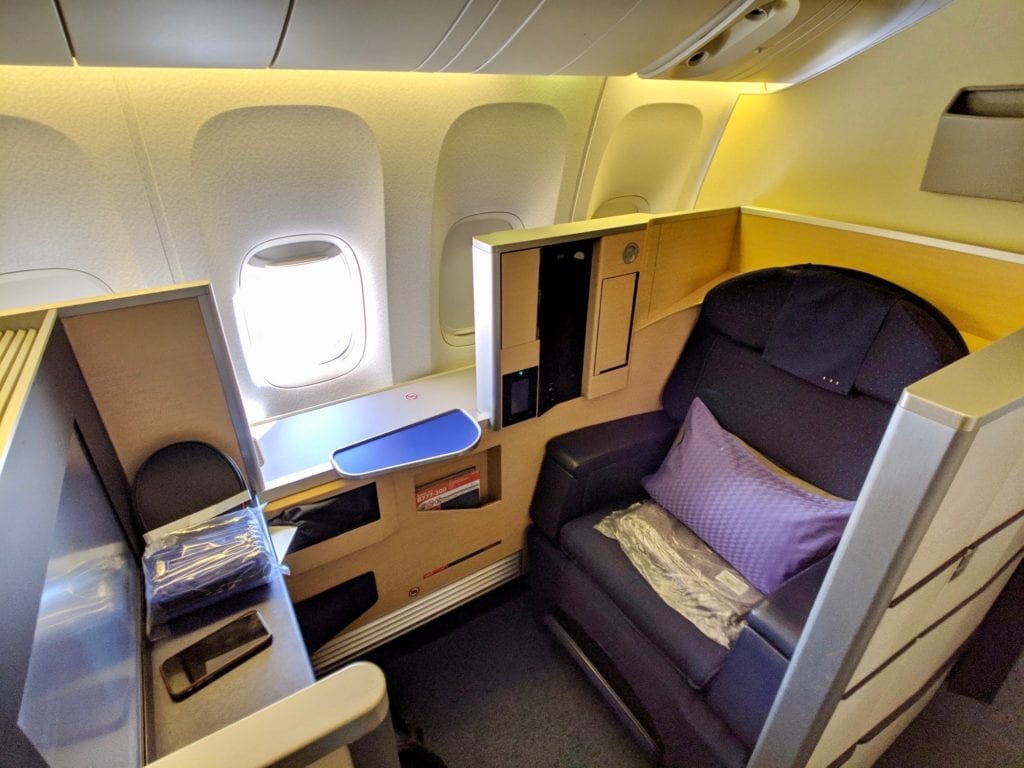 Go figure Virgin Atlantic also has a sweet spot for booking ANA flights, and this transfer bonus makes it even sweeter. While Virgin Atlantic recently raised award rates to fly ANA first class, it's still easily the best way to book these flights.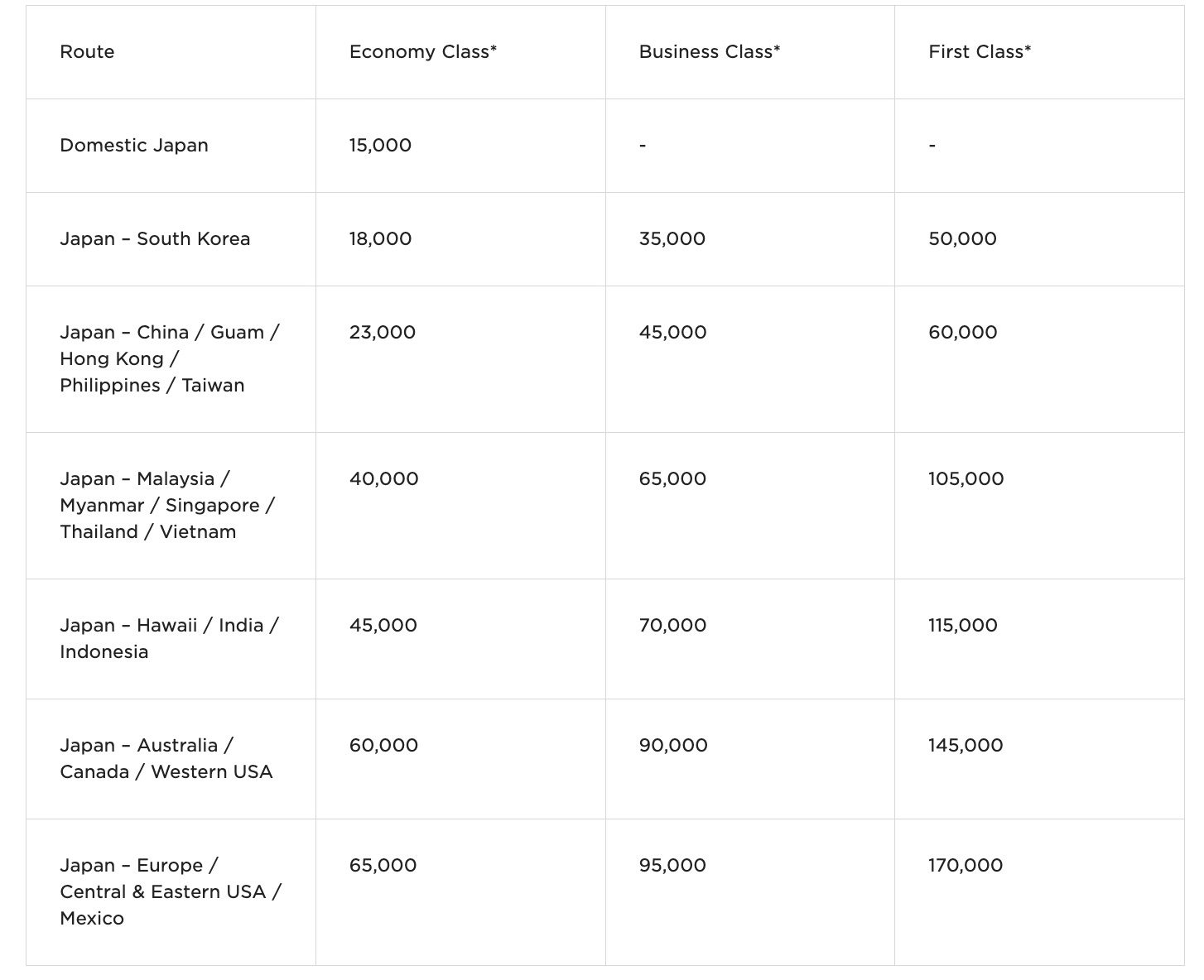 A one-way flight in ANA first class flight from Los Angeles (LAX) or San Francisco (SFO) to Tokyo now costs 72,500 Virgin points – just 56,000 Amex points with this bonus. Or you could get from Chicago-O'Hare (ORD) or New York City (JFK) to Tokyo for just 66,000 Amex points. That's still substantially less than what United charges for a one-way fare in business class. 
Much like booking Delta One via Virgin Atlantic, finding award availability on ANA can be a chore. First Class availability is practically nonexistent these days, so focus on a business class booking. These days, booking within three weeks of departure seems to be your best bet.
You can't book these flights online through Virgin Atlantic, which means it requires a bit of extra legwork. You'll want to search for award availability through a site like United.com and then ring up Virgin Atlantic at 1-800-365-9500 when you're ready to book. On the plus side, you can now book these awards as one-ways.
Read our guide to booking ANA flights with Virgin Atlantic miles
Of course, ANA's business class is nothing to scoff at either – especially if you can snag the brand new business class seats it calls "The Room" which are currently flying from New York City (JFK), Los Angeles (LAX), San Francisco (SFO), and Chicago-O'Hare (ORD) too.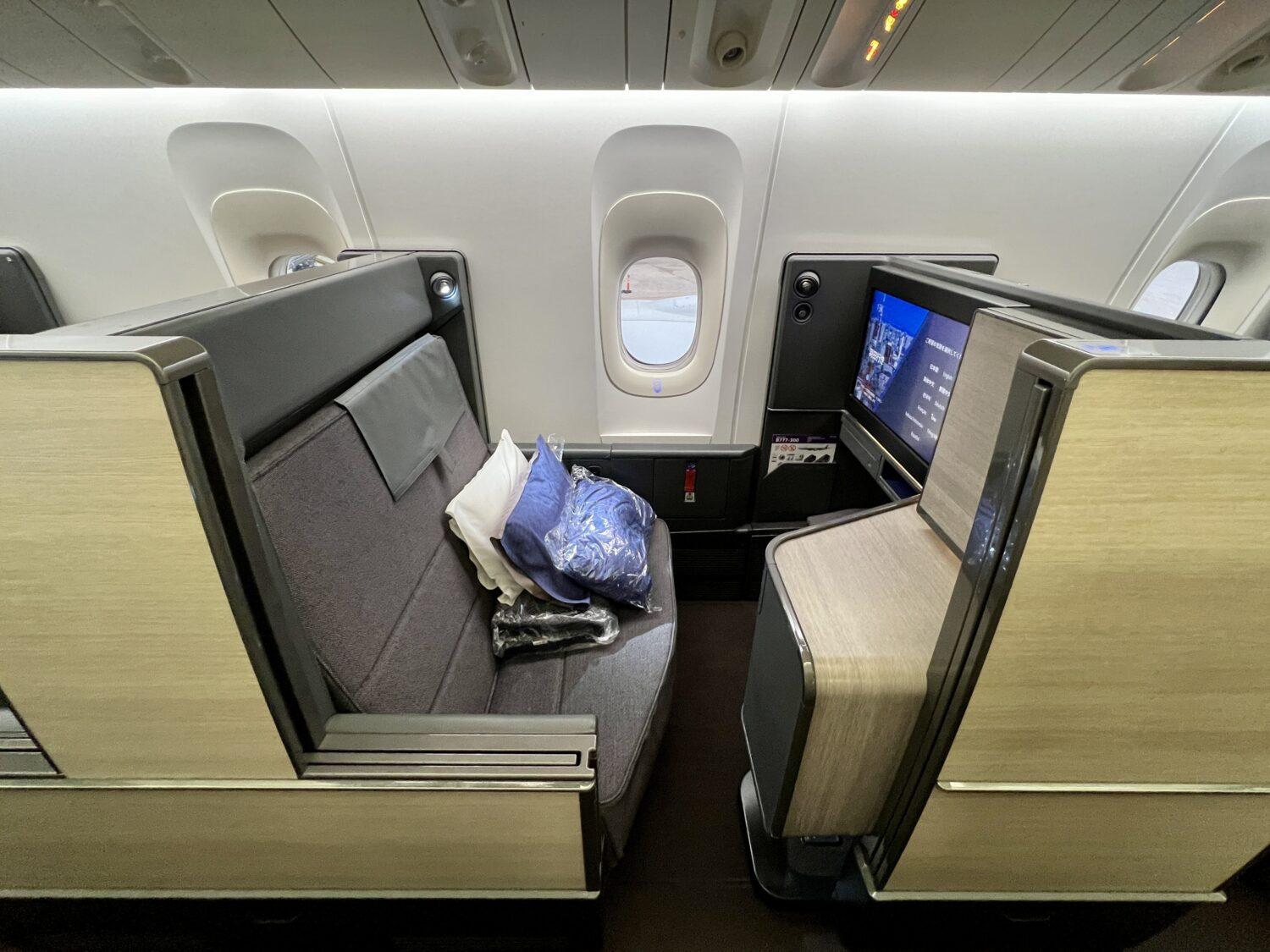 Read our full review of flying ANA's The Room business class from Chicago to Tokyo!
Lucky for you, business class award rates weren't affected by Virgin's recent devaluation. That means you can book roundtrip flights to Tokyo in business class for as low as just 70,000 Amex points with this bonus – or transfer just 35,000 Amex points to Virgin for a one-way flight.
Fortunately, Virgin Atlantic has a reasonable $50 fee to cancel award tickets and get your miles back if plans change.
Bottom Line
This transfer bonus can unlock some of the best deals in the world of points and miles. Just make sure to use it before it ends on June 14.
Lead photo (CC BY 2.0):  Delta News Hub via Flickr