You've been warned: Reading this story on an empty stomach may result in impulse flight purchases. I know writing it almost did…
From street food vendors to restaurants adorned with Michelin stars and everything in between, food is intertwined with travel: To eat is to learn about the world, and vice versa. And while you can (and should) sample the local cuisine everywhere you go, some destinations are known specifically for their food scenes – you might go just to eat.
These destinations are at the top of the list as we search for cheap flights deals to send our Thrifty Traveler Premium members so you can save your money for amazing meals instead. There are dirt-cheap flights under $100 to some of the best food cities in the U.S., cheap fares to Italy to eat the world's best pasta and pizza, and ways to get all the way to Asia in lie-flat business class using points, then stuff yourself with street food for even less.
Fresh out of the oven, with a side of peak season travel, and garnished with a helpful Thrifty Tip or two, here are some of our favorite foodie cities and the flight deals we've found to get you there.
Attention, Thrifty Traveler Premium (or Premium+) members: You've likely already received these deals! If not, you might want to log into your Premium account and adjust your departure airport settings – or select "All Cities" to see every deal!

Best Foodie Cities in North America
You don't have to travel far for some of the best food on the planet. Some of the best food on earth is within a few hours of your home airport.
Mexico City
The largest city in North America might also be home to the best food on the continent.
Tacos and tortas are in ample supply on every corner of the magnificent Mexico City. And for dessert, some churros and hot chocolate will satisfy your sweet tooth, too. Don't sleep on the city's cocktail scene or markets, either.

There's honestly too many options for you to sample during a week's visit, so read our guide to finding the best food in Mexico City. Oh, and get the tacos al Pastor … several times. You won't regret it.
Read next: Why You Need to Travel to Mexico City
If you think the al Pastor in your hometown is the best you can do, consider that Mexico City flight prices have been super cheap lately. Like … under $300 roundtrip cheap.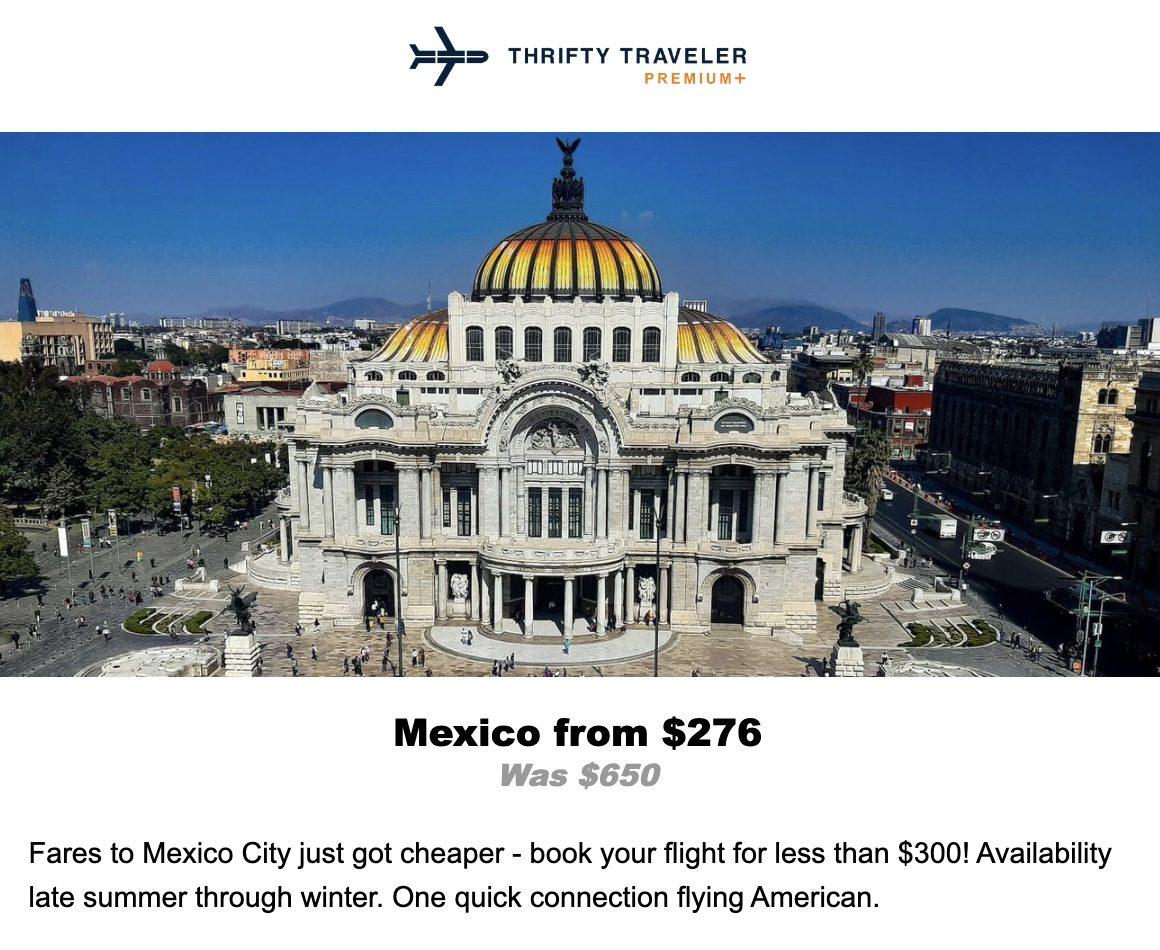 This flight deal to Mexico City (MEX) started at just $276 roundtrip from Detroit (DTW) or from Minneapolis-St. Paul (MSP) for just a few dollars more.

And that's not all! Just a few days prior, Mexico City fares dropped into the $200s and $300s from all of these cities, too!

This deal is gone now – get the next one with Thrifty Traveler Premium!
For a long time, it cost most travelers from the states close to $600 or more to fly to Mexico City. But something has changed – and your taste buds are better for it.

New York City
New York City is practically the center of the universe. So go figure it's got some of the best food, too.
Want cheap soup dumplings in Chinatown? Got it. A Michelin-starred Indian restaurant? No problem. Sandwiches on fresh focaccia with cured meat flown in from Florence? Sure thing. Some of the best sushi restaurants on the planet? You got it.
Whatever you want, New York City has it – and it's probably really good, too. You can find yourself at some of the swankiest restaurants in the world, having super high-end craft cocktails at Death and Co., or just grabbing a slice of pizza from a vendor on the street to eat on a park bench. It's all amazing, and there are simply too many options for me to hand out recommendations.
Read next: New York City – What's Worth it and What's Not?
What I can recommend is that you book a cheap flight to get there. We've got plenty of those!

Starting at just $97 roundtrip, you can fly to New York City's three major airports for a trip in almost any season.

Our latest deal included peak summer availability, so you can visit the city when it's buzzing the most. Don't sleep on December as a time to go either, though: Christmas is a fun time to explore New York City.
New Orleans
Fried chicken, charbroiled oysters, and maybe a little bit of jambalaya await you in New Orleans. Oh, and don't forget the beignets.
It's comfort food, plain and simple. Your diet starts when you get back from Louisiana and not a second sooner.
We have a full guide to eating good in the Big Easy, so I won't belabor the point here. But I will point you to the fact that flights down to New Orleans (MSY) have recently hit record lows from some cities.

That's right! Double-digit fares to New Orleans are real. We sent out this flight deal a few weeks ago to great fanfare. Tons of Thrifty Traveler Premium members booked these flights to New Orleans for peak summer and fall travel in 2023.

Put down your soggy sub and book a cheap flight to New Orleans. A real Po' boy sandwich from Killer Po-Boys awaits!
Las Vegas
Look beyond the casinos and you'll see that Las Vegas is one of the best cities to eat in the entire country.
If you have a favorite restauranteur, they probably have something open or in the works in Las Vegas. Nearly every casino has an amazing steakhouse or seafood restaurant that will more than satisfy you. We also love Hash House a Go Go for heavy, carb-forward breakfast or brunch and Tacos El Gordo – a beloved taco chain off the Strip with the very best tacos in the city that won't cost much at all.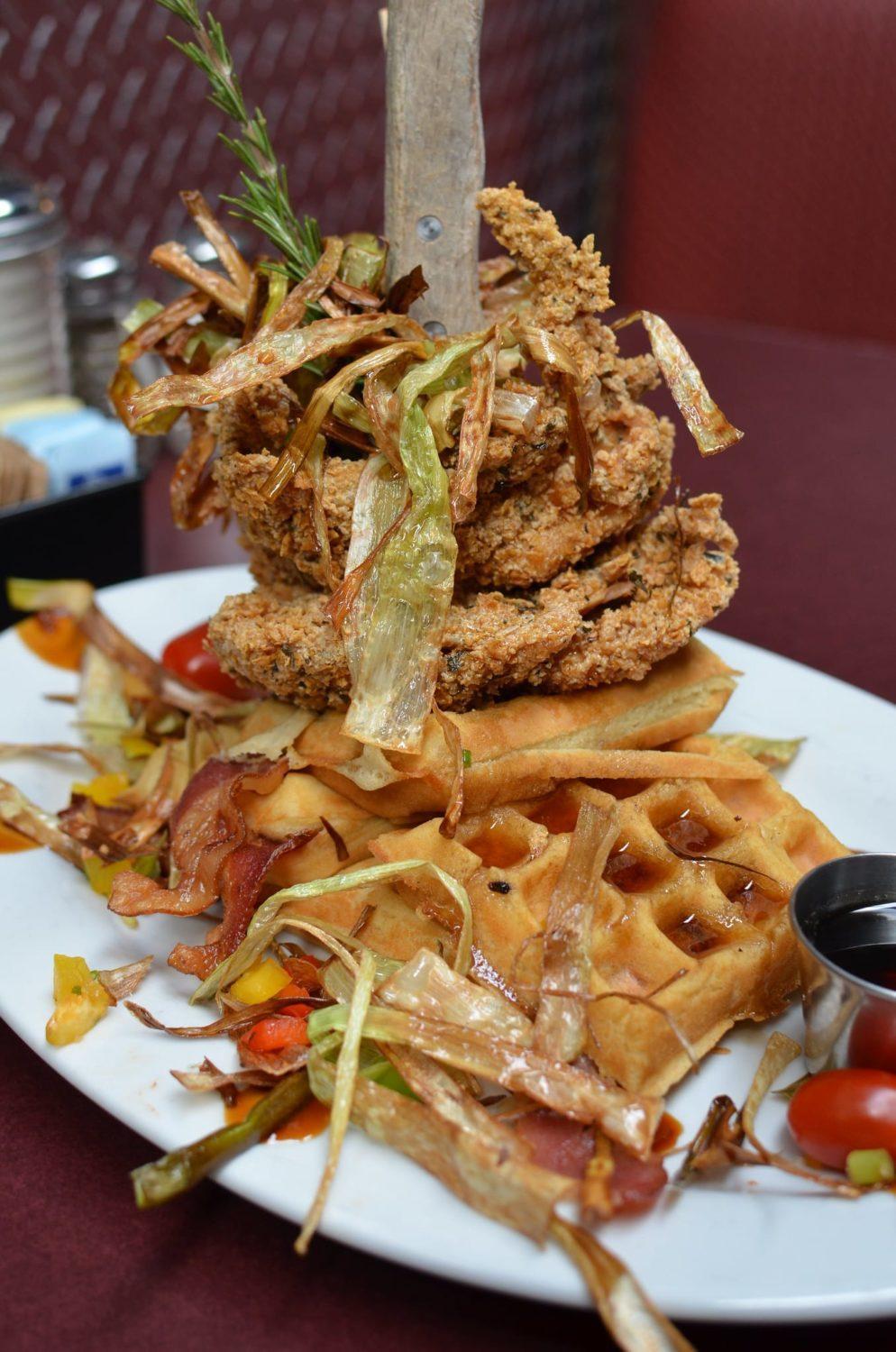 It's all in our list of the best things to do in and around Las Vegas. What you won't find in that list is maybe the best part of Las Vegas: It's almost always cheap to fly there.
Take a look.

This latest Sin City deal helped our Thrifty Traveler Premium members book their nonstop flights to Vegas for less.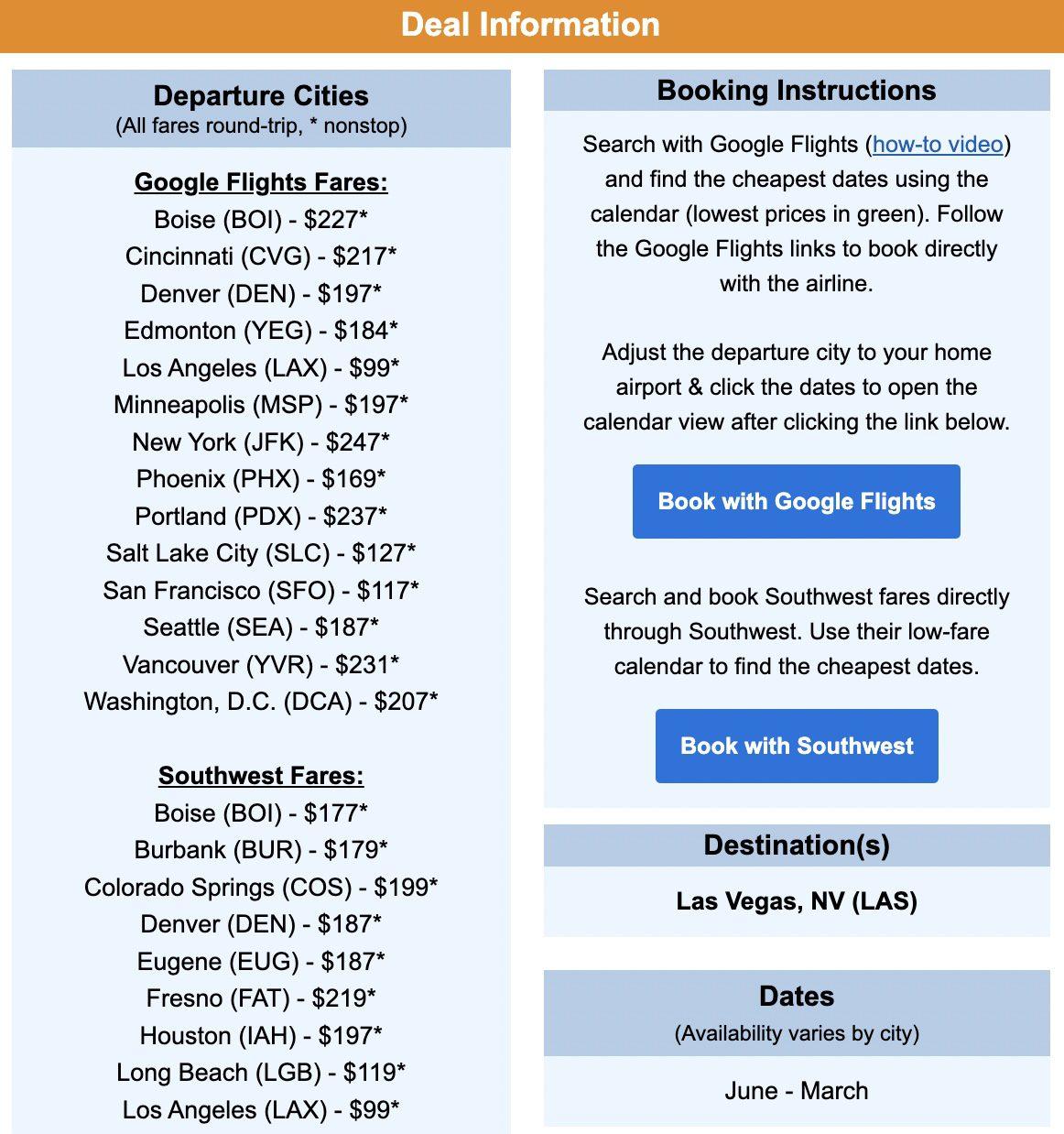 Whether you like Southwest or prefer flying the likes American, Delta, or United, we've found dozens of fares to get you to the Strip, saving money to fill your belly this year or next.

Best Foodie Cities in Europe
You could close your eyes, book a random flight to Europe on Google Flights, and easily wind up somewhere with amazing cuisine. But some spots stand out.

Italy
It's impossible to go hungry in Italy. As perhaps the country most known for its good food (and a people who aren't shy about telling you all about it), chances are you are well-versed in why Italian food and drink is just so good.
One second you're eating the best fresh-made pasta of your life, the next you're sipping a spritz in the town square.

Everywhere you go you'll find fresh ingredients, hand-made like a home-cooked meal. Here's what I would do:
Book one of these flight deals below
Go to Airbnb Experiences and book a cooking experience in Italy for an unforgettable trip!
As luck would have it, cheap flights to Italy are starting to come back after months and months of $1,000-plus roundtrip airfare. We've sent deals to Rome (FCO), Florence (FLR), and also this latest one to Milan (MXP) recently – all for under $600 roundtrip!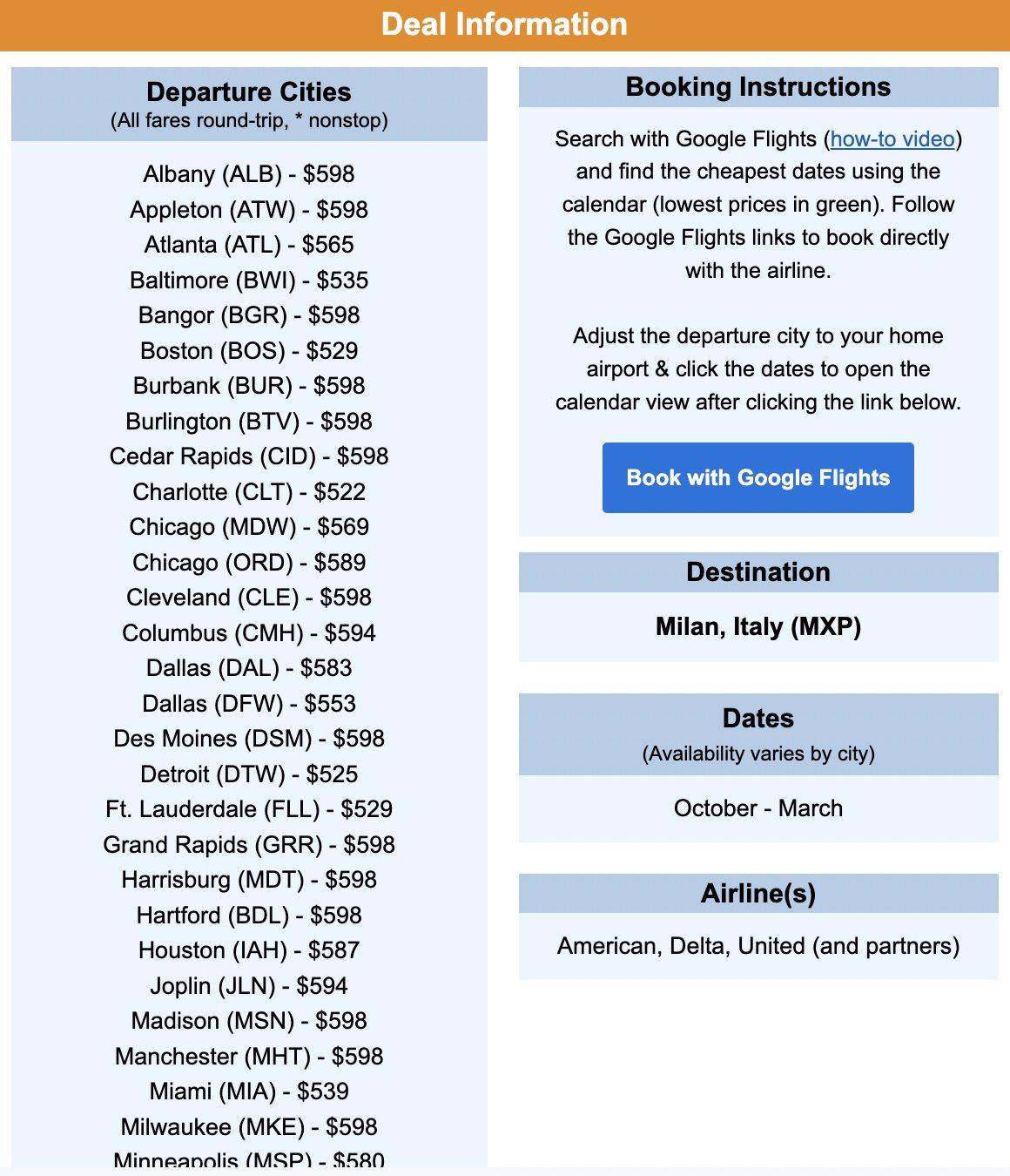 Flights to Italy in the $500s are always a great deal. Don't miss out on the next one!
Spain
Book a trip to Barcelona, Madrid, or even Mallorca for an unforgettable food experience. Each city is different, as is the food: Grab some pintxos, tapas and cava, some paella, and much, much more.
But here's the best part: It's cheap! You'll be able to eat like royalty without pinching pennies in this beautiful country. And it won't cost you much to get there, either!

Flight deals to Spain are usually plentiful. We find really great fares like these at least monthly. But our latest find was special because it could get you from airports all across the country to more than a dozen different Spanish cities!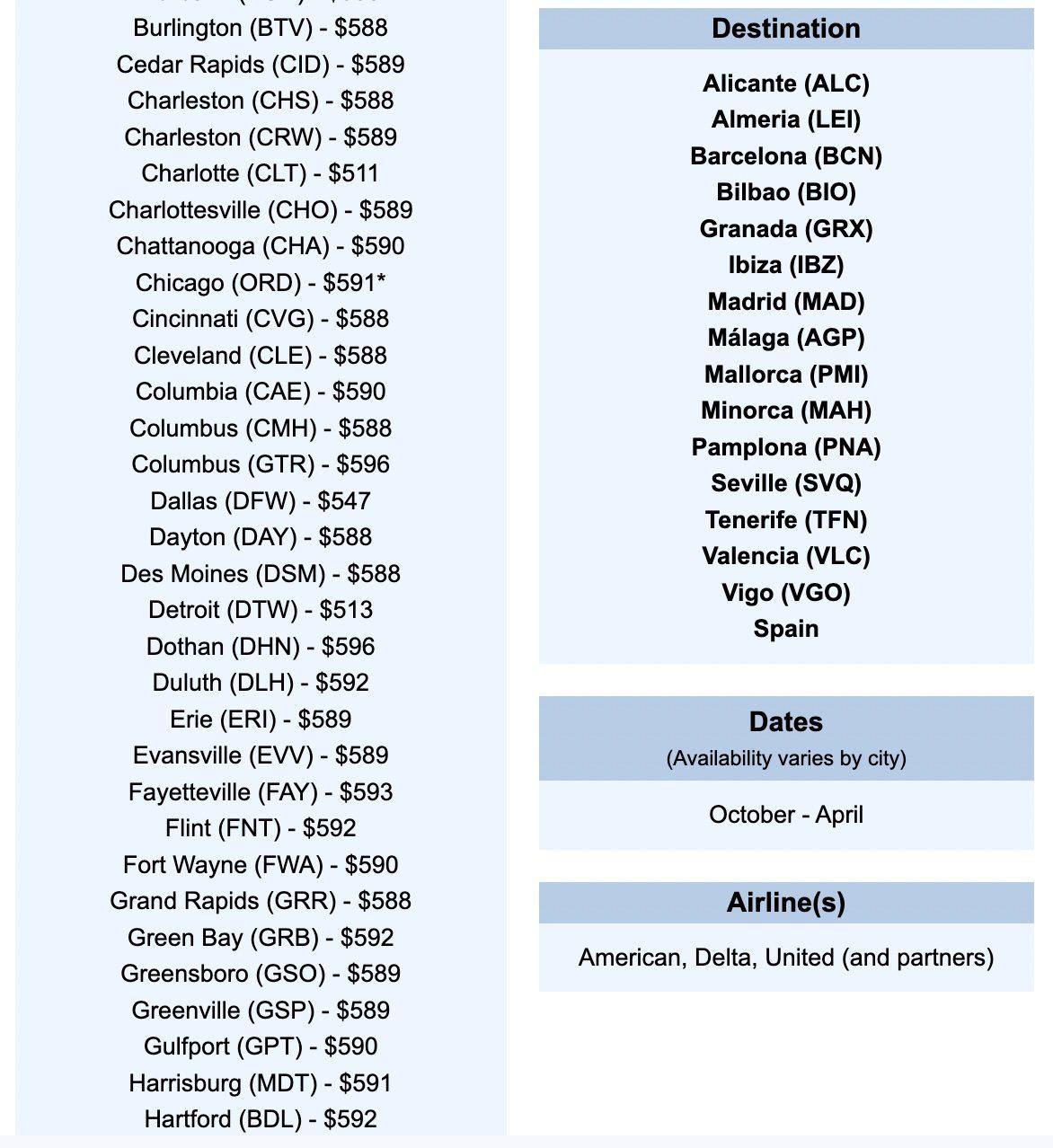 But there is a single best way to fly to Spain: in one of these comfy, lie-flat Iberia business class seats. If you can find the award availability to book these seats with miles, you can do it for as low as just 34,000 points each way! Don't worry: We do the legwork for you.

Get award alerts to fly business class with your points and miles with Thrifty Traveler Premium+!
Istanbul
Is it Europe or Asia? Well, it's both. But Istanbul is undeniably one of the best food cities in the world. Istanbul is home to kebap, döner, mezze platters, baklava, and more on nearly every corner of this bustling global city.
Speaking of kebap, how about a latter full of fresh grilled meat to feed a small family at Dürümzade for a grand total of … under $11.

And this plate of Turkish dumplings known as manti from Doyum Cafe Manti? Just 95 cents.

But even before you land in Turkey, you can begin your culinary journey onboard Turkish Airlines business class, renowned for its top-notch onboard catering. Even the food at the Turkish Airlines business class lounge in Istanbul made for the best airport meal I've ever had.
Read next: Our Review of Turkish Airlines Business Class
But flying this nice doesn't have to break the bank, either.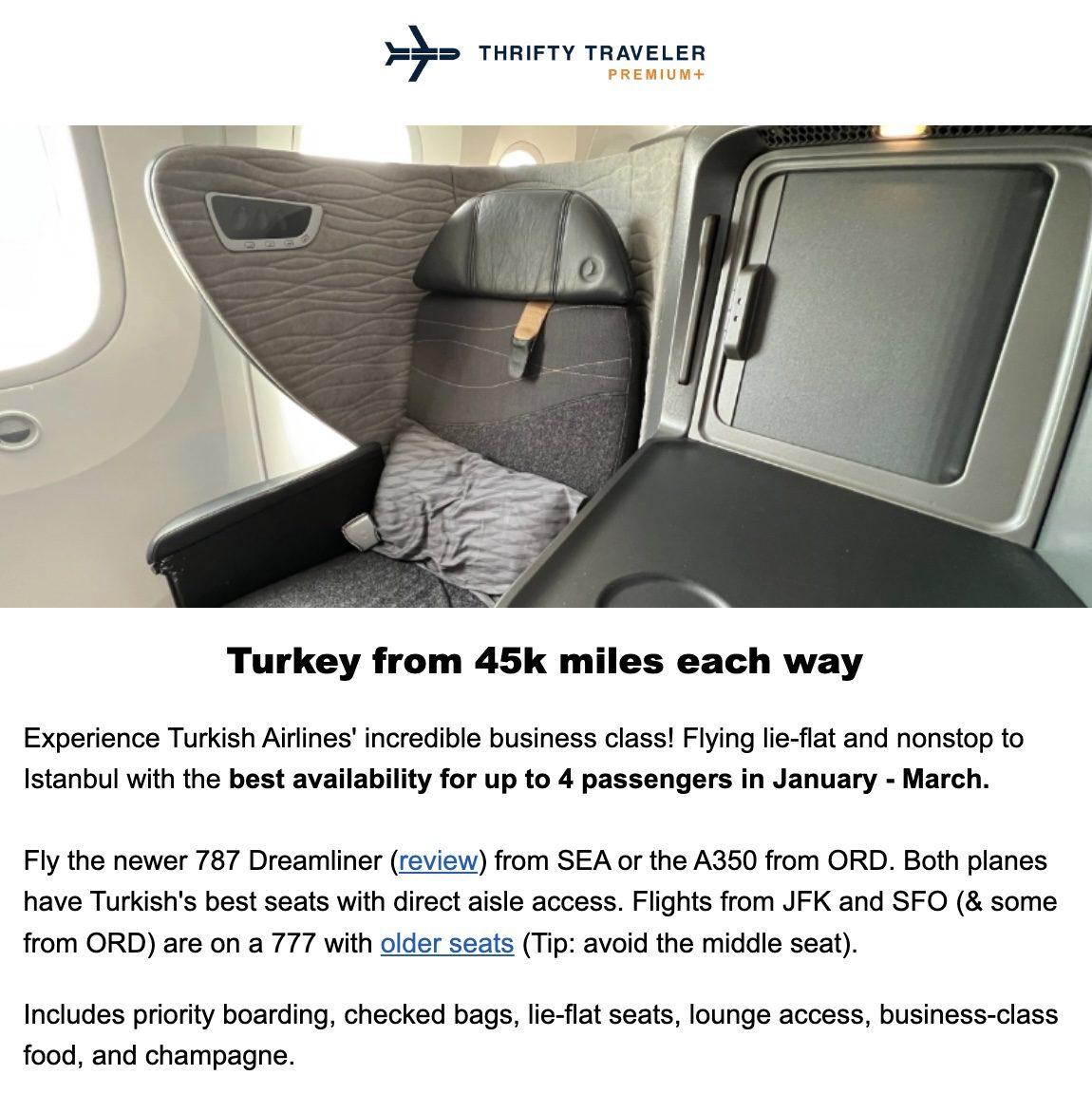 Recently, we dug up a bunch of great Turkish business class availability from several U.S. cities to Istanbul to for just 45,000 miles each way!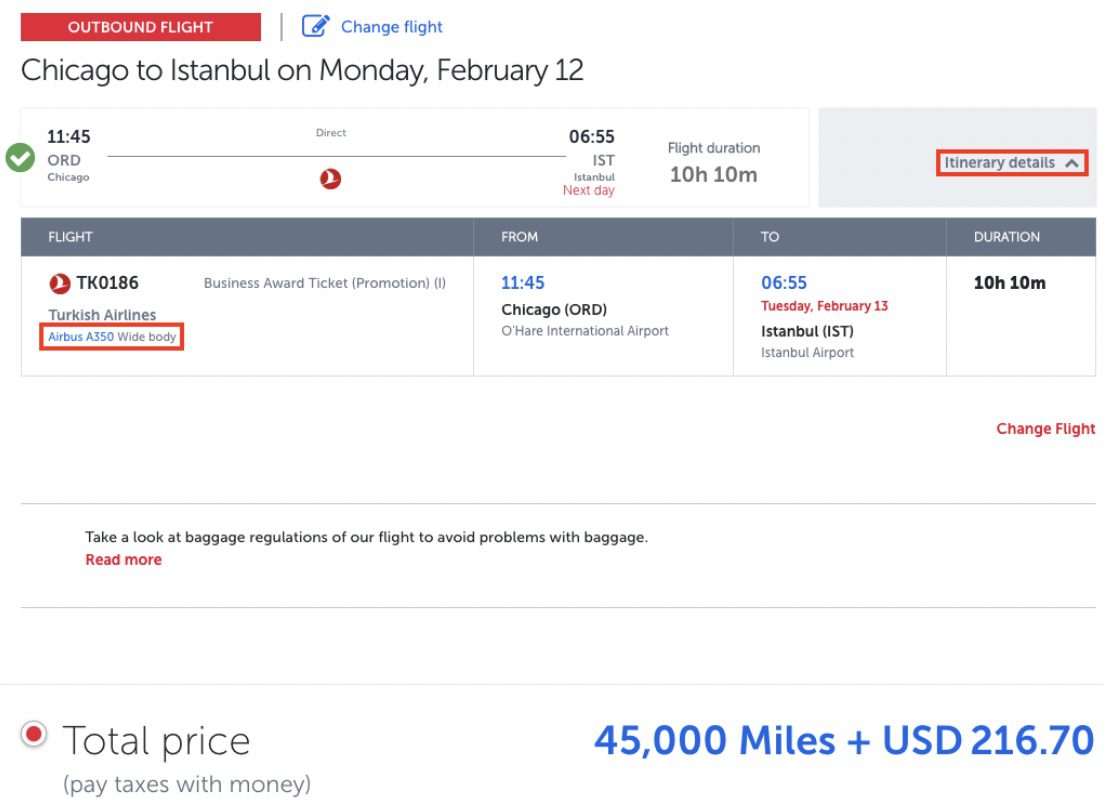 Thrifty Traveler Premium+ get alerts when award space is open, plus in-depth instructions on the best ways to book!
You'll land in Istanbul well-rested and with an amazing meal or two already in the bag. From there, Turkey is your oyster!

Copenhagen
Hear me out: I was just in Copenhagen and loved the city. It's dripping in Scandinavian charm, it's easy to get around, and is full of unique attractions any time of year. But Copenhagen is also known as a world-renowned foodie city … you'll just have to be willing to pay for it.
Copenhagen is home to Noma, widely considered the standard-bearer for fine dining the world over and arguably the fanciest restaurant on earth. Time is running out to eat there: The restaurant also announced that it will be closing at the end of 2024.
But beyond Noma, Copenhagen is a hotbed of Michelin star restaurants serving up Scandinavian delicacies as well as many restaurants more accessible to the everyday traveler.

Pastries and coffee at Hart Holmen Bakery, a beer at Mikheller Baghaven, some food truck-style options at Broens Market, some appetizers and wines at Bar'Vin, and finer dining at Cap Horn on Nyhavn or Restaurant Barr. I loved them all.. Overall, you're going to have to pay a little bit more to eat well in Copenhagen, but you won't have to pay much to get there.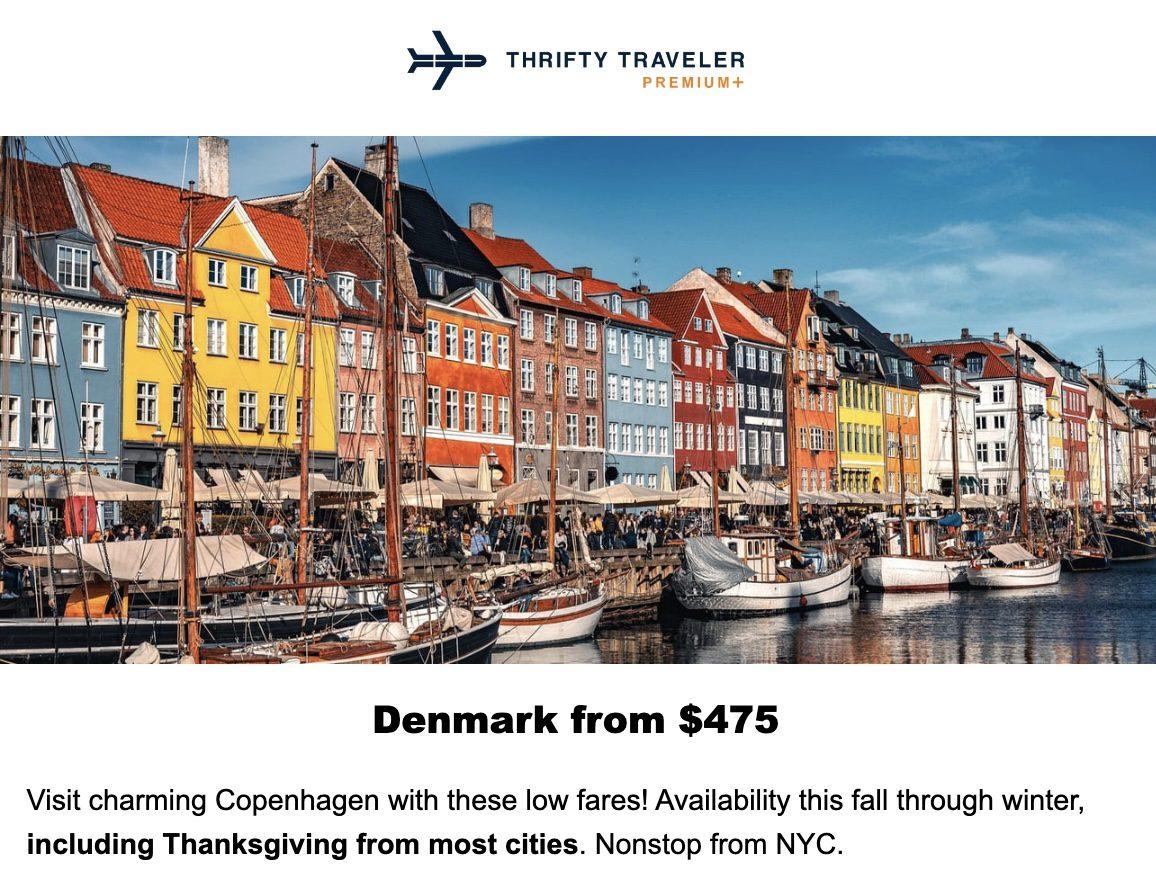 Thanks to some steep competition from Nordic airlines like Icelandair and SAS, flights to Copenhagen (CPH) are often affordable.

This latest deal to Denmark featured some amazing fares in the $400s and $500s, which are up to half-off in some cases.

Best Foodie Cities in Asia
It's hard to stumble onto a bad or even average meal in Asia. The continent is home to too many foodie cities to count, but as far as cheap flights and great food goes, there are a few standouts.

Tokyo
This is layup. Tokyo's food scene is too big to capture, and I won't say anything about Japanese food here that you don't already know. Street to street, alley to alley, there's more good food in Tokyo than in any other city on earth. You might have the meal of your life in a restaurant with six seats in it. That's the beauty of Tokyo's food scene.
Now if only it didn't cost $1,200 to get there. Don't worry: We've got you covered there.

We send Tokyo flight deals all the time to our subscribers, and this latest one using Virgin Atlantic Flying Club points is one of the best rates you can find across the Pacific, period: As low as just 43,000 points for a trip to Japan this year or next.. The deal is flying Delta's nonstops to Haneda (HND) on some of Delta's newest, nicest planes.
But if you book with Delta, it will cost you $1,400-$2,400 roundtrip or upwards of 150,000 SkyMiles. Save your SkyMiles: book through Virgin Atlantic instead.
Another not-so-obvious way to get to Japan is on … Singapore Airlines? Singapore Airlines runs nonstop flights from Los Angeles (LAX) to Tokyo-Narita (NRT) every day, giving U.S. travelers another inexpensive option to fly on a five-star airline.

But there is a more comfortable way than economy and that's in Japan Airlines Business Class.

For just 60,000 American Airlines miles each way, you could fly this excellent business class seat to Tokyo and arrive feeling refreshed and ready to eat.

Seoul
Korean food is hot right now in the U.S. Everyone is clamoring for Korean food, Korean-inspired food, or Korean fusion dishes at tables all over North America.
So why don't you go see the real Korean food for yourself? You won't have to spend a fortune to get there. In fact, you might not have to spend more than $50 with this amazing points deal.

Using the same Virgin Atlantic Flying Club miles hack we love here at Thrifty Traveler, you can fly Delta to South Korea from just 62,000 points roundtrip!

It's an amazing value for flights that usually cost upwards of $2,000 in economy.
Bangkok
You're going to love Thai food in Thailand, because you already love Thai food here in the U.S. You love your pad Thai, your curry everything, and your stir-fried pork dishes.
But in Thailand, you get the best version of  that Thai food … and at Thai prices that you'll love. And if you use your points and miles correctly, it won't cost you more than $69 and 75,000 miles roundtrip to get there and start enjoying it.

This deal flying Japan Airlines is one of our favorite deals to Asia we've put out recently. Japan Airlines economy is one of the best ways to fly across the Pacific Ocean. And it's nearly unbeatable at this price.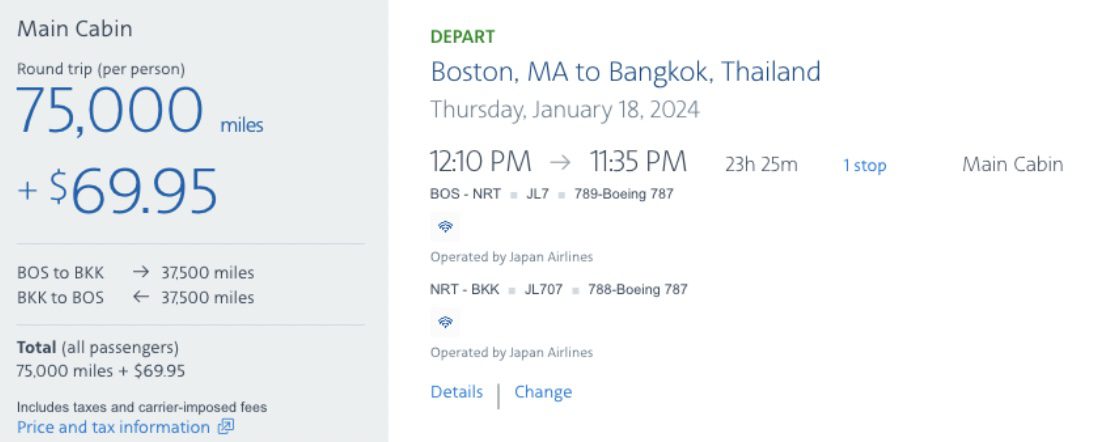 These flights will cost you $1,000 or more if you're lucky – and more like $2,000 from most U.S. cities. But all the way from the East Coast in Boston (BOS), you can get to Bangkok (BKK) for just 75,000 and $69. Then you can start eating!
Bottom Line
If you're going to send your friend this post of our favorite foodie cities on earth, be kind and send it to them after lunch, OK? Imagine reading this at 11 a.m. That's just cruel.
Eating is one of the best ways to understand a city's culture. Exploring a place through food is the perfect way to travel and you can do it any time of year. Luckily, some of the best food on earth is in reach if you time it right with an amazing flight deals. Sign up for Thrifty Traveler Premium and see (and then eat) for yourself.