Watch out, Qatar Qsuites: You've got competition for the crown of world's best business class.
It's called ANA The Room, a fairly new business class suite from the heralded Japanese airline All Nippon Airways (ANA). All it takes is a quick glance to tell this ANA business class is something special.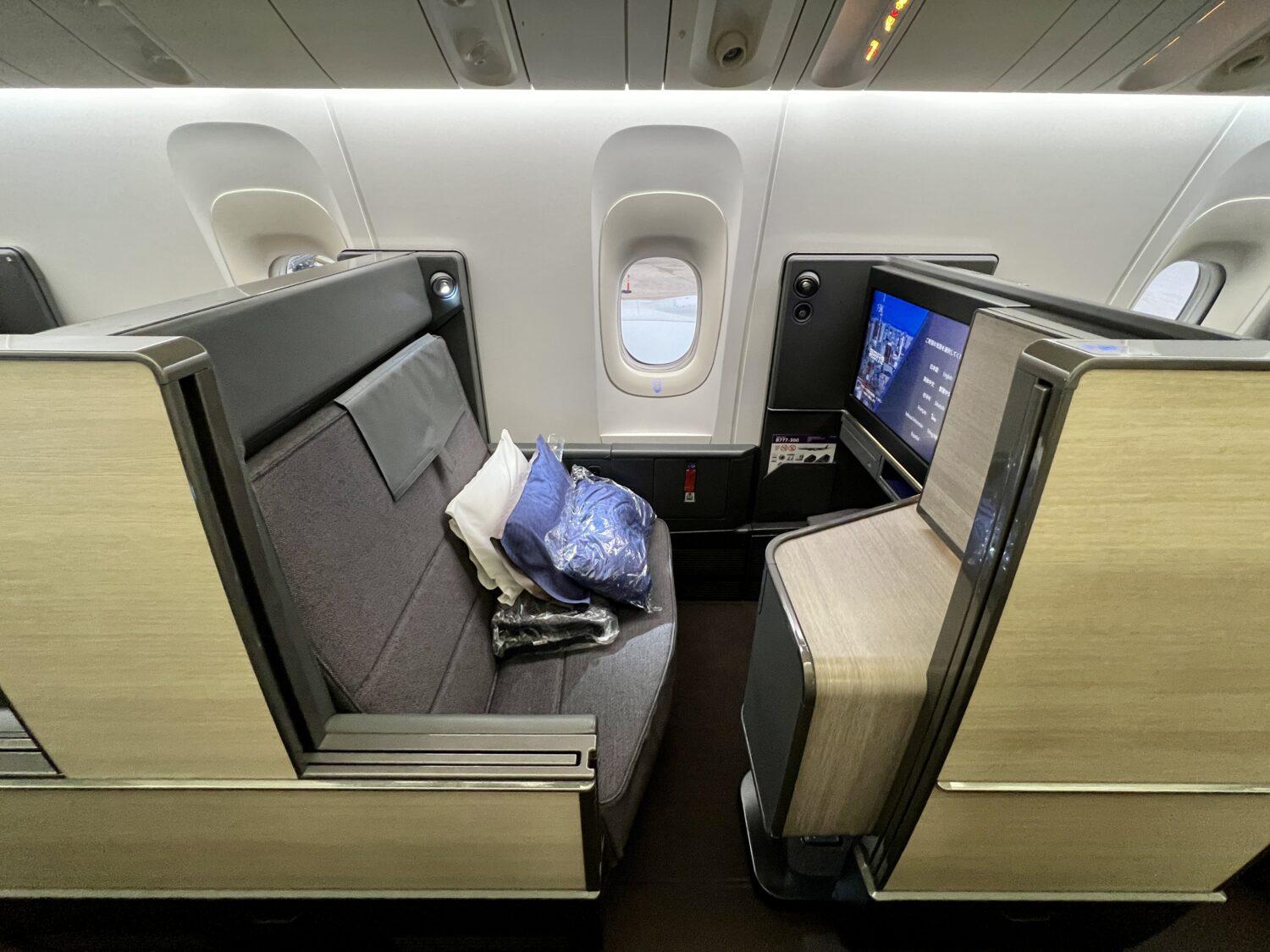 Special doesn't even cut it. These business class suites are simply incredible, with an almost laughable amount of space and privacy that puts even Qatar's vaunted business class suites – and even many bonafide international first class seats – to shame. But maybe these suites are too good, raising expectations for ANA business class so unfairly high that the airline can't possibly meet them when it comes to service and dining.
After rolling out in late 2019 only to see travel to Japan squashed for years by the pandemic, I finally stepped inside The Room for the long flight from Chicago-O'Hare (ORD) to Tokyo-Haneda (HND) a few weeks ago. Read on for the full review.

How to Book ANA Business Class
Even points and miles millionaires might have a hard time snagging a seat in ANA business class. But it can be done!
The trick, as with booking any business class seat using your miles, is finding award availability to actually book those awards using miles. And with ANA in particular, that's been easier said than done lately. You can regularly scan through months of calendars without finding a single seat flying to or from Tokyo.
It's become a real unicorn of a deal … but that's exactly what we've found. In just the last month, we've sent Thrifty Traveler Premium+ alerts for wide-open ANA business class availability from both Chicago-O'Hare (ORD), Los Angeles (LAX), San Francisco (SFO), and other cities for a trip in 2023.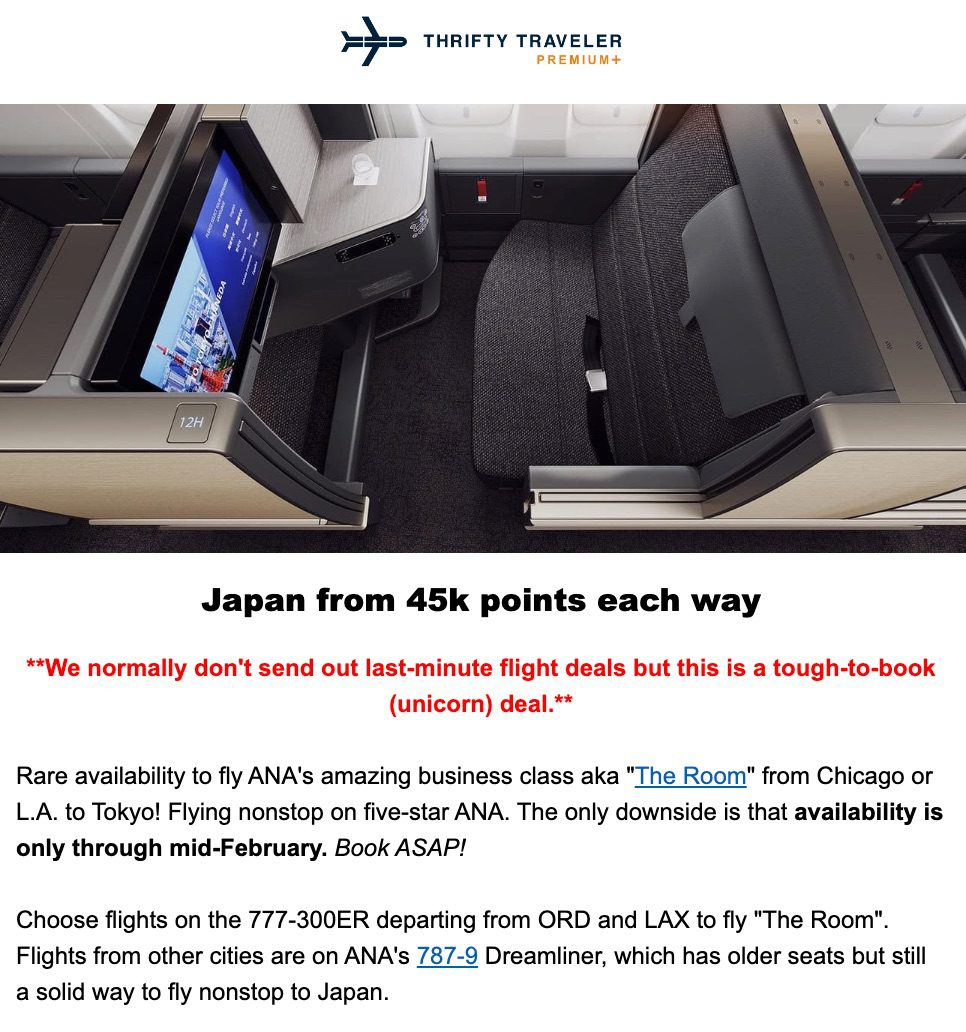 Get award alerts to fly ANA business class and other great ways to use your points and miles with Thrifty Traveler Premium+!
But there is a clear pattern … and it requires getting down to the wire. You'll regularly find these business class awards bookable in the final two to three weeks before departure, especially if you're trying to book more than one seat. While you may luck out finding a few seats further in advance, booking last minute is probably your best bet.
Fortunately, there are plenty of U.S. cities to pick from. Japan's flag carrier flies to and from eight U.S. cities in all, from Washington, D.C.-Dulles (IAD) on the East Coast all the way to the West Coast and even Honolulu (HNL), plus one city in Canada. Some cities only have nonstop flights into Tokyo-Haneda (HND) while others only have flights to Tokyo-Narita (NRT) – and a few offer both options.
Here's a full look of the airline's route network in North America: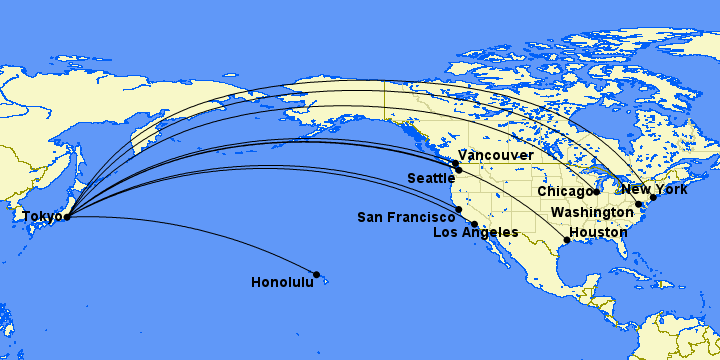 Stuck between flying into Haneda or Narita? Haneda's central location makes it our top choice!
Once you've landed on your route and found the award availability, you've got plenty of options to book no matter which airline miles you have or transferrable credit card points you've got saved up from banks like Chase, American Express, or Capital One. ANA is part of the massive Star Alliance, which means you can book these flights via 20-plus airline mileage programs – including one that isn't even part of that alliance.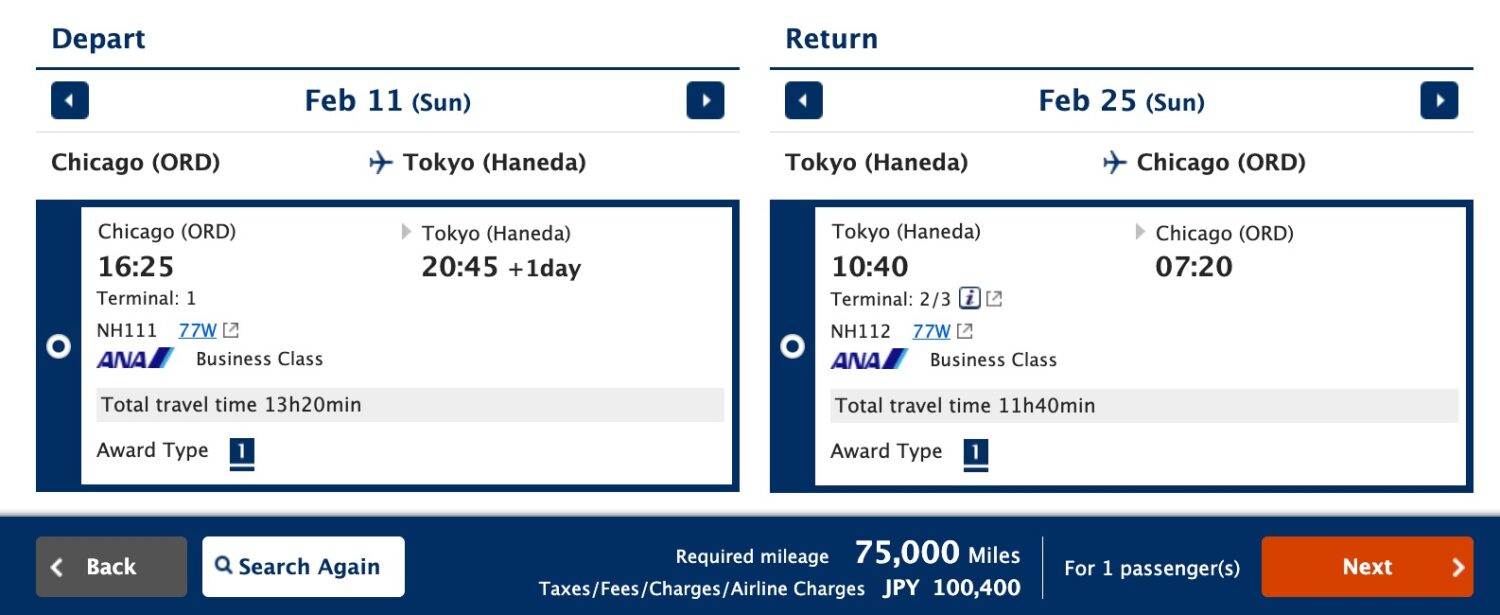 One of the best options isn't a Star Alliance airline at all: It's Virgin Atlantic. Virgin Atlantic Flying Club charges just 45,000 points for one-way flights between Tokyo and the West Coast or 47,5000 points from the Midwest or East Coast. Those stellar award rates weren't touched (at least not yet) when Virgin Atlantic recently raised ANA first class rates. Virgin Atlantic points are incredibly easy to earn as they're a transfer partner of all the major banks, from Amex to Chase to Capital One and even renters earning Bilt Rewards. Just beware you'll need to call up Virgin at 1-800-365-9500 to actually book.
Air Canada Aeroplan is a decent option, especially since you can add a stopover in Tokyo for a few days before continuing onward in Asia for just 5,000 miles more. Nonstop flights to Tokyo from most U.S. cities will cost you 75,000 points each way … except the Seattle sweet spot, which clocks in at just 55,000 points each way. Air Canada is a transfer partner of Chase, Amex, Capital One, and Bilt.
You could also turn to United MileagePlus, which charges at least 88,000 miles each way for ANA business class – or even more if you're booking within just a few weeks of departure. You can transfer points to your United account from both Chase and Bilt Rewards.
We wound up taking advantage of a previous 30% transfer bonus from Amex to Virgin Atlantic, booking a one-way flight from Chicago-O'Hare (ORD) to Tokyo-Haneda (HND) using just 37,000 Amex points. Virgin Atlantic passed on about $365 in taxes and fees. But thanks to how ANA calculates its fuel surcharges, that cash cost is set to drop below $300 if you book after April 1!
At Thrifty Traveler, we don't accept freebies. We use our own points, miles, or cash to pay for every single flight or hotel you see reviewed here – including this one.
But if your heart is set on flying in The Room, you may need to be picky…
How & Where to Find The Room Business Class
Take it from me: I've flown ANA's newest business class suite and I've flown its older seats. You want to fly ANA's "The Room."
You'll only find these latest and greatest business class on ANA – and not all its Boeing 777s, but just a subset of that fleet. There are many 777s where you'll find an older (and somewhat underwhelming) business class seat, though ANA is slowly refurbishing some of its older planes to replace these cabins onboard.
The airline regularly rotates these 777s equipped with The Room business class around some major U.S. cities along with some European destinations, too. Here's a quick list of where you'll currently find ANA's new business class seats flying today as of publication – though keep in mind this could quickly change.
New York City (JFK) to Tokyo-Haneda (HND), flying year-round
Chicago-O'Hare (ORD) to Tokyo-Haneda (HND) and Tokyo-Narita (NRT), but only until March 25, 2023
San Francisco (SFO) to Tokyo-Haneda (HND) – but not Tokyo-Narita (NRT) – from March 25, 2023 through Oct. 31, 2023
Honolulu (HNL) to Tokyo-Narita (NRT), sporadically throughout the year
Luckily, there are a few easy ways to confirm you're booking ANA's best business class seats. For starters, ANA itself does a pretty good job of labeling whether a route is set to be operated with The Room business class suites onboard.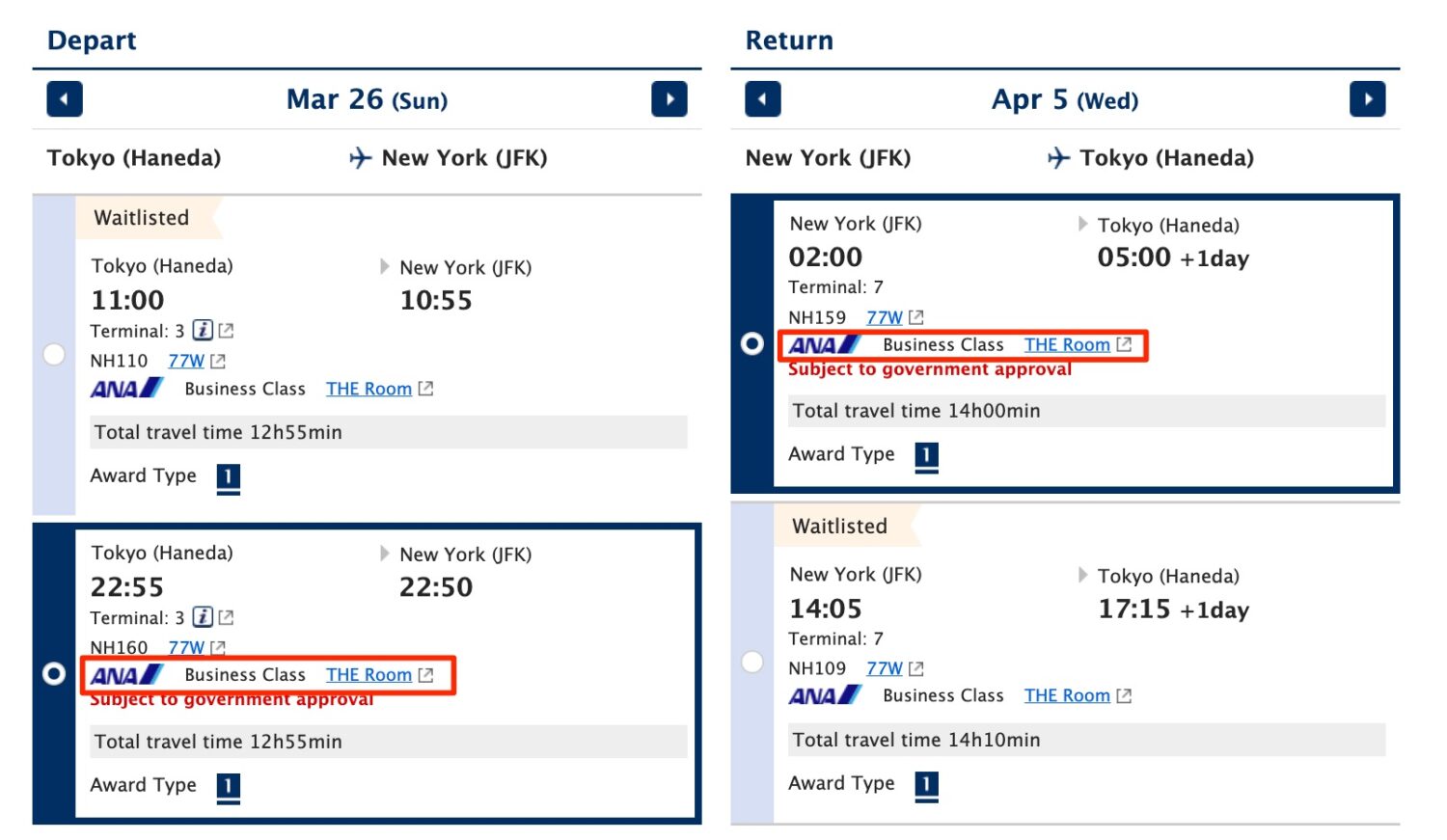 So does Google Flights, for that matter. Just search for a business class ticket on your route and click for more details on each fare. You want a flight that shows "Individual suite" – a ticket with "Lie-flat seat" means you'd be in ANA's older, inferior business class seats.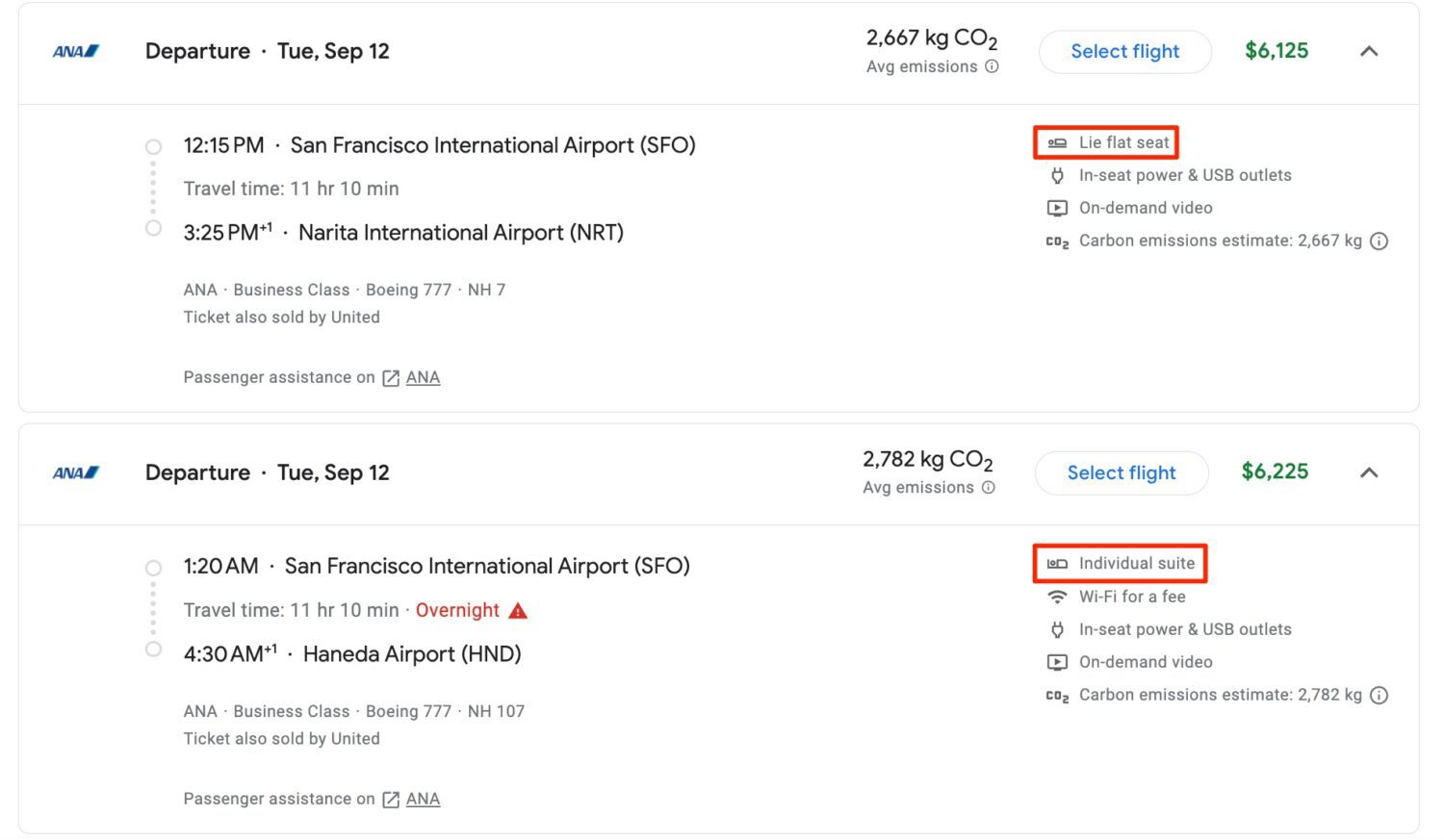 Still, you might want to take a hard look at a seat map to confirm you're really, truly, getting what you're looking for by plugging your flight into a tool like ExpertFlyer. ANA's 777s equipped with The Room business class have 64 business class suites in all, laid out in an unmistakable fashion with some pairs of seats in the center aisle close together and the next row spread farther apart.

The airline's older 777s (and most Boeing 787s, too) have a distinctly different layout. Seats are staggered in every row.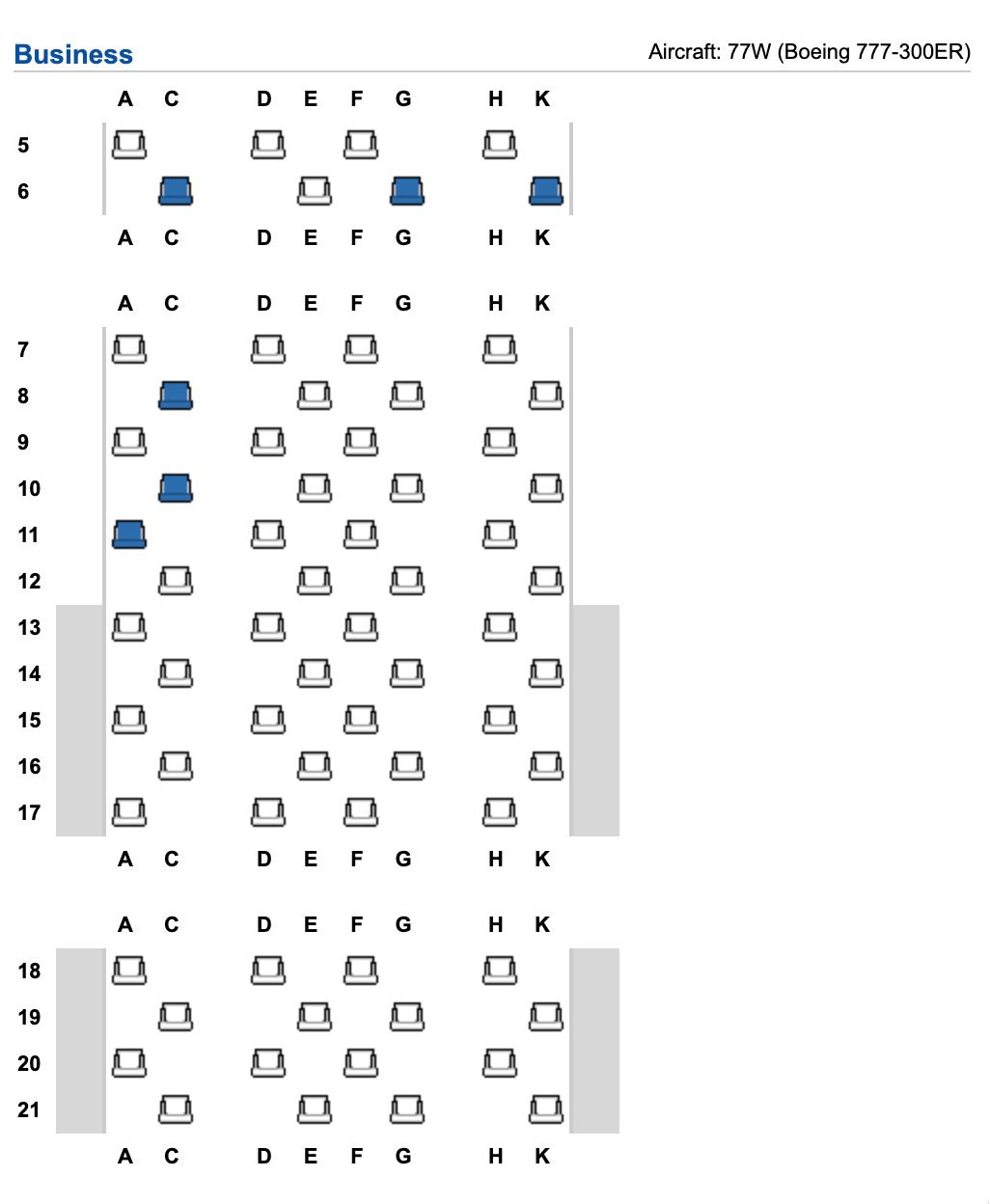 Check-In & Lounge Access
Twenty-four hours before my flight, I was able to check-in online with ANA no problem and get a digital boarding pass for the flight from Chicago-O'Hare (ORD) to Tokyo-Haneda (HND).
But the experience starts long before you even board the flight. Flying ANA business class out of Chicago or other other major United hubs like San Francisco (SFO) or Houston-Intercontinental (IAH), you get access to some of the best lounges you'll find in the U.S. Because ANA is a part of the Star Alliance with United, you can get into United Polaris Lounges.
Unlike many other international airlines that use Terminal 5 at O'Hare, ANA departs from Terminal 1 at O'Hare. And that's a big win: It puts you just a brief walk away from the United Polaris Lounge Chicago, which is located near gate C18 in Terminal 1.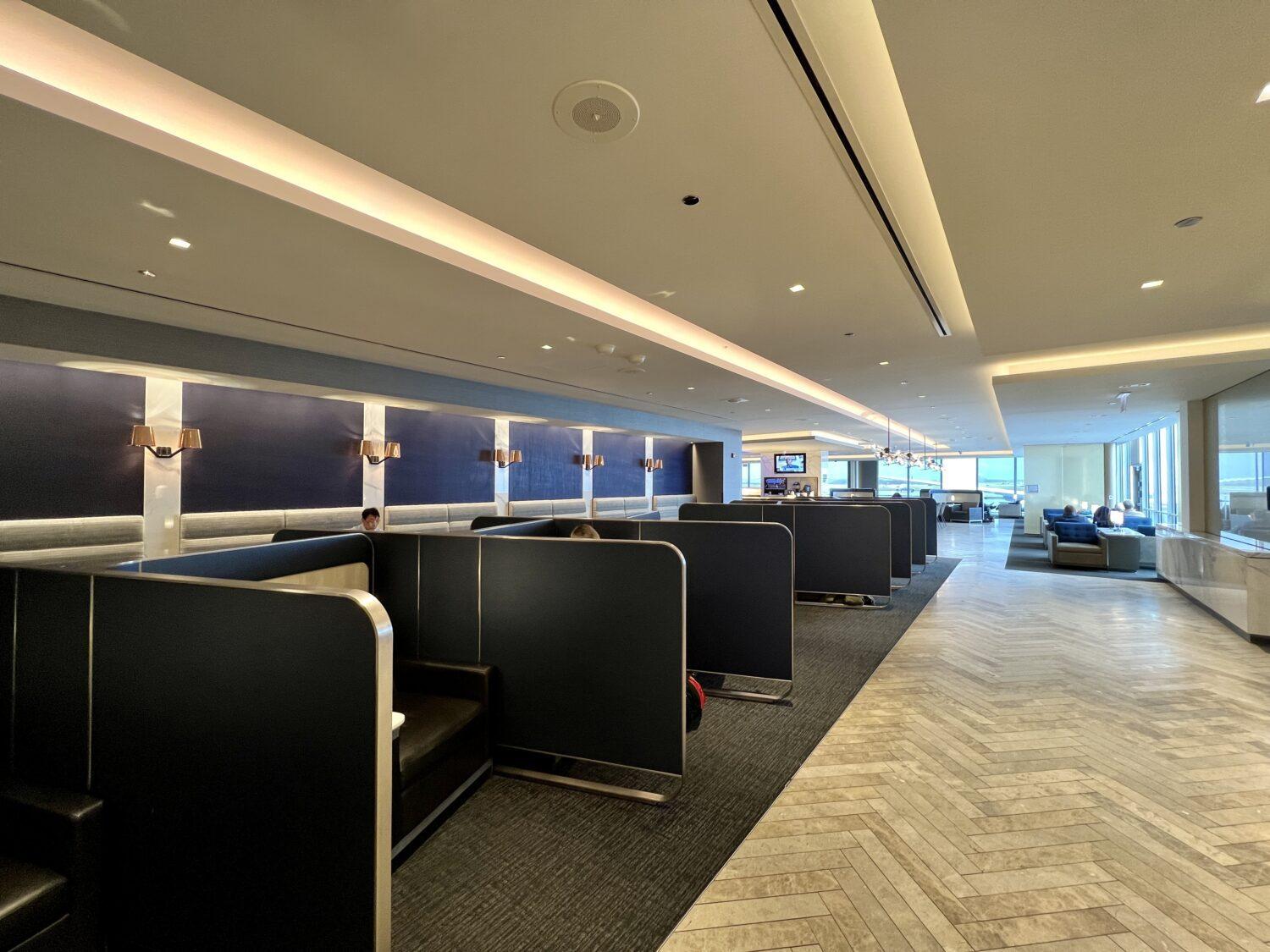 Be sure to read our full review of the United Polaris Lounge in Chicago!
This space is simply in another league than almost any other lounge you'll find in the states, business class or not. It's spacious and well-designed with plenty of comfortable seating, a full wing of restrooms, dedicated shower suites and nap pods, and more. It's especially lovely before traffic starts to pick up in the early afternoon, when passengers flood in ahead of many departures for Europe.
But the star of the show is the dedicated Dining Room in the back corner of the Polaris Lounge, where you can order a freshly cooked, a la carte meal from a small but excellent menu before your flight. You may not find a better meal in an airport, period.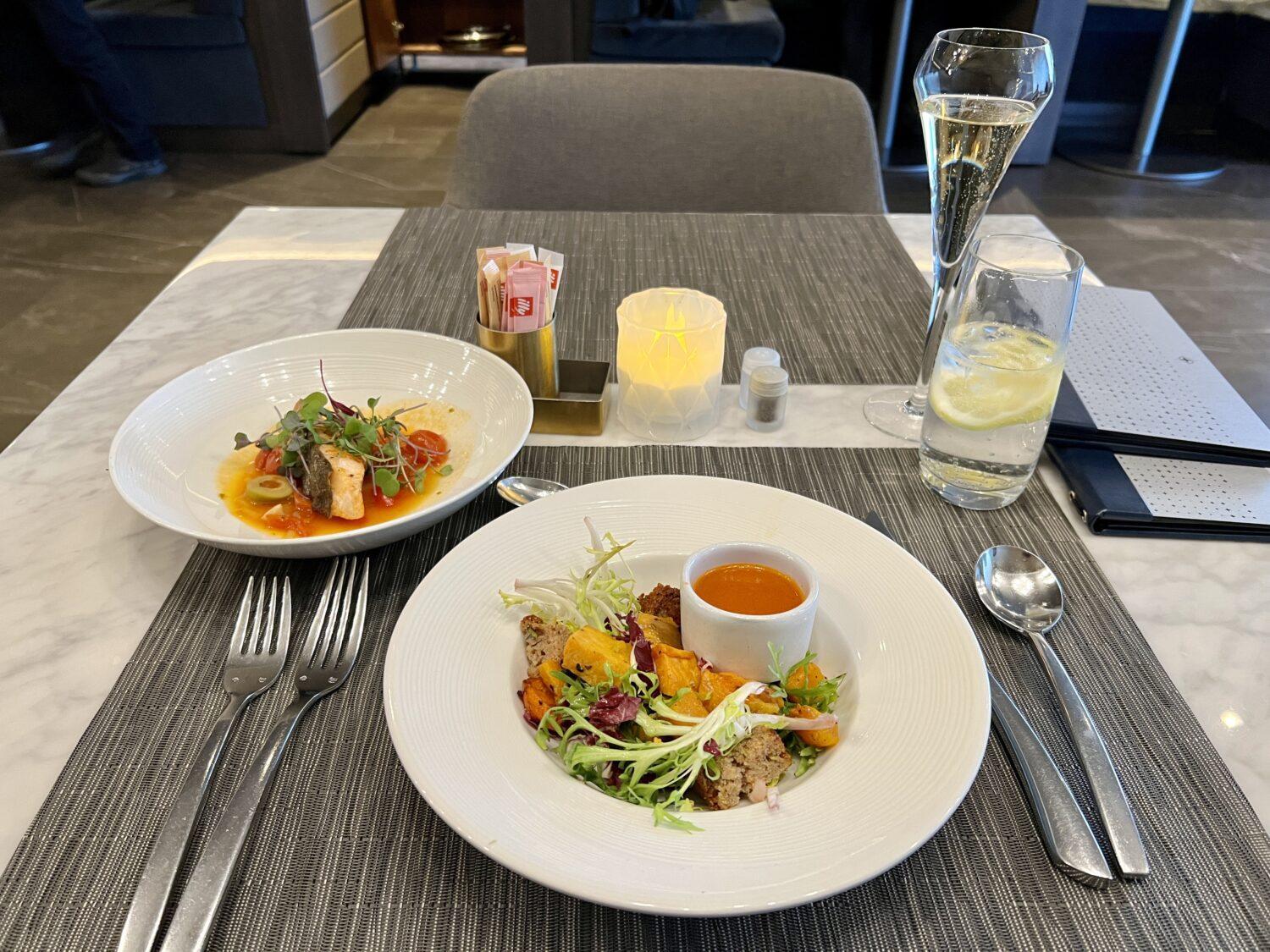 Our departure wound up being delayed by just over an hour as ANA had trouble getting a gate at O'Hare. But before long, it was time to board for the main event.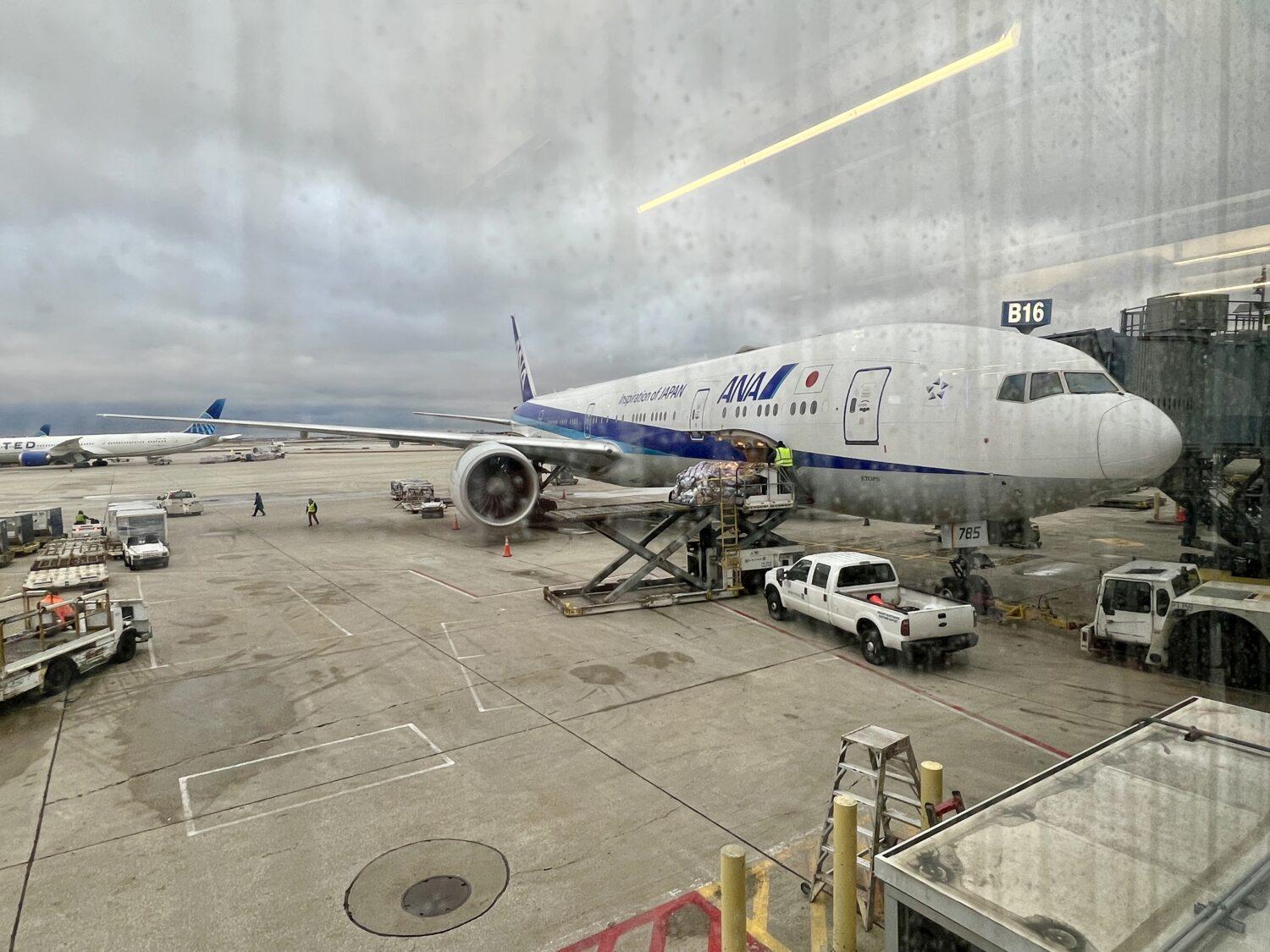 ANA Business Class Cabin
Sure, it's all about the lie-flat seat and service … but some business class cabins look a bit dull.
This isn't one of them. If you're like me, ANA's new business class cabins will take your breath away.

Honestly, photos can't do this justice. It's one of the most beautiful planes I've ever set foot on, both incredibly modern and yet undeniably Japanese in design. The soft woodgrains adorned with black accents and the occasional pop of sleek metal or a blue throw pillow – it comes together wonderfully. Many airlines use flowery language and tout big-name designers when boasting about their business class cabins, but ANA's work with famed Japanese architect Kengo Kuma actually lives up to the hype.
Take another glimpse inside the cabin.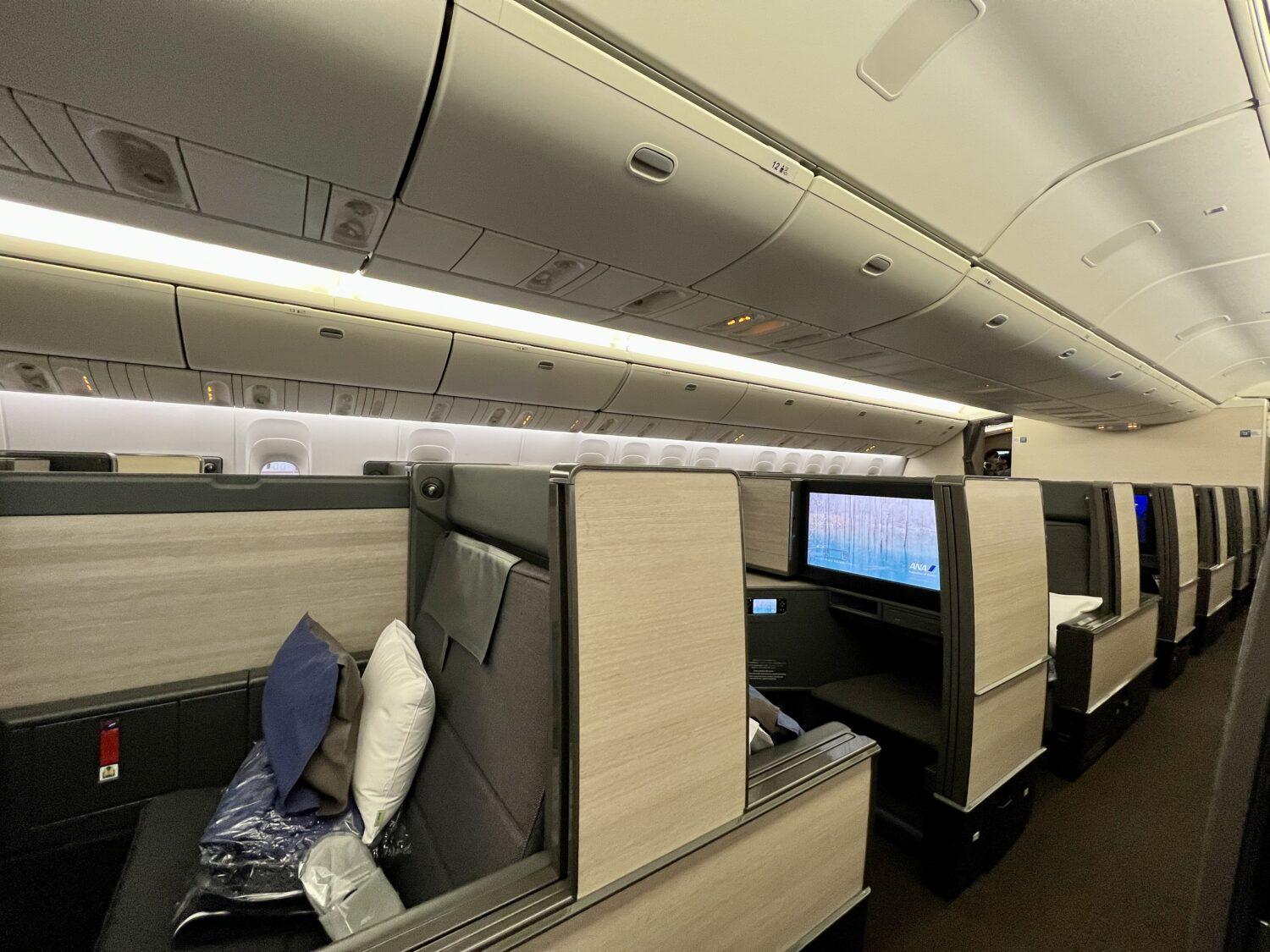 But it's more than just looks. This new ANA business class cabin sports an ingenious layout that maximizes space and privacy. And they've achieved that by doing something that might throw off some travelers: Each row of business class alternates, with one facing forward and the next facing backwards.
That setup, first popularized by Qatar and its legendary Qsuites business class, is critical for giving passengers more space and privacy than you'll find on almost any other plane. With almost shoulder-height walls on every suite complete with doors you can open and close, ANA business class is arguably even more private.
There are 64 ANA business suites in all onboard these Boeing 777-300ERs, divvied up into three distinct sections. There's a mini-cabin located just behind ANA first class, with just a two rows of business class. Behind that, there's the main business class cabin with 10 rows of suites. And finally, there's one last business class cabin with four rows of suites.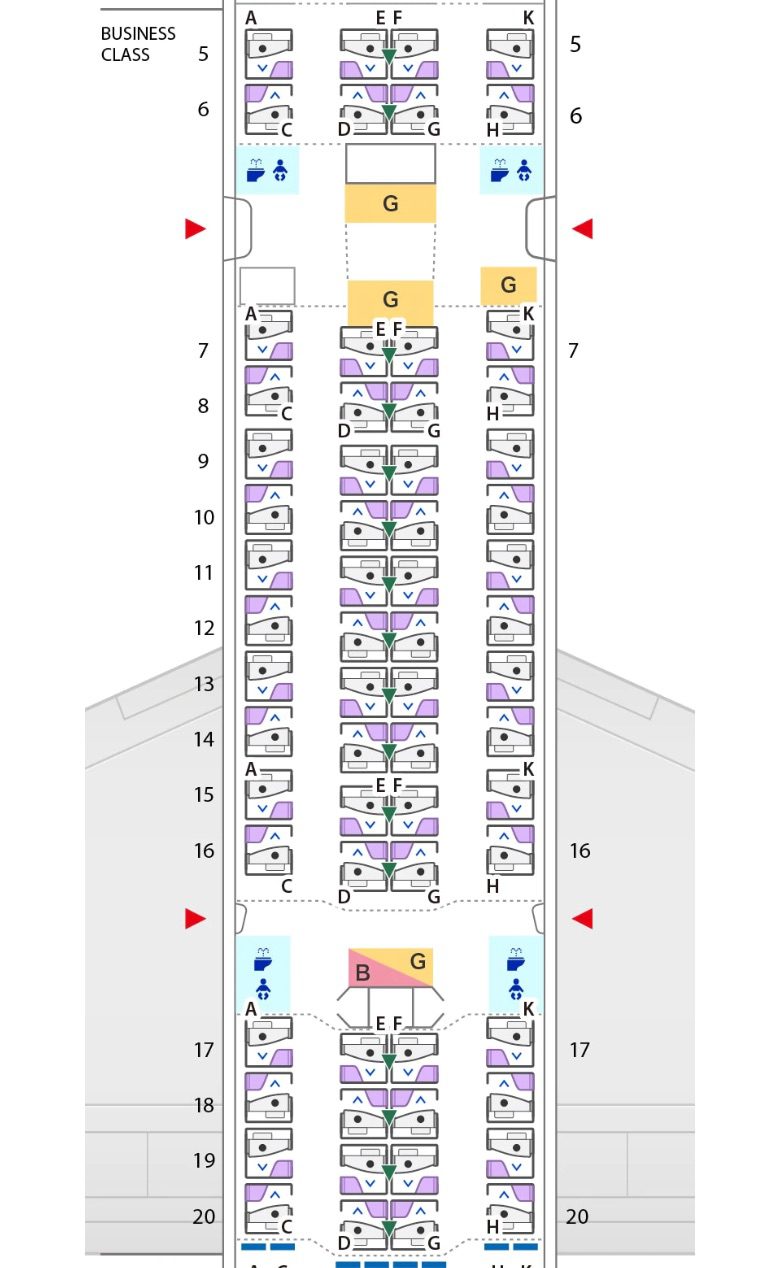 Every row is arranged in a 1-2-1 configuration, which means you can easily walk into the aisle from each suite. No matter where you sit, seats in the even-numbered rows face forward while odd-numbered seats are positioned facing backward. Really, you can't go wrong no matter where you choose: They're all equally massive and insanely private.
Solo travelers should gravitate toward single seats along the aisle. Travelers who select forward-facing seats in the even-numbered rows are positioned slightly closer to the aisle, with a storage table along the window.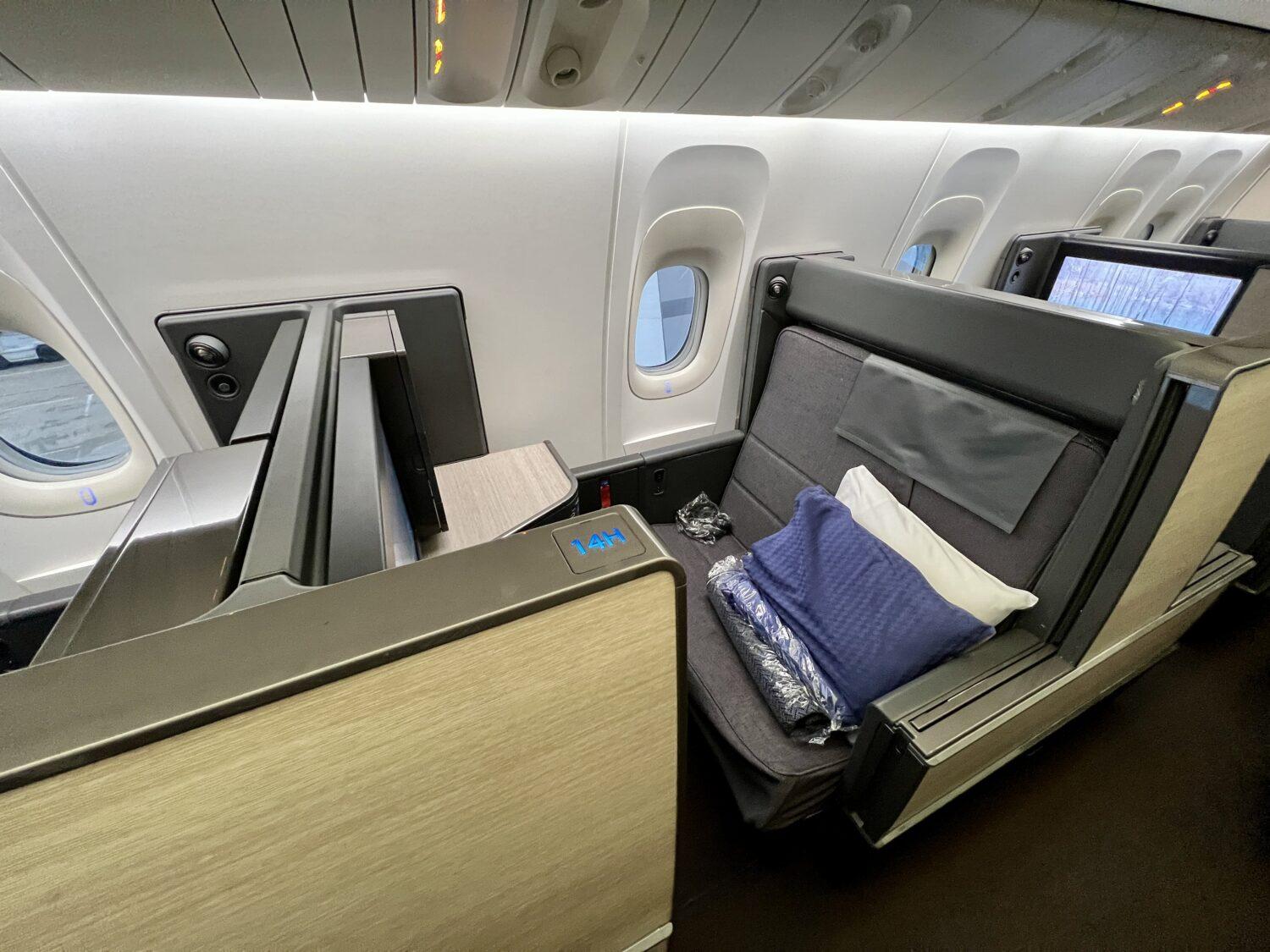 The odd-numbered seats, meanwhile, face backward. The storage table is positioned closer to the aisle, which gives travelers a bit more privacy – but really, that's splitting hairs.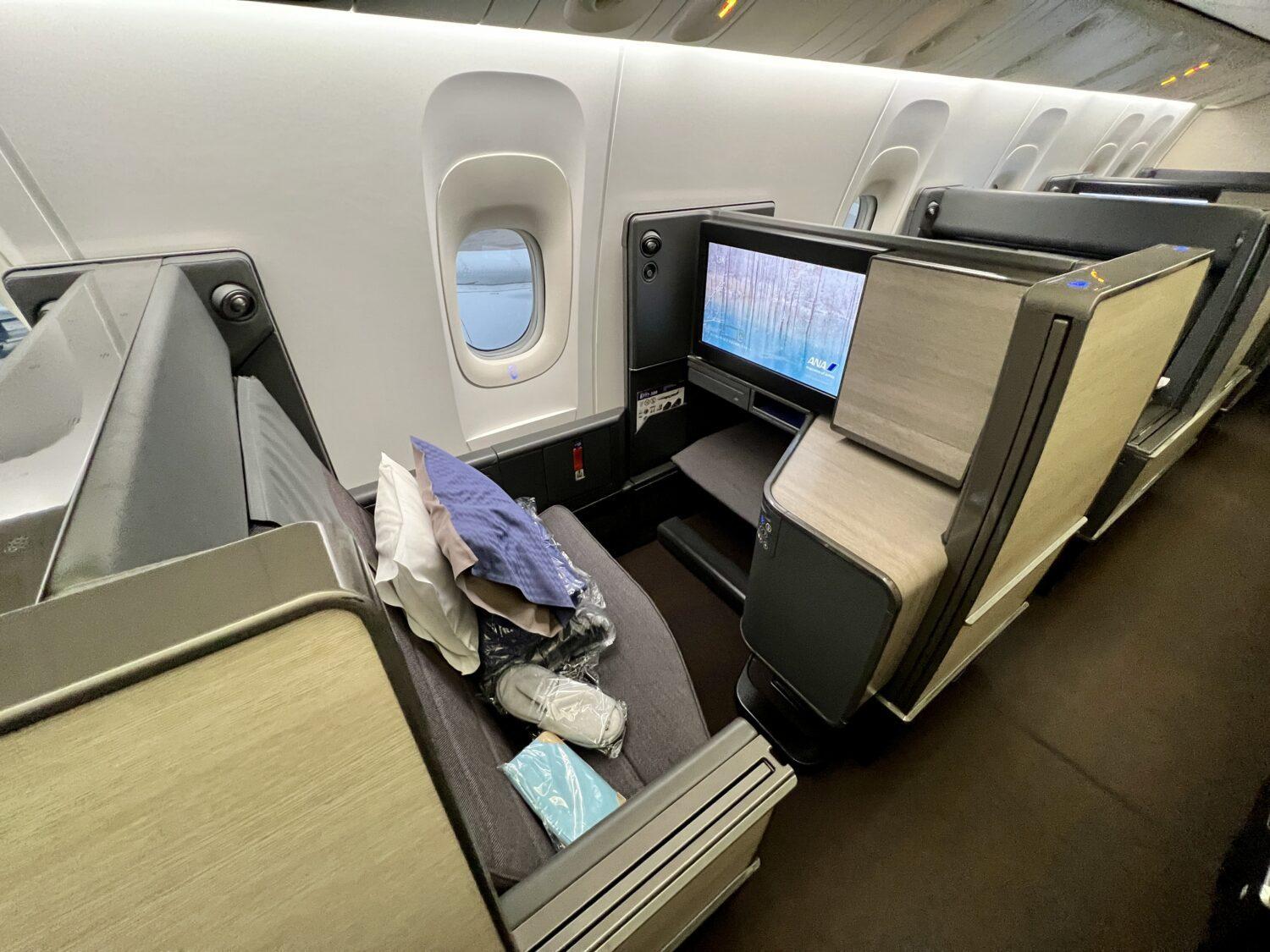 Traveling in pairs? You'll want to gravitate toward the center of the plane, where ANA's business class suites are no less massive or private. Just as with the solo seats along the aisle, these center-section pairs alternate row by row, with even-numbered suites facing forward and odd-numbered rows facing backward. Unlike Qsuites, you can't combine four suites in the center into one big pod. But really, that's not a huge loss here.

In the even-numbered rows, these center seats are positioned slightly closer to the aisles, with console tables and storage compartments in the center. As you can see, there are dividers separating these center seats – plus a privacy partition you can raise and lower, in case you don't know your neighbor.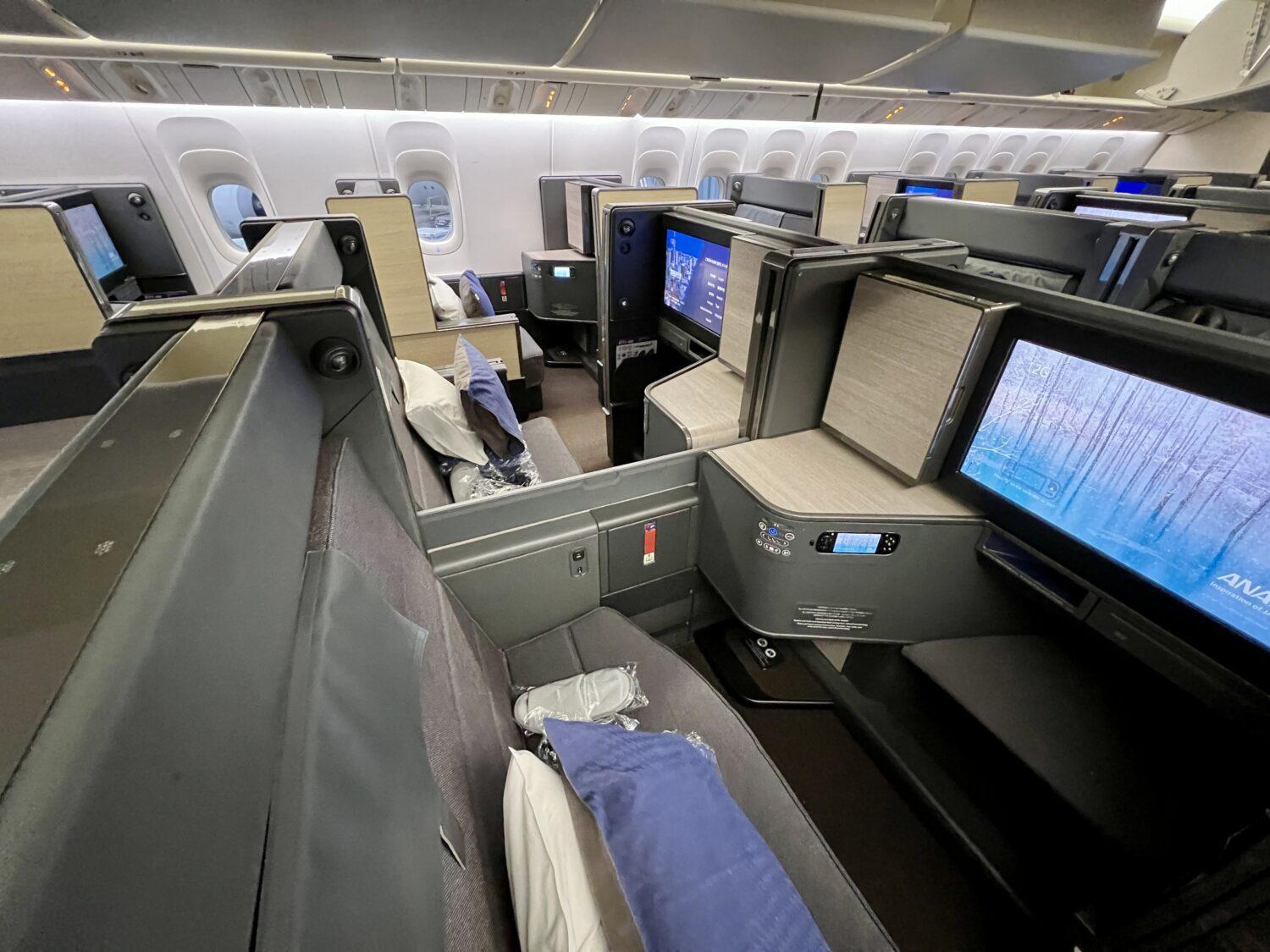 But the best choice for couples and traveling companions by far are the rear-facing suites in odd-numbered rows. With a bit of separation from the aisle, they're even closer together and incredibly private. If not for the divider at leg level, these two suites combined would give you – and I'm not joking here – nearly a king bed's worth of room to share. That's unbelievable.
Just as with the other center suites, there's also a partition that can be raised and lowered after takeoff.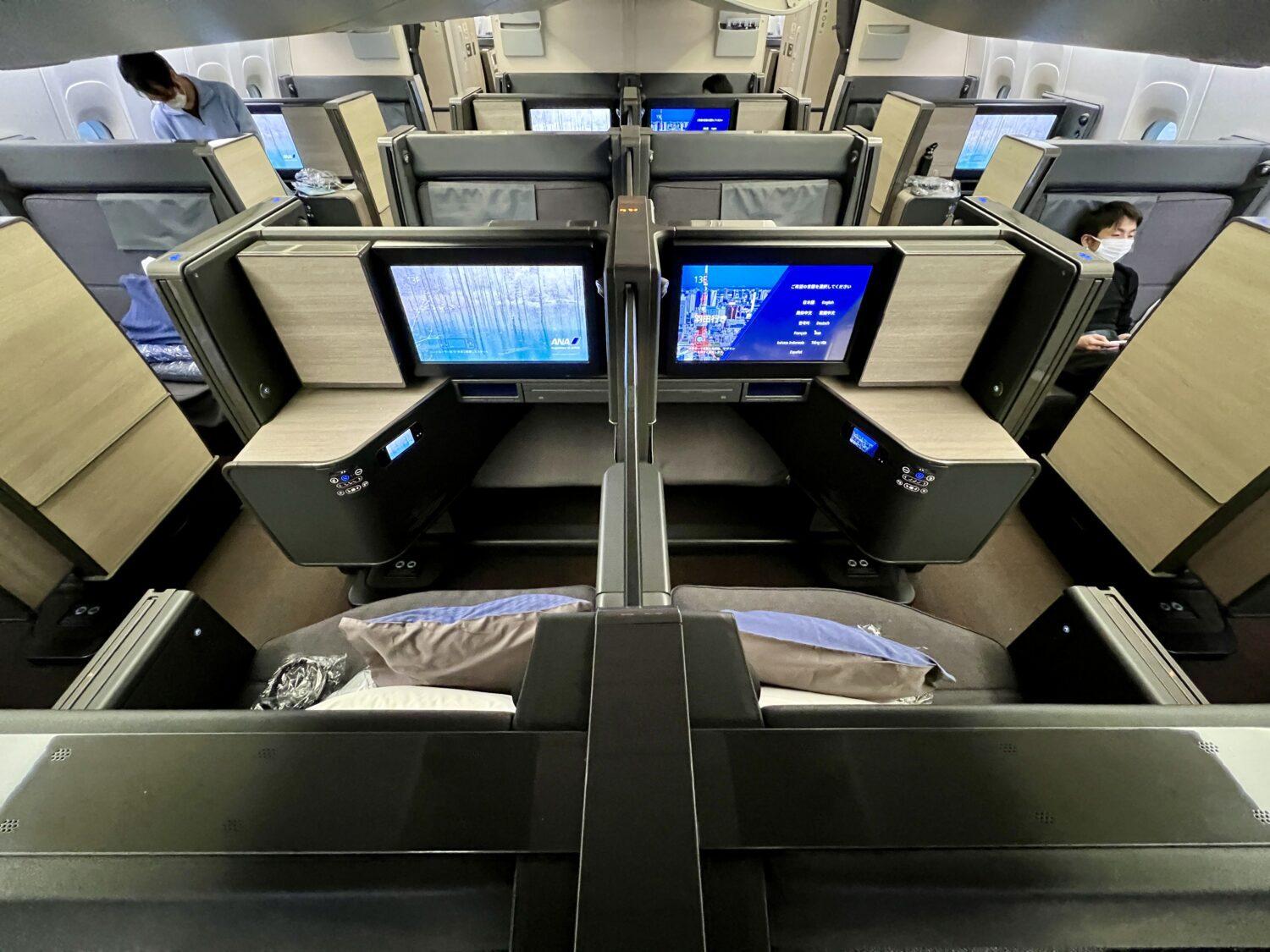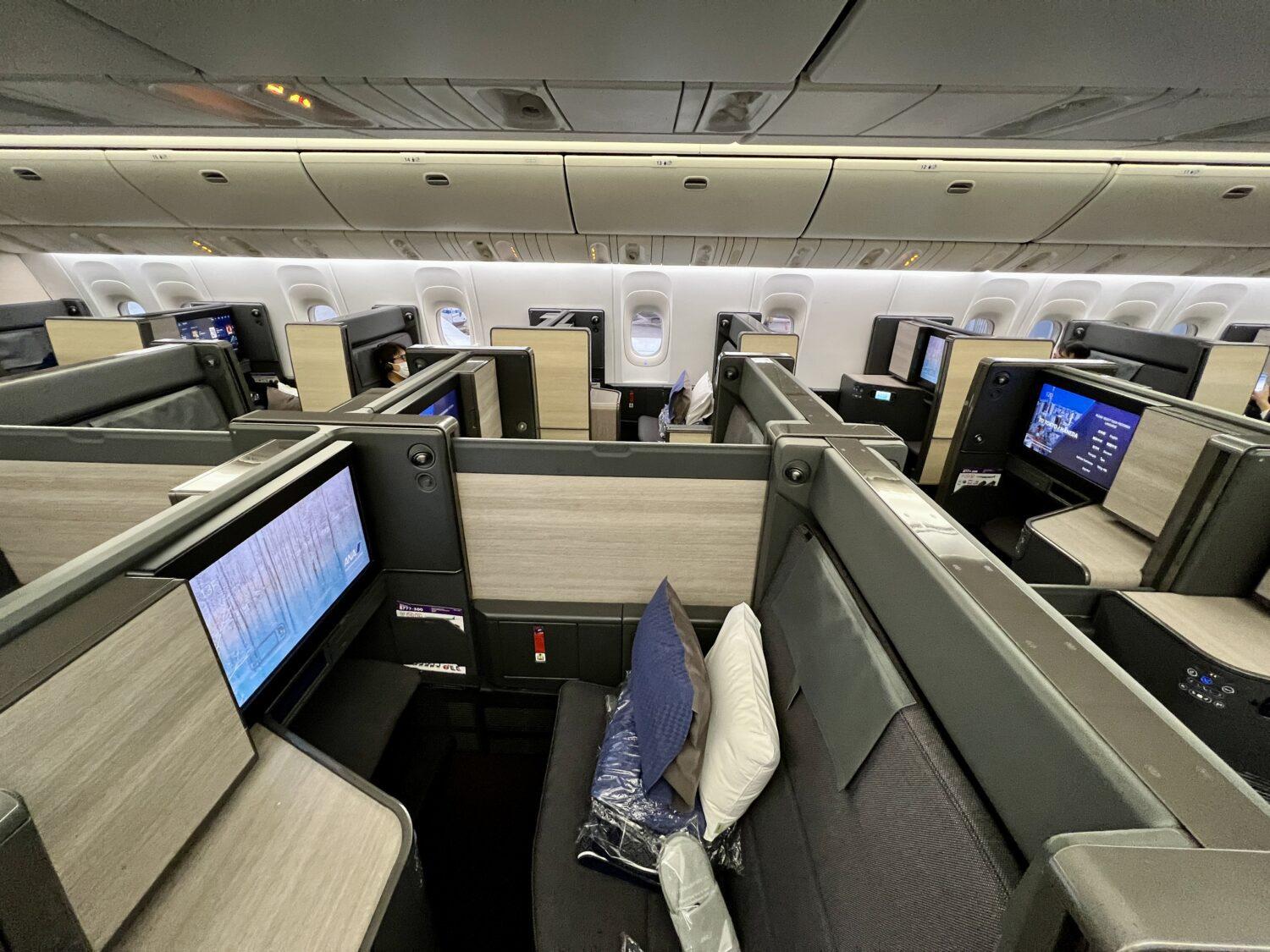 ANA elected to install luggage bins in the center of the business class cabin, which means it isn't as open and airy as you'll find on some other carriers. But with 64 business class suites onboard, ensuring they'd have enough luggage space for passengers was probably more important.

Lavatories onboard are … a mixed bag. On the plus side, there are four bathrooms in ANA business class: Two at the front of the main business class cabin and two at the rear, which meant there was rarely a wait to use the lavatory. And they're all well designed, with a particularly stylish sink that you don't see on many planes.
The bad news? The bathrooms are all really small. Many airlines have at least one larger bathroom available, which is great if you want to change into something more comfortable to sleep in or just stretch out a bit. But that's not the case here.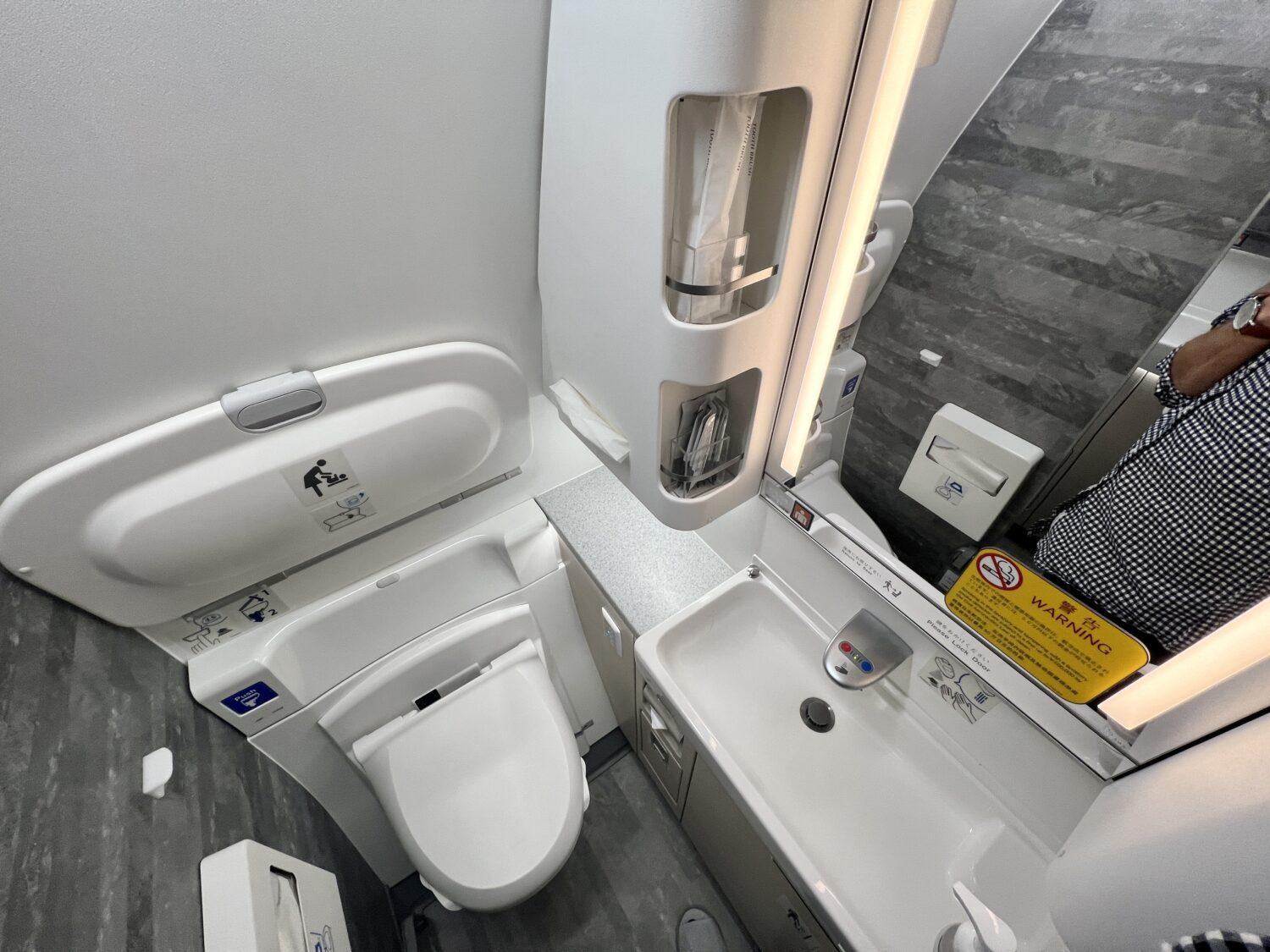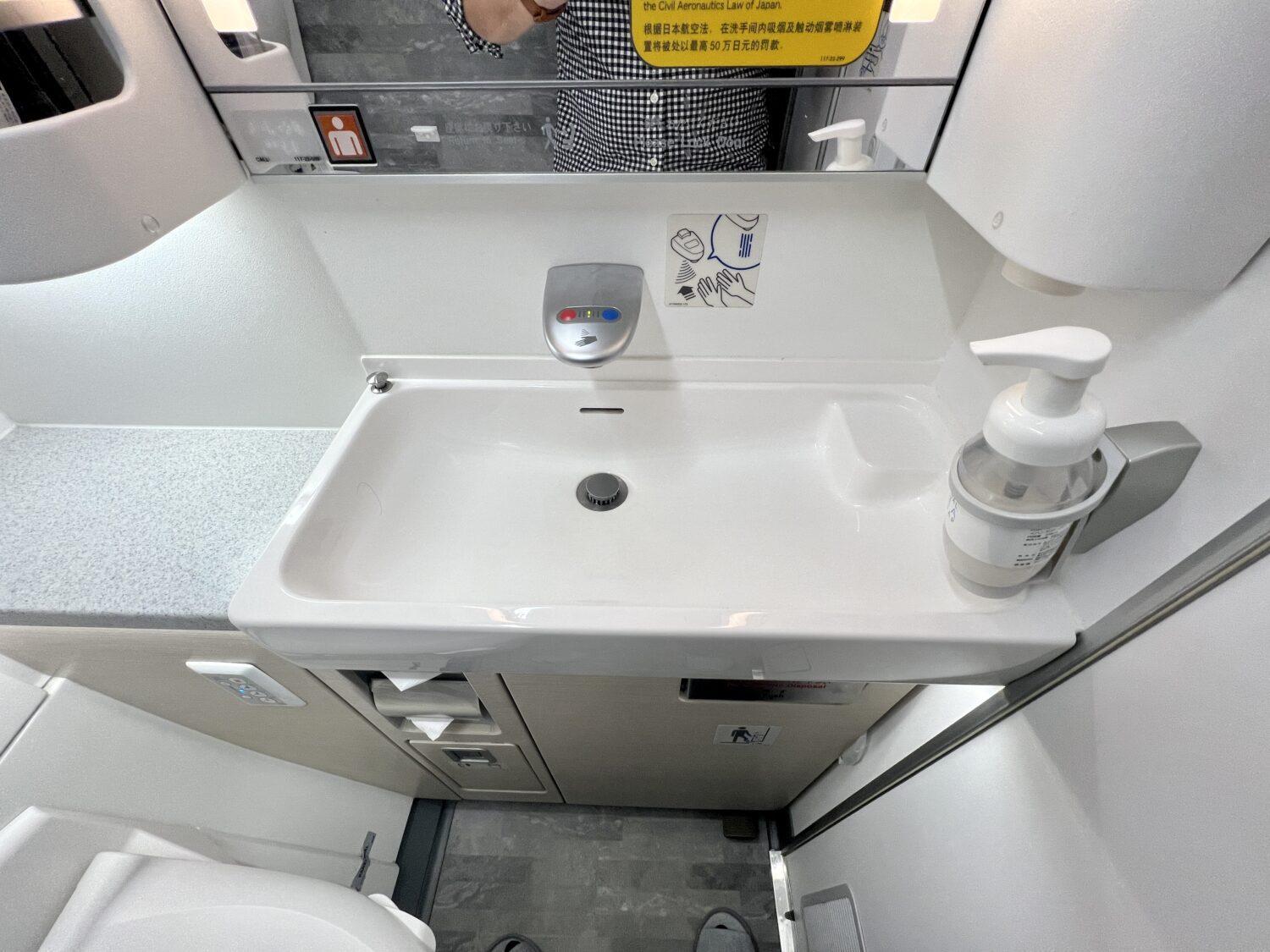 Fortunately, each lavatory was always spotless and well-stocked with amenities like dental kits and mouthwash. And since this is a Japanese airline, a bidet at each toilet is a given.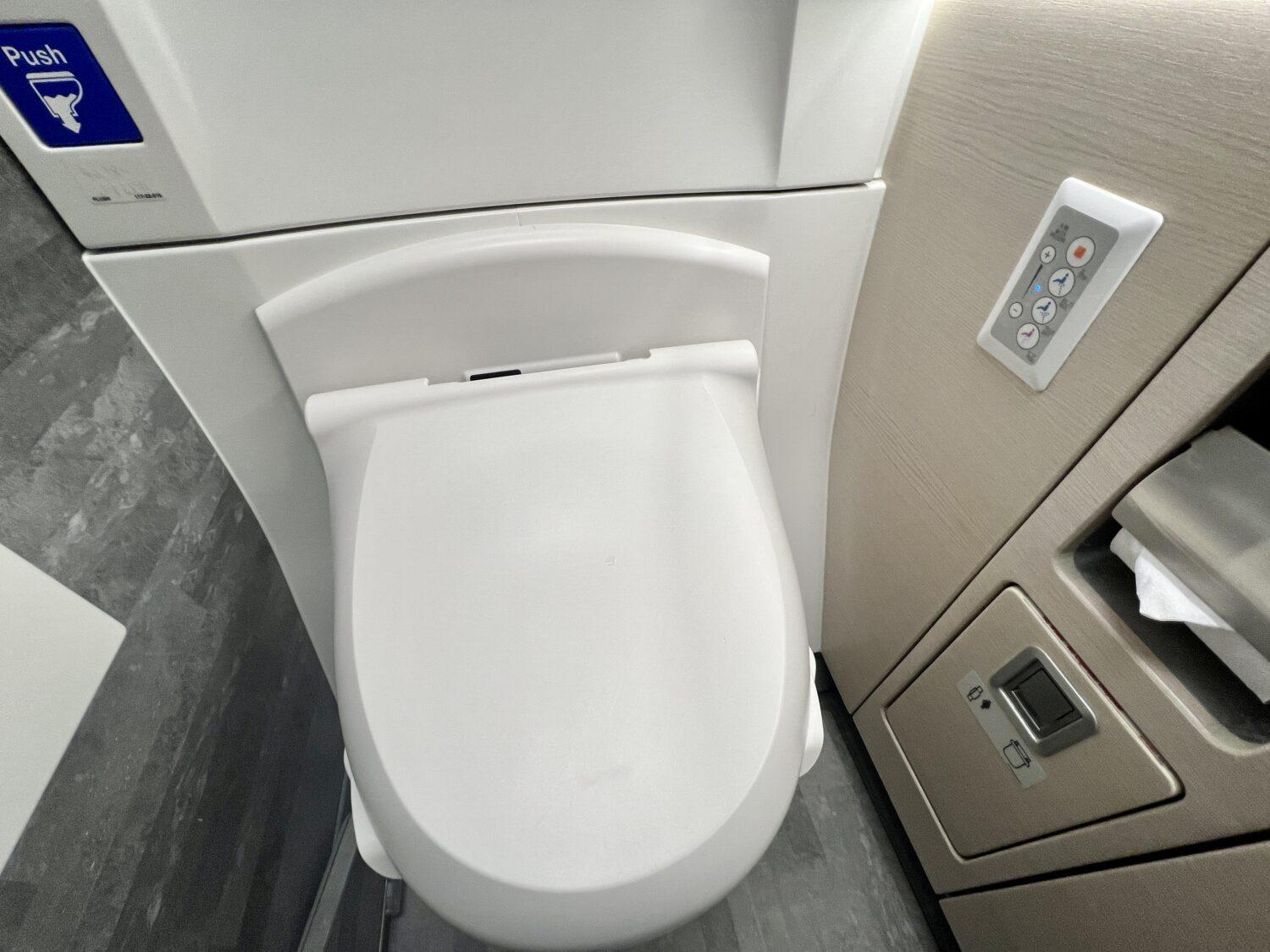 The Room: ANA's Business Class Suite
It's called The Room. And that's not hyperbole. These are easily the biggest, widest, most-private, and most beautiful business class suites you can find in the sky today.
I chose to sit in seat 13K, one of the rear-facing suites positioned closer to the window. Just look at this.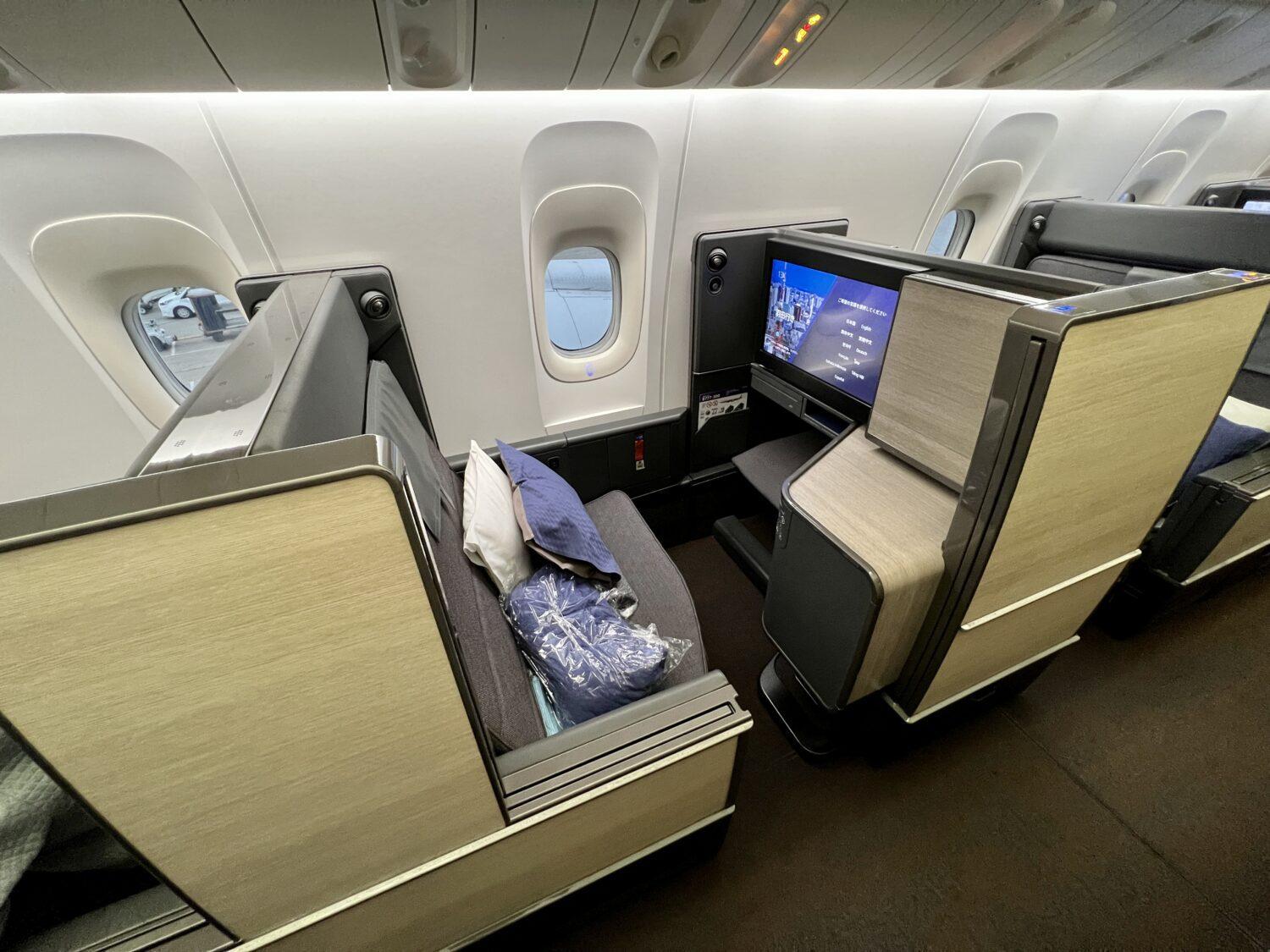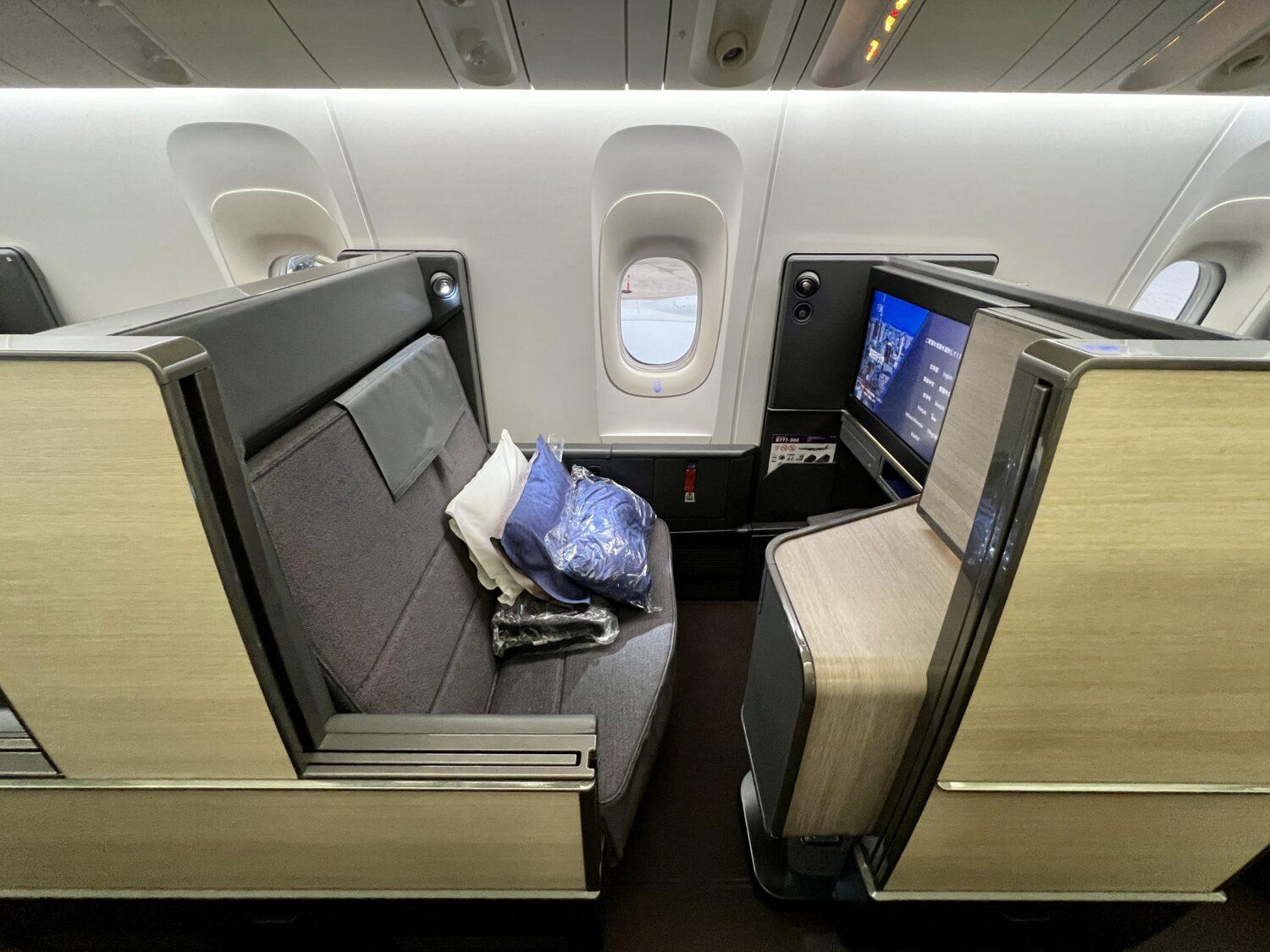 Stunning, isn't it? The woodgrain finish is perfect and oh-so-Japanese – understated, and elegant, especially with the suite underlighting turned on.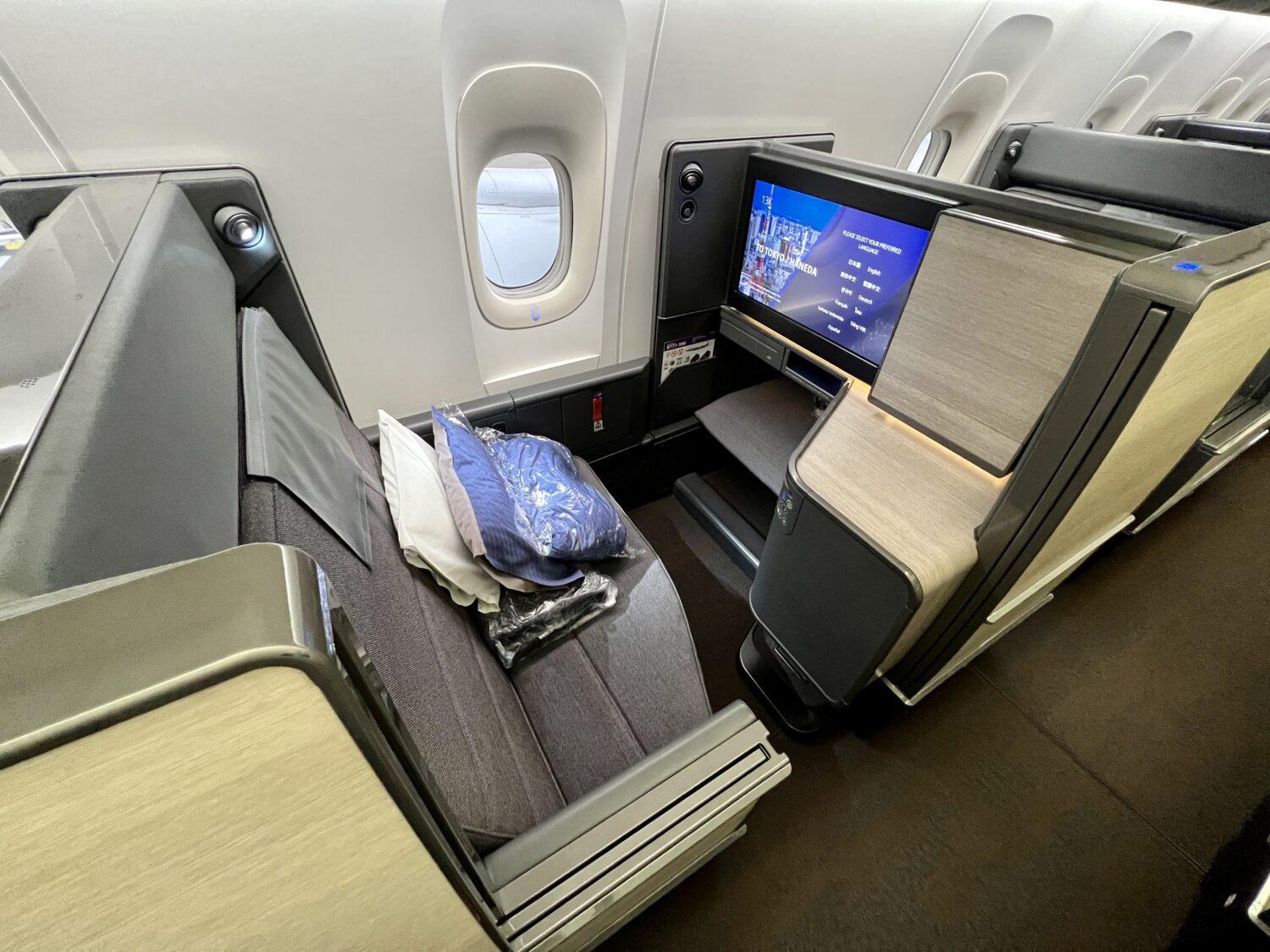 As you can see, this odd-numbered seat has just one window available. That's the case for all but a small handful of suites along the windows. But it's a trivial complaint compared to how gorgeous and spacious these seats are.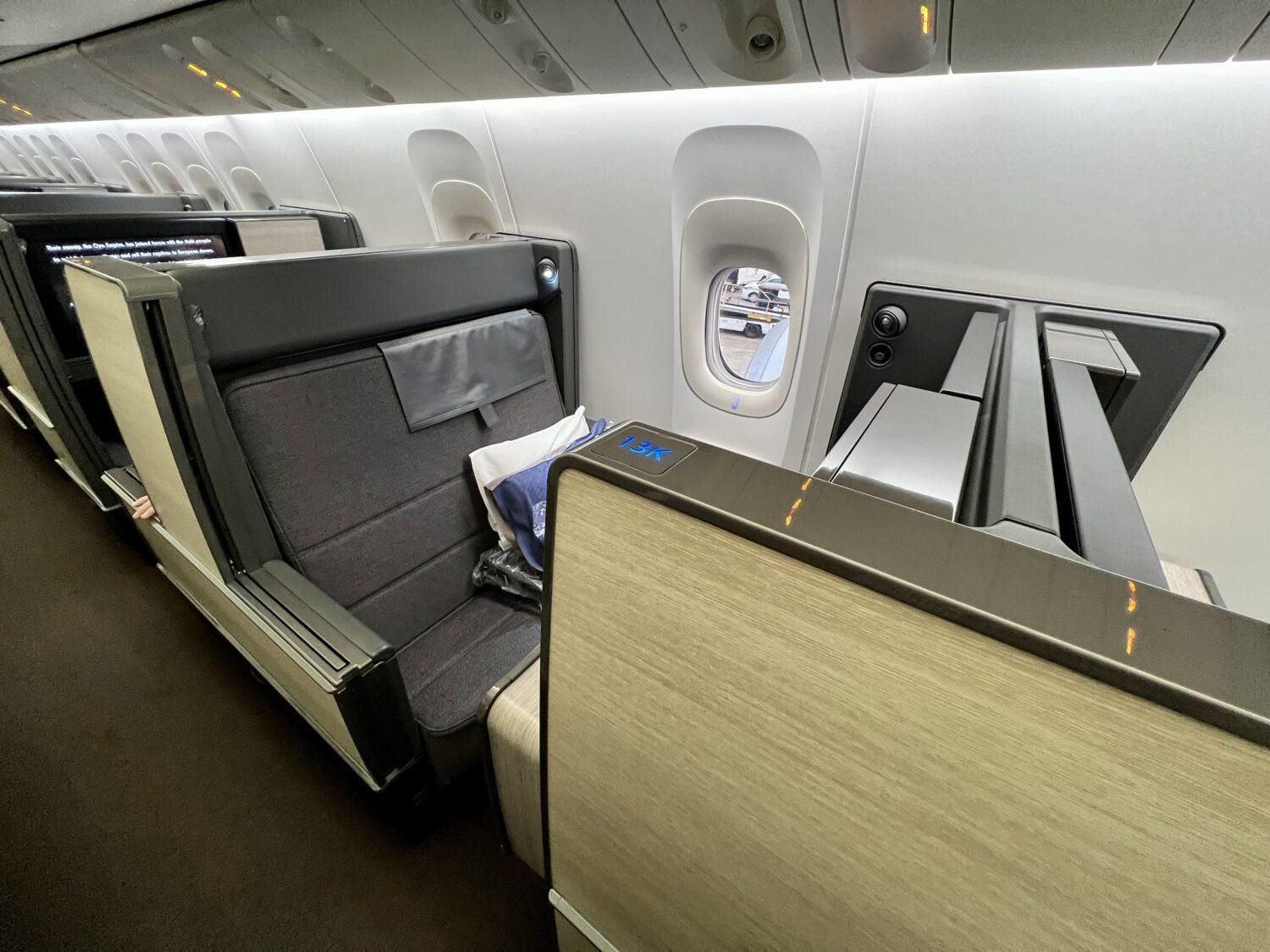 Let's take a second to appreciate just how absurdly wide these ANA business class suites are, shall we? At its widest point, each ANA business class seat is 38 inches wide. That doesn't just blow most 20- to 22-inch business class seats out of the water – it's wider than most cushy first class seats, too.
It's so wide you could easily fit two people sitting side by side … with plenty of room to spare. Exhibit A: This ridiculous selfie. You can't see my ear-to-ear grin because I took this flight shortly before Japan's in-flight mask mandate ended in mid-March.

They're plenty long, too, measuring in at 72 inches of legroom when fully reclined. Unlike some other airlines, the footwell at the front of the suite is tall and wide enough that you shouldn't have much problem getting comfortable whether you're lounging or sleeping. I really can't imagine anyone under 6 feet 2 inches tall (give or take an inch) having issues in ANA's The Room.

But ANA didn't sacrifice privacy in making The Room seats so big: Yes, there are privacy doors on each suite. After takeoff, you can pop out a pair of panels with a sustained push of two buttons. One large panel slides out vertically from the front of the suite while another slides up from the armrest along the aisle. Both push manually back into place.
Sure, there's a small gap in the middle and along the floor. But combined with the near-shoulder-level height of each suite, it's more privacy than you could possibly need.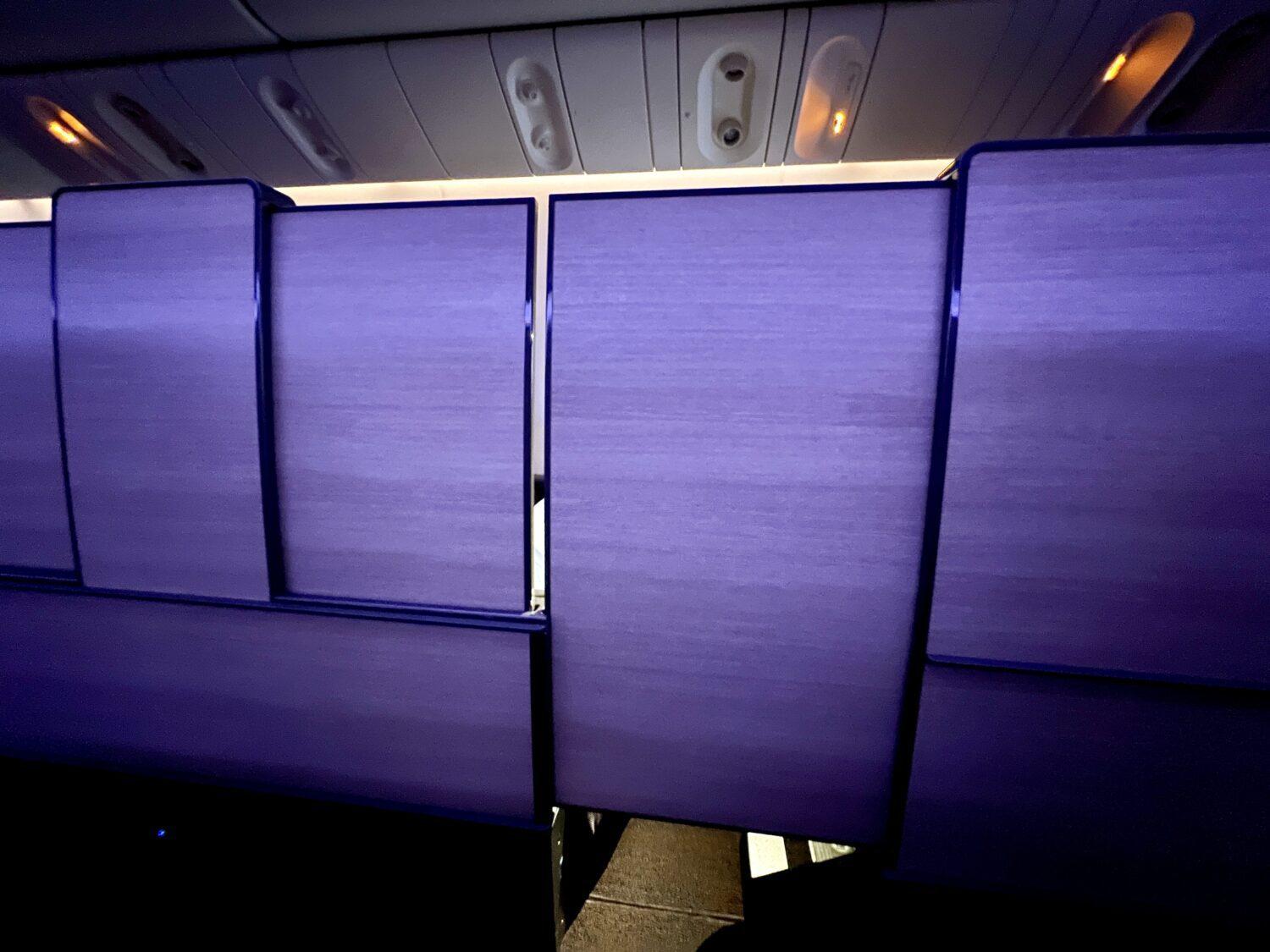 The seat itself is … well, it's certainly on the stiff side. That's typical for Japanese carriers, who don't sock their seats full with as much padding as other airlines. And I think adding more of a headrest in place of a single, flat surface would have added some extra comfort. But, don't get me wrong: These seats are still darn comfortable.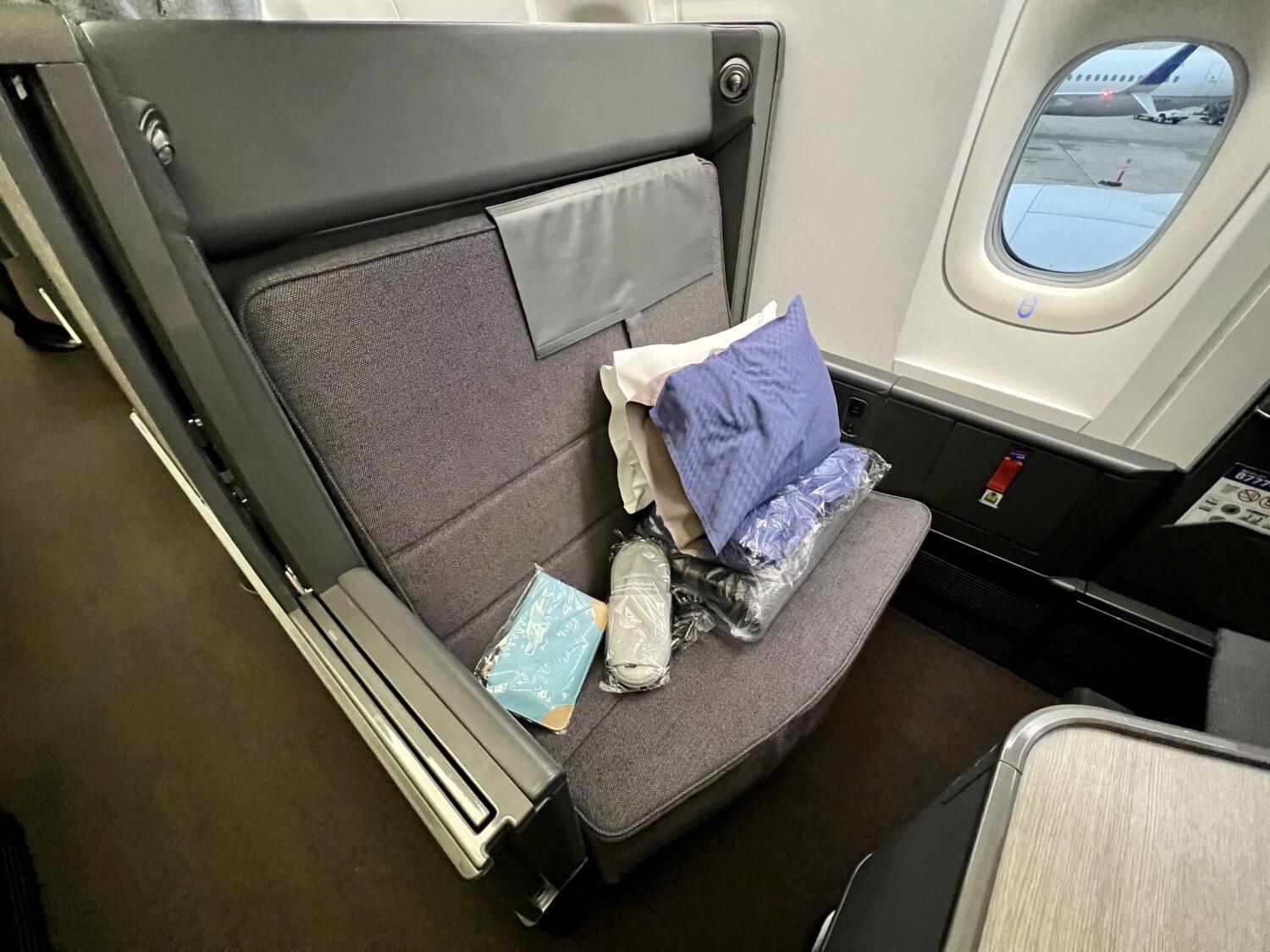 Beyond that small quibble, these suites are sheer perfection. Complaining about much of anything with a business class seat this beautiful and well-designed seems like nitpicking. Heck, I've sat in first class cabins that aren't even close to this good.
They're not just beautiful and spacious, but also cleverly designed with all the features and functions you might expect, plus some others you won't find in any other business class seat.
ANA definitely cut back on some dedicated storage in The Room in the name of providing passengers more space to stretch out, but there's still plenty of space to put your things. It starts with the storage table in each suite, which is large enough to leave a laptop but still gives you enough room to easily squeeze in and out of your seat.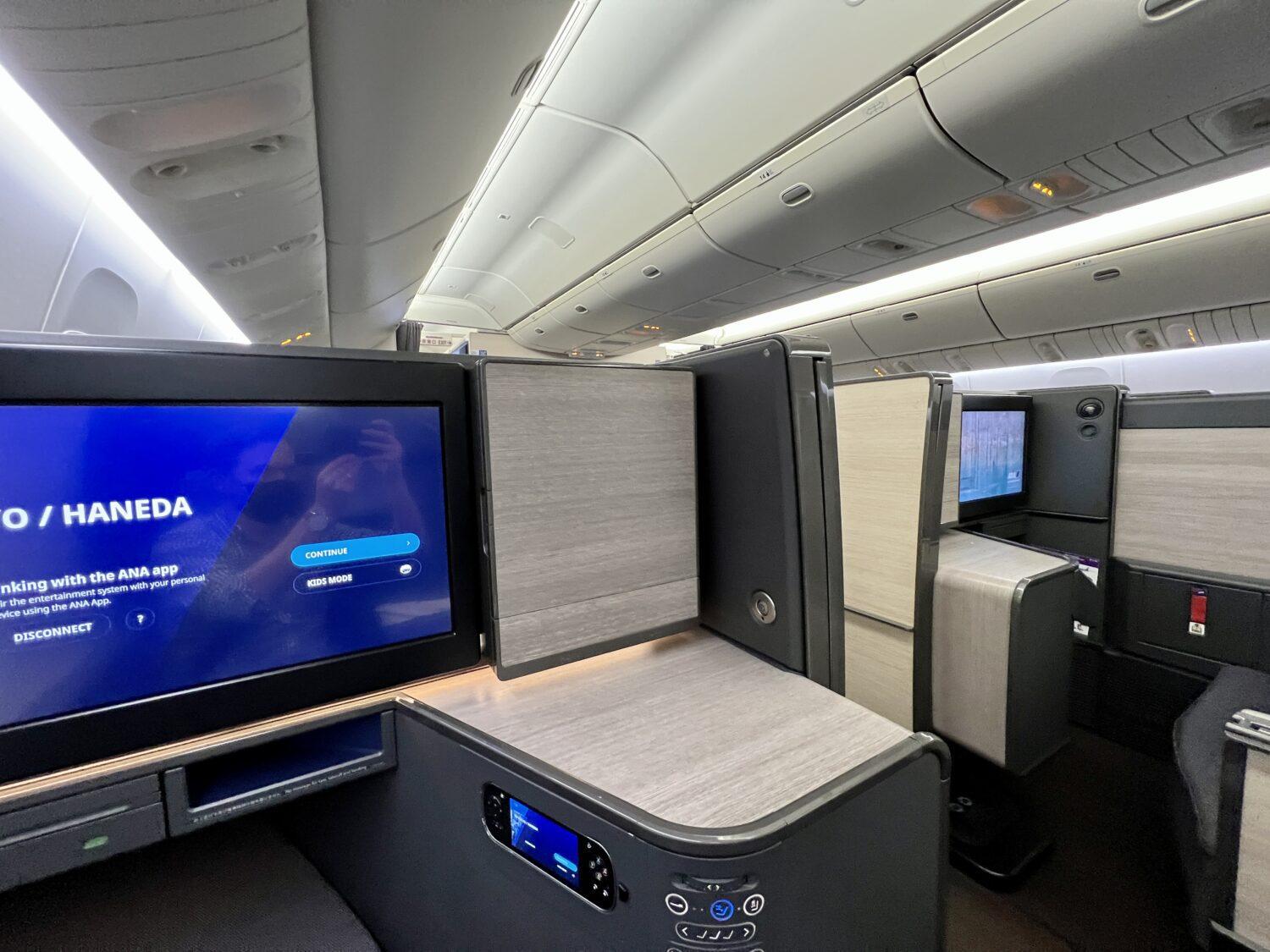 Just above that there's a small compartment you can open and close with a latch. It's not huge by any means, but useful for storing your passport, wallet, and phone as well as your amenity kit. There's also a mirror mounted inside the door, should you need it.

But here's where some of ANA's brilliant design touches start to come out. Inside this storage compartment, you'll find a universal charging socket as well as a USB port. But rather than forcing you to keep the compartment door open in order to charge your devices, there's a flap at the bottom of the door to run cords in and out while the door is closed.

Underneath the footwell there's a small storage area, which is perfect for your shoes or a small backpack or bag.

Finally, there's a very small compartment at the front of the suite under the monitor, with just enough room for a watch or a phone.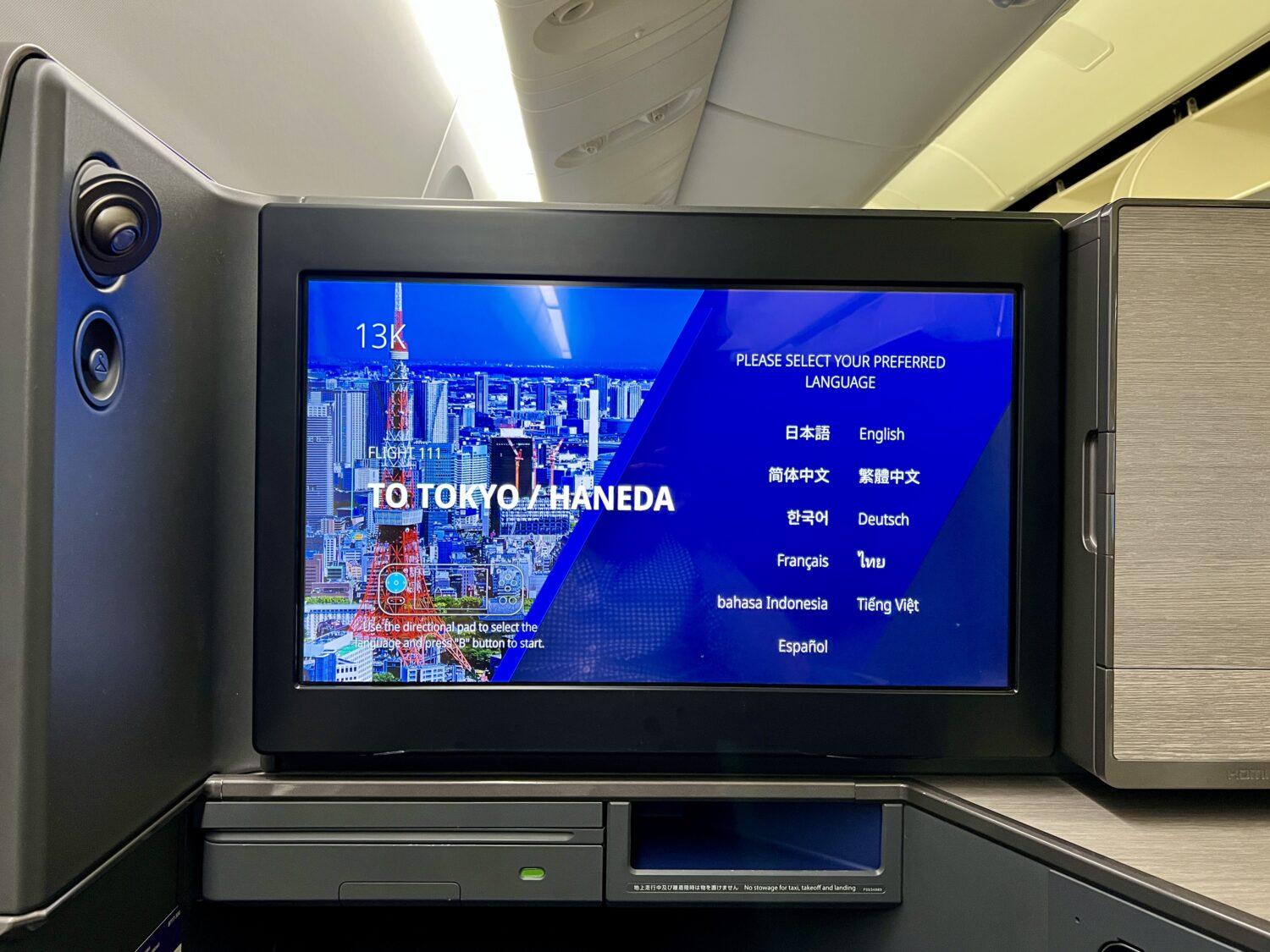 That's pretty much it when it comes to storage. Would more bins or cubbies to store your things be better? Sure. But all those overhead storage bins means you should never be fighting for space to store your bags.
Right next to that final storage compartment at the front of the seat is where you'll find the tray table. It easily slides in and out with a latch underneath, folding out into a massive and sturdy surface for working or eating.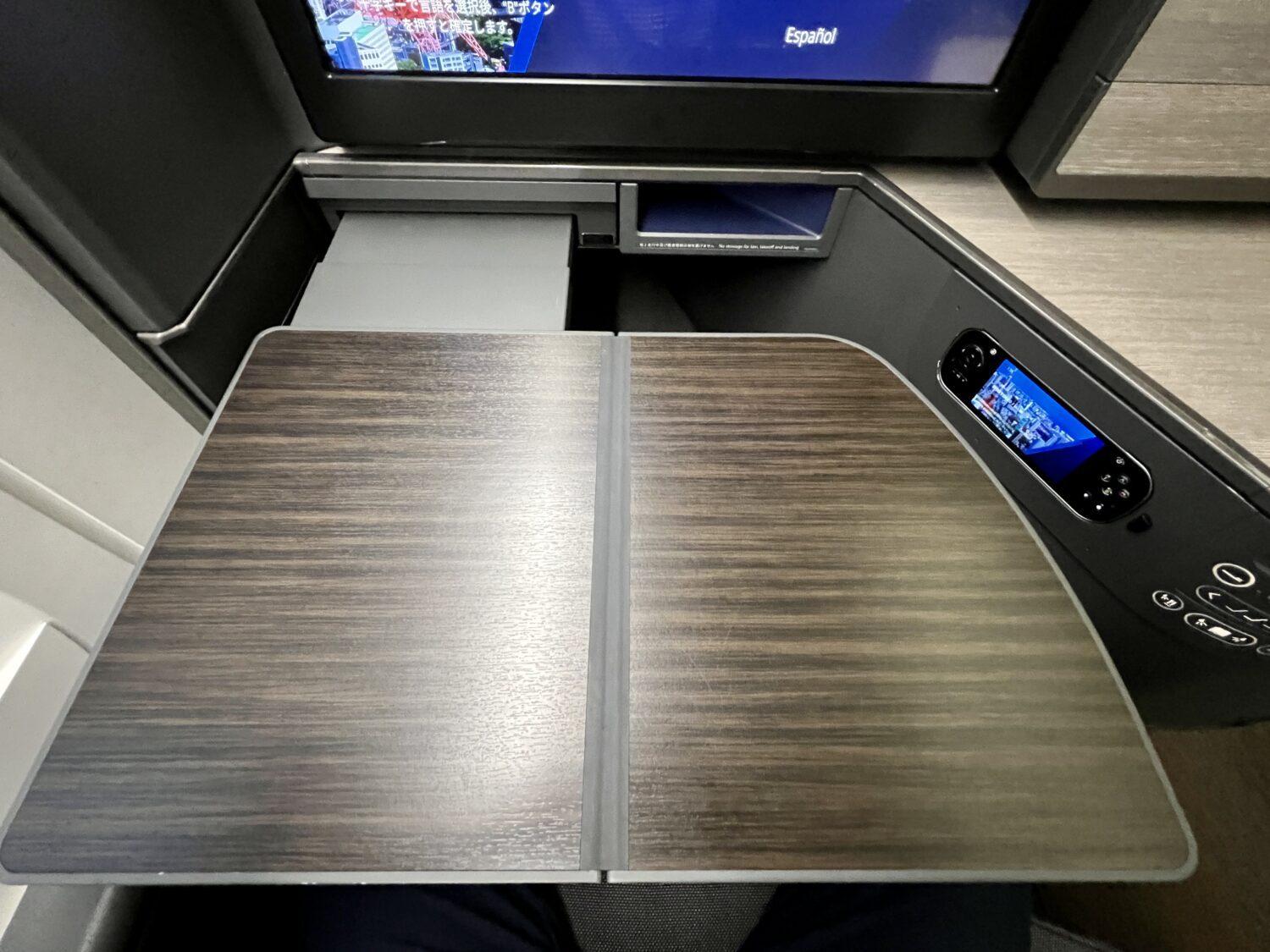 You can adjust your seat from a panel in the side console, and it's incredibly customizable. Not only is there a slider at the top to recline or sit back up to your heart's content in addition to some preset buttons for lie-flat, upright, and dining, but you can also move your seat forward and backward – perfect for when you need to slide out in the middle of meal service. That's something far too many airlines miss.
There are also buttons to control the lighting, including two reading lights on either side of the seat, a dedicated light at the front during mealtimes, and the previously mentioned underlighting.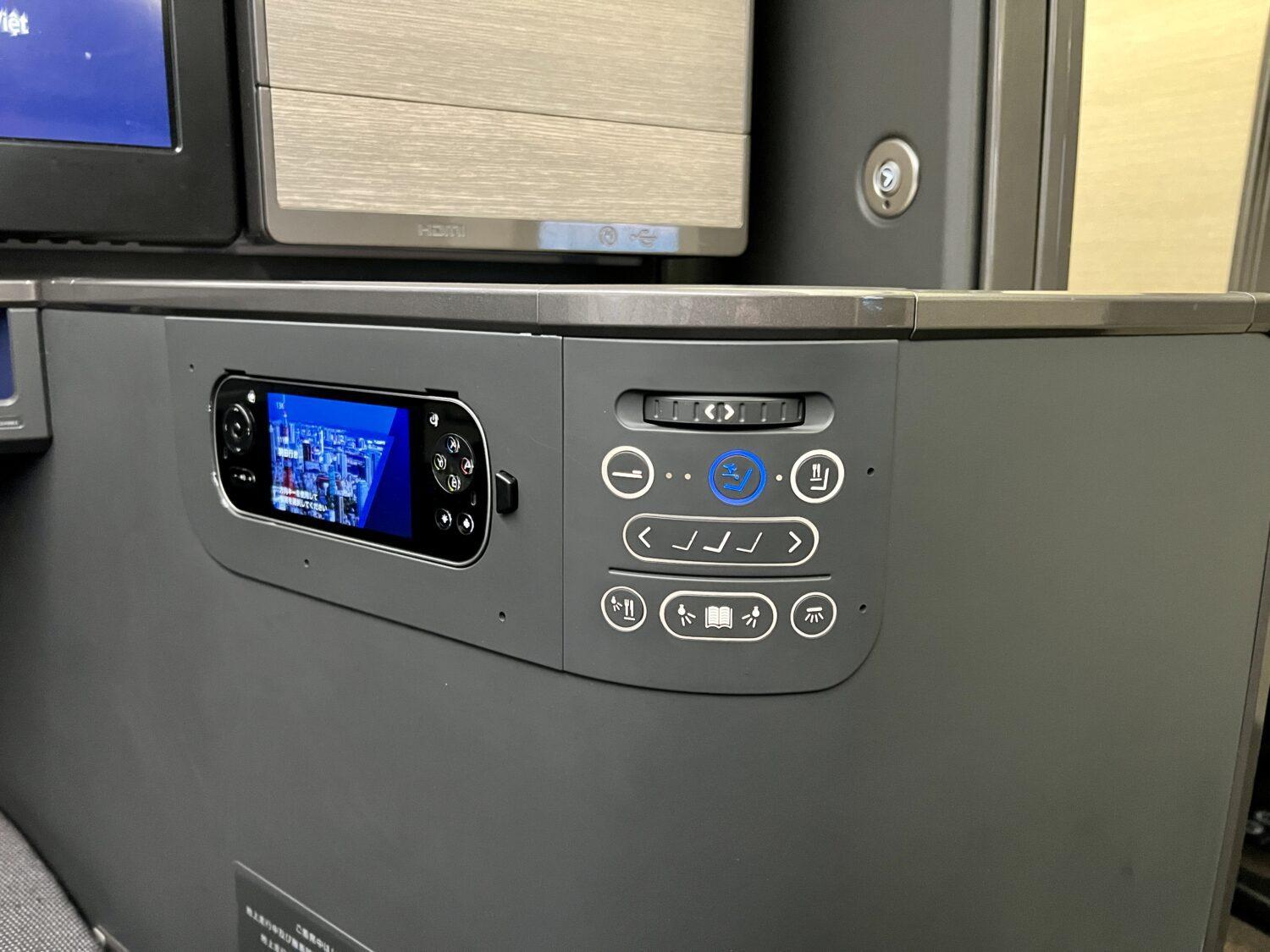 But the seat controls go far, far beyond that using the excellent in-flight entertainment system (more on that), which really allows you to dial in your seat preferences, from the position of your seat to all the lighting – including a master button to turn everything on or off with one push.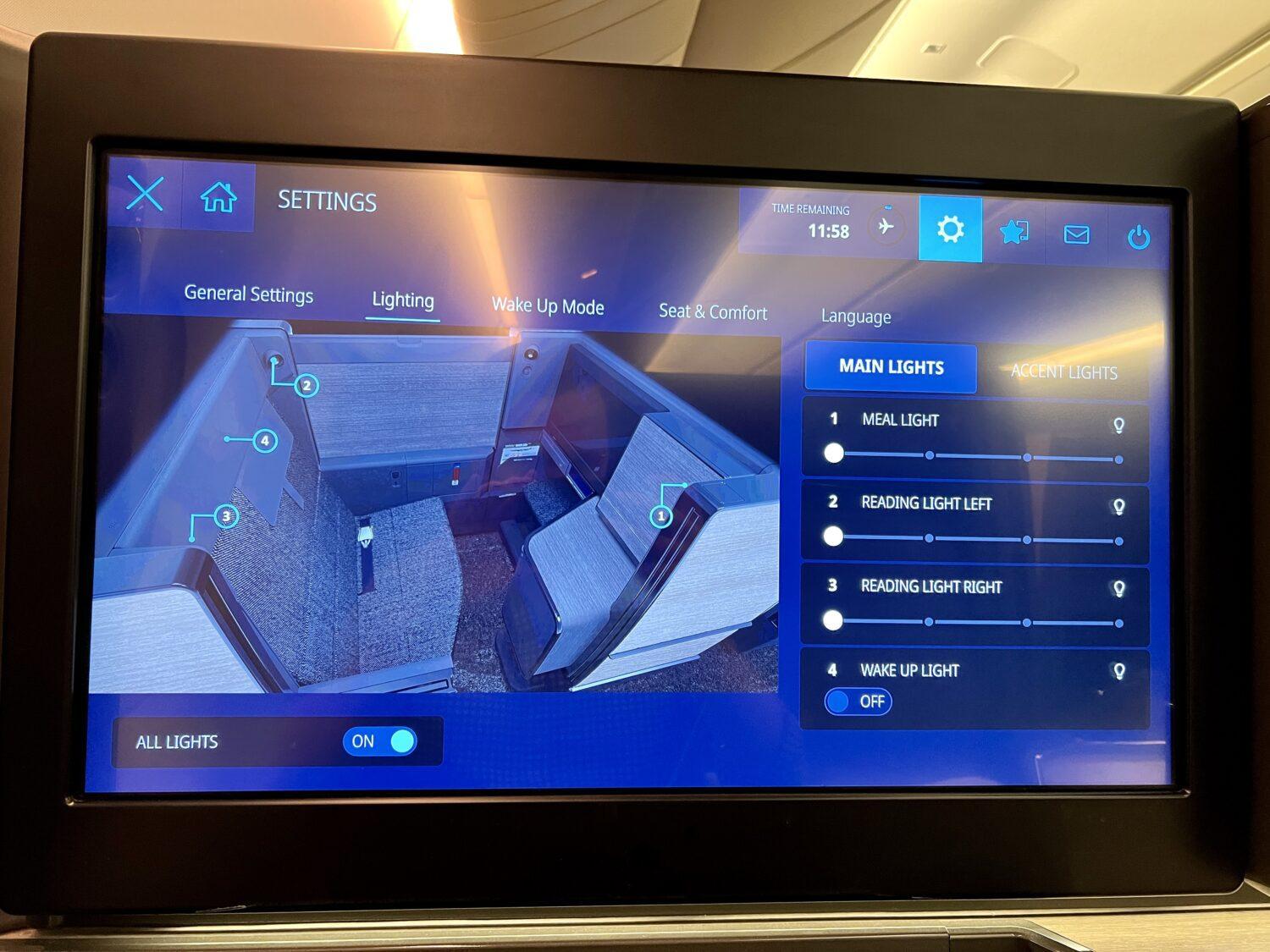 There was also a setting I'd never seen before: Active Noise Control. As ANA puts it, you can turn this on "when the seat is in a sleeping position to reduce cabin noise." How does it work? Does it work at all? I tried it out and can't say I noticed a monumental difference … but that doesn't mean it's useless.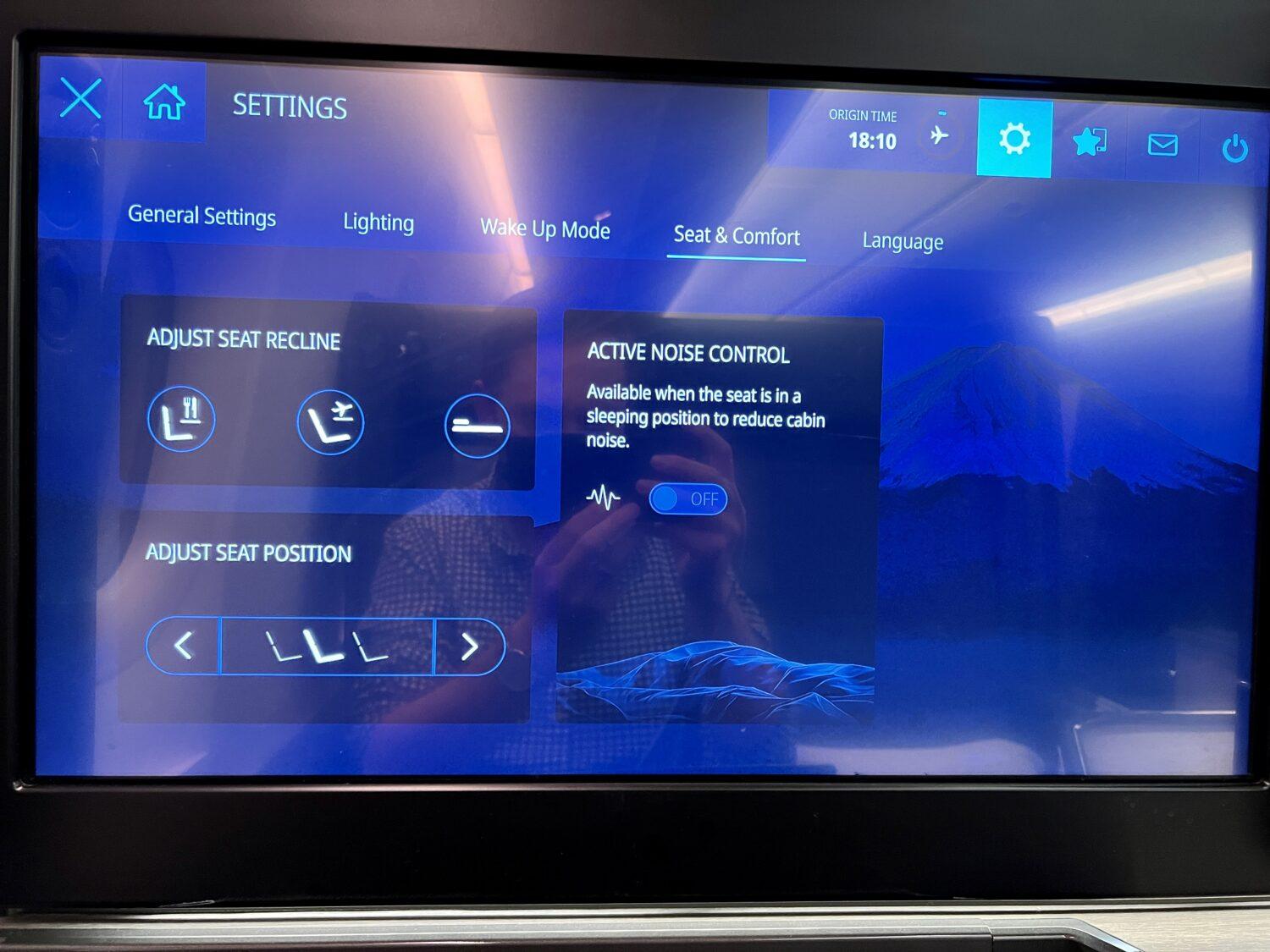 Finally, the screen also offers the option to turn on "wake up mode," which will slowly crank up the lights in the suite over a 30-minute span to calmly wake you up, mimicking the sun.

Another great touch: ANA installed not one but two headphone jacks: One located by the button you use to activate the door panel, and another on the other side along with yet another USB port. It's another nice, thoughtful touch that will help stay connected depending on which direction you lay down or recline.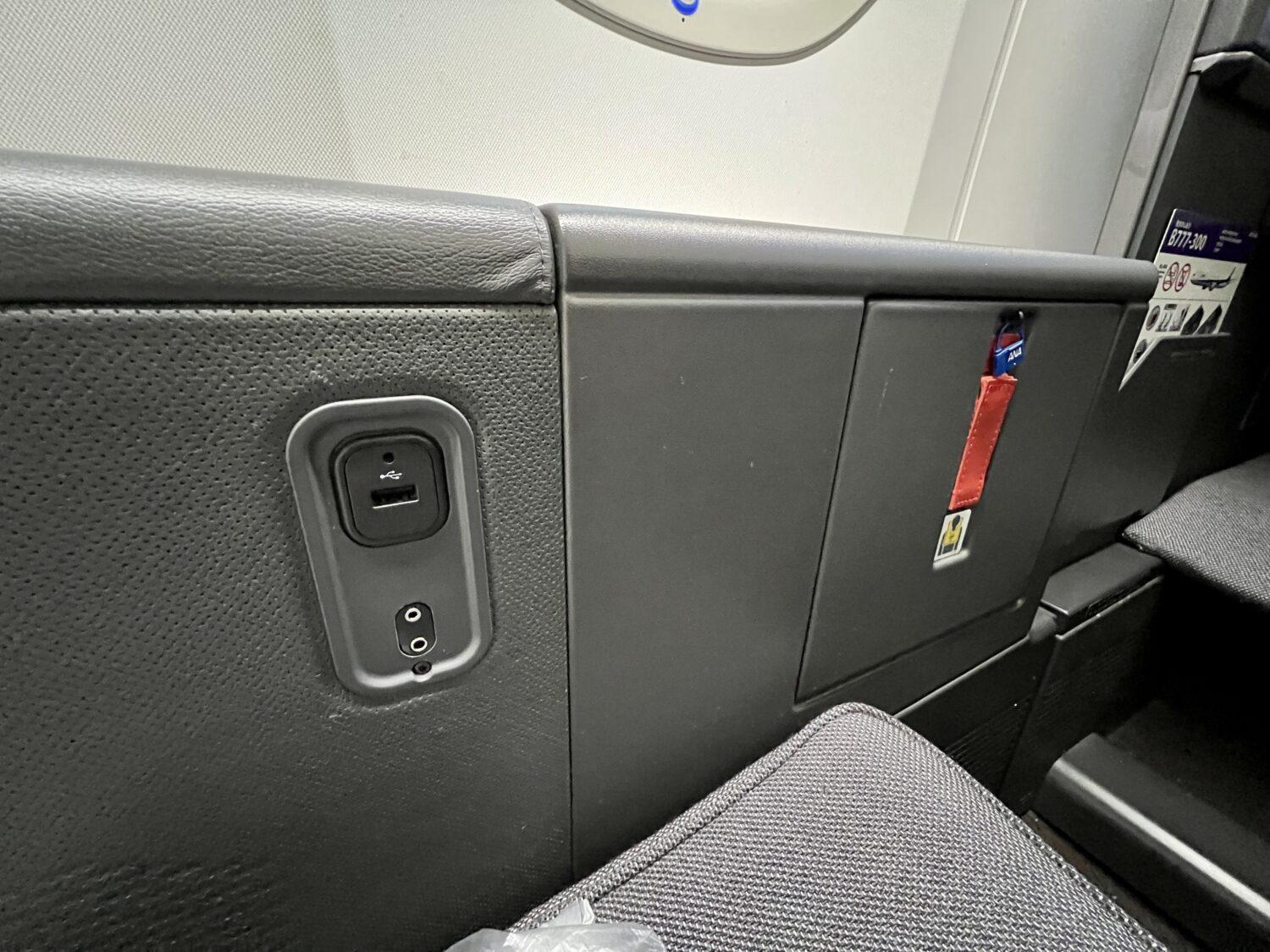 These newer Boeing 777s are equipped with fancy electronic window blinds, which you can raise and lower with a touch of a button.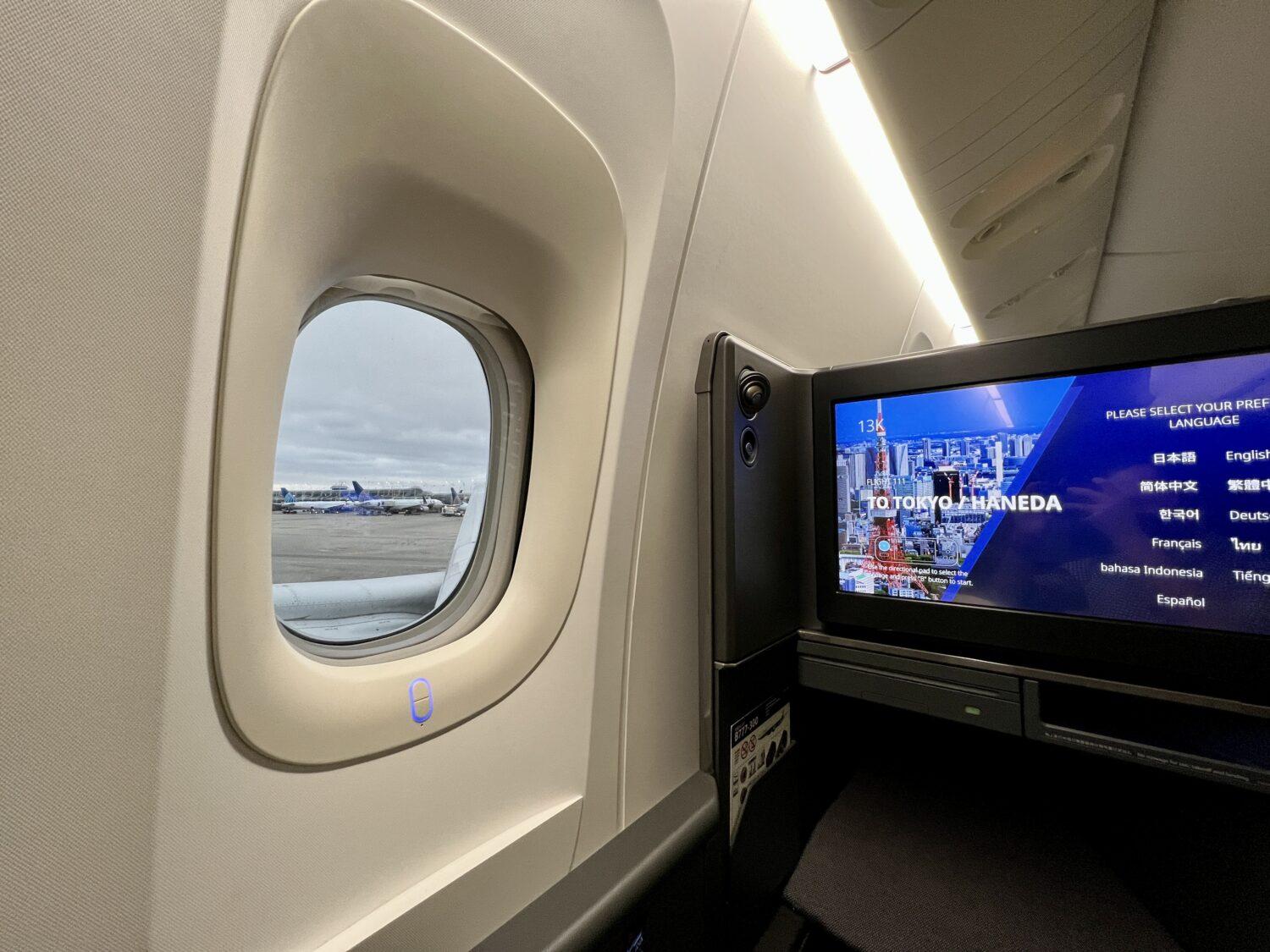 And finally, the most basic yet important feature of all: Overhead air vents! Far too many airlines leave these out in business class, but they're a godsend for travelers who run warm.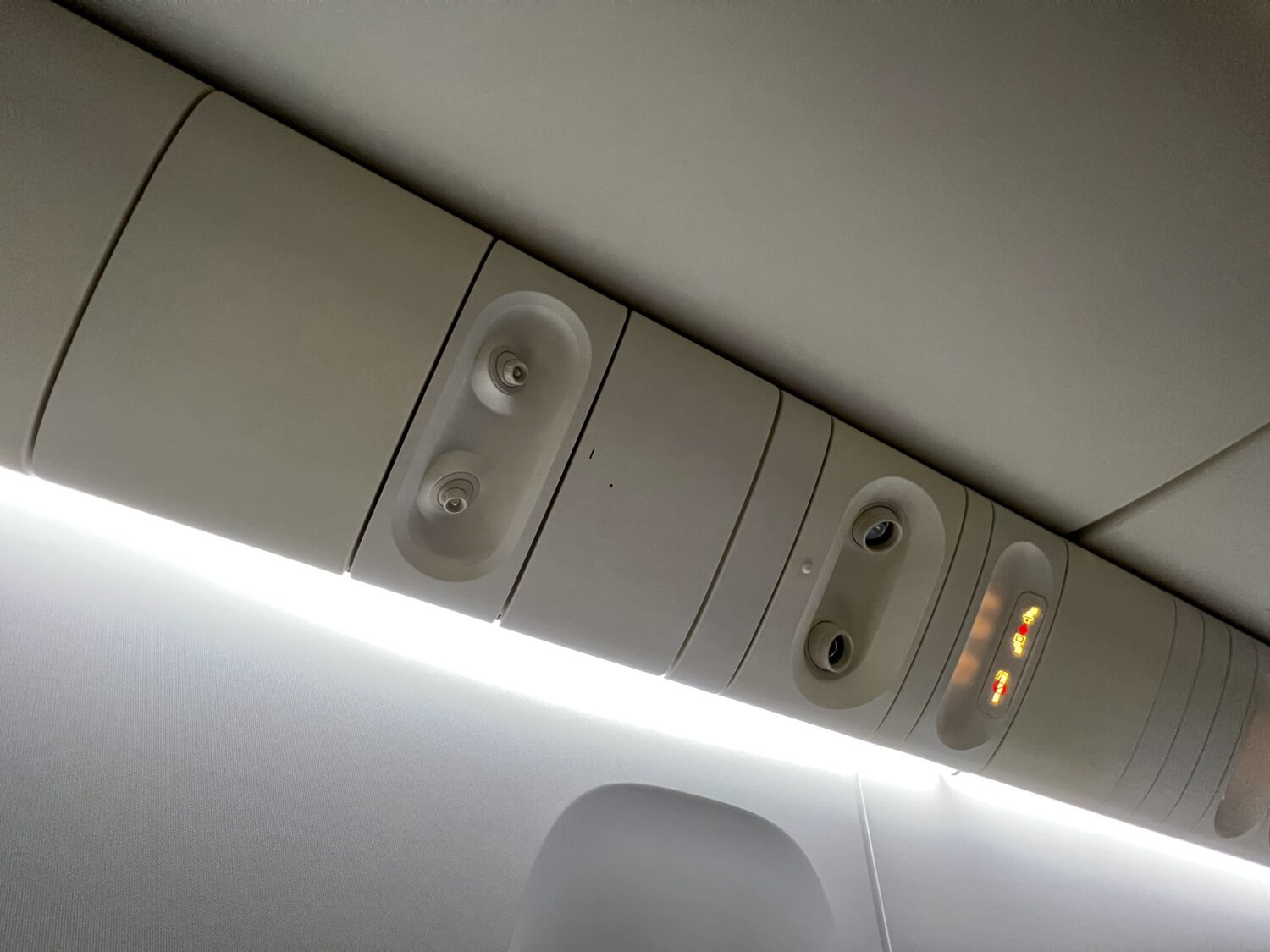 A little bit of extra airflow was crucial when it came time to get some sleep. And come bedtime, you're in for a treat with a sleeping space this large.

Much like the seat, the sleeping surface itself is on the hard side. ANA addresses that problem with an excellent (though not particularly wide) mattress pad, which was sealed and waiting inside each suite during boarding. Throw in not one but two pillows – one of which was memory foam – and a substantial but not-too-thick duvet, and you're ready to sleep.
I didn't ask a flight attendant for turndown service, though I'm sure they would have obliged had I not just gotten my suite ready to sleep myself.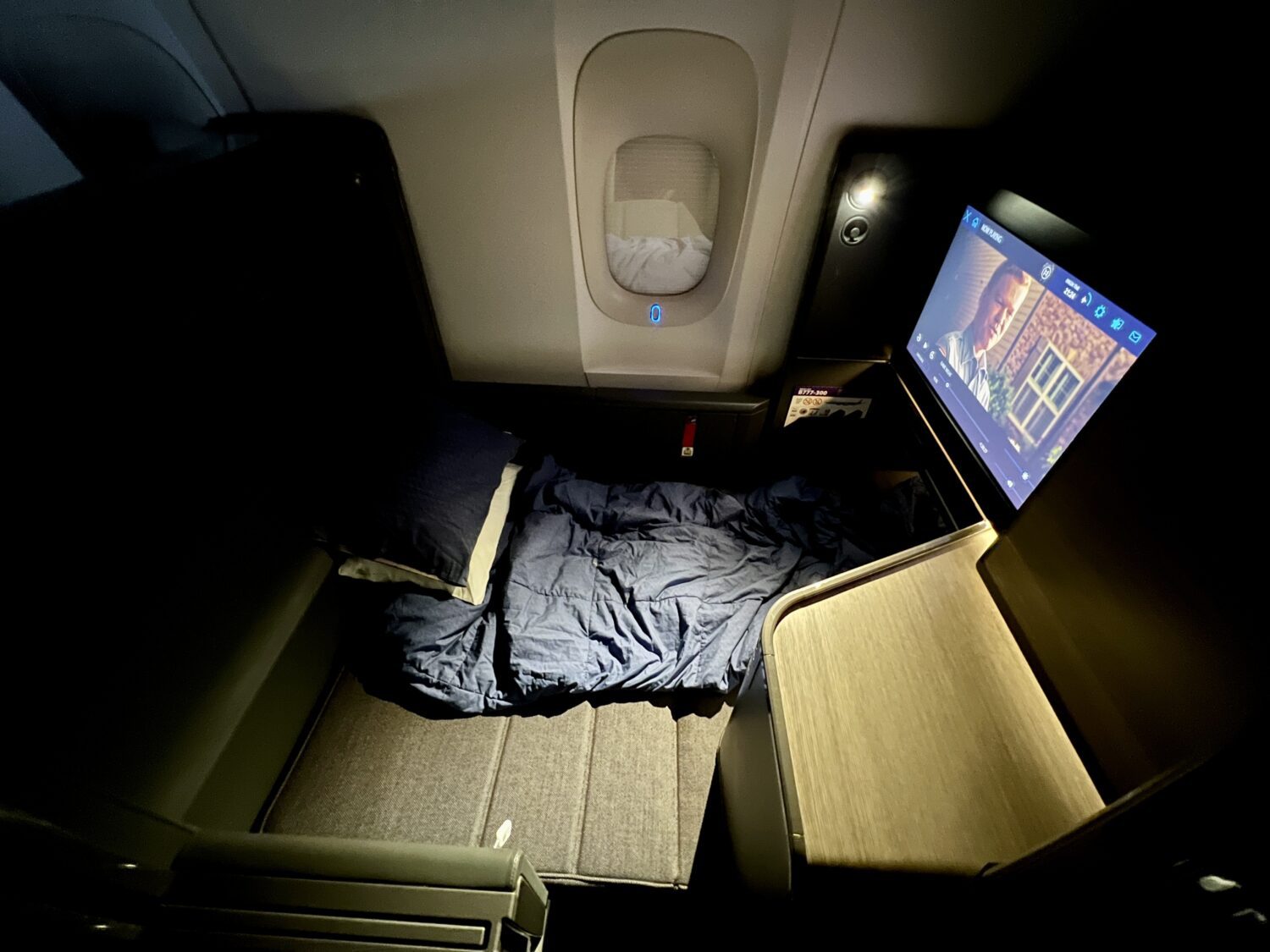 With all that space to get comfortable, it was some of the best and easiest sleep I've ever had on a plane. I slept like a rock for five uninterrupted hours.
Amenities in The Room
Almost everything you need throughout the course of your flight in The Room is waiting for you inside the suite. But, some of ANA's business class amenities are far better than others.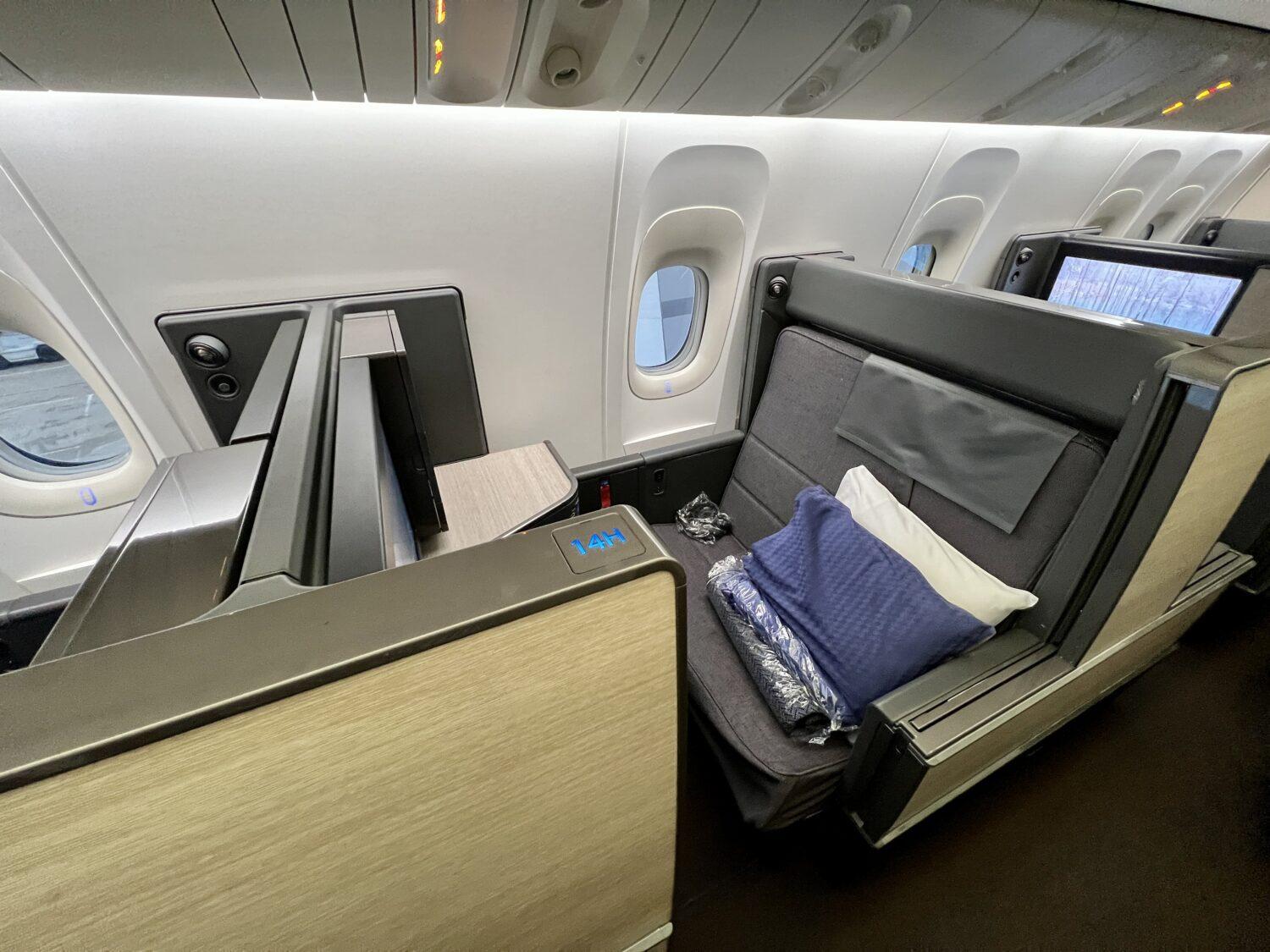 Let's start with the positives: Bedding. There are two excellent pillows, a great duvet, and underneath it all, a very substantial mattress pad. Make that mattress pad a bit wider to cover up more of the sleeping surface and the bedding in ANA would be an absolute home run.

From there, ANA business class amenities start to go downhill, albeit slowly. Providing slippers is a must when you're flying to Japan, and these were decent but by no means the best. The shoe bag and shoehorn are a nice, extra touch, though.

The amenity kit certainly looks nice in a colorful, Globetrotter-branded pouch. But the bag itself felt fairly cheap, and the contents were even more basic: Just a toothbrush with toothpaste, an eye mask, ear plugs, and some yuzu-scented lip balm and face mist from the brand Shiro. Clearly, ANA is saving the real goodies for first class passengers – compared to the well-stocked amenity kit you get when flying Emirates business class, for example, this one felt skimpy.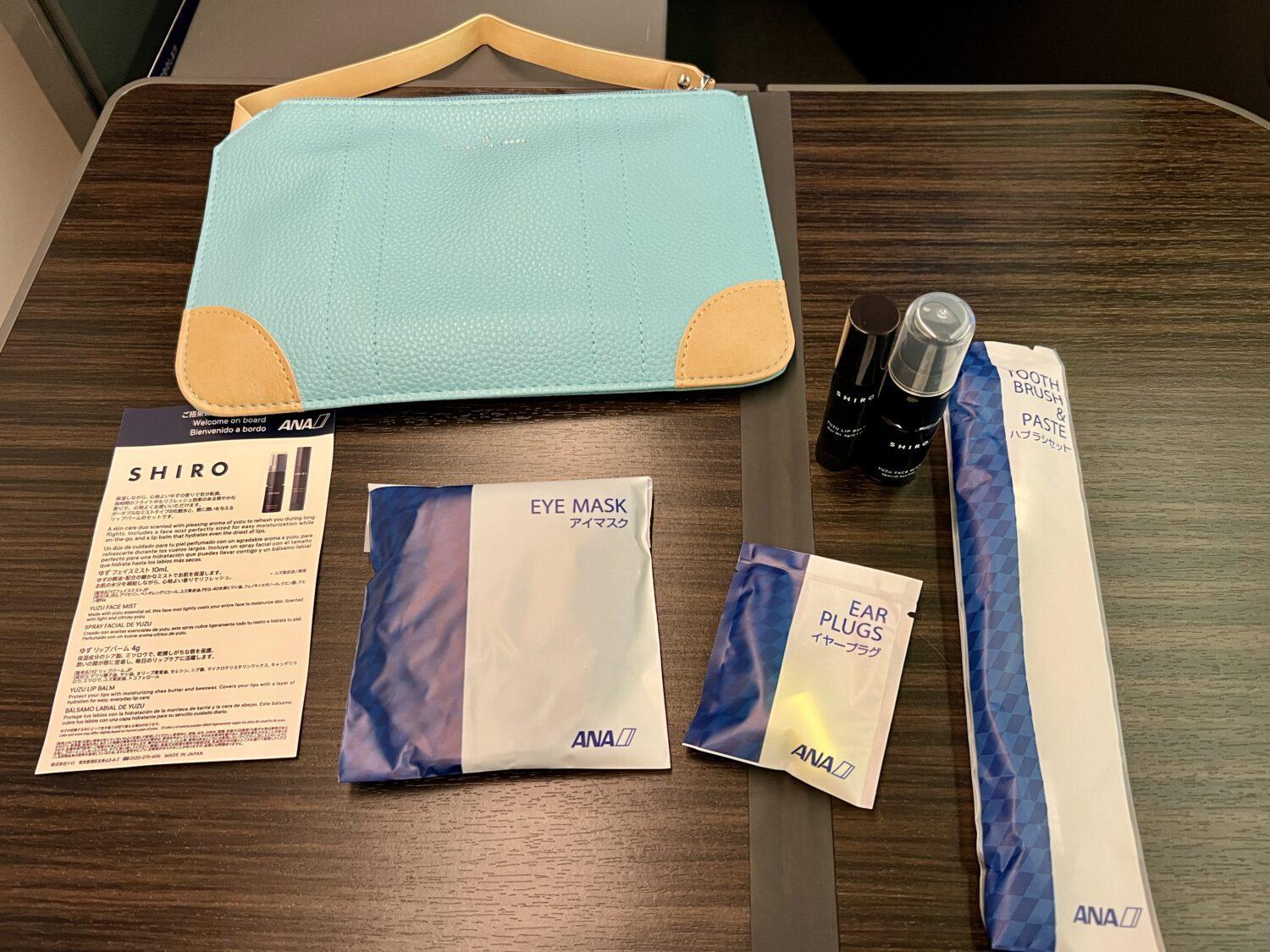 But the weakest of all was the headphones, which were fairly flimsy and uncomfortable, and offered next-to-no noise cancellation. If you've got a go-to pair of headphones, you'll want to pack them for your ANA business class flight.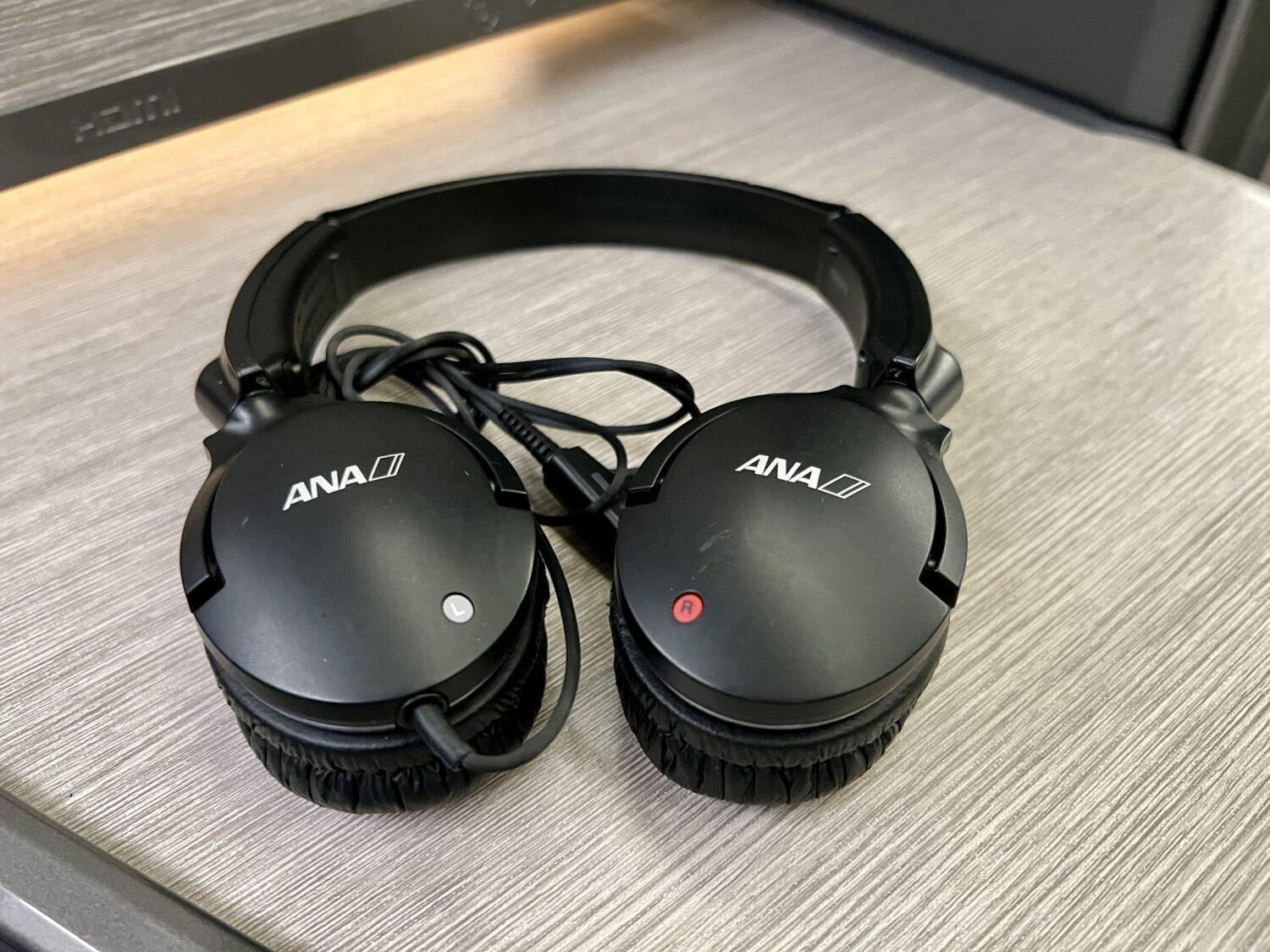 I believe there are also pajamas (or at least a cardigan) available upon request, though I forgot to ask.
Service & Dining
The problem with a business class suite that looks bigger and better than most international first class cabins is that it raises the bar for … well, everything else. And while the service and dining onboard this ANA business class flight was all good, even great, it didn't quite meet the perfection of the suite itself.
Don't get me wrong: This was still a phenomenal flight from start to finish and an experience any traveler should look forward to. But there was room for improvement, starting with the service.
Some flight attendants on this flight were cheery and eager to help, including the flight attendant who brought me to my suite and offered to explain all the bells and whistles. Others working the business class cabin seemed like they were going through the motions, forgetting a drink order here or a dessert order there. And there were times when the meal services dragged on, like a 10-minute lag between finishing a course and plates being cleared.
Is that the end of the world? Far from it – and my flight may have been a one-off miss for a five-star Japanese airline renowned for its service. But it's the catering and the service that sets the very best airlines apart from the merely good ones in first and business class.
Service started shortly after boarding in Chicago, as a flight attendant came through the aisle offering a choice of a pre-departure beverage from a tray of glasses of water, juice, or champagne. Champagne for me, thanks!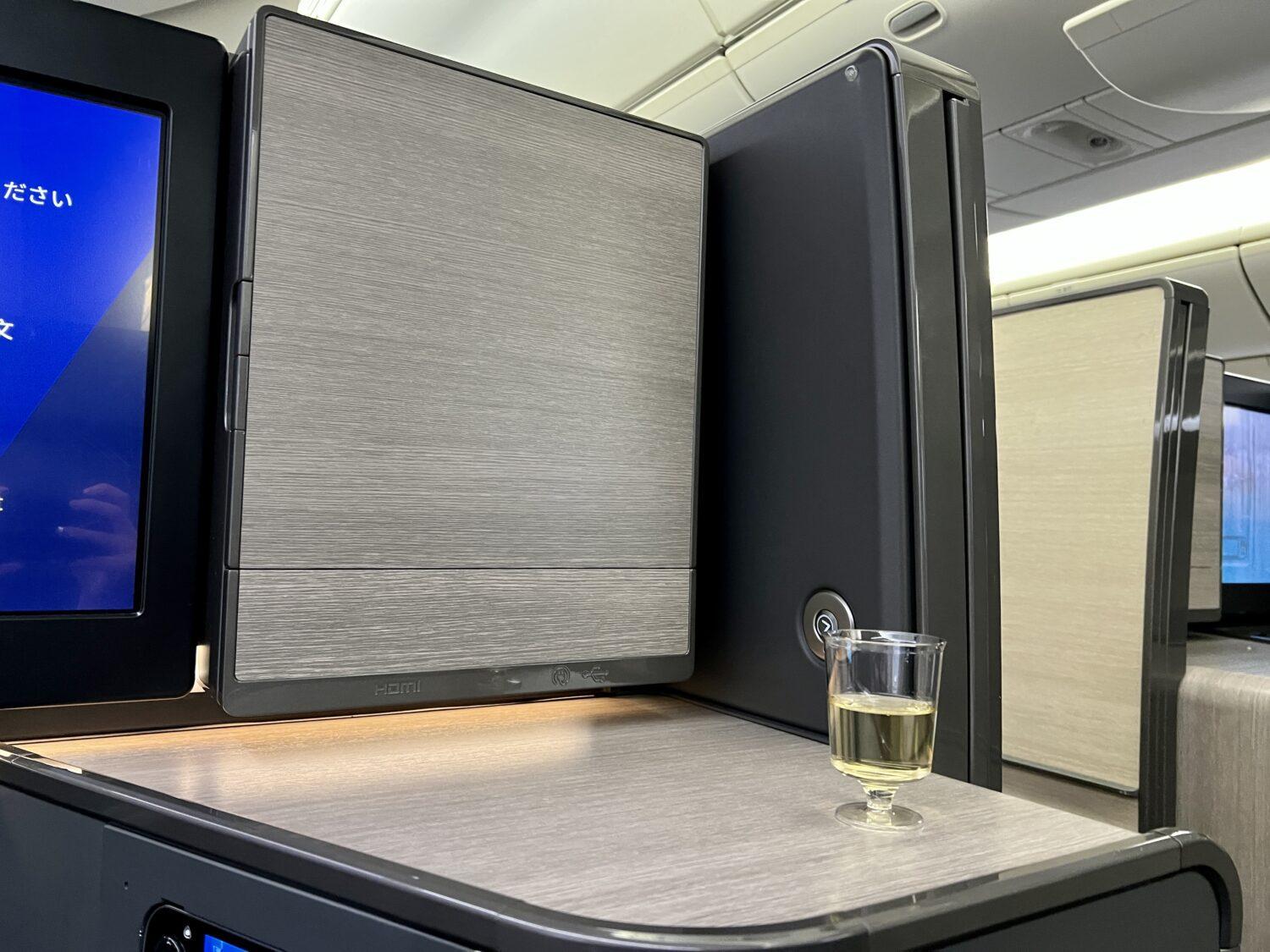 After takeoff and leveling off, dinner service was fairly slow to get started. A flight attendant came by to drop off a plastic-wrapped towelette, eventually returning for a pre-dinner drink order. The dinner options are simple but extensive: You can go for the traditional Japanese meal or order from the international menu, with a few entree options including braised beef shank or sautéed red snapper and scallop.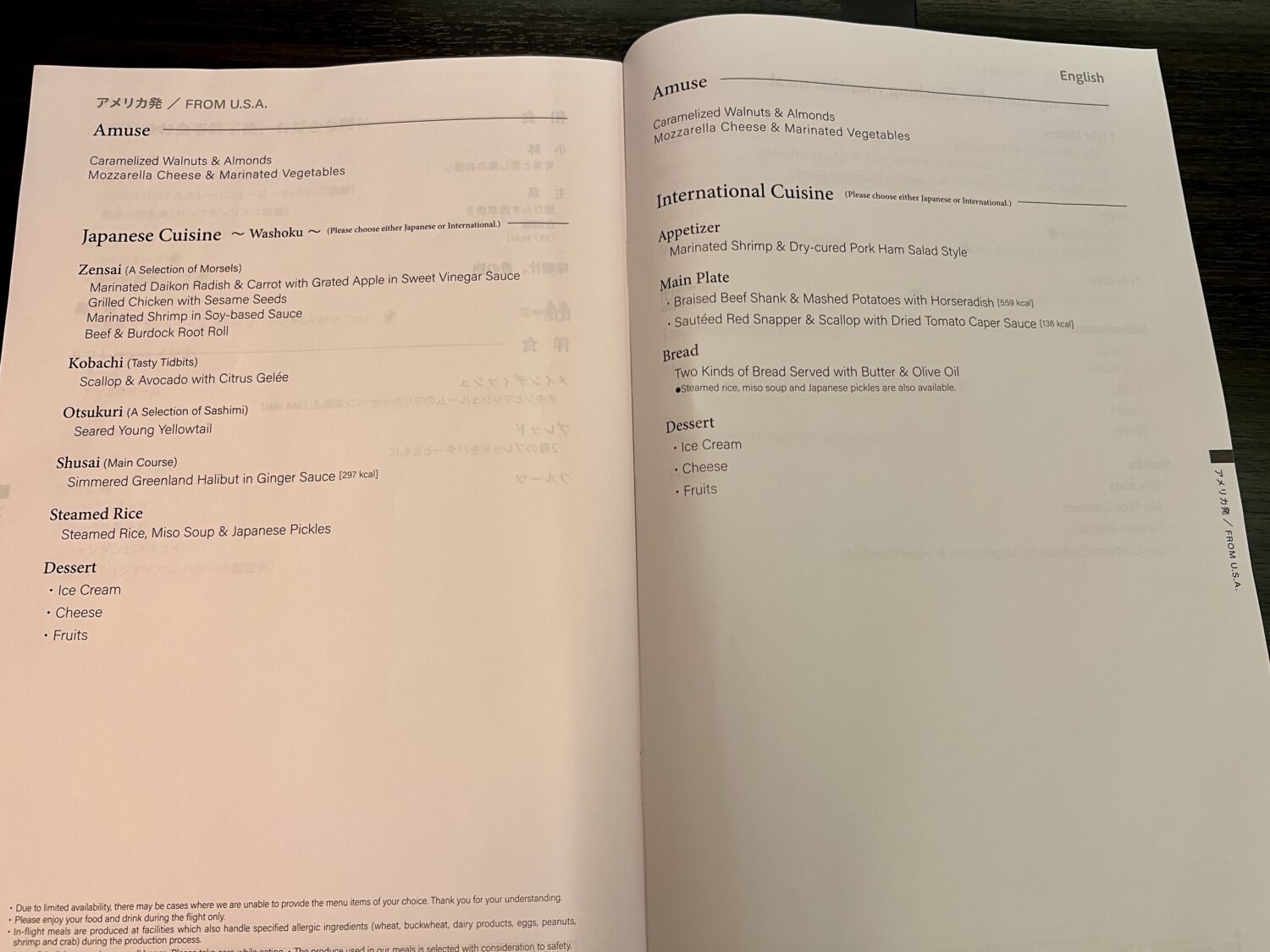 Like a growing number of airlines, ANA also allows business class passengers to reserve a meal in advance online (or through the ANA app) anytime after booking, up until just 24 hours before departure. You won't find additional menu options when booking a meal online, but I eagerly selected a Japanese meal to make sure that choice didn't run out by the time flight attendants made it to my suite.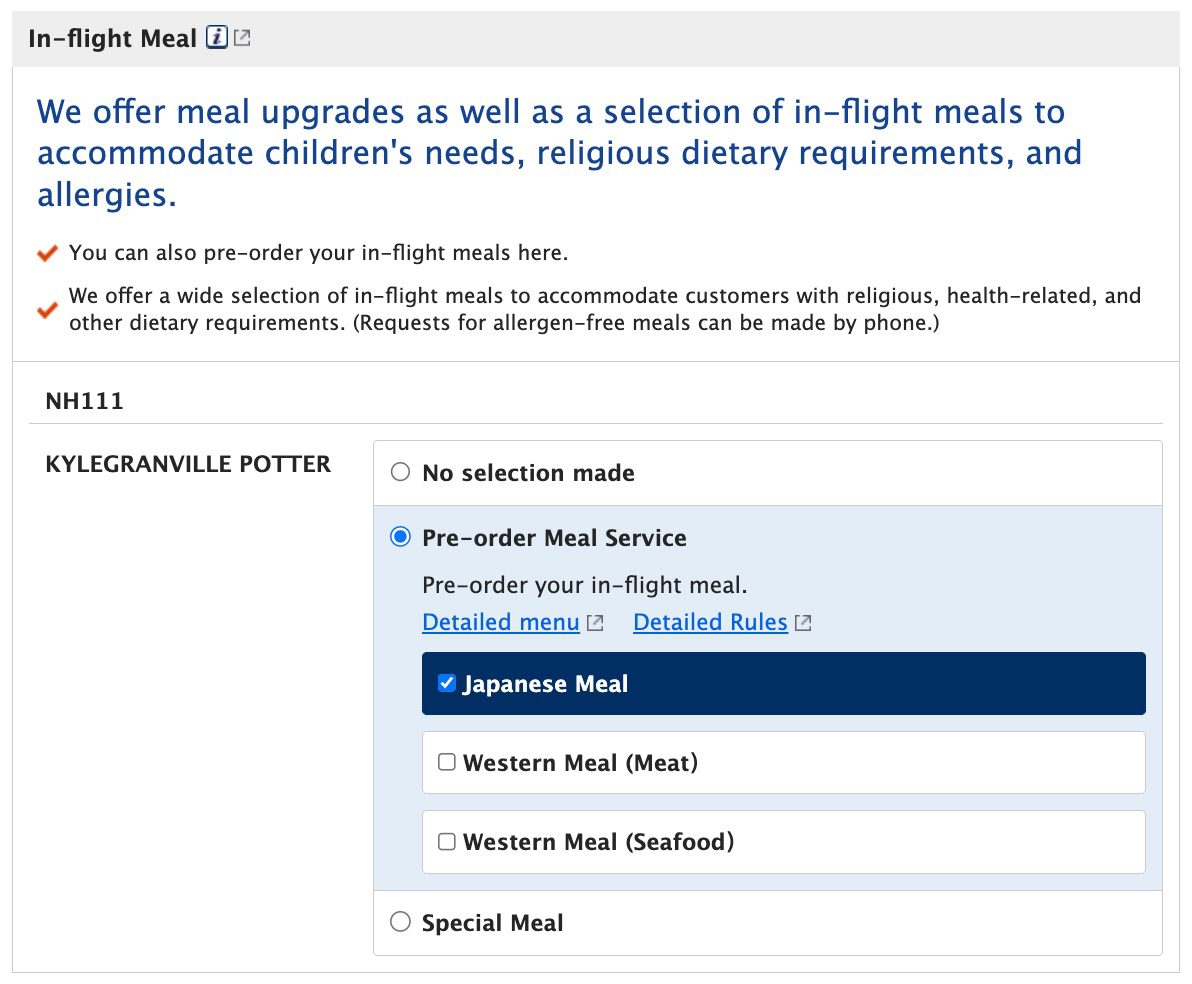 The flight attendant returned shortly afterward to lay a tablecloth out on my seat and pour out a healthy glass of Champagne. ANA pours Champagne Castelnau Reserve, which I enjoyed. There's a fairly extensive list of wines, sake, spirits, and plenty of non-alcoholic drinks.
A minute later, she returned with the amuse-bouche: A small dish of caramelized walnuts and Marcona almonds as well as some marinated mozzarella with vegetables. It was a delicious start to the meal.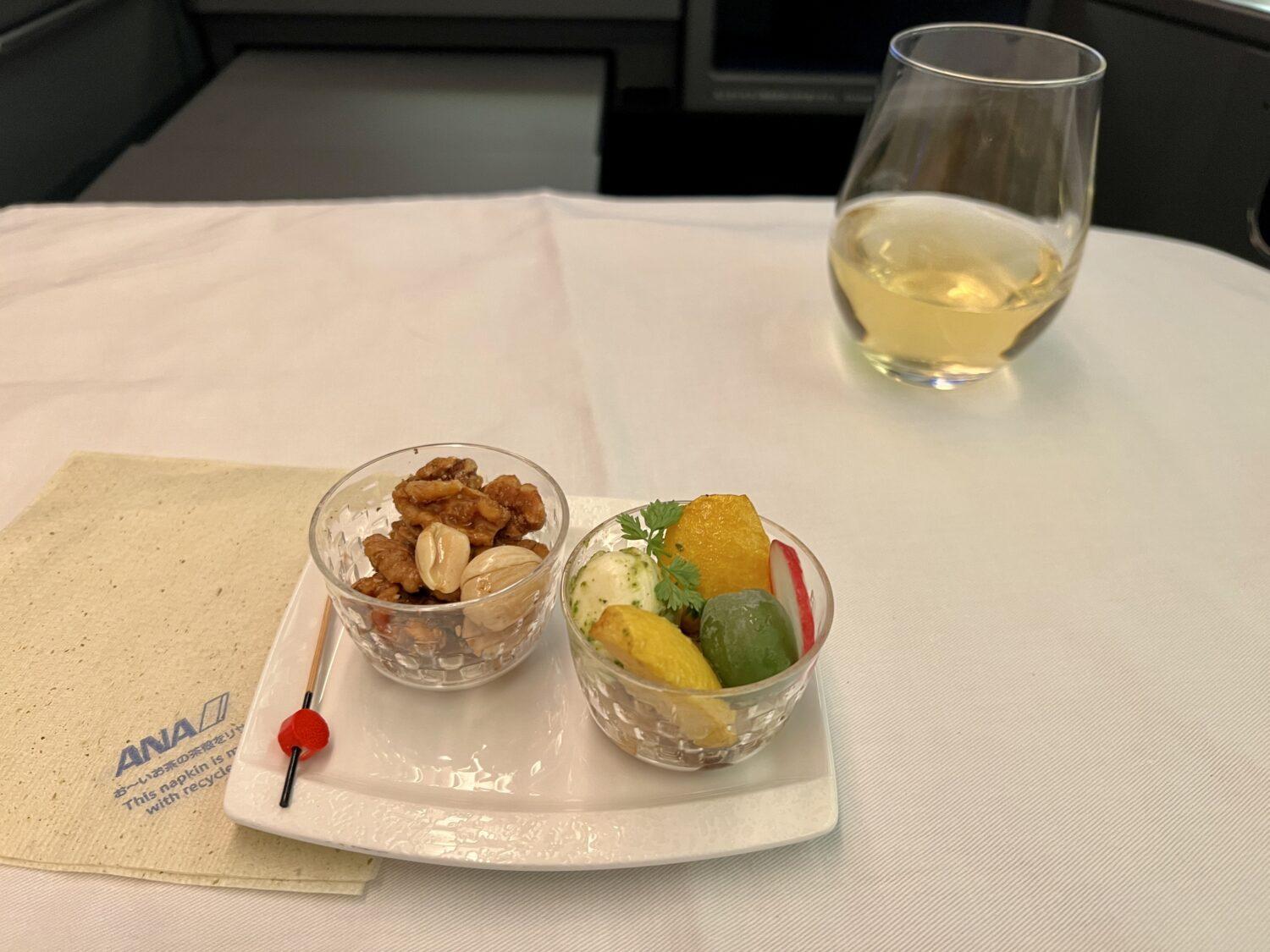 The rest of the dinner service seemed to drag on. That's not a big issue on these longer, early evening departures heading for Tokyo, but could be an issue on the shorter flights back home to the states. Eventually, it was time for the main event: The Japanese meal.
It started with the first few cold dishes (zensai, kobachi, and otsukuri) all presented and dropped off on a single tray.

The perfectly done scallops and avocado (upper left) were tasty in the citrus gelée. A dash of soy sauce made the otherwise bland yellowtail (upper right) tasty. Meanwhile, some of the bites in the zensai platter (center) were better than others. The marinated daikon and carrot with roe on top was the star of the show, while the lotus root and snap peas provided some great crunch and texture. The beef and burdock roll was a tad strange though tasty, but the grilled chicken with sesame seeds didn't do much for me. And the shrimp was practically tasteless.

After that, it was time for the entree: Halibut in ginger sauce along with some rice, miso soup, and Japanese pickles.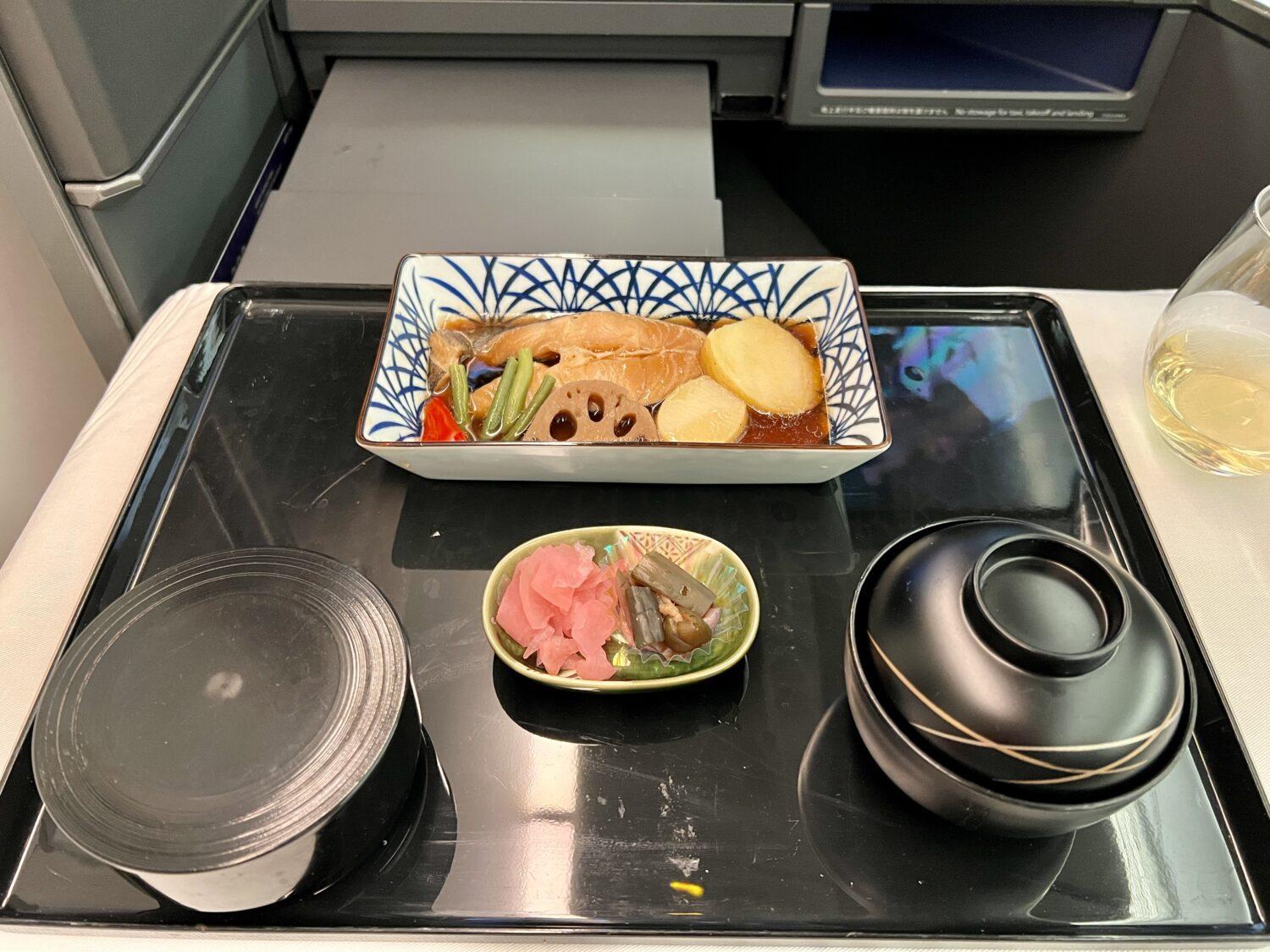 The halibut was a tad overcooked, but still tasty in the ginger sauce. The rice was cooked to perfection and the pickles provided a nice snap and break from the umami flavors of the dish.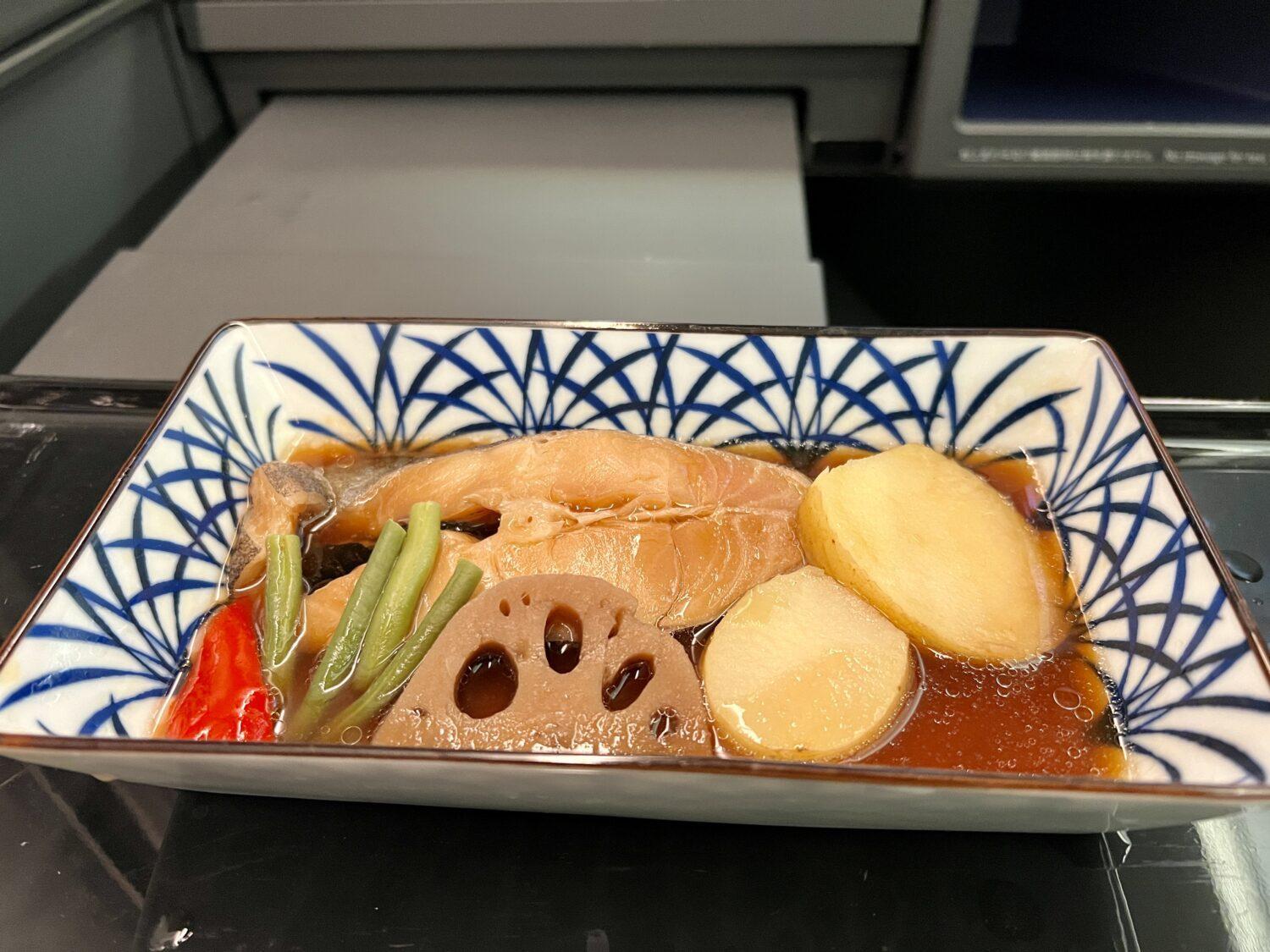 All in all, it was a great dinner and one I'd be happy to eat again soon. Yet, it didn't come close to the sheer perfection of a similar Japanese meal I had years ago flying in competitor Japan Airlines' business class.
After dinner, ANA does food a bit differently than many other airlines. Rather than having a defined breakfast or lunch menu before landing, you can simply order anything you'd like – at any time. From a bowl of curry or noodles to nuts and crackers to Italian pasta to another full-course Japanese meal, there's plenty to pick from.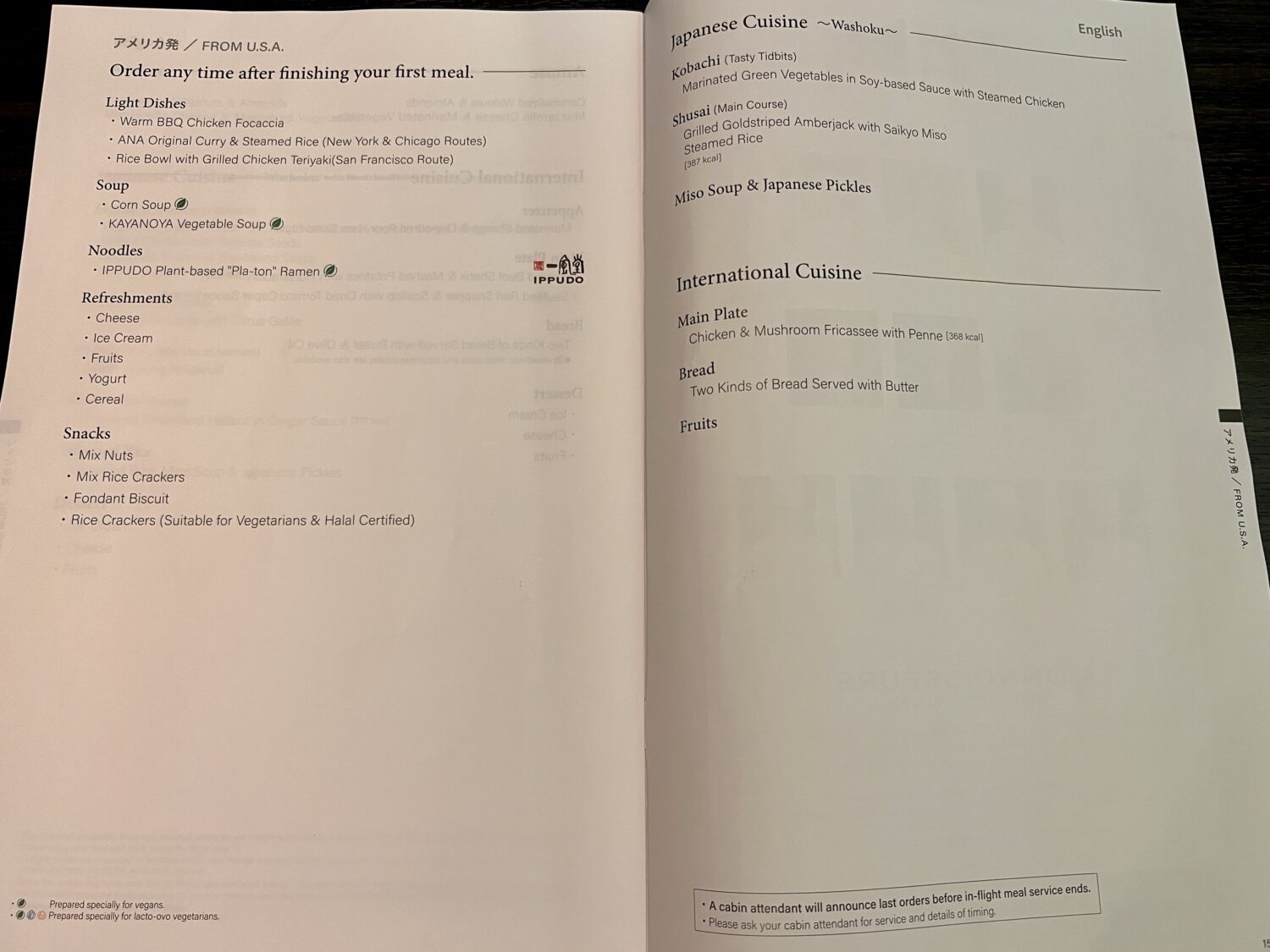 I rolled the dice and ordered a bowl of "Pla-ton" plant-based ramen from famed shop Ippudo, and I'm glad I did: While dinner felt like it missed the mark, this bowl of ramen was one of the best things I've eaten on a plane. The noodles were perfect and the vegetarian broth was hearty and delicious, especially with a squeeze of chili sauce mixed in.
A glass of champagne and a dish of those excellent Japanese pickles made it the perfect meal before arriving in Tokyo.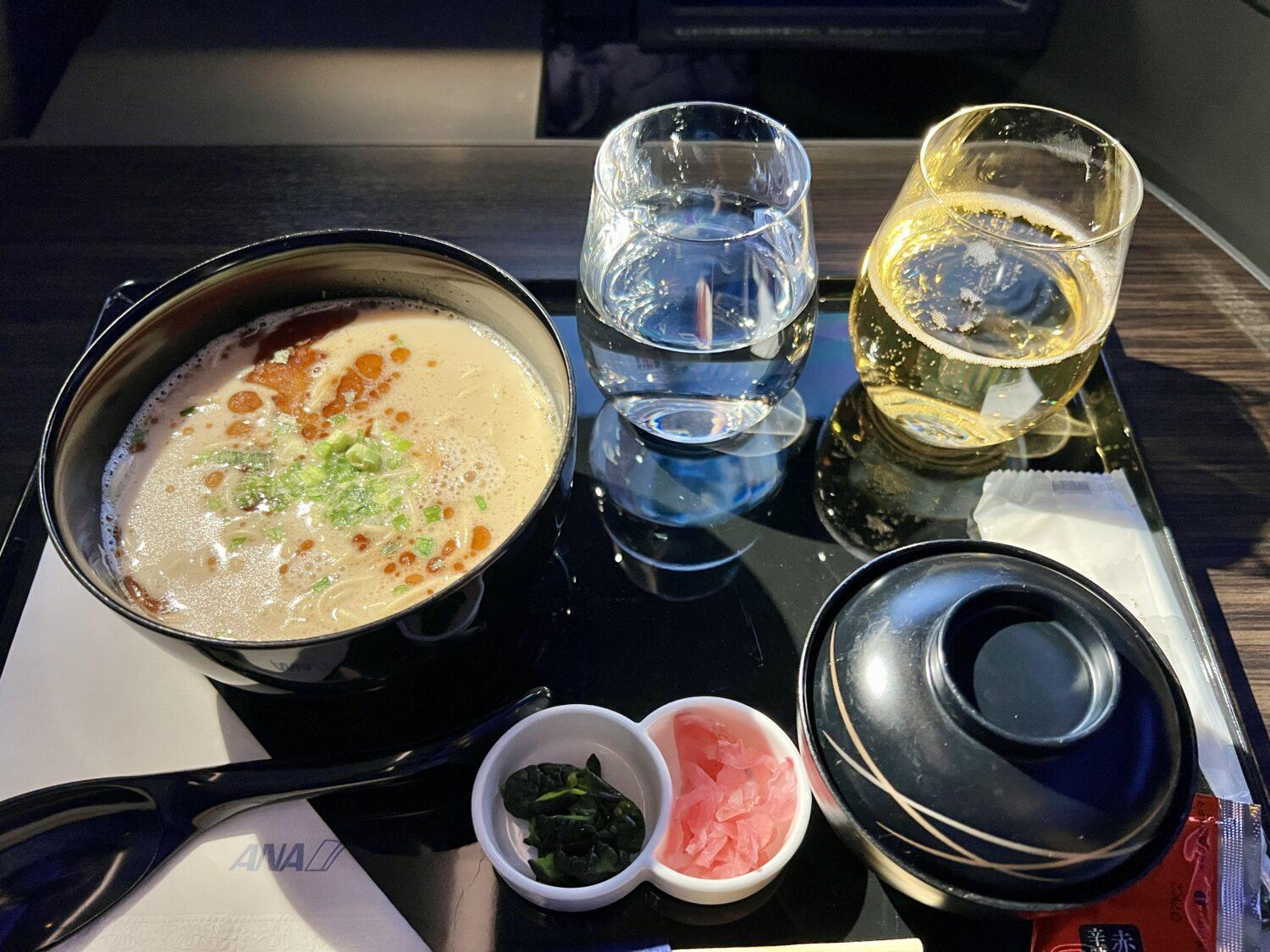 Entertainment
The words "state of the art" don't cut it here.
Matching the spacious suite itself, the seatback screens in ANA's The Room business class are the best you'll find in any business class, bar none. They're crisp, huge, and easy to navigate whether you use the touchscreen or the wired remote … you can even pair your smartphone with the screen via Bluetooth to control it!
How huge is the screen? How about 24 inches of 4K display? It's over the top in the best way possible.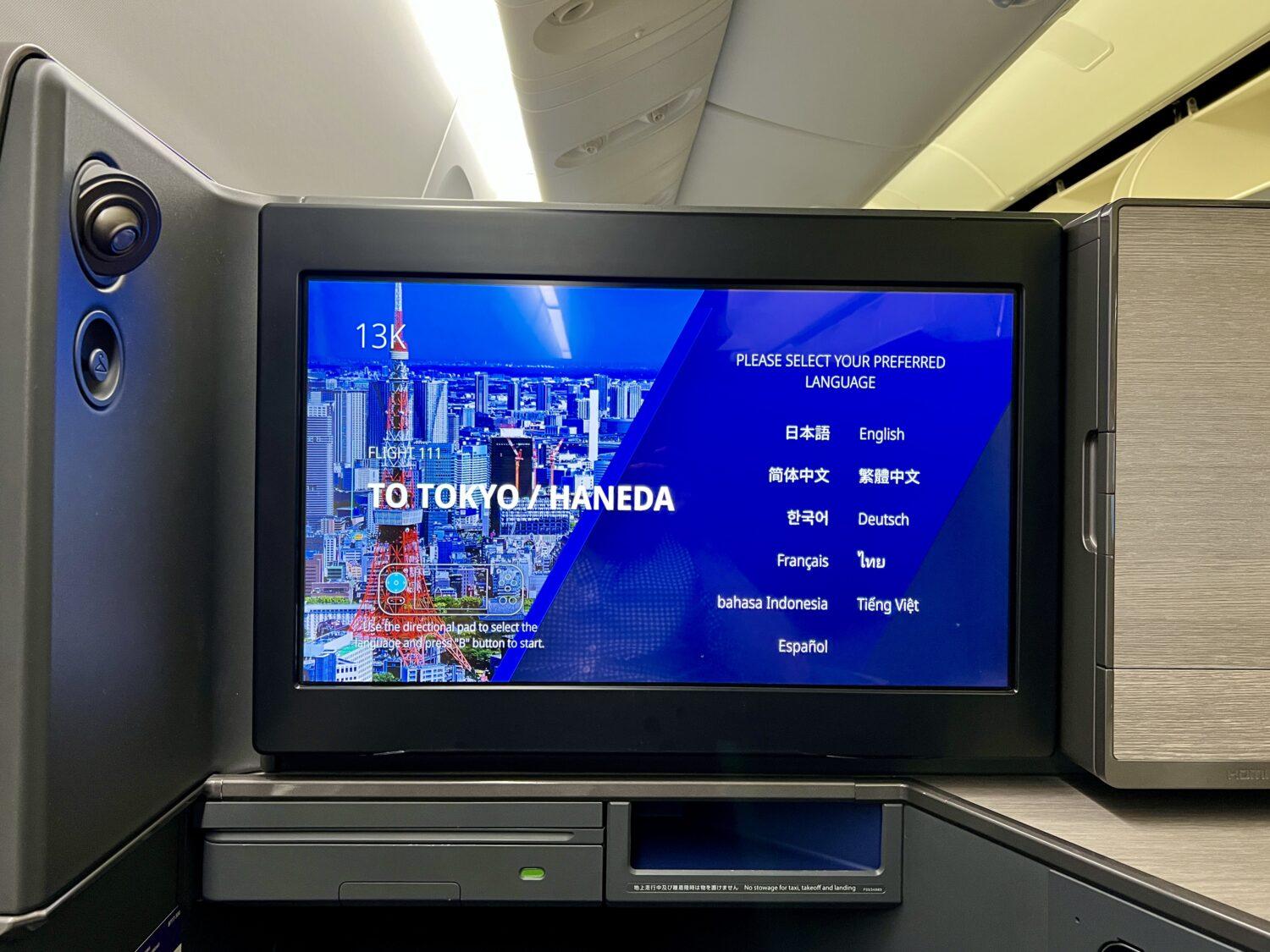 Sadly, the entertainment selection doesn't live up to the quality of the screen. There was a decent, but by no means amazing, selection of movies, with a smattering of some new releases, fairly recent classics, and a dash of randomness like The Bucket List or Thor: The Dark World. There were a few live TV channels to pick from and a handful of episodes of Japanese TV, but that was about it.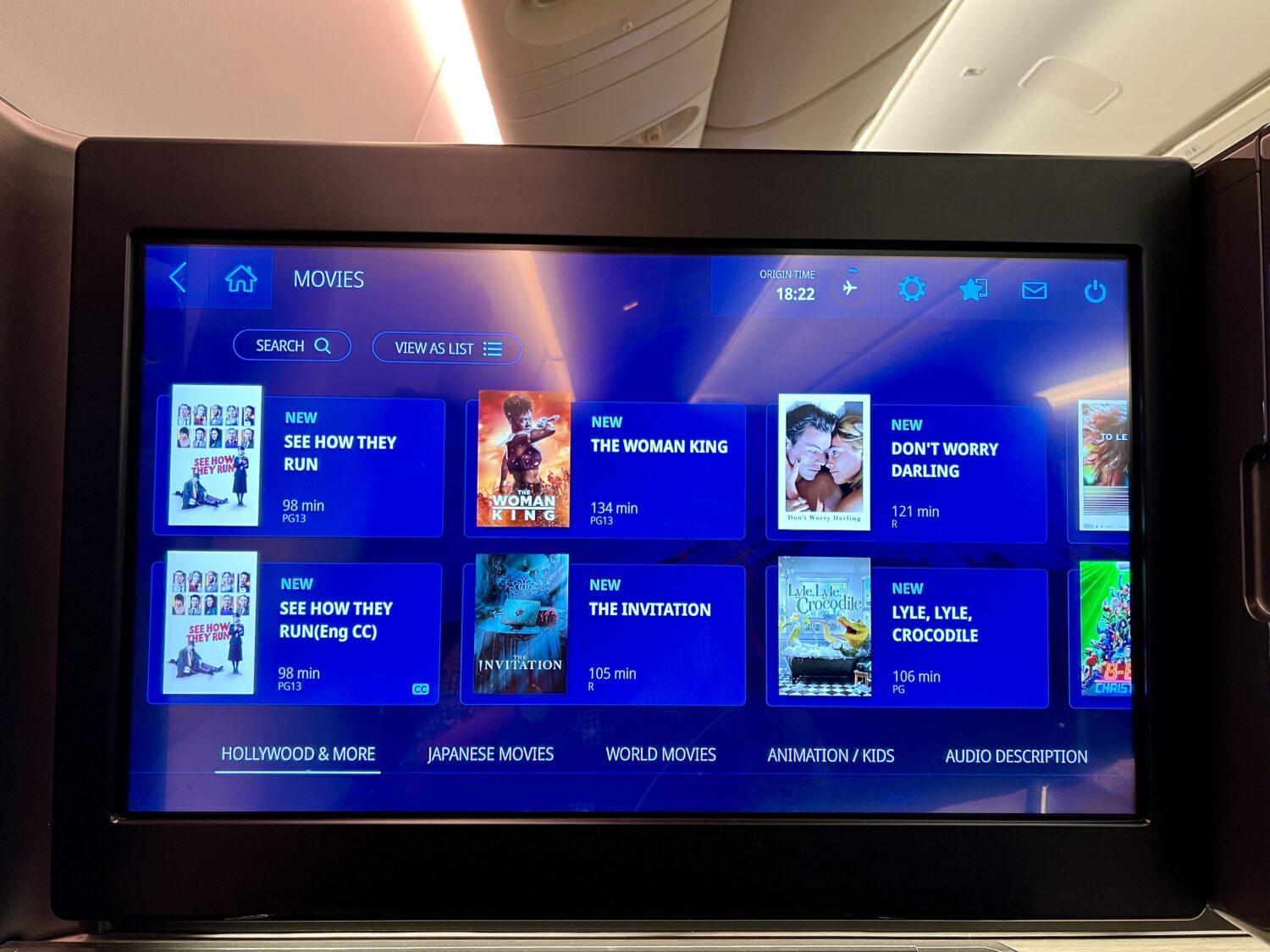 There are other ways to stay entertained, though, like an easy-to-adjust inflight map as well as an inflight camera to watch your plane soar through the sky.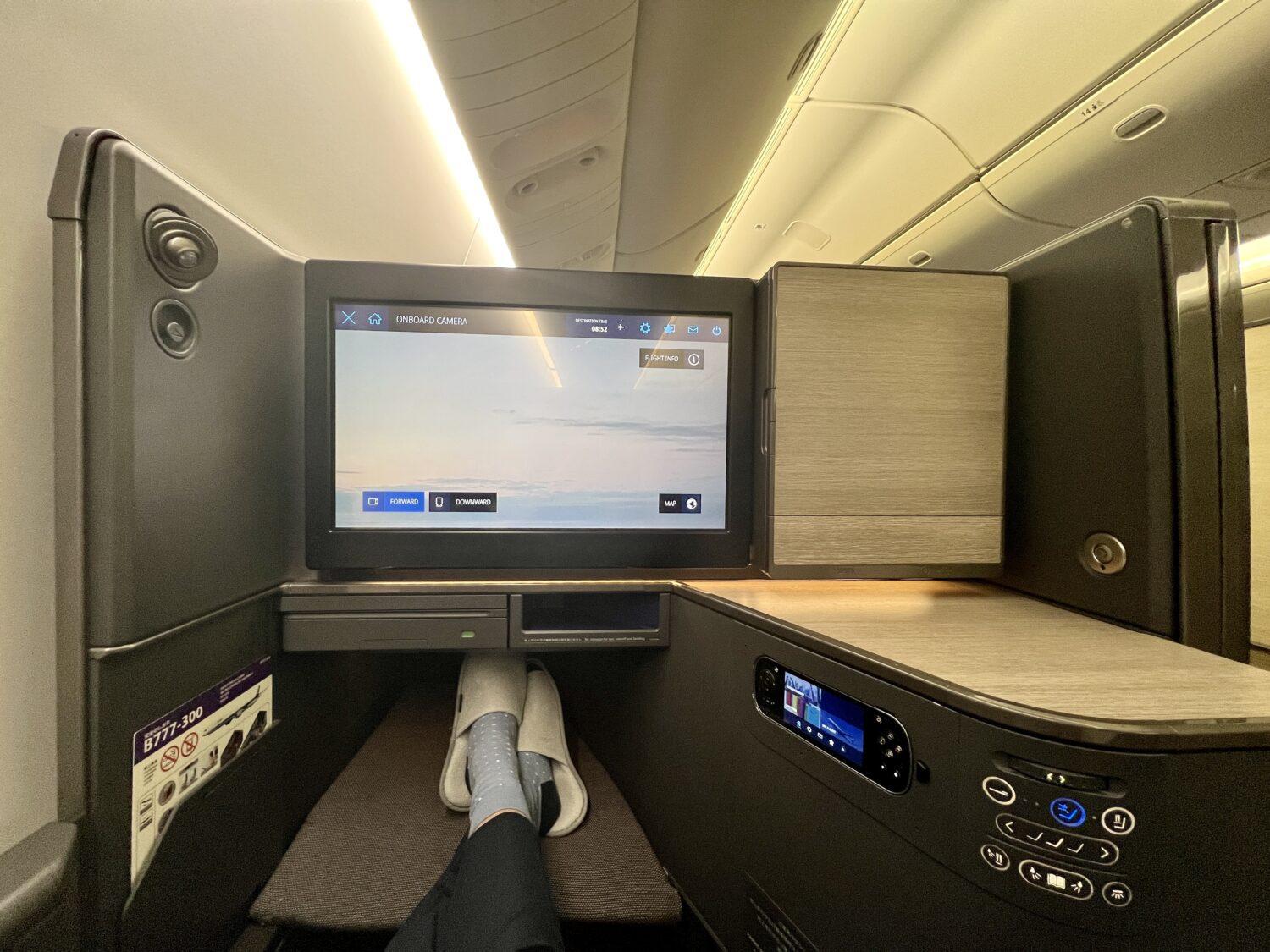 ANA has high-speed Wi-Fi on these planes, and it's reasonable at just $21.95 for the full flight. One hitch to keep in mind: You can't transfer your internet between devices.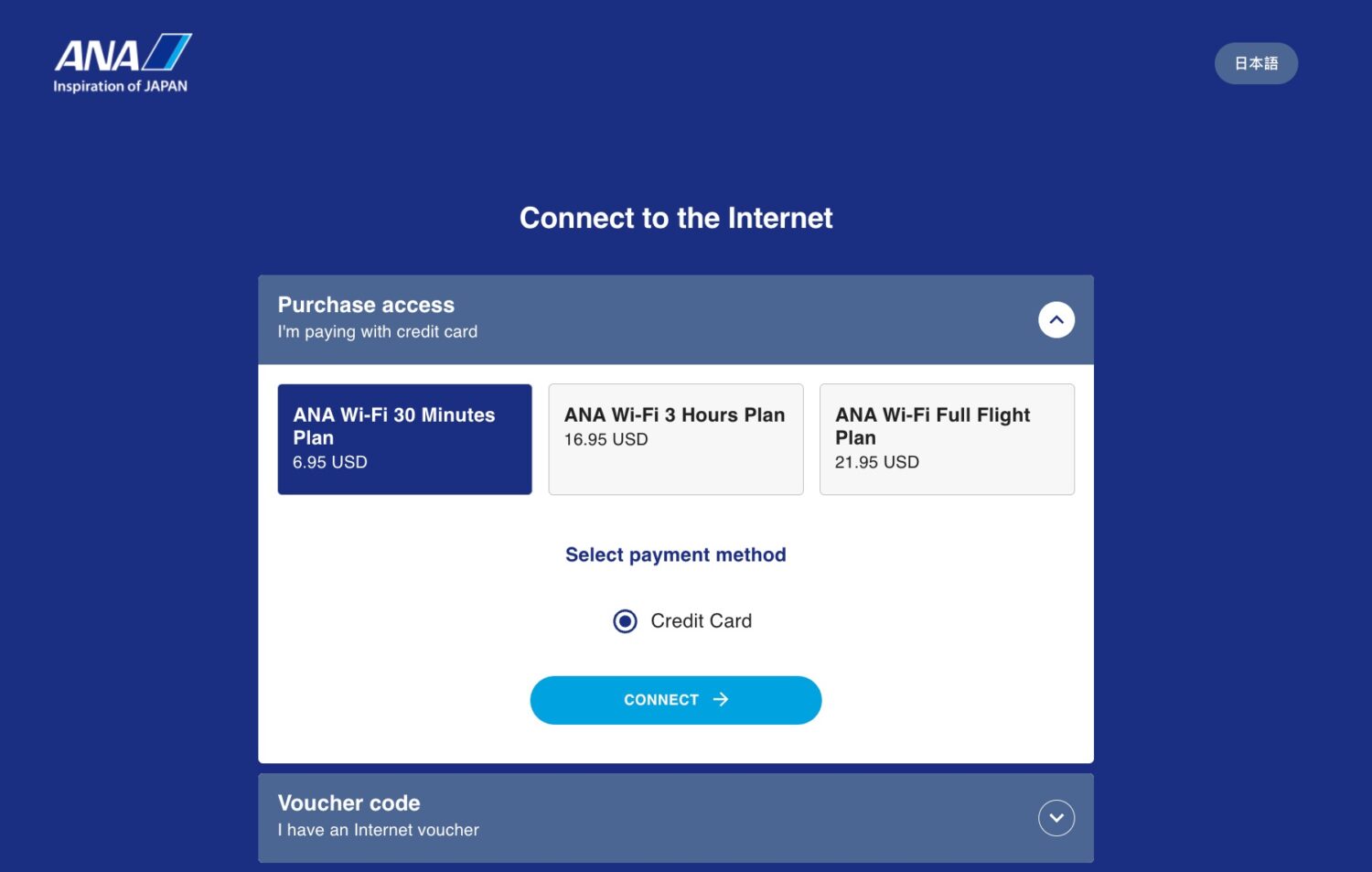 Aside from some sluggishness for the first few hours, it was more than speedy enough to get some work done throughout the flight.

Bottom Line
Is ANA's The Room the best business class in the world? It might be.
The seat – err, suite – itself is undeniably in a league of its own. The ridiculous amount of space, the privacy, and the gorgeous design cannot be topped.
But, there's more to business class than just the seat. It's the little things with dining and service that set airlines apart. And in that regard, ANA business class could be better.
Still, that doesn't mean it's not one of the best ways to fly in business class.