It's certainly not a lie-flat bed you'll get flying up in Delta One business class, but it's far better than flying back in economy. Delta Premium Select is a very comfortable seat for your next long-haul Delta flight – if you can get it at the right price.
That's my verdict after flying Delta Premium Select, the airline's name for premium economy twice in a five-day span across the Atlantic Ocean and back. The seats are far more spacious – with more legroom and wider, too – than even Delta Comfort Plus. Extra benefits like Sky Priority Access were nice. But after huge pandemic cutbacks, the food and service are still much closer to what you'll get in economy. 
Still, there's no doubt in my mind: Premium Select is absolutely worth it when the price is right. It's a big step above a standard economy seat.
Here's my full Delta Premium Select review after flying both the brand new A330-900neo and an older A330-300 between Minneapolis-St. Paul (MSP) and Paris-Charles de Gaulle (CDG) in February.

How to Book Delta Premium Select
Premium Select is Delta's name for the premium economy seats that more and more airlines are rolling out. So go figure the best way to book is at Delta.com.
There aren't any great ways to book a Premium Select seat through Delta's partners – especially if you're aiming to use miles. And we never suggest booking flights through other websites or online travel agencies.
These days, you'll find Premium Select seats on almost every flight heading across the Atlantic Ocean, over the Pacific, or even many flights down to South America. When you search for Delta flights, the Premium Select seats should be easy to find under the red tab on each flight.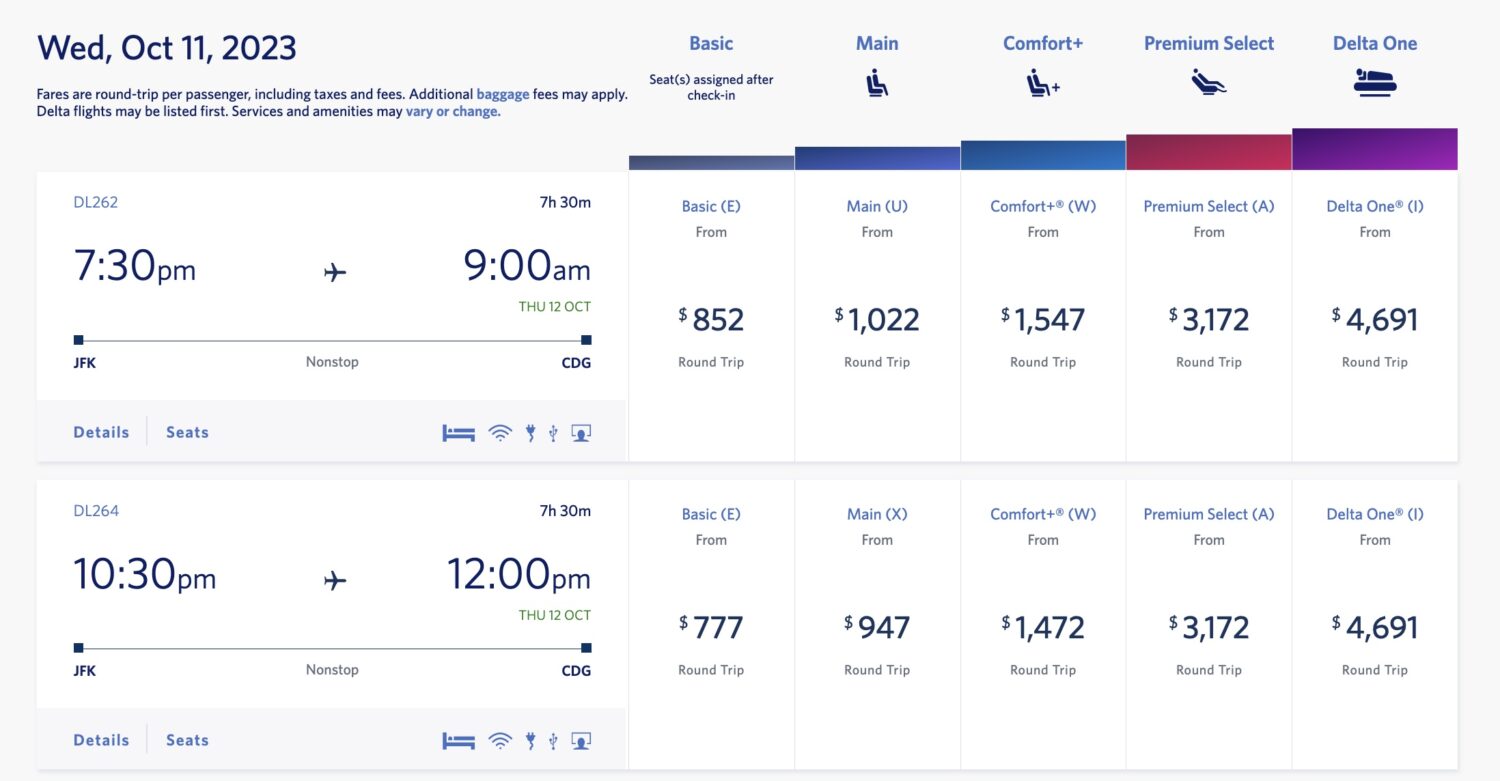 As you can see, Premium Select is a far cut below Delta One. Yet it's typically significantly more expensive than the economy cabin fare classes and even Delta Comfort Plus.
When you choose your fares, you'll see the "Sky Priority" banner at checkout. We'll touch more on that benefit later.


You can also use your Delta SkyMiles to book Delta Premium Select on the same flights.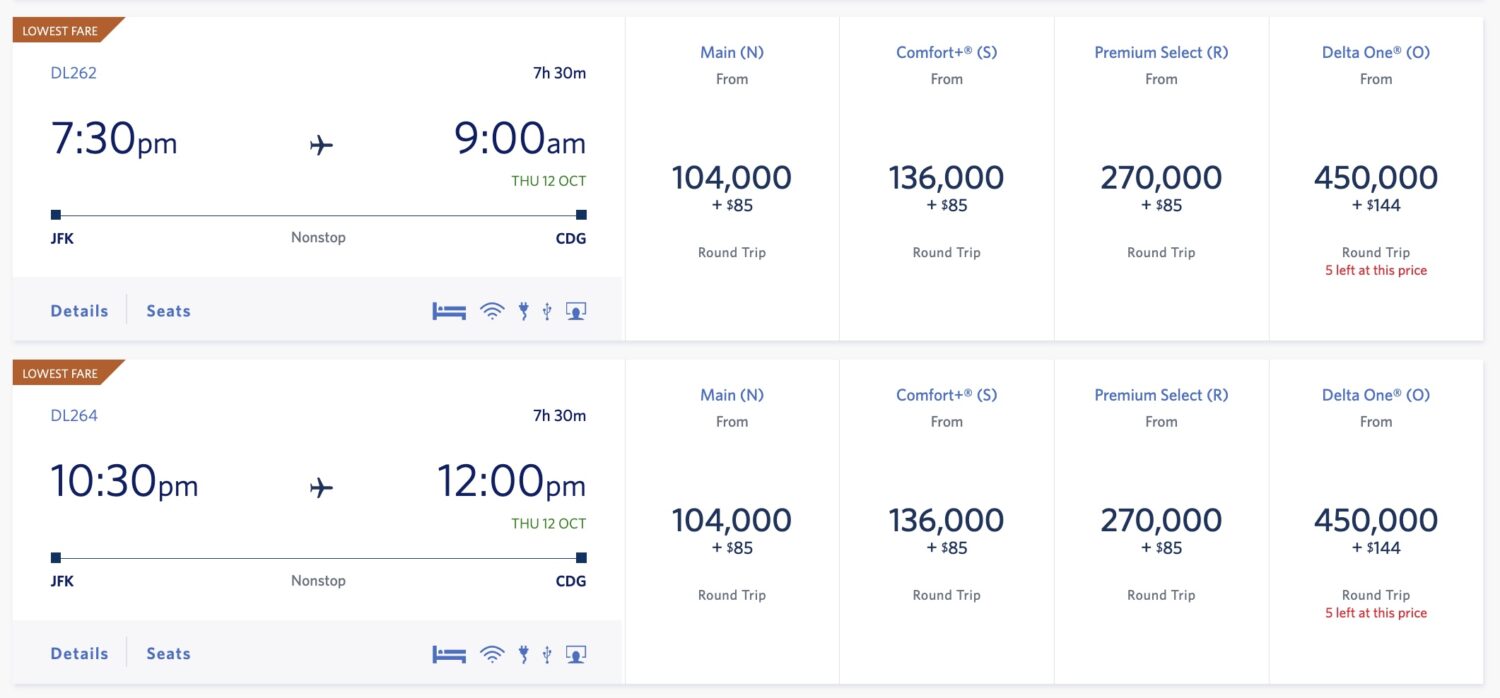 If those SkyMiles and cash rates look insanely high to you, you're not wrong. But it doesn't have to be that way. Amid a slew of cheap premium economy fares abroad, our team at Thrifty Traveler Premium have found some amazing deals flying Delta Premium Select over to Europe for as low as $500 or so.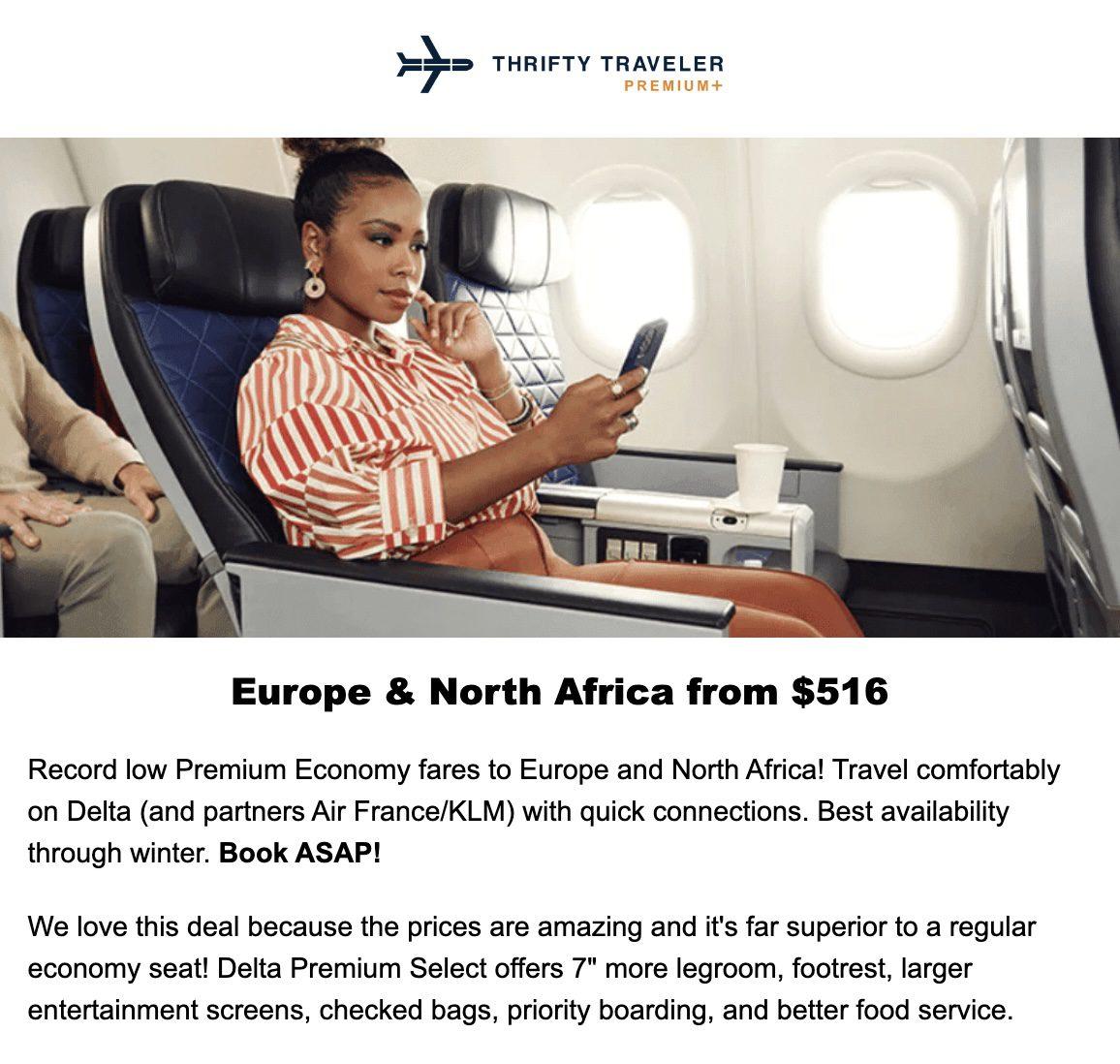 These Thrifty Traveler Premium+ deals are no longer available. Make sure you're signed up for Premium+ so you don't miss the next one!
In fact, I made this review by booking this exact same deal, flying Delta Premium Select from Minneapolis to Paris and onward to Copenhagen (CPH) for just $677 roundtrip!
At Thrifty Traveler, we don't accept freebies. We use our own points, miles, or cash to pay for every single flight or hotel you see reviewed here – including this one!
If you'd rather use your SkyMiles, we find great Delta award deals for our Thrifty Traveler Premium+ members. And they don't get much better than this: Fly Premium Select from almost every airport in the U.S. to any major city in western Europe for just 90,000 SkyMiles roundtrip!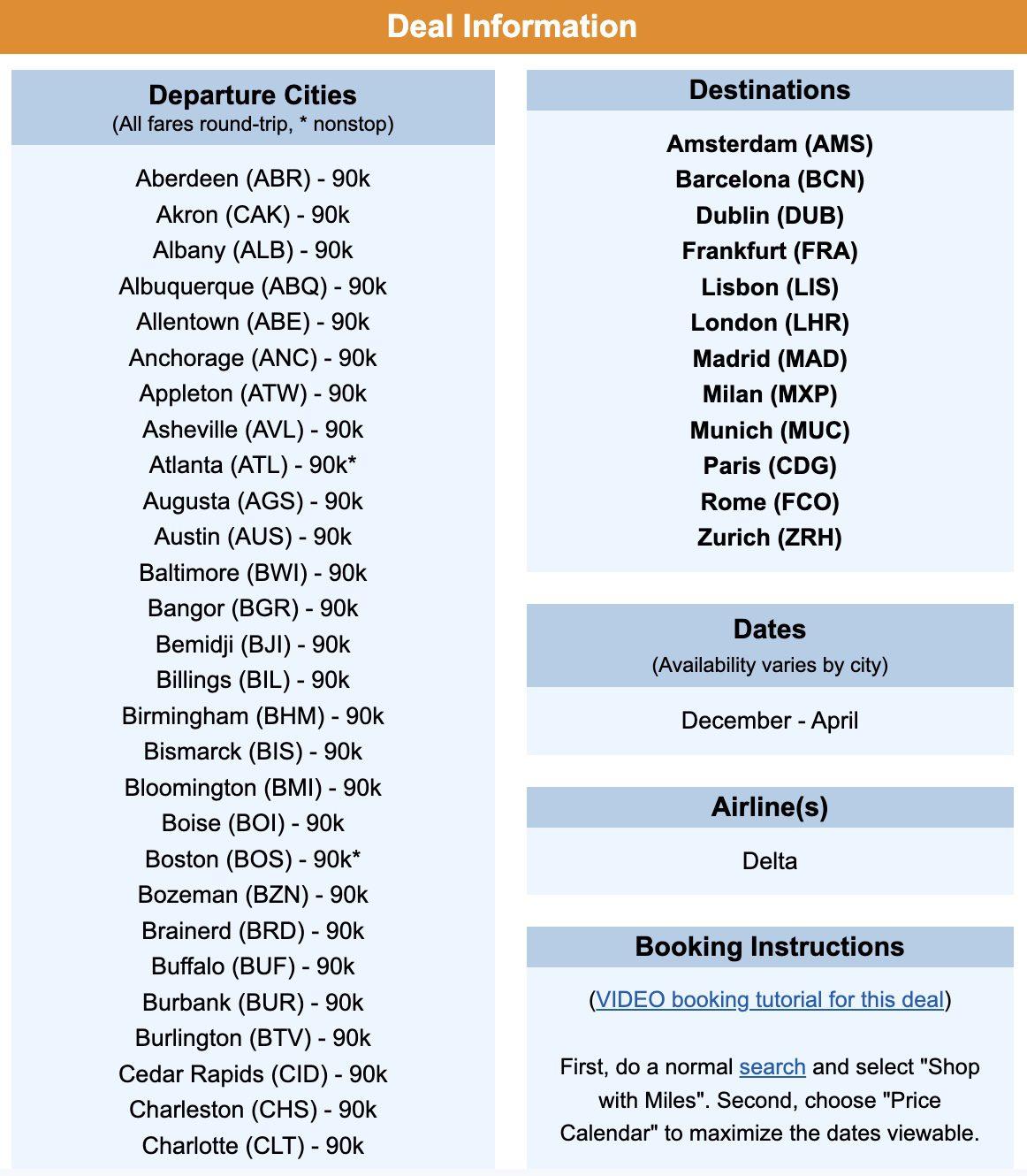 Get cheap flights, SkyMiles deals, and other award alerts to use your points and miles with Thrifty Traveler Premium+!
Check-In and Sky Priority Benefits at the Airport
One of the best features of the Delta Premium Select cabin is you get Sky Priority perks both in the U.S. and abroad, getting you through security and immigration even faster – maybe even a free pass to an airport lounge.
Sky Priority gives you priority check-in and security here in the states as well as expedited customs and immigration access at participating airports in Europe like Paris (CDG) and Amsterdam (AMS).
At Minneapolis-St. Paul (MSP), we were able to use the Sky Priority check-in area to get checked in without standing in any line whatsoever.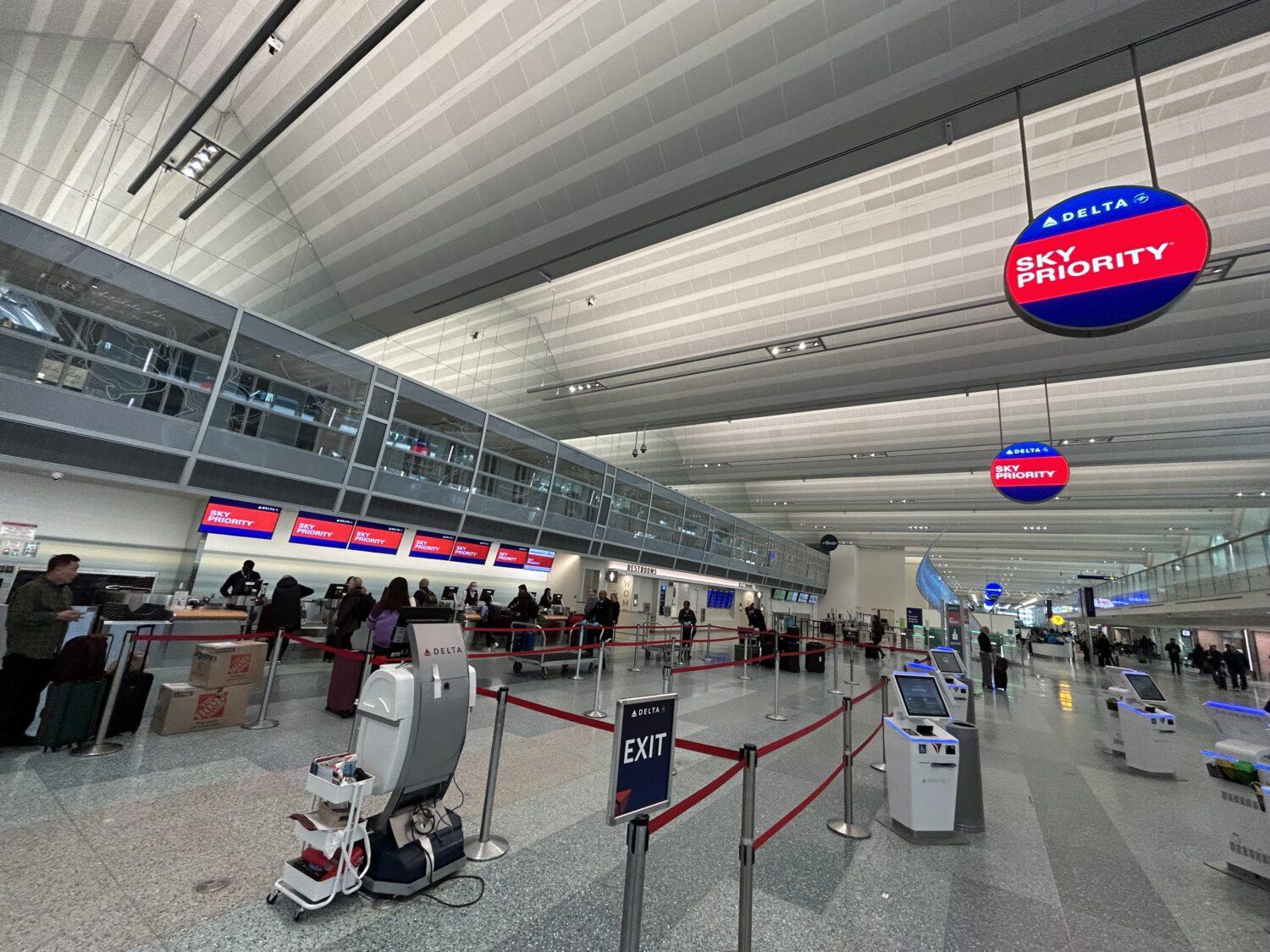 Here are some more details from Delta about who is eligible for Sky Priority and what it can do for you when traveling.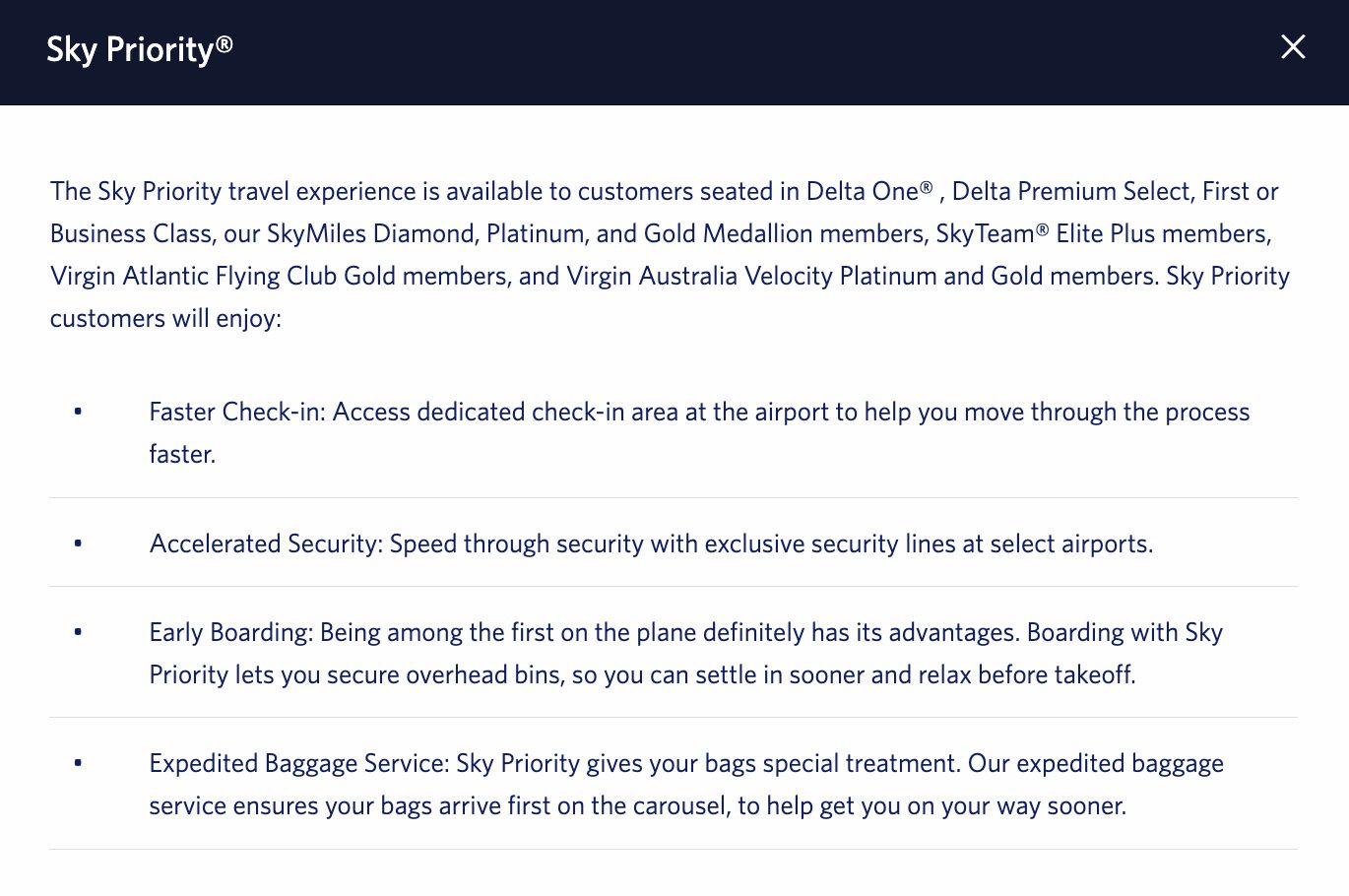 In addition to the dedicated check-in areas, fast-track security, and priority boarding, Sky Priority also gives you expedited bag service – meaning your bags are the first ones out if you've checked luggage.
Plus, you might even get some free lounge access over in Europe. As we made our way back home from Copenhagen (CPH) to Paris (CDG) before connecting to our Delta Premium Select flight to Minneapolis, the gate agent told us we got access to the Aviator Business Class Lounge – a separate space from the Aviator Lounge available to all Priority Pass members.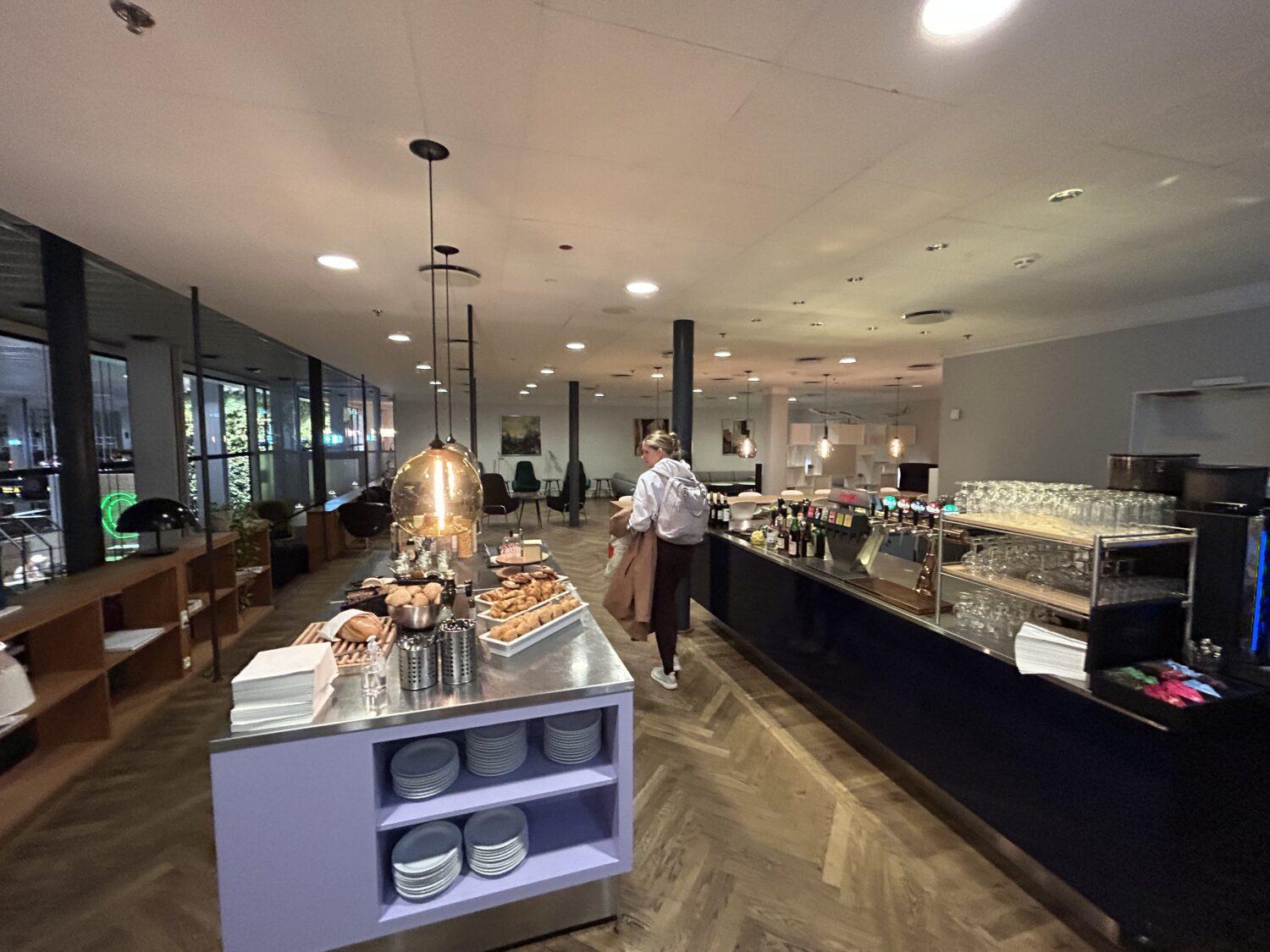 While Sky Priority alone won't get you into the Delta Sky Club or guaranteed lounge access at Amsterdam (AMS) or Paris (CDG), it was a nice surprise to be granted lounge access before at least one segment of our trip.
In some ways on the journey, like with our lounge access, it felt like a business class seat. But in other ways, it's very economy.
For instance, for our connection to and from Copenhagen on Delta partner Air France, we were firmly in economy – and it's just about as simple an economy seat as there is.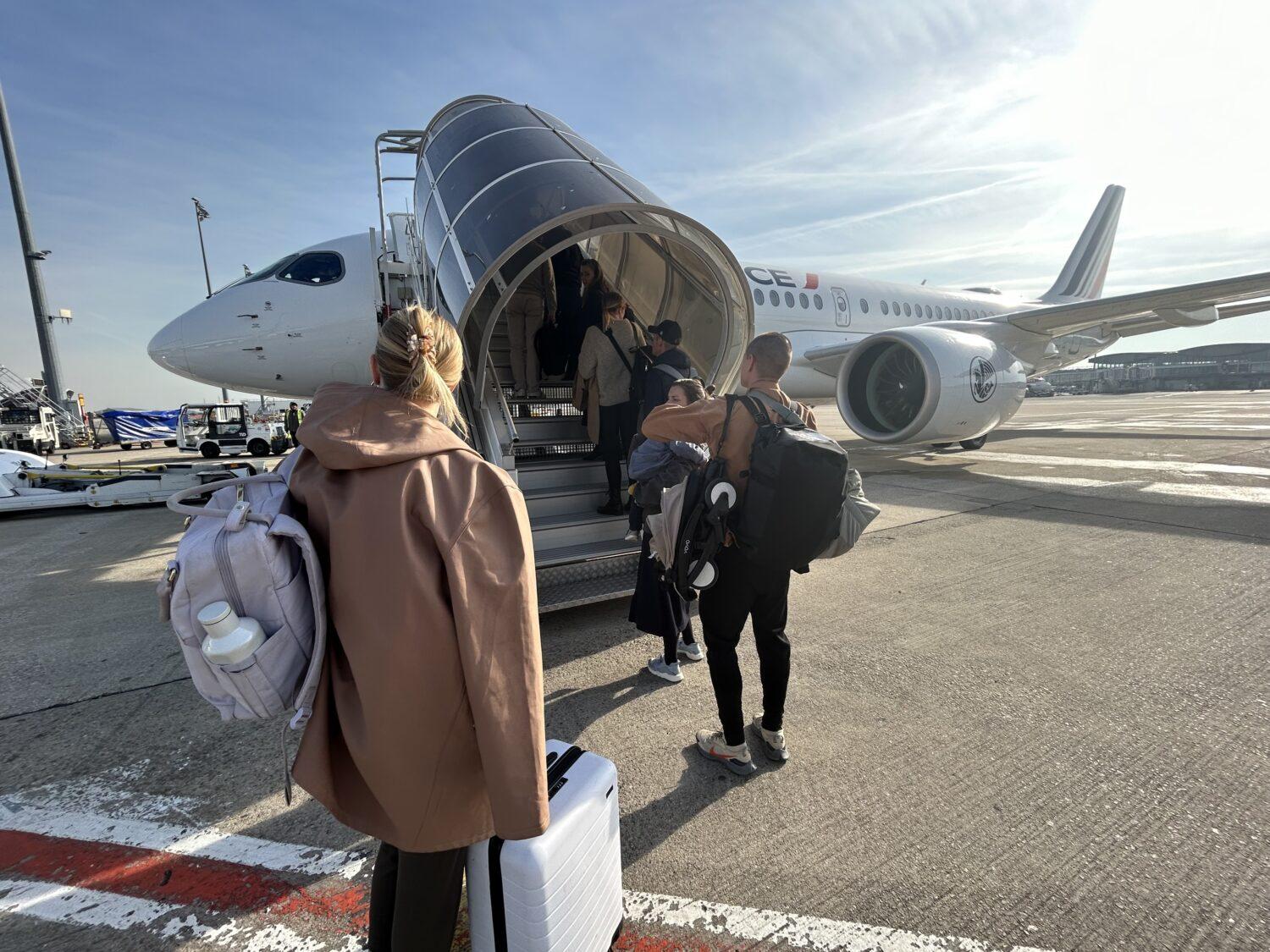 On most of these short-haul Air France and KLM flight within Europe, "business class" is just economy with slightly better service and a blocked middle seat anyway. But we didn't even get that.
It's a bit better if you're connecting within the U.S. on Delta: You'll be seated in Delta Comfort Plus. That's a downgrade from years ago, when Premium Select passengers got to fly first class on their domestic connections.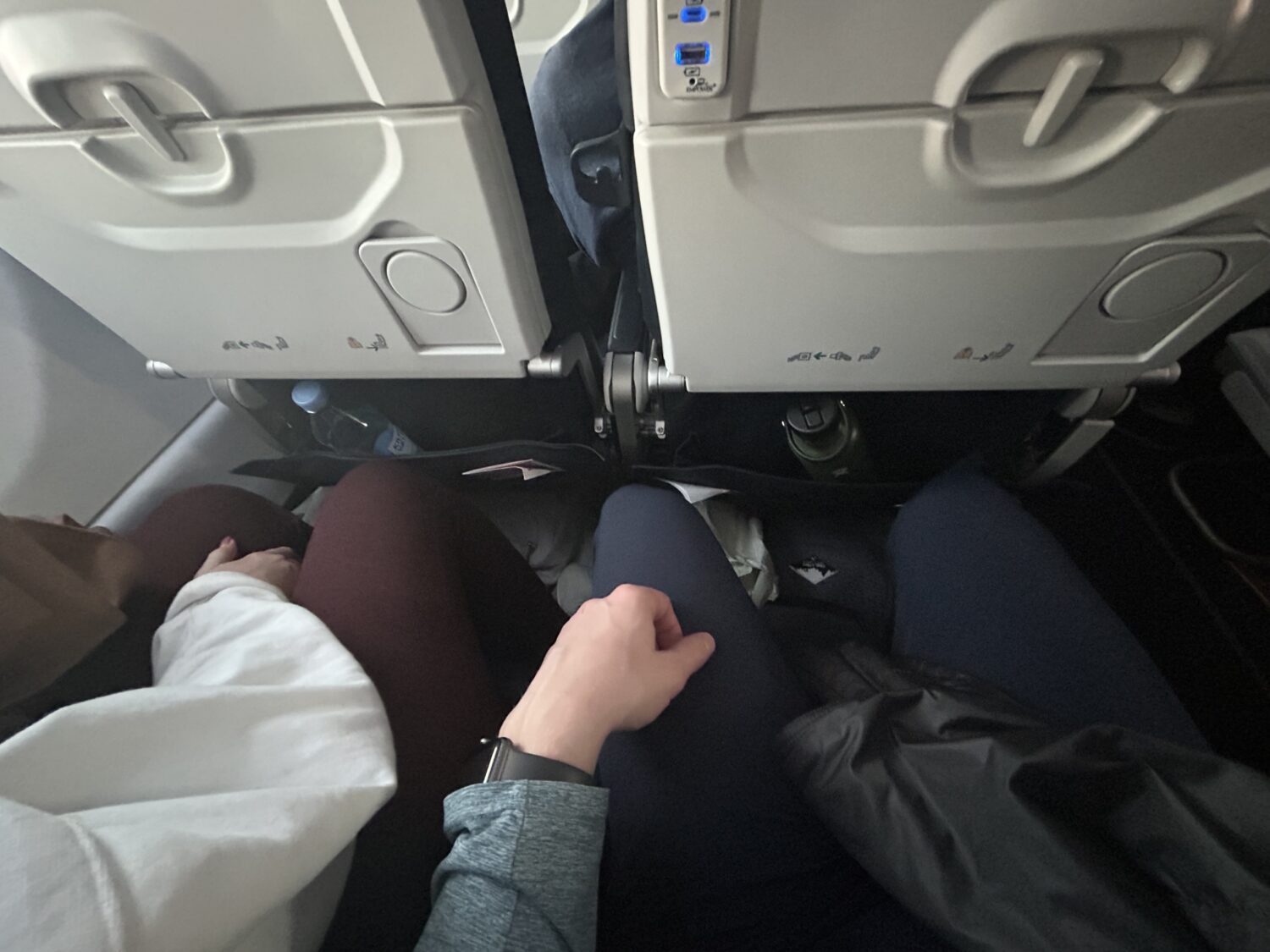 While the connections are in economy, Sky Priority can still be a huge help when making connections at massive hubs like Paris or Amsterdam. The priority check-in is also really convenient when overseas, too.
Delta Premium Select Seats
Let's get the main event: Delta Premium Select seats.
If you're paying for a Delta Premium Select fare, this is what you're paying for. The Premium Select seat itself is quite nice and comfortable –  especially if you're traveling with someone else.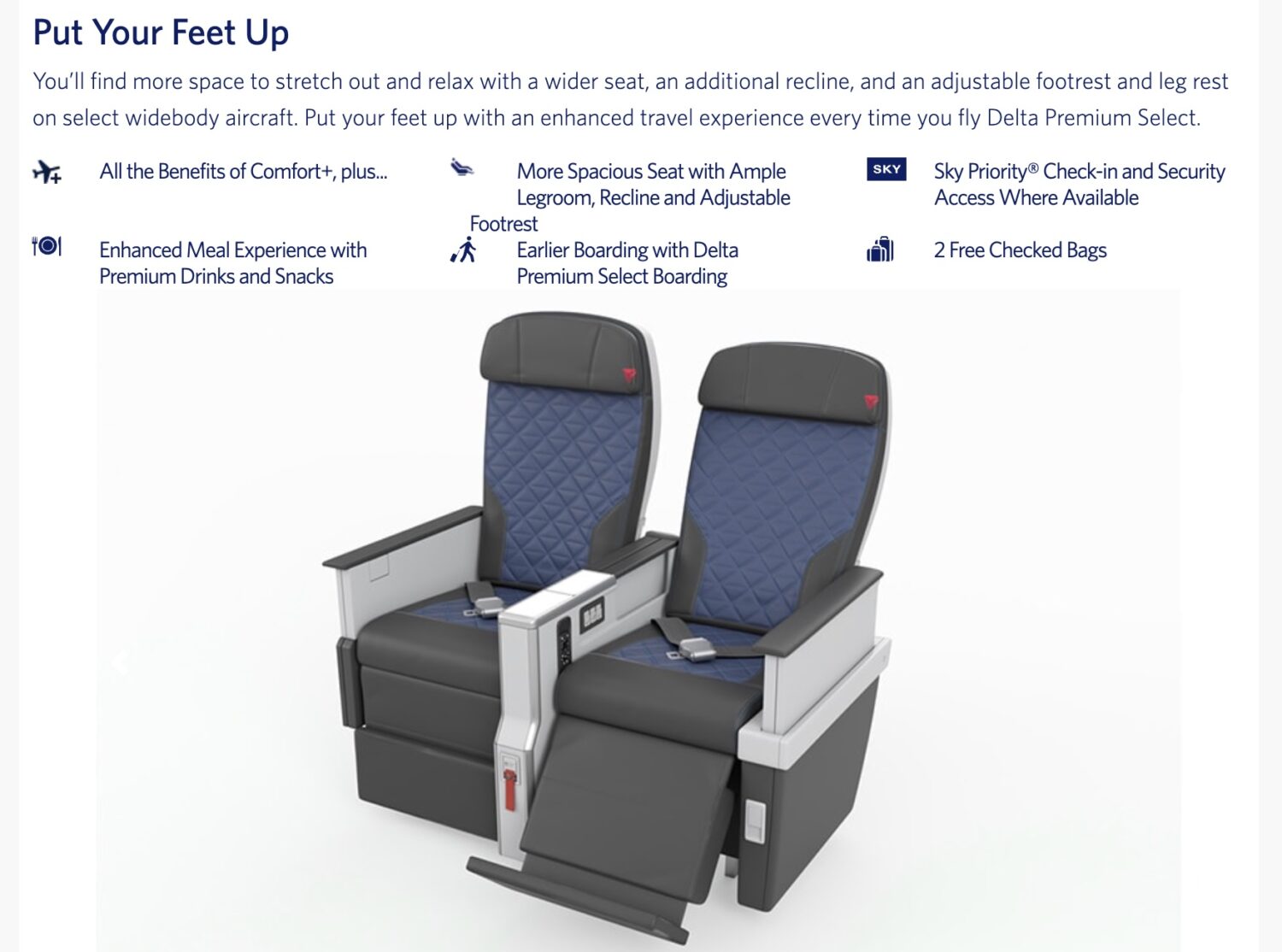 No matter which plane you're on, you'll find fewer seats in each row of the Premium Select cabin than back in economy or even Comfort Plus – and that's a recipe for wider seats. Delta's Airbus A350s are laid out in a 2-4-2 configuration in Premium Select, while A330s have 2-3-2 seating. The Boeing 767s that have Premium Select installed, meanwhile, have just six seats in each row in a 2-2-2 configuration.
Typically, you'll find just a few rows of Delta Premium Select separated by a divider before the economy cabin. That makes it a fairly intimate, exclusive area of the plane.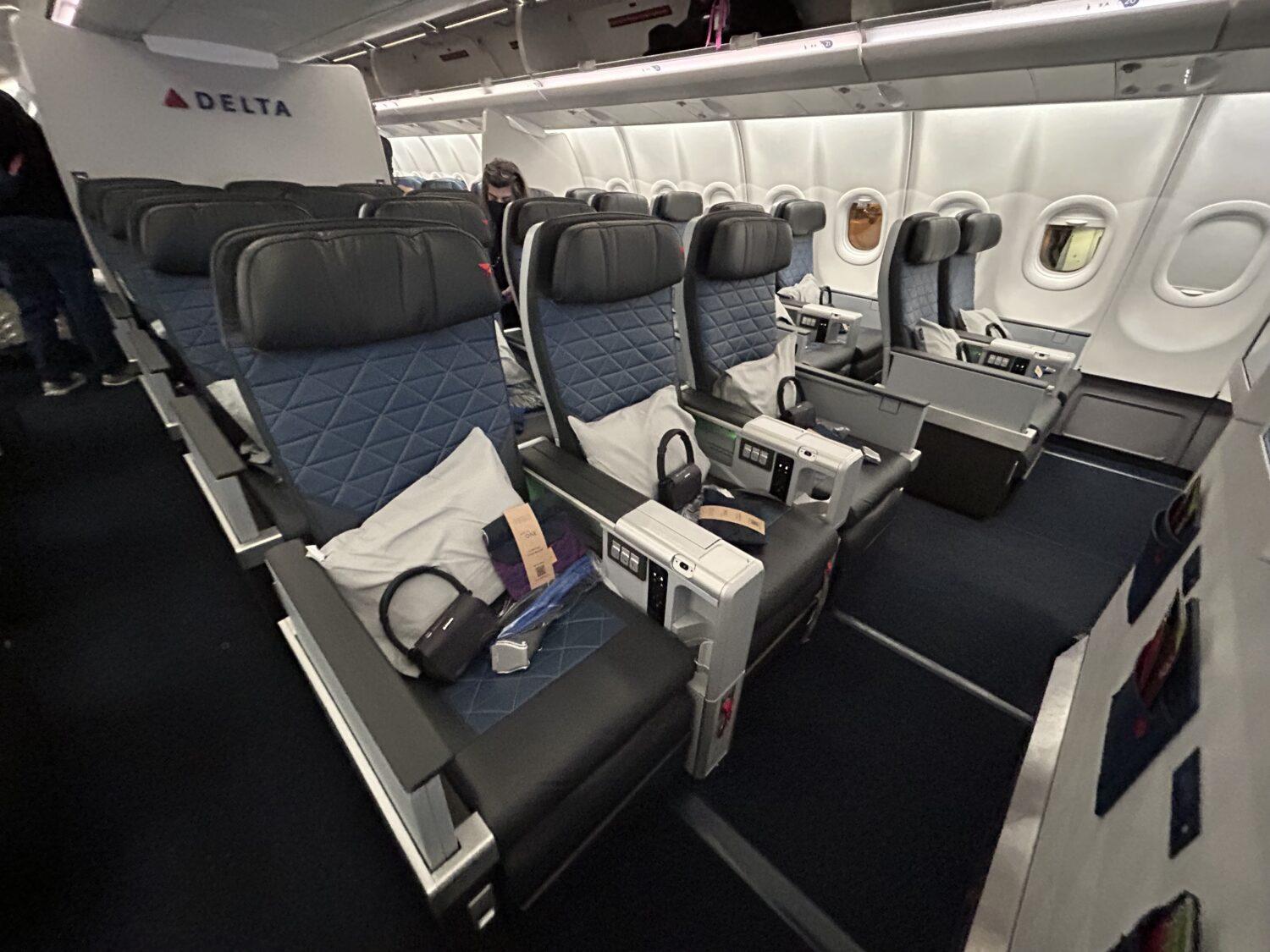 If you're traveling as a couple or a duo, the two seats on the side are perfect. That is how my wife and I traveled to Paris and back. Aside from the seat itself, having a row to ourselves made it even more comfortable.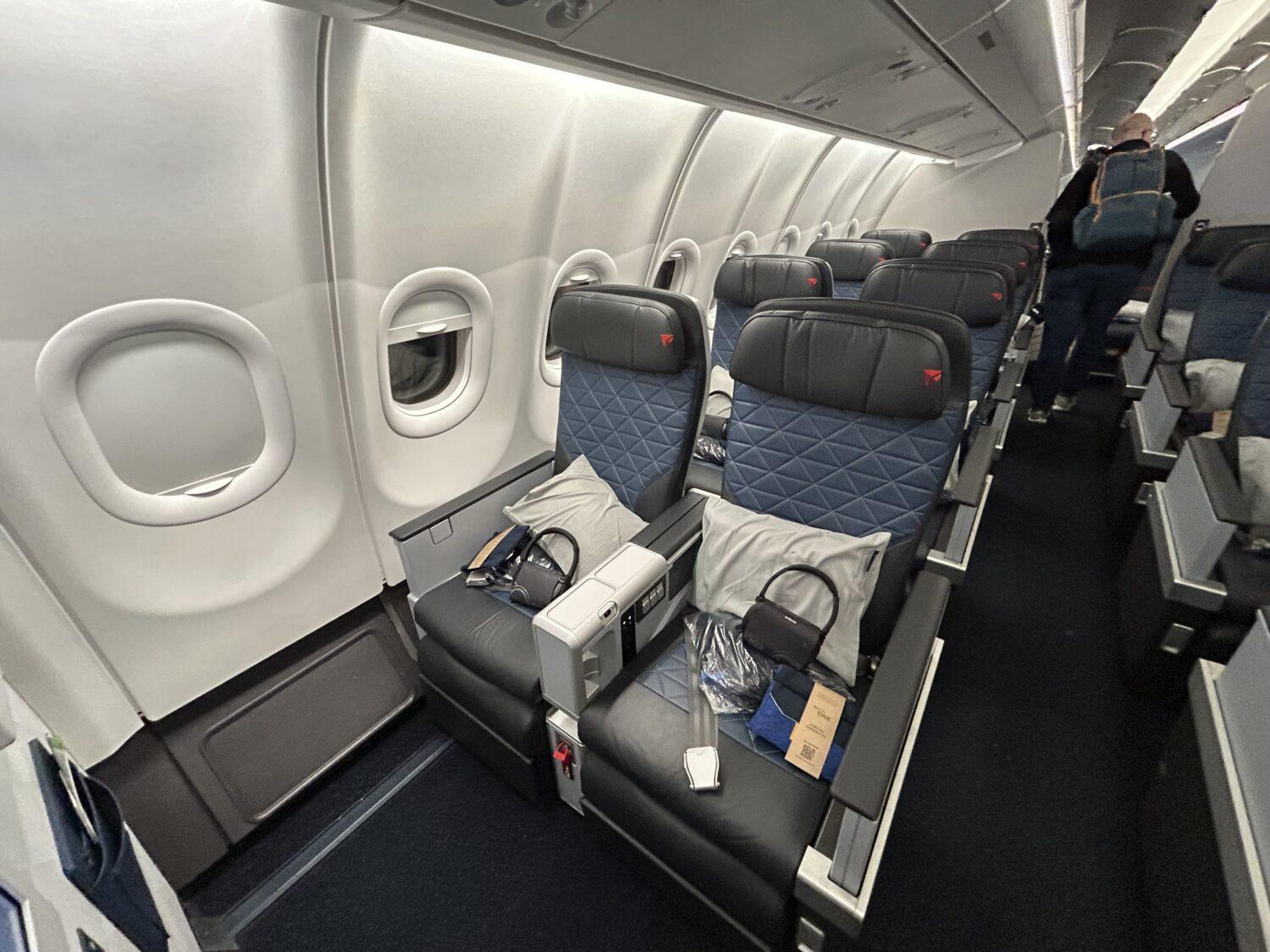 The seats come with significantly more legroom than you'll find in economy – though clearly not the nearly limitless legroom you get in Delta One. On the Airbus A330-300, for example, each Premium Select seat gets 38 inches of legroom compared to the 32 inches of space back in economy.
Your screen is still on the seatback in front of you, meaning the traveler ahead of you can still recline their seat into your space – and these seats have more generous recline than your typical economy seat.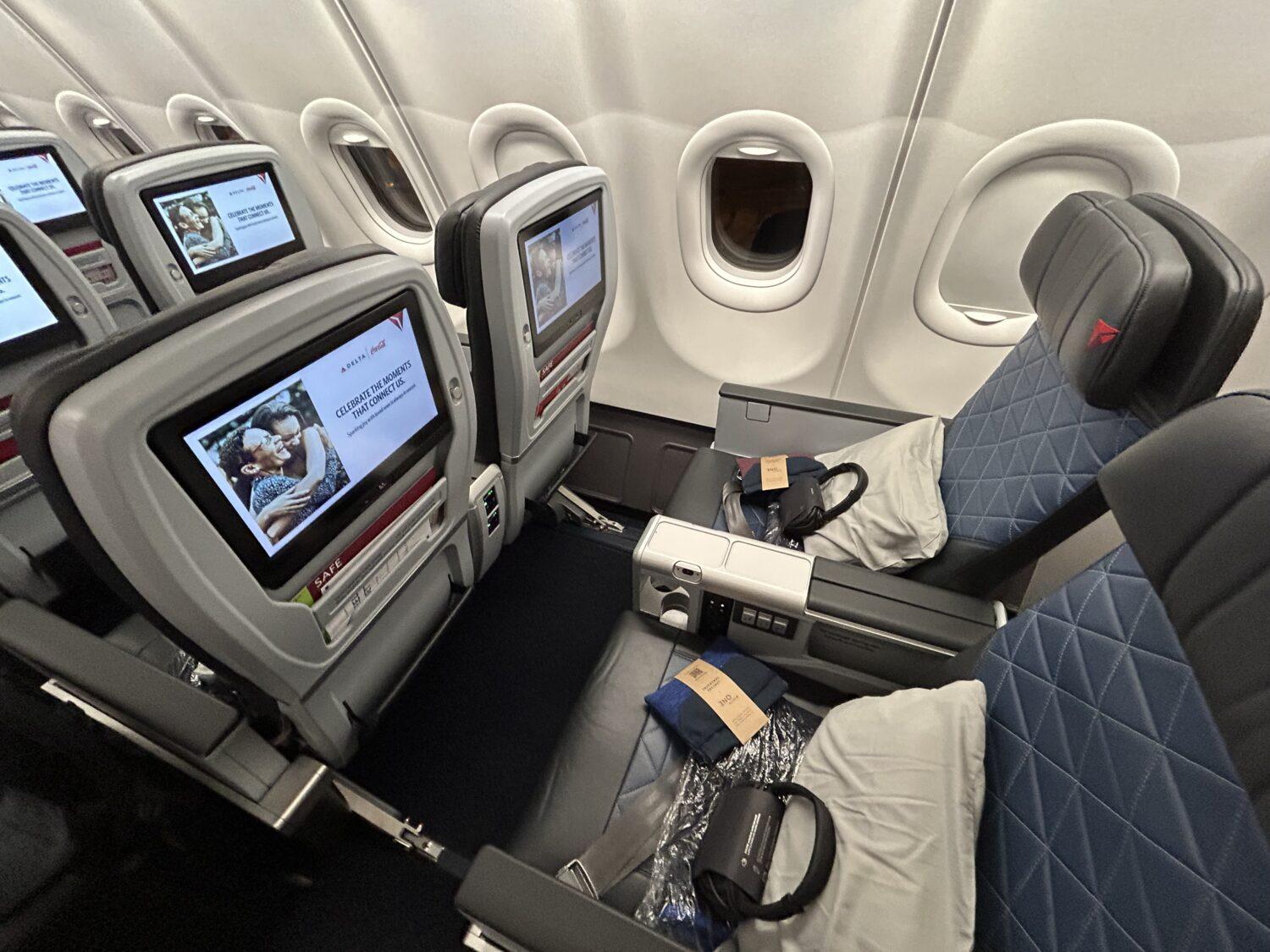 The seats are a massive upgrade from economy, with a little extra width and significantly more padding. Most Premium Select seats measure in at about 18 1/2 inches wide, a valuable half-inch more than your standard economy seat flying with Delta.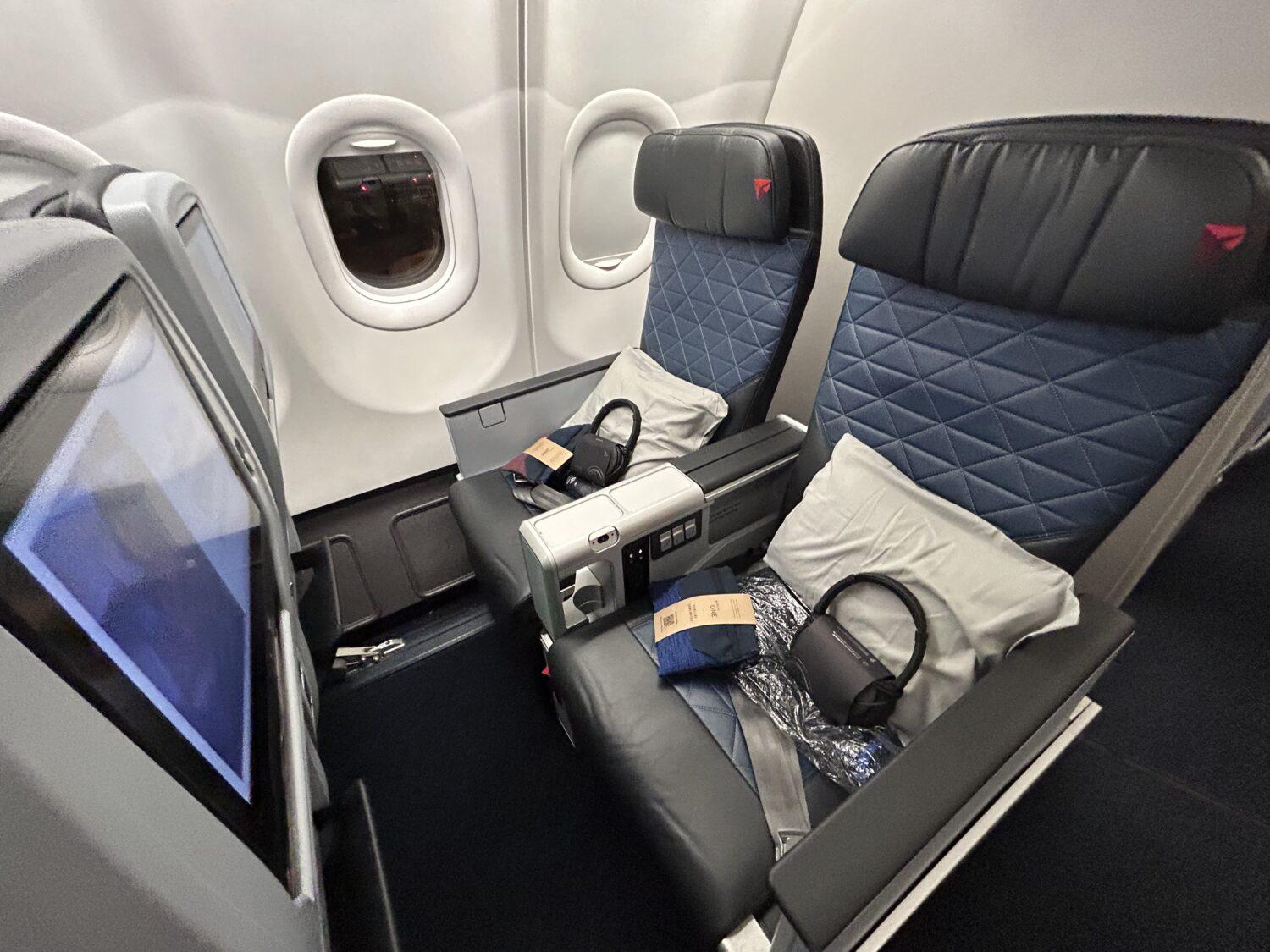 The headrests are pretty plush and the seats themselves are nice and new.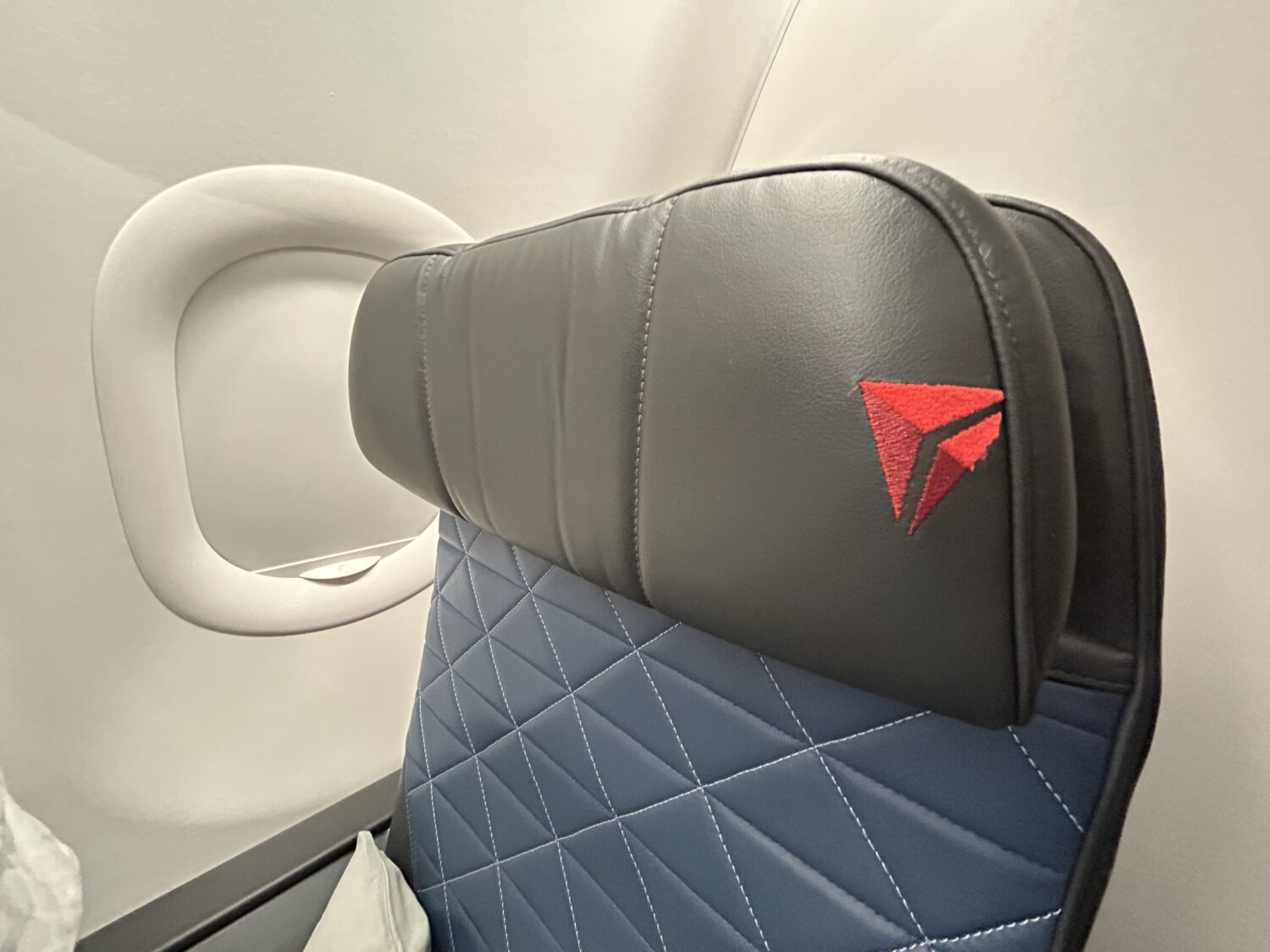 The seats also come with a footrest which you can see I put out here. This feature was not something I knew I loved until flying premium economy seats that had them. It's really nice to take that strain off your legs during a long flight.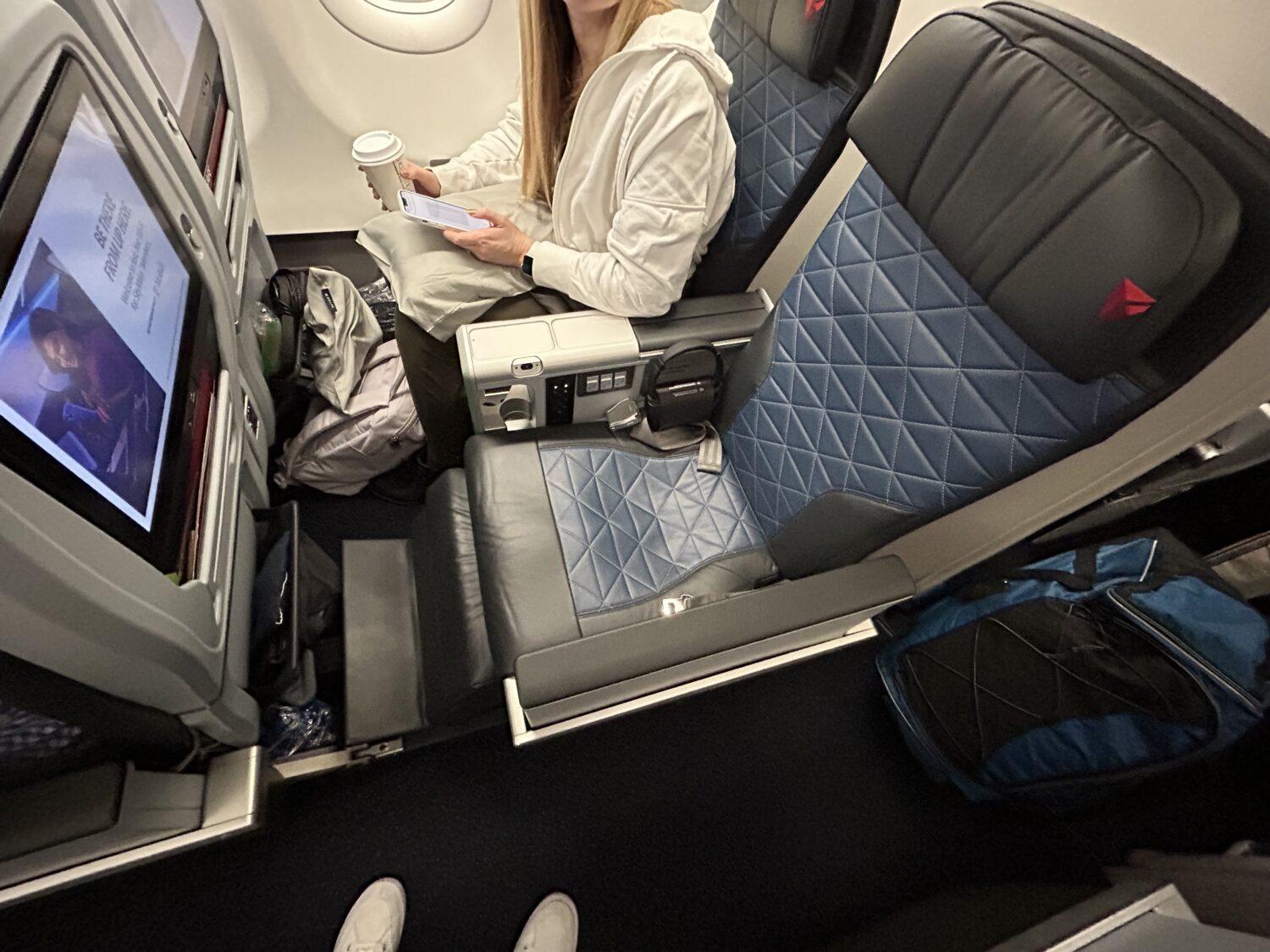 Unlike business class seats that recline with the push of a button, these seats are not motorized. The recline, footrests, and leg rests are all analog, as you can see here. That means, you push the button and then push back on your seat to make it recline. The footrests automatically pop out and release when you push these buttons, too. They're fairly easy to use.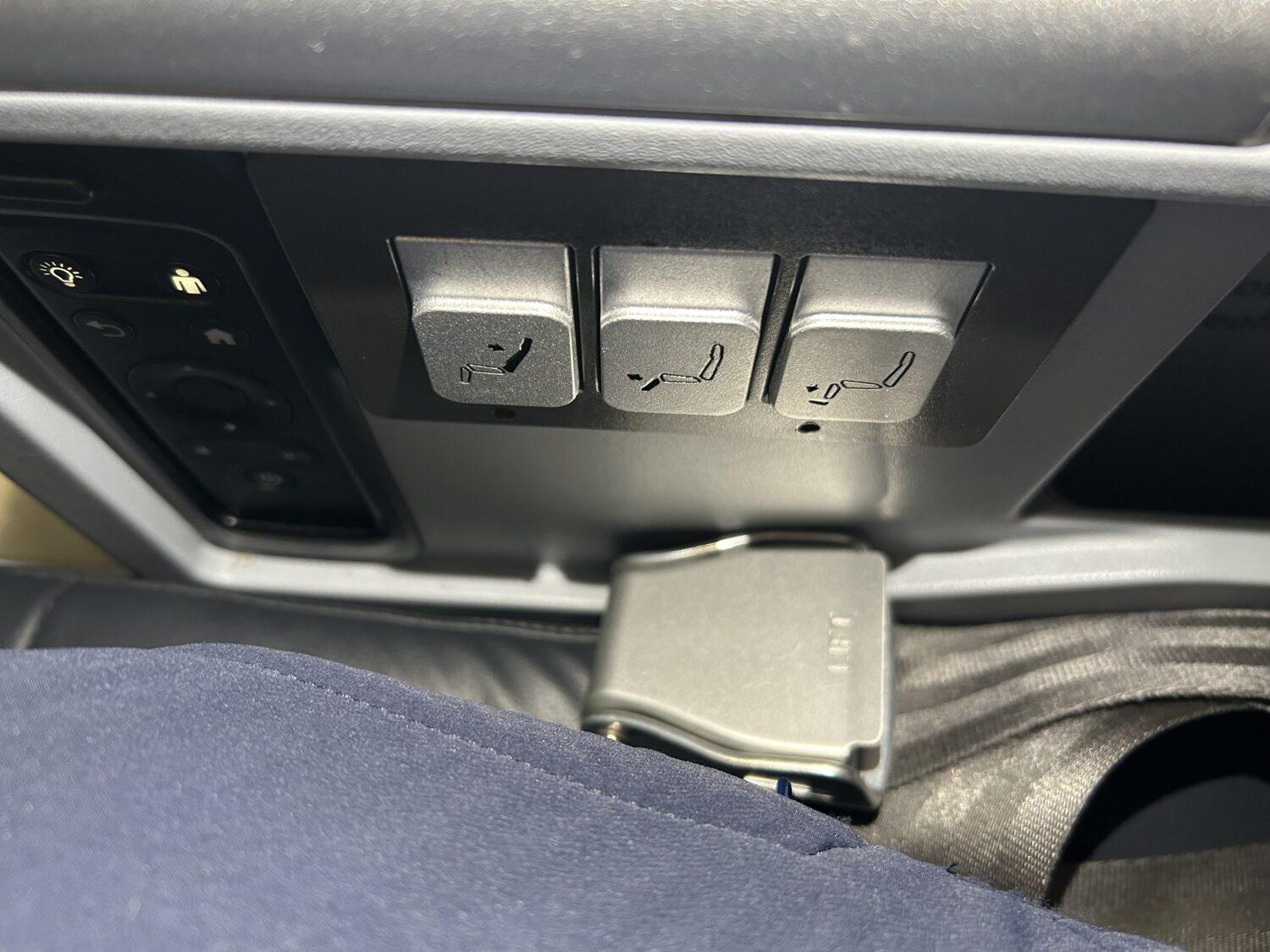 Let's talk about that legroom again, because it's really nice. I'm six feet tall and I had plenty of room to extend and even cross my legs in Premium Select, even when there's something in the pocket in front of me.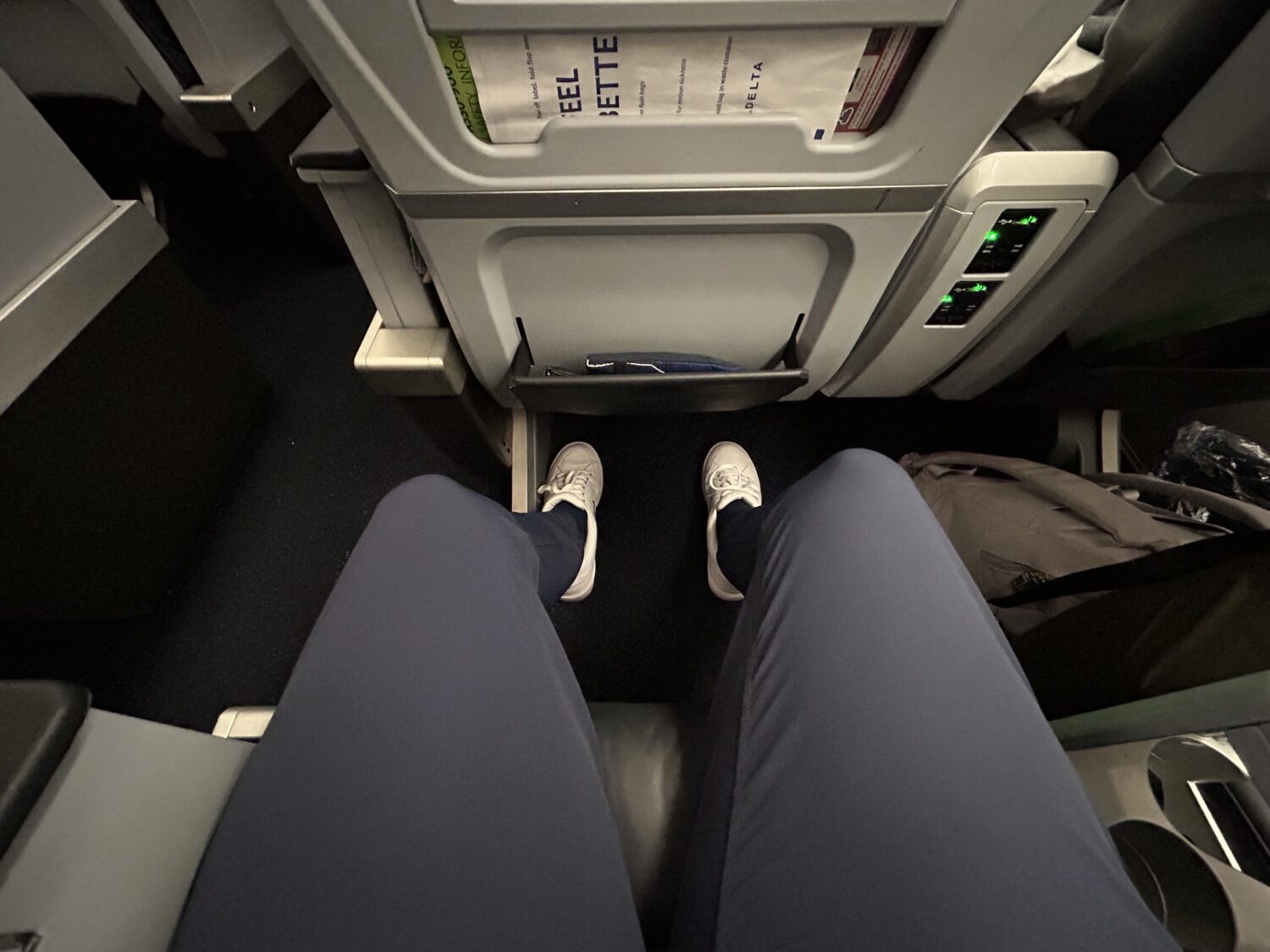 On our return journey, we chose bulkhead seats at the front of the Premium Select cabin with even more legroom and space.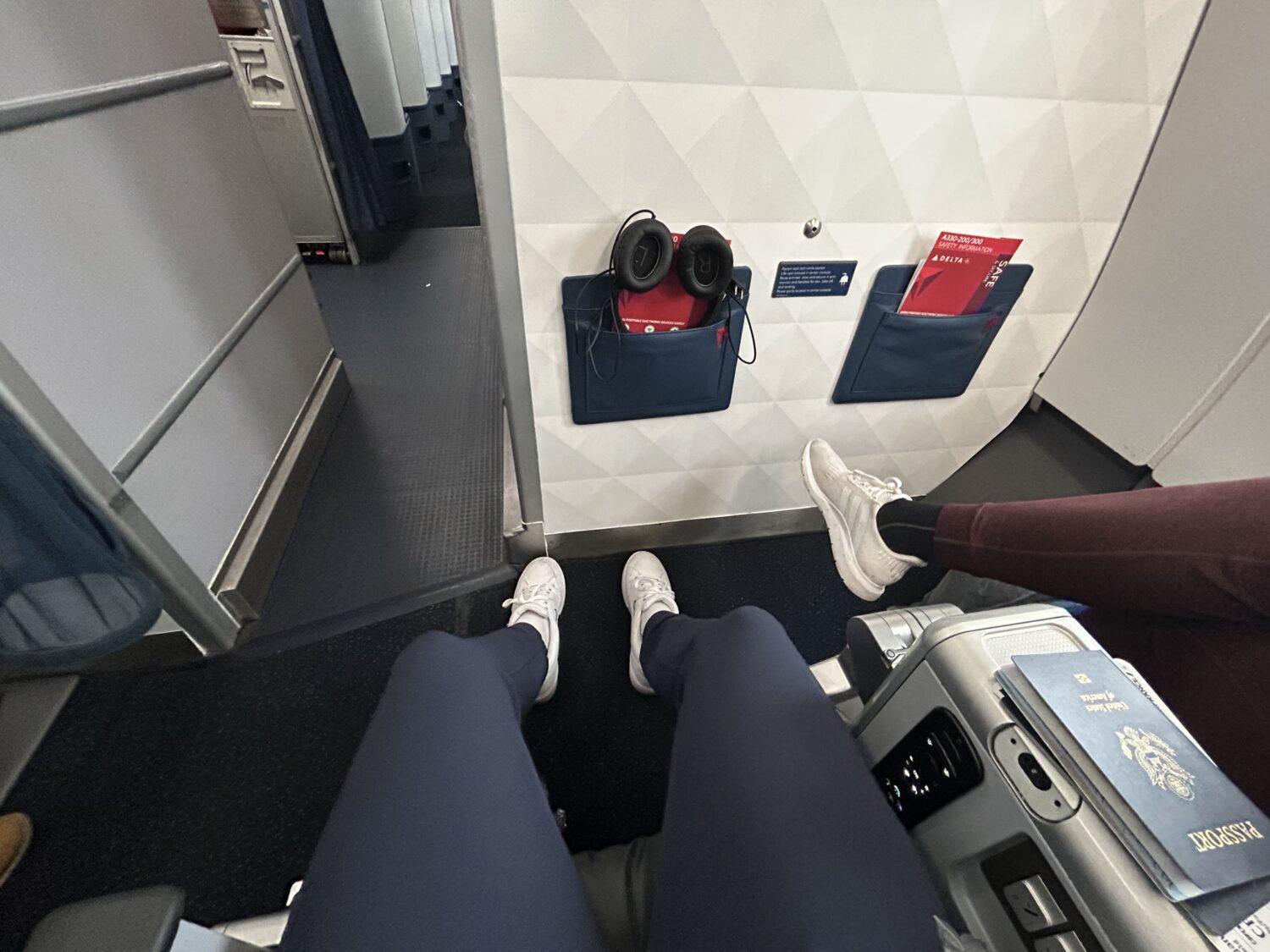 One of my favorite aspects of the Premium Select seat is the enormous TV screens. Clocking in at 13.3 inches, it's the biggest screen I've ever seen in the sky outside the business class cabin.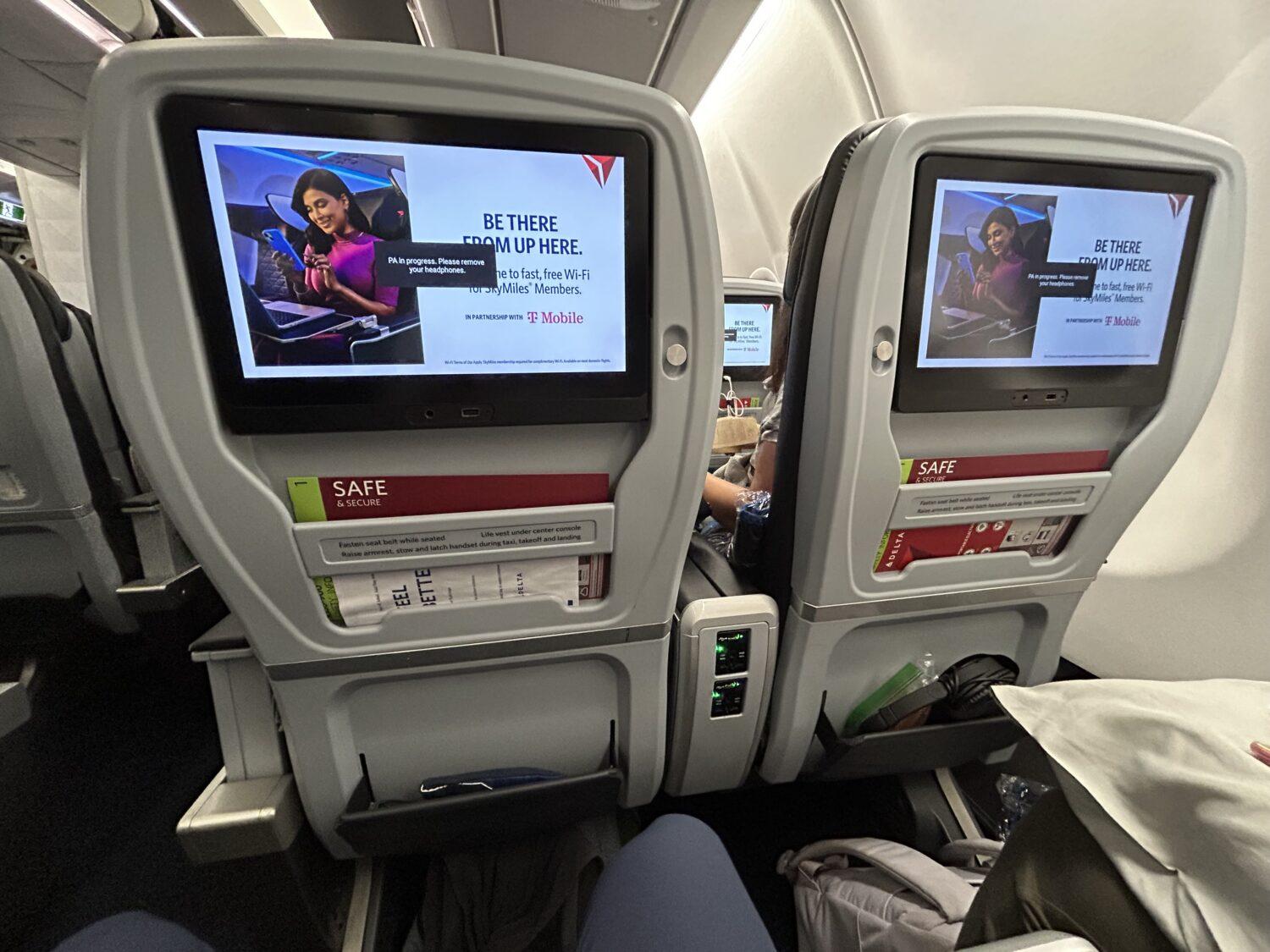 Both seats also had access to their own power port, which included a USB and a traditional plug-in at each port. That's in addition to the USB port on the screen itself, a staple of Delta's seatback screens.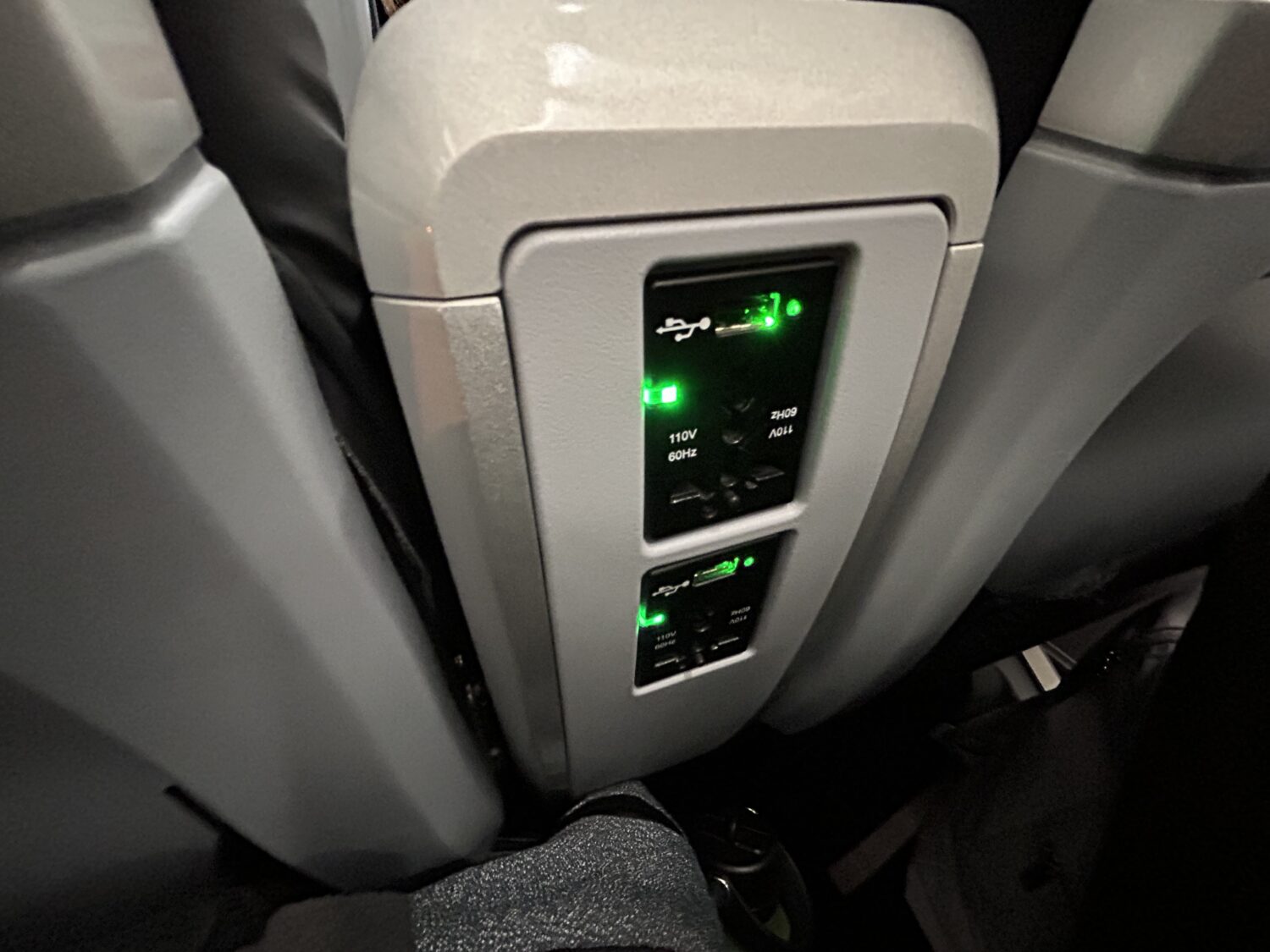 The entertainment system on both legs of the flight was slick. Each Delta leg of the journey had access to almost 600 movies, 62 TV shows, and 123 different audio offerings as well.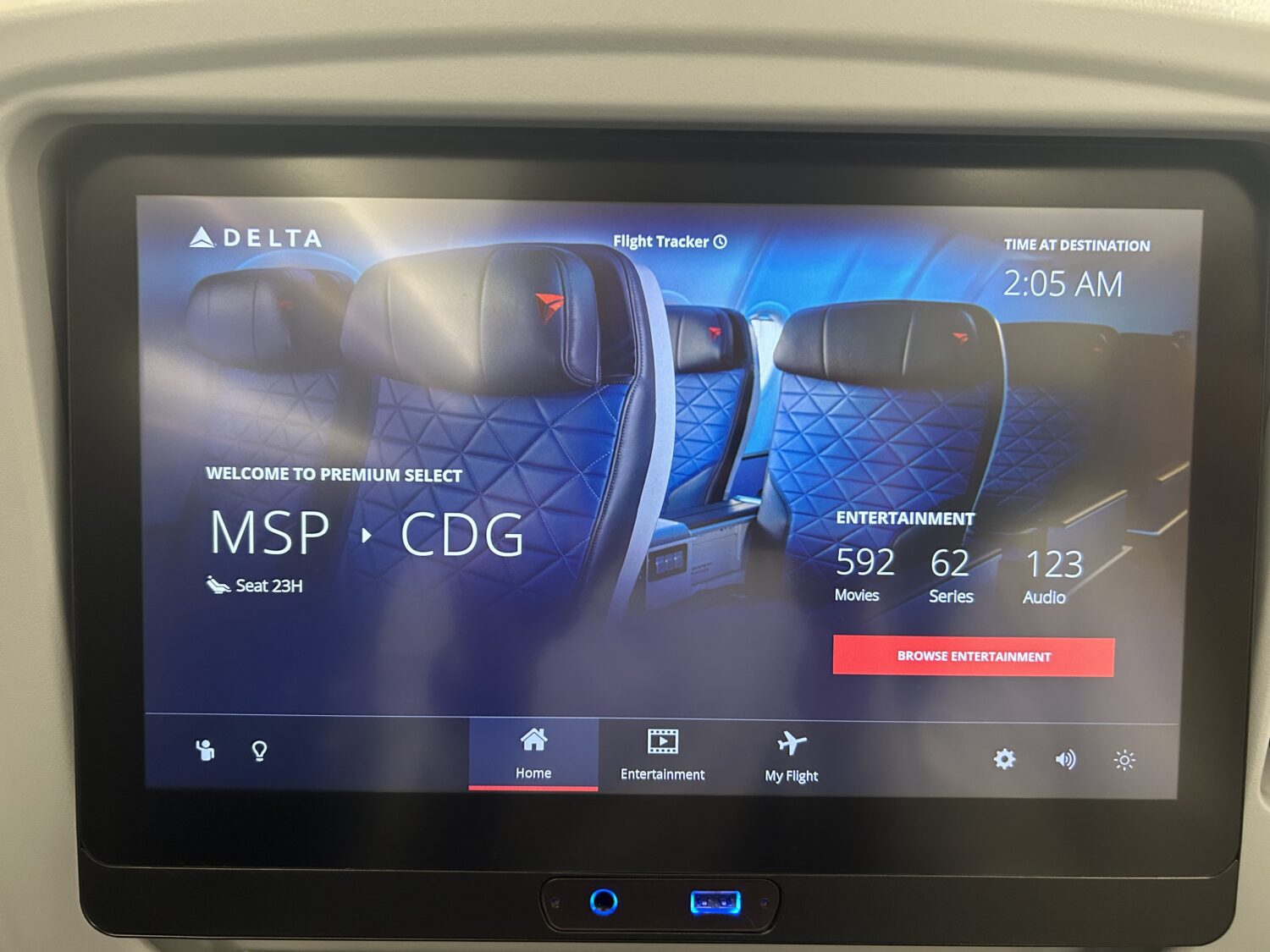 The movie selection was robust, including tons of new releases and many, many classics, too. Ticket to Paradise, a rom-com with George Clooney and Julia Roberts set in Bali, was a perfect, easy-watching airplane movie, by the way.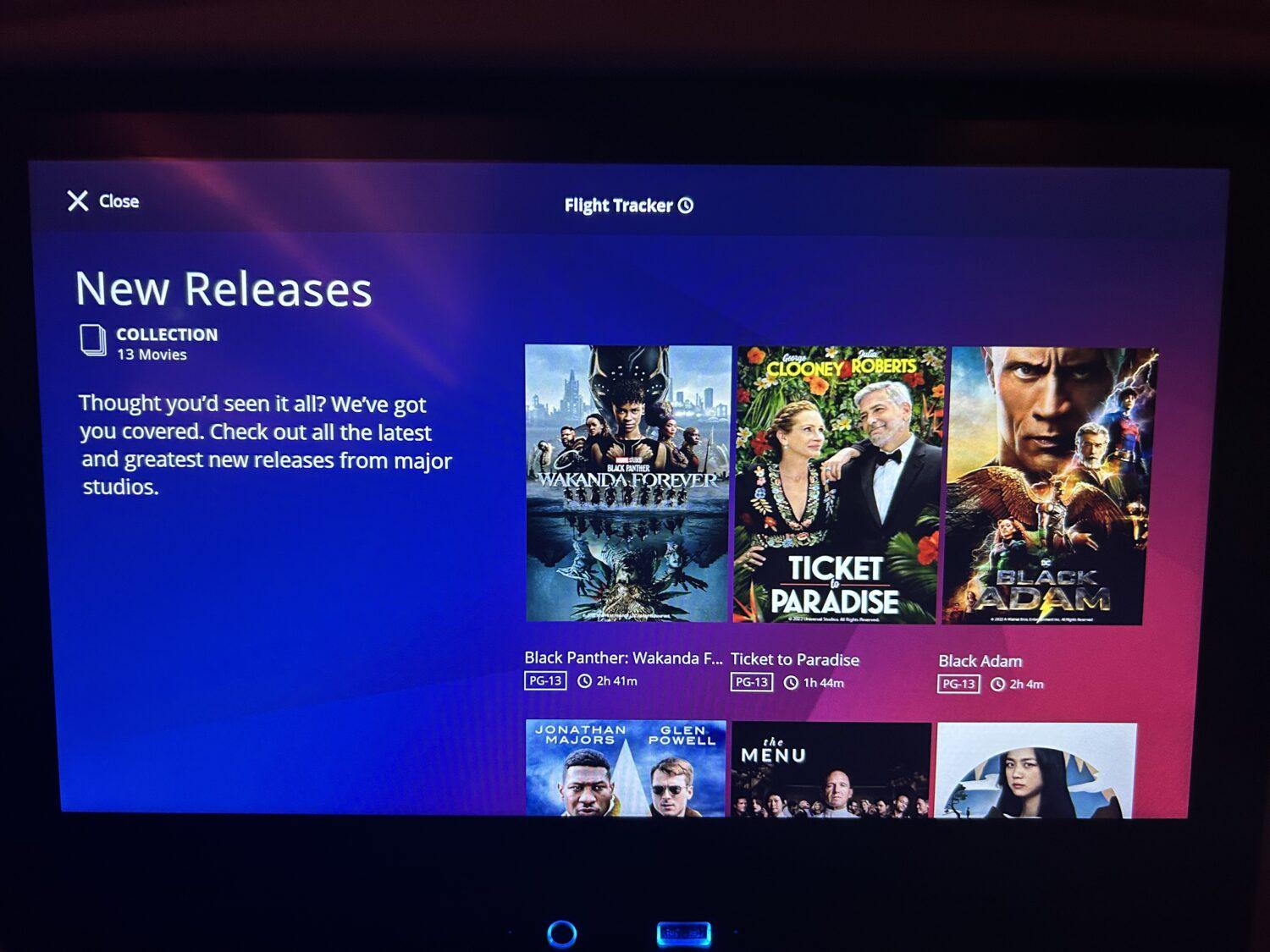 In the bulkhead, the screens must be stowed during takeoff and landing and come out from underneath the middle console for both seats. They are the same size as the seatback screens, so you're not getting shorted there, though it can be annoying to stow them at the beginning and end of the flight.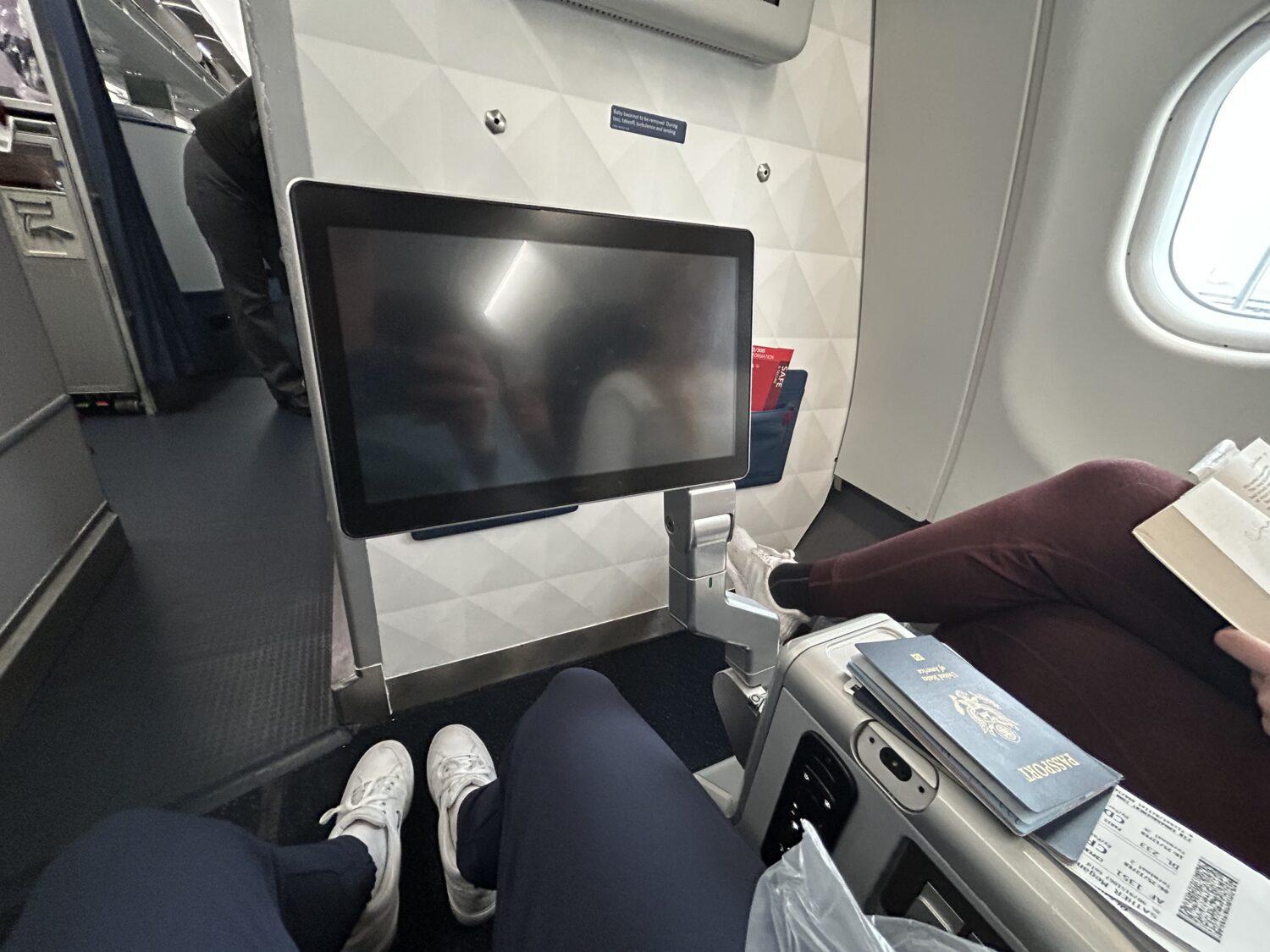 While the A330-300 had your average flight tracking maps, the updated in-flight entertainment system on the A330-900neo meant there's an incredibly flight tracking system. It had so many different functions and views that I played with it for a solid 45 minutes on the way to Paris.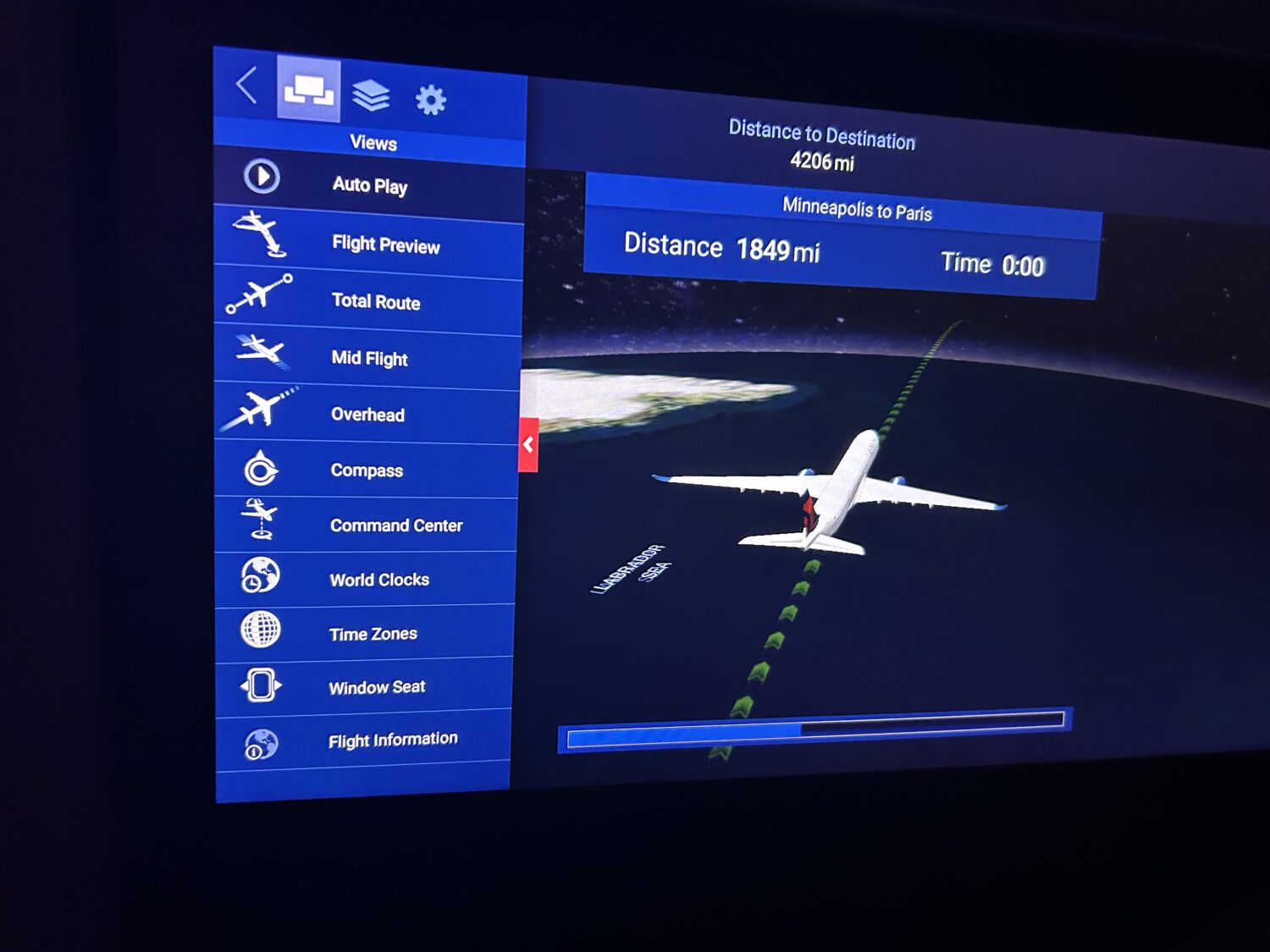 To access the tray table in your seat, you have to pull another little analog lever to pop your tray table out.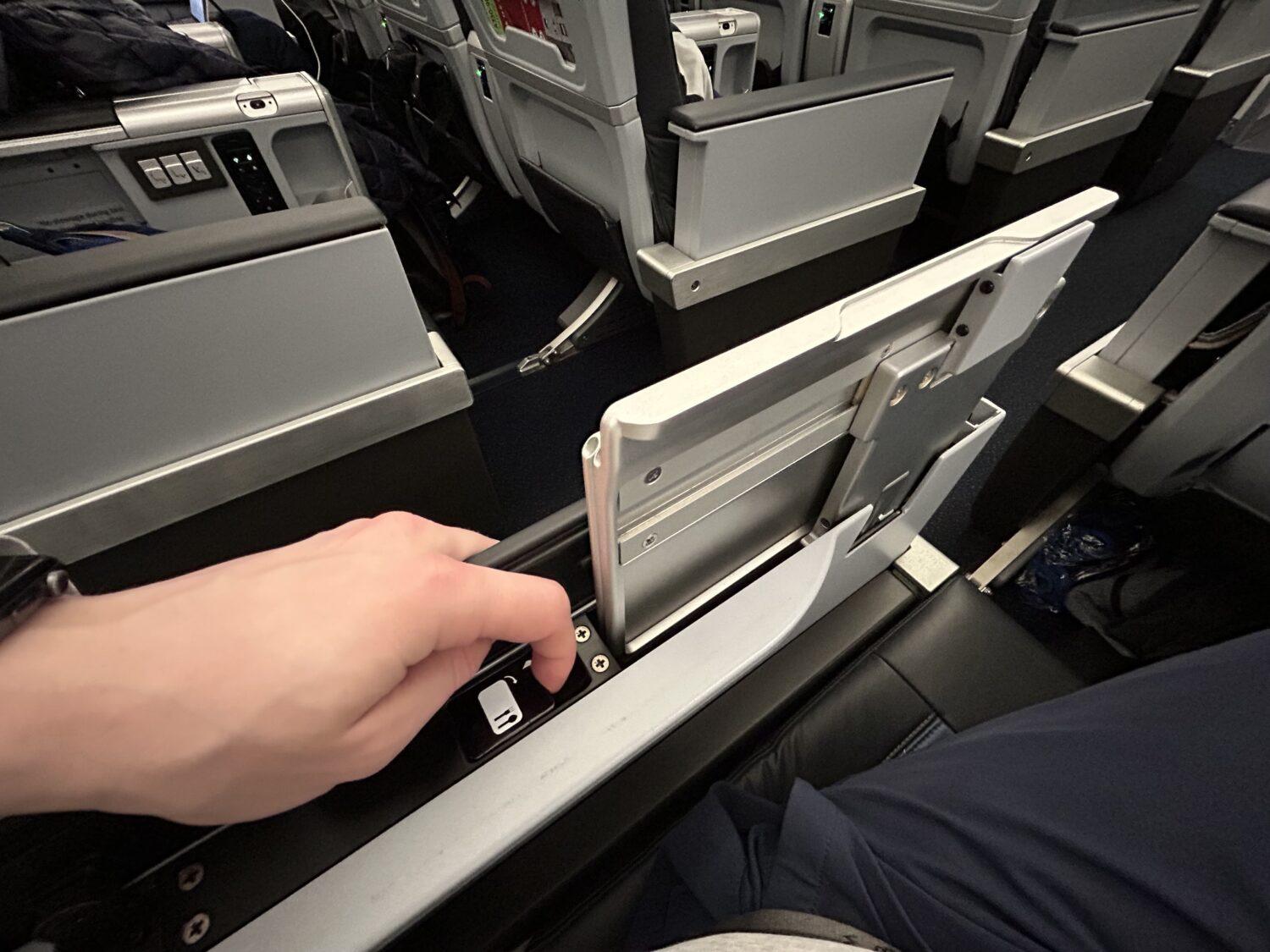 Then you pull it out and you can either keep it at half-width if you're just holding a drink and/or snack.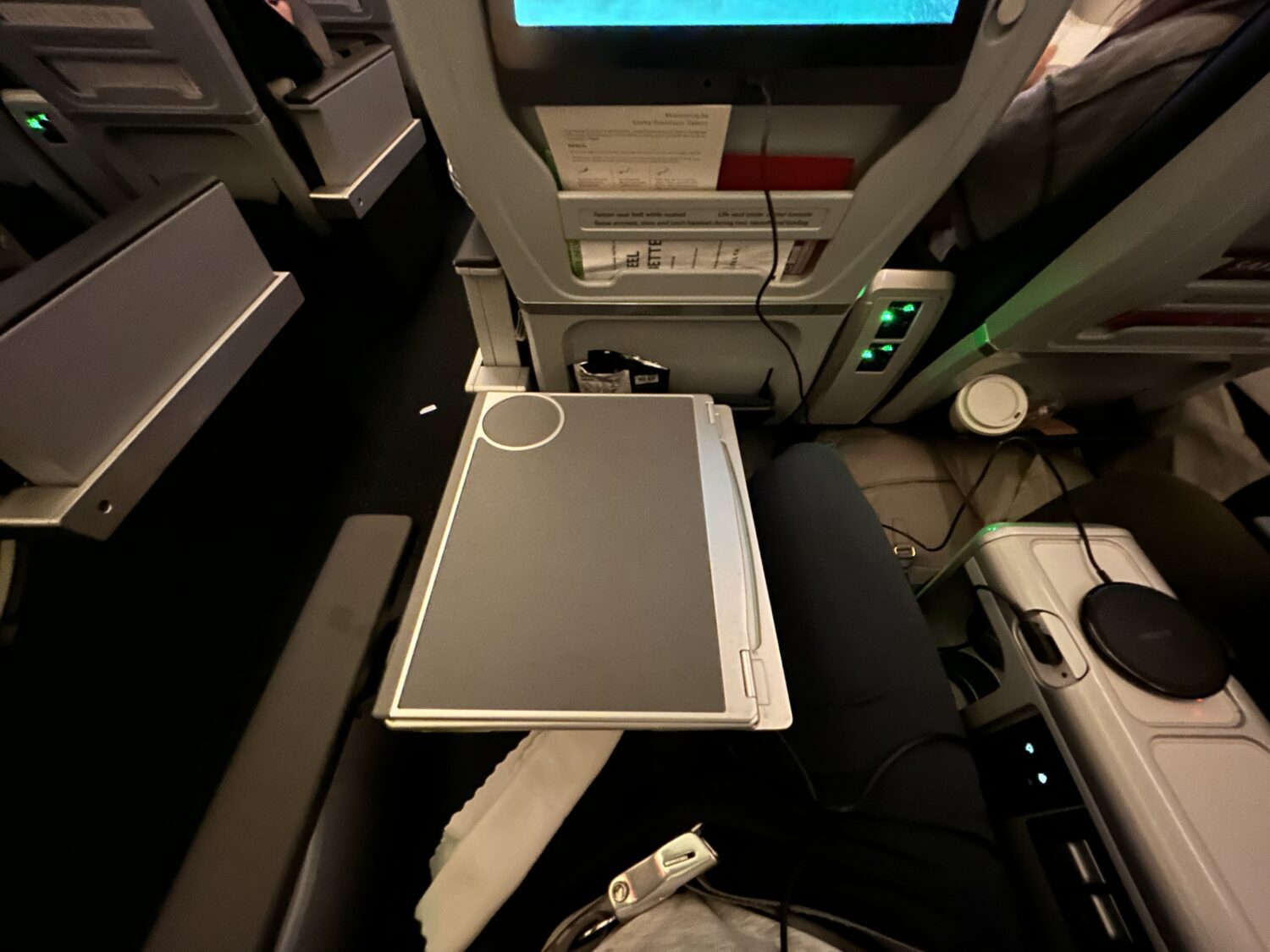 Or you can pull it all the way out and have it cover the width of your seat.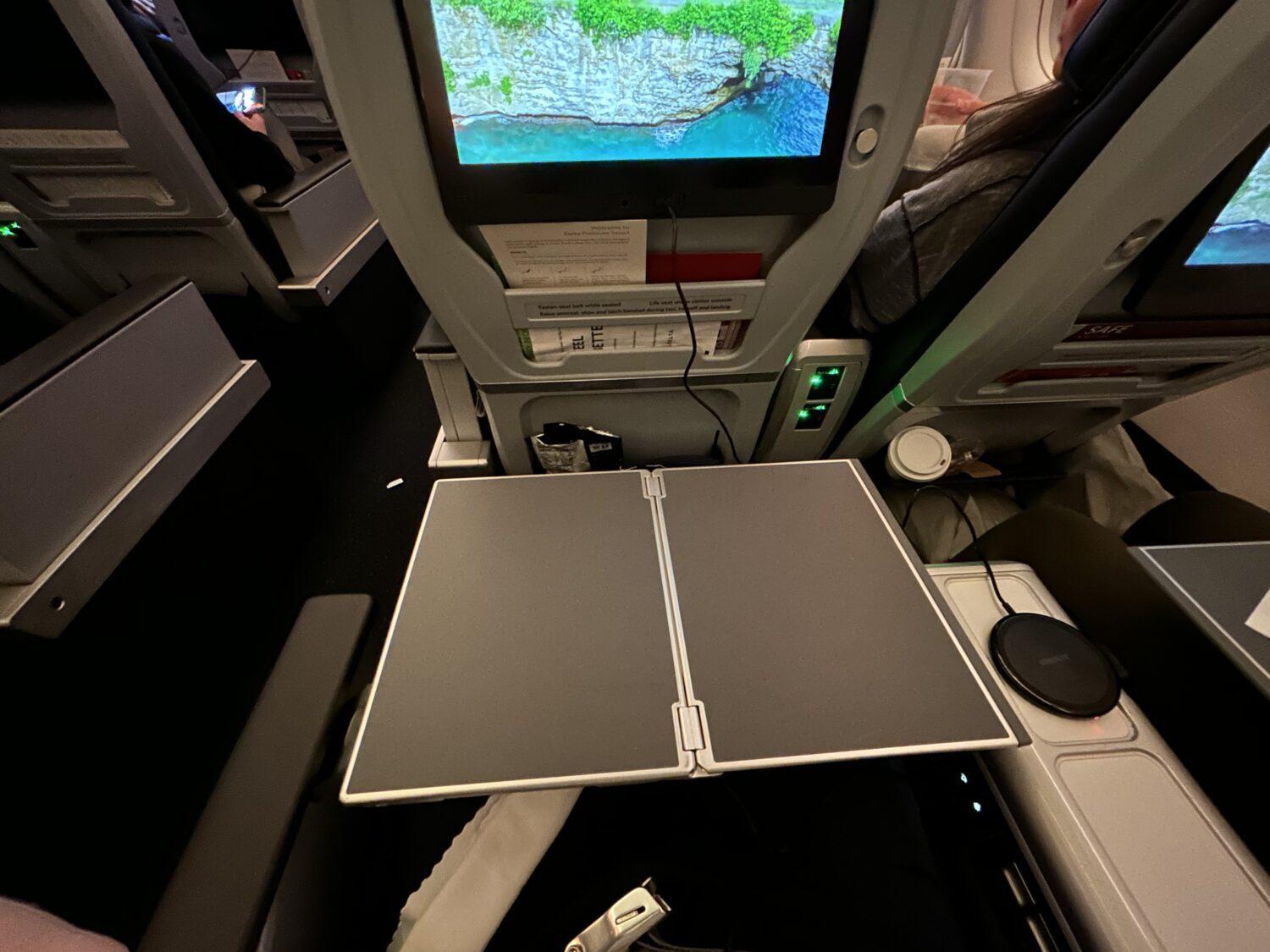 The middle console is also fairly roomy, offering another spot to put your phone or rest a drink.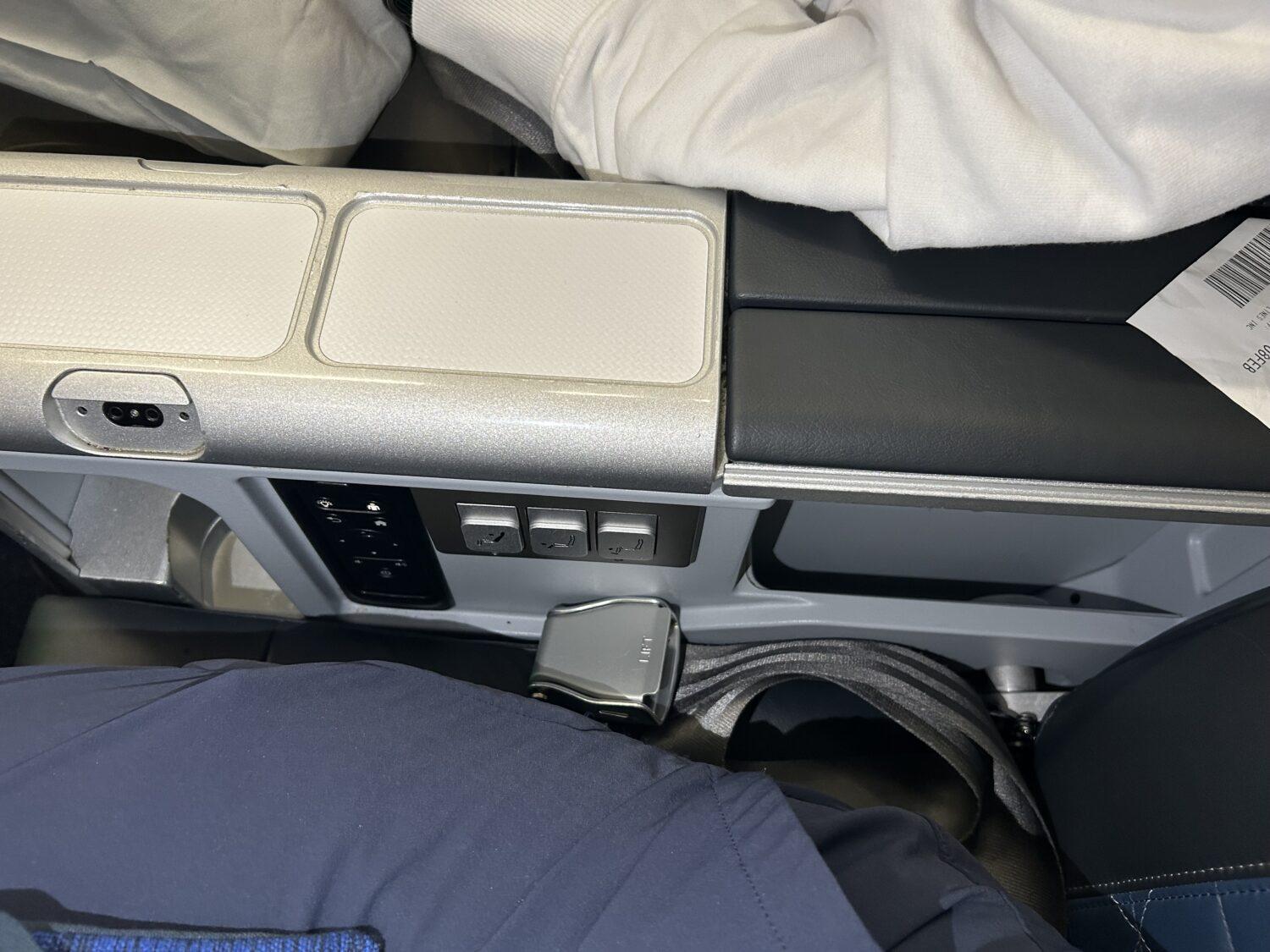 Underneath the console there are afew different storage areas, including this little space for tablets or books. It also pops up so you can access them more easily.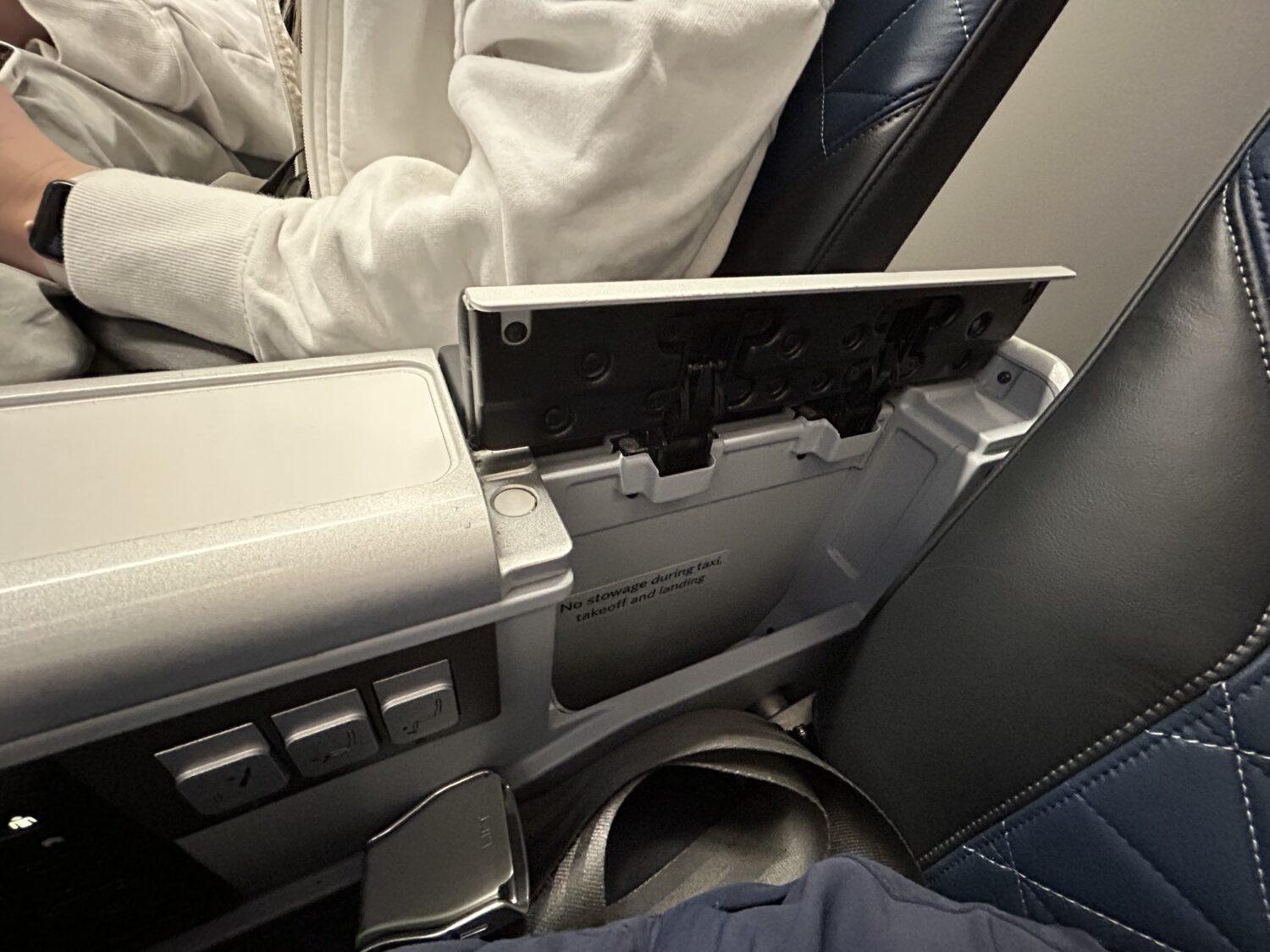 In the front of the console is a little water bottle holder, too. Next to that is a remote that powers you flight attendant call button, your reading light, and can control your seatback screen. The screen controls are a little clunkier than the touch screen functionality, though.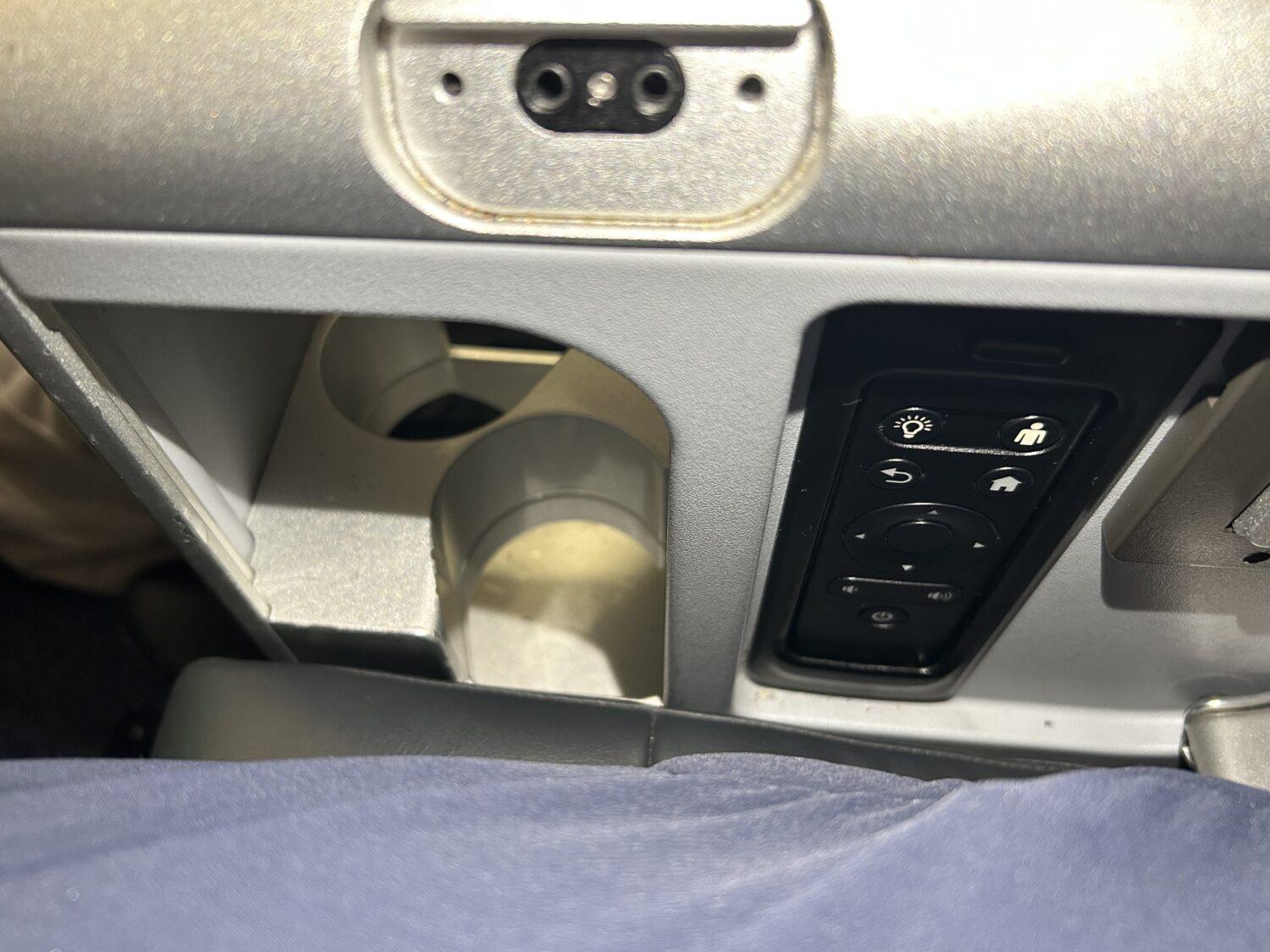 Overhead is nothing special. Just a few air vents and your reading lights along with the no smoking and seatbelt signs.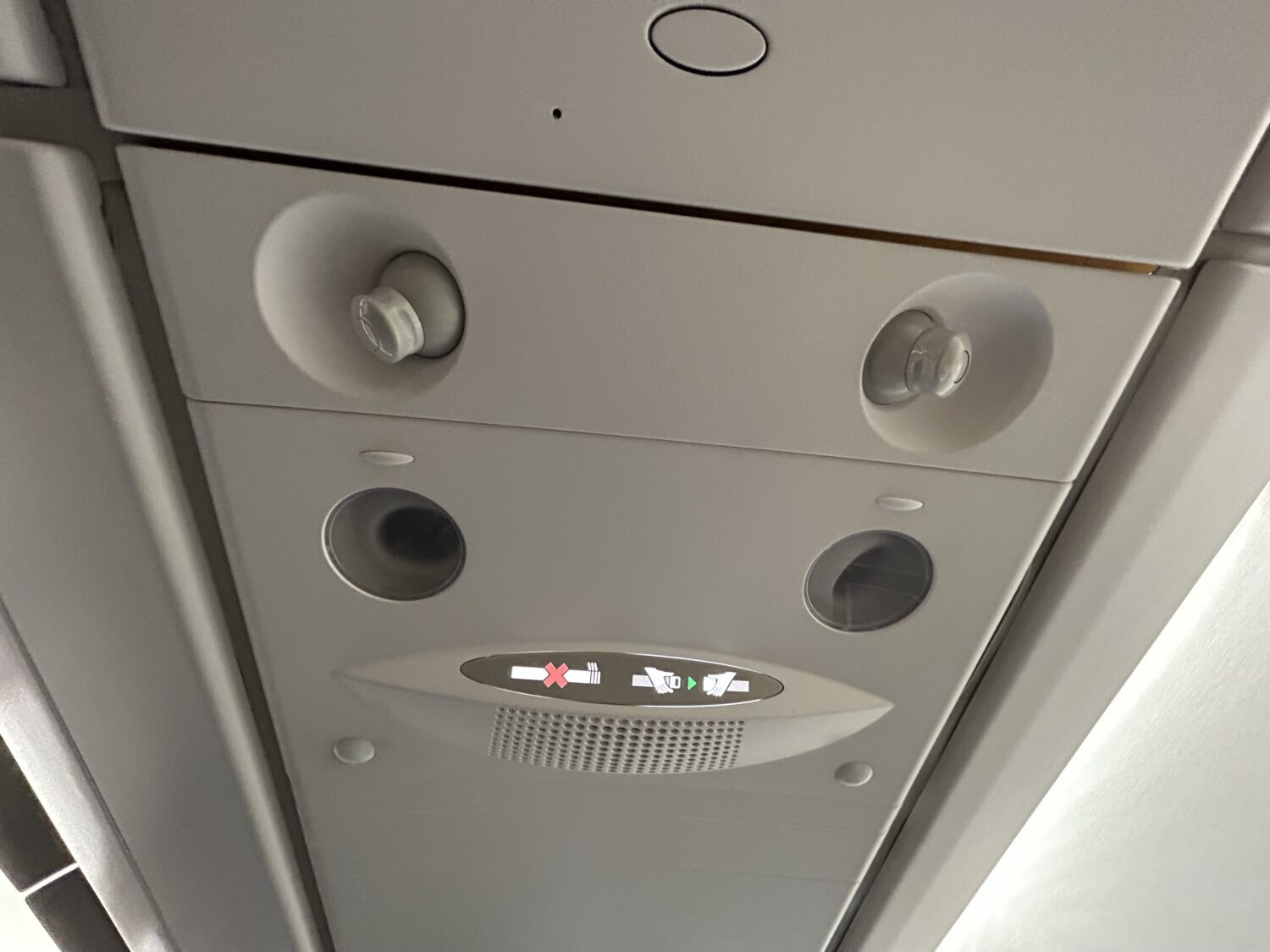 Wi-Fi onboard the flights was fairly expensive. On the way to Paris, simple Wi-Fi was $22 … while upgrading to the full, streaming speed Wi-Fi clocked in at $40 for the full, one-way flight.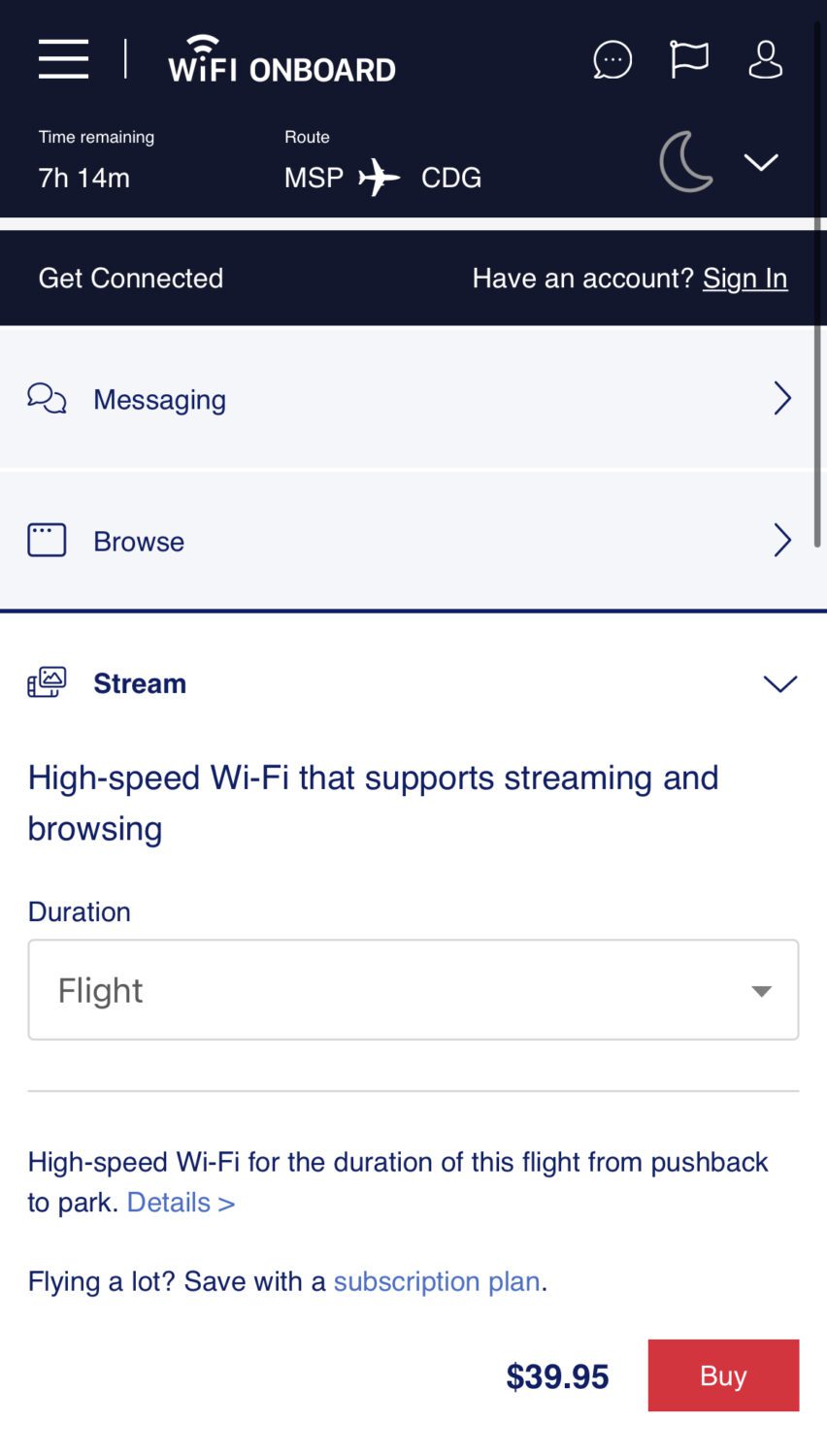 On international journeys, Delta's new free Wi-Fi service for SkyMiles members does not yet apply. The airline is aiming to roll that out by the end of 2024.
Delta Premium Select Amenities
Beyond the extra legroom, flyers in Delta Premium Select get some extra goodies.
When you get to your Premium Select seat, you get a business class-style amenity kit for your journey. While it's not filled with all the bells and whistles of a business class kit, it was still branded "Delta One" on the packaging.
You also get a decent set of Delta headphones, a really comfortable and nice memory foam pillow, and a blanket that wasn't paper thin … but also not exactly substantial, either.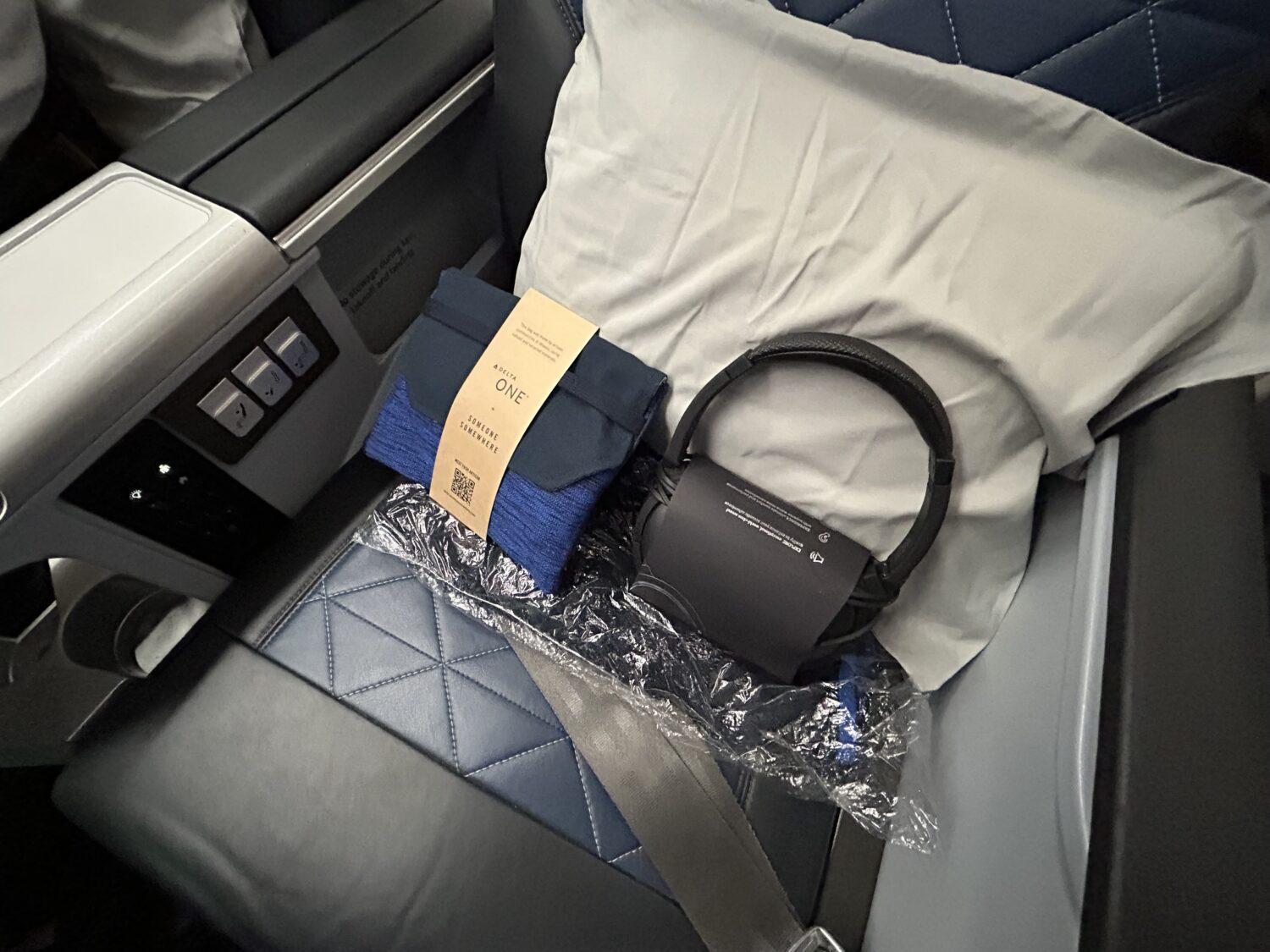 The amenity kits from Someone Somewhere were much better than I expected. They don't have zippers, which was unusual for an amenity kit – just the cloth topper with the shoelace-like string to hold it together.

Inside was a toothbrush, a pen, a sleep mask, some earplugs, and some creams from the Grown Alchemist. It was plenty substantial for a premium economy amenity kit, in my opinion.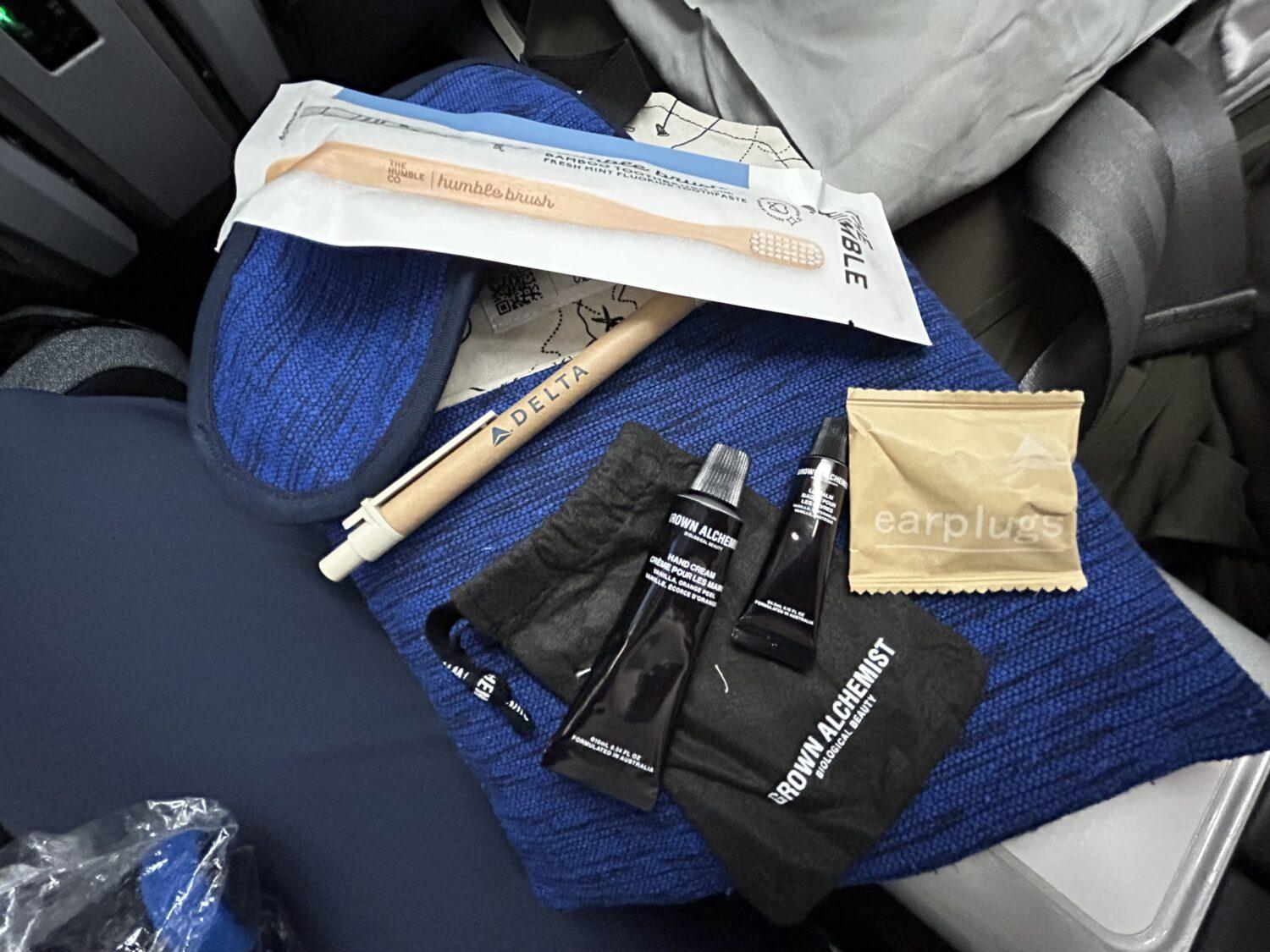 The kits did differ from flight-to-flight, however. For instance, the kit given to us on the flight to Minneapolis from Europe also contained Delta socks.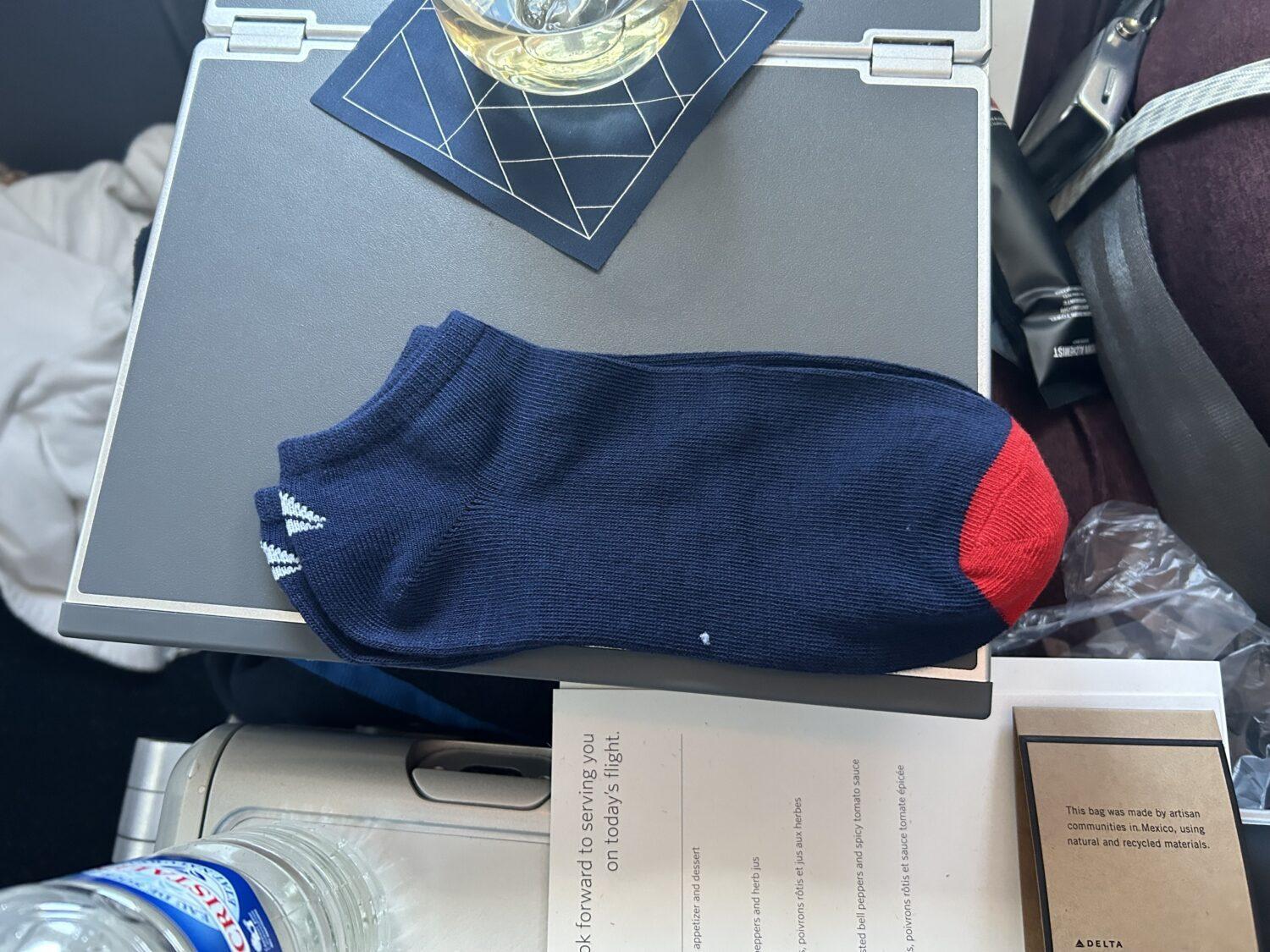 Delta Premium Select Food, Drink & Service
If you're looking for a premium or luxurious dining experience onboard, Delta Premium Select might leave you wanting.
Back when Premium Select first launched, Delta touted some upgraded and coursed meals along with service beyond the typical economy flight. Premium Select catering was cut far back during the worst of the pandemic and, despite the airline's promises, it still hasn't made a full return.
While nothing about the food and service was bad, there was really nothing distinguish itself much from an economy experience.
Before your flight in Premium Select, you'll get the usual email from Delta showing you what's in store on your upcoming flight. There, at number three, you can find a link to your menu.

The menus are specific to each flight. You can see the specific route in the top right corner and the class of service on the banner beneath that. Plus, the menu rotates monthly, so I was given a link to the February menu.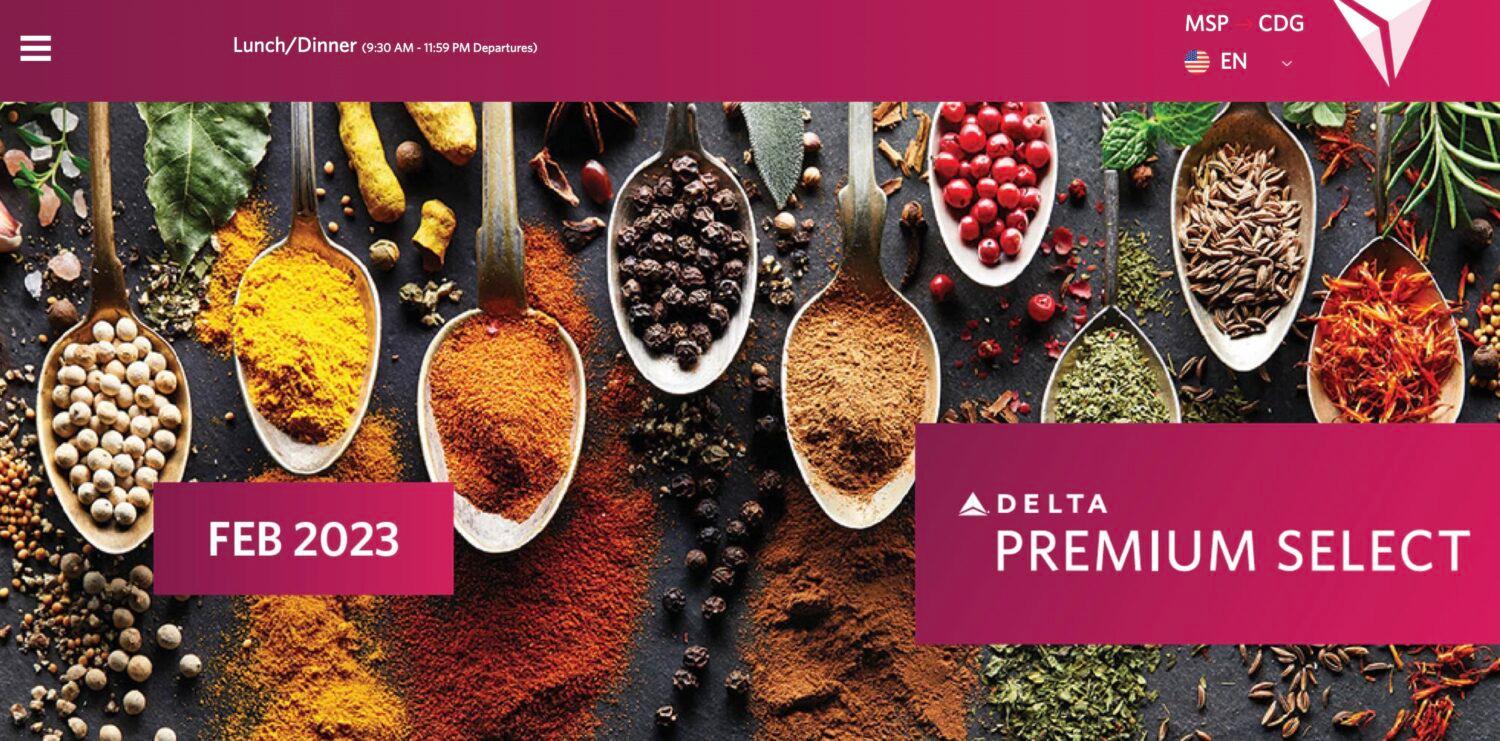 Inside, I saw that I was getting a choice between the roasted chicken thigh and vegetable tagine.


Once onboard, that's exactly what we got.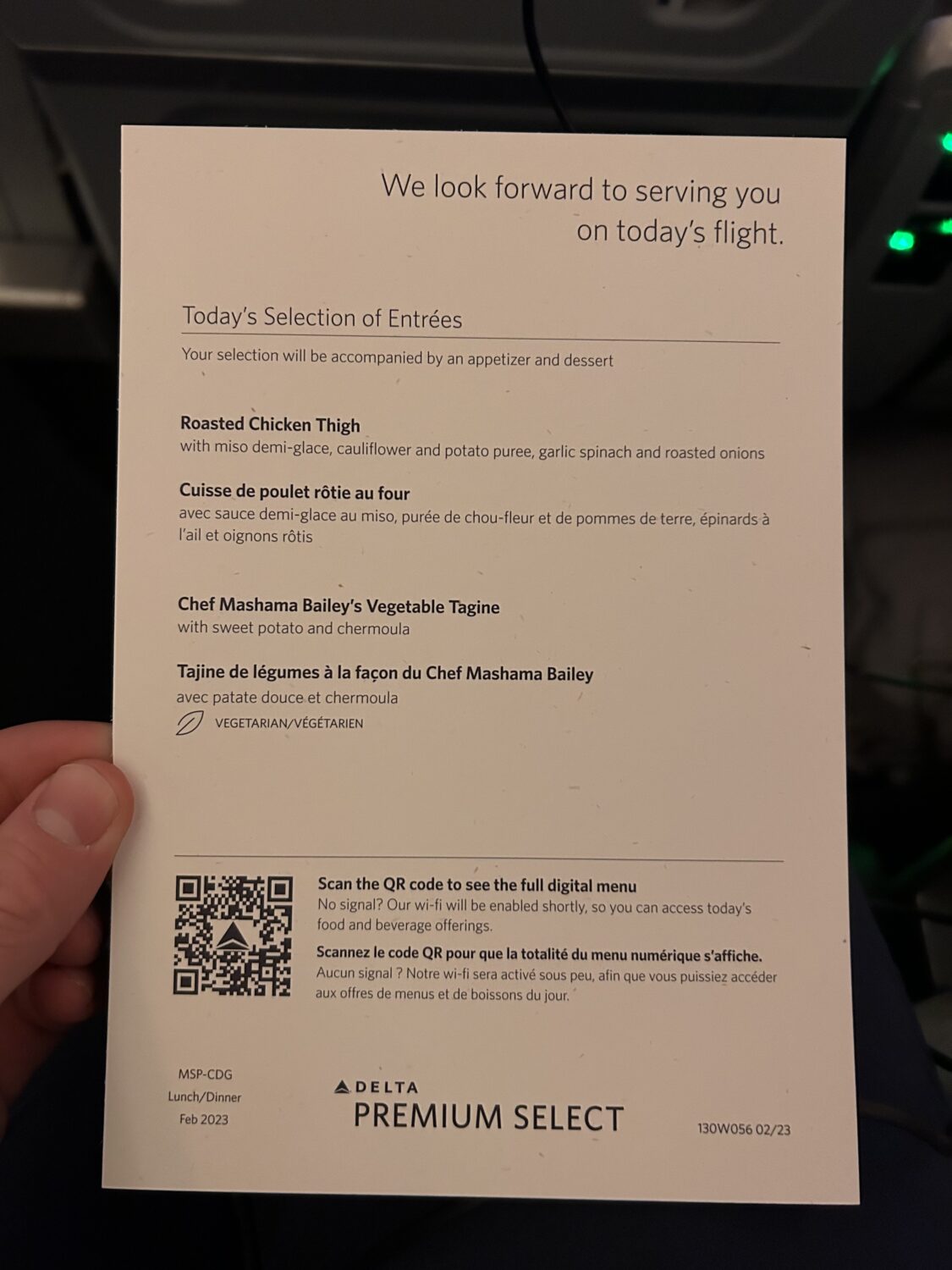 On the return from France to the U.S., we had a very different menu with a choice of guinea fowl and bulgur risotto.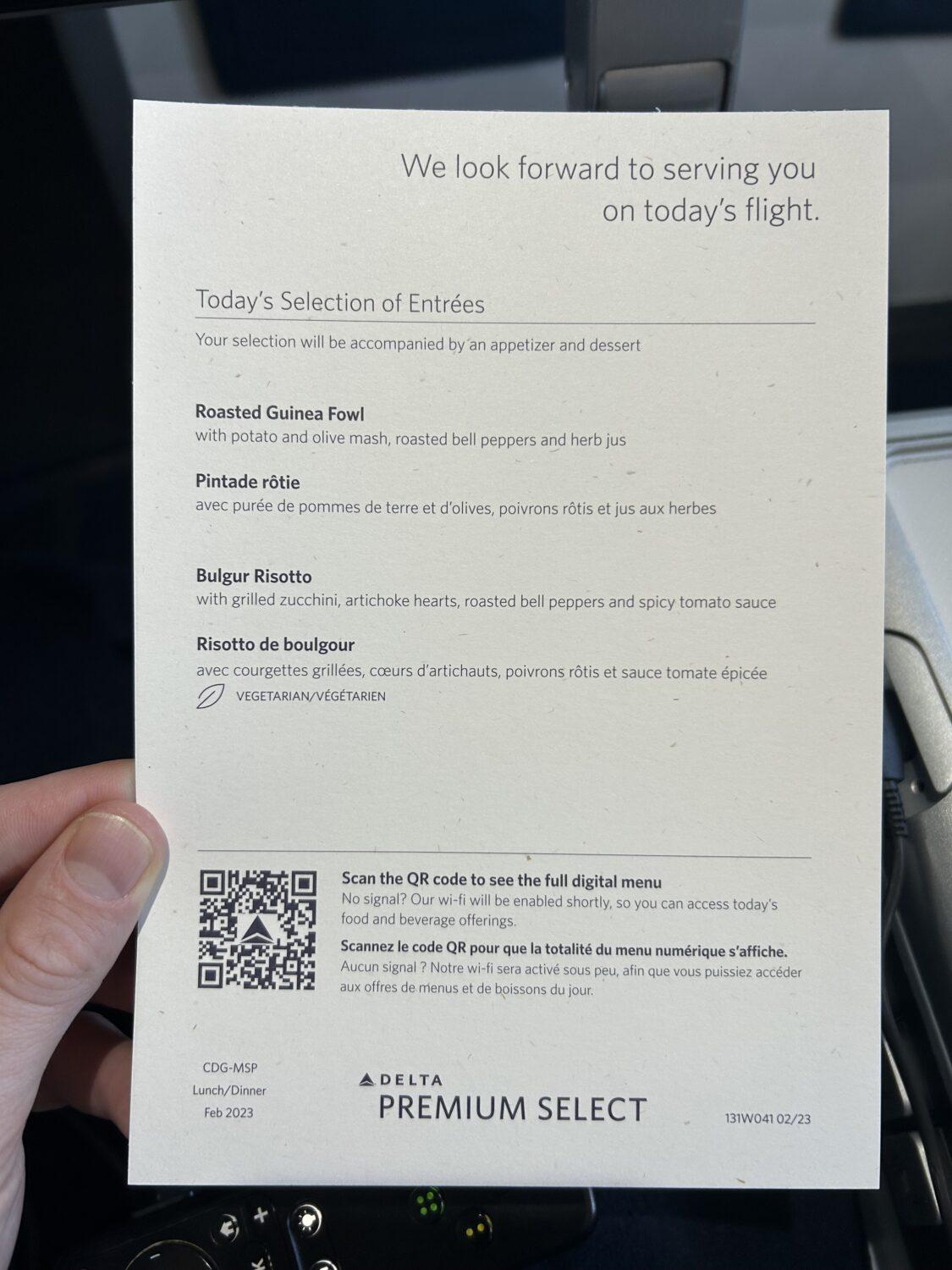 First, however, we started with a drink service. My wife and I opted for some sparkling wine, which was served in plastic cups. Alcoholic beverages are free flying Premium Select … but that's also true back in a standard economy seat when flying long-haul international.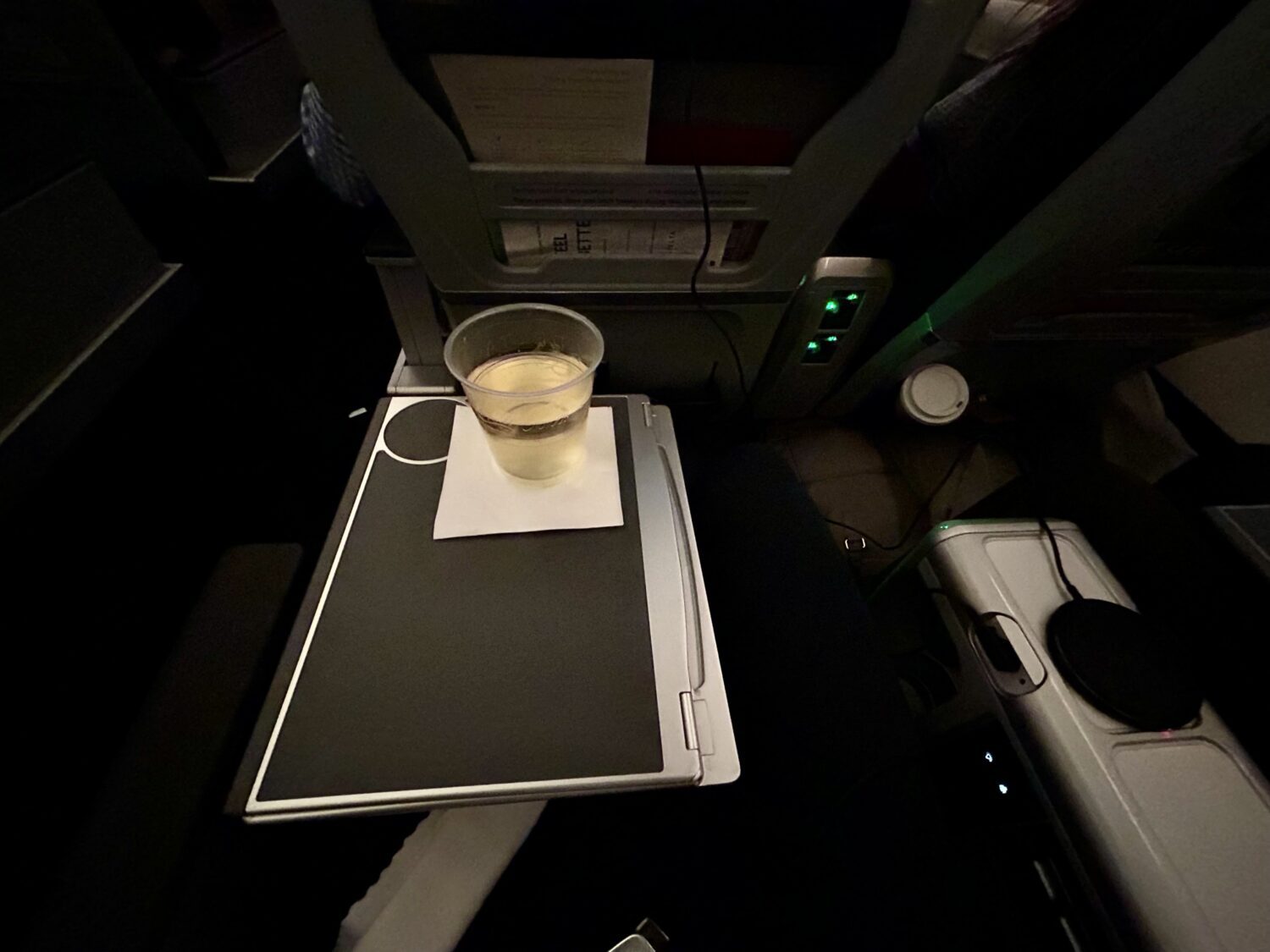 Soon after, the flight attendants came by with table cloths, napkins, and silverware, along with a box of cheese biscuits from Cooper's Gourmet as an appetizer – a really delicious airplane snack.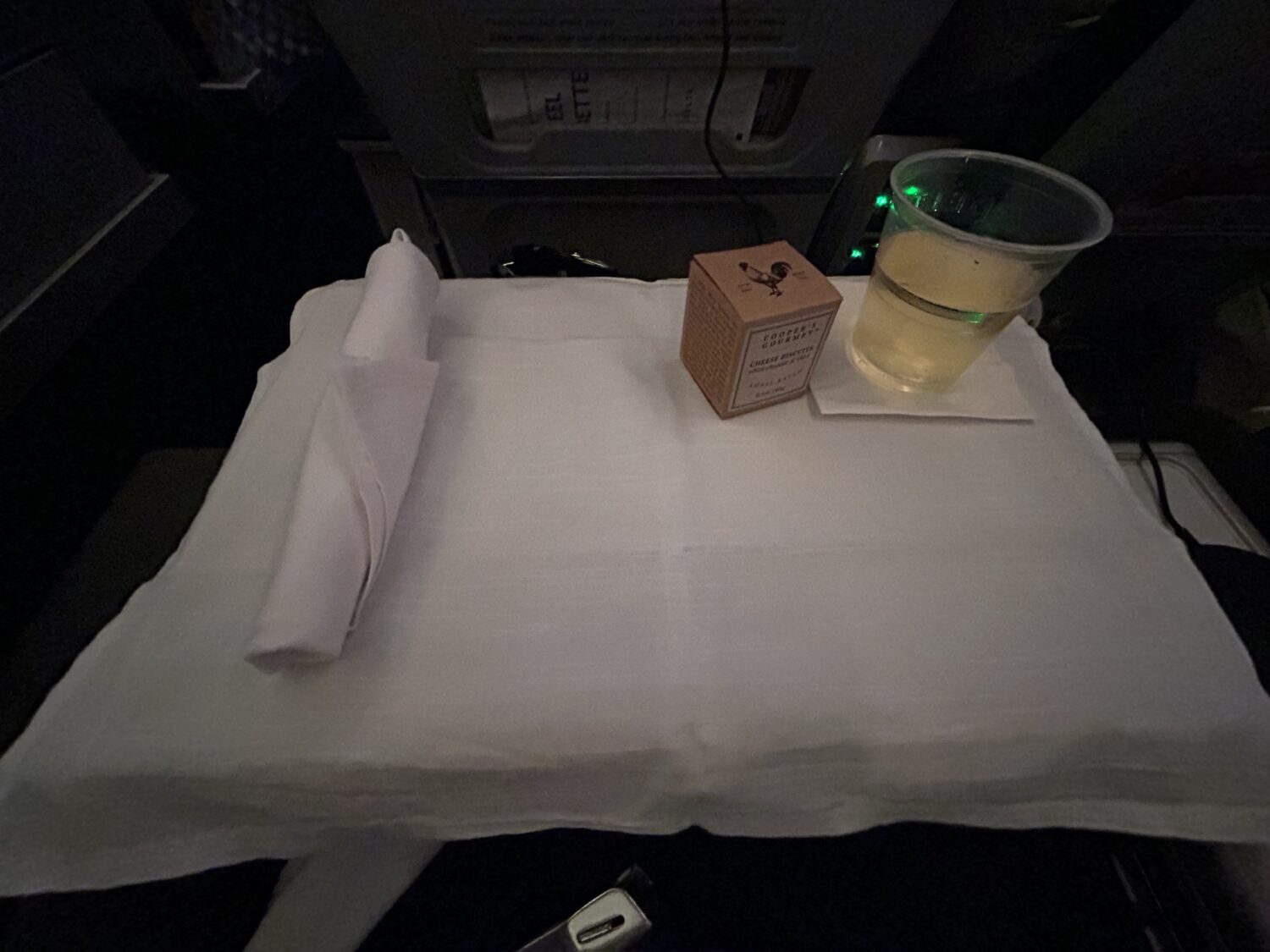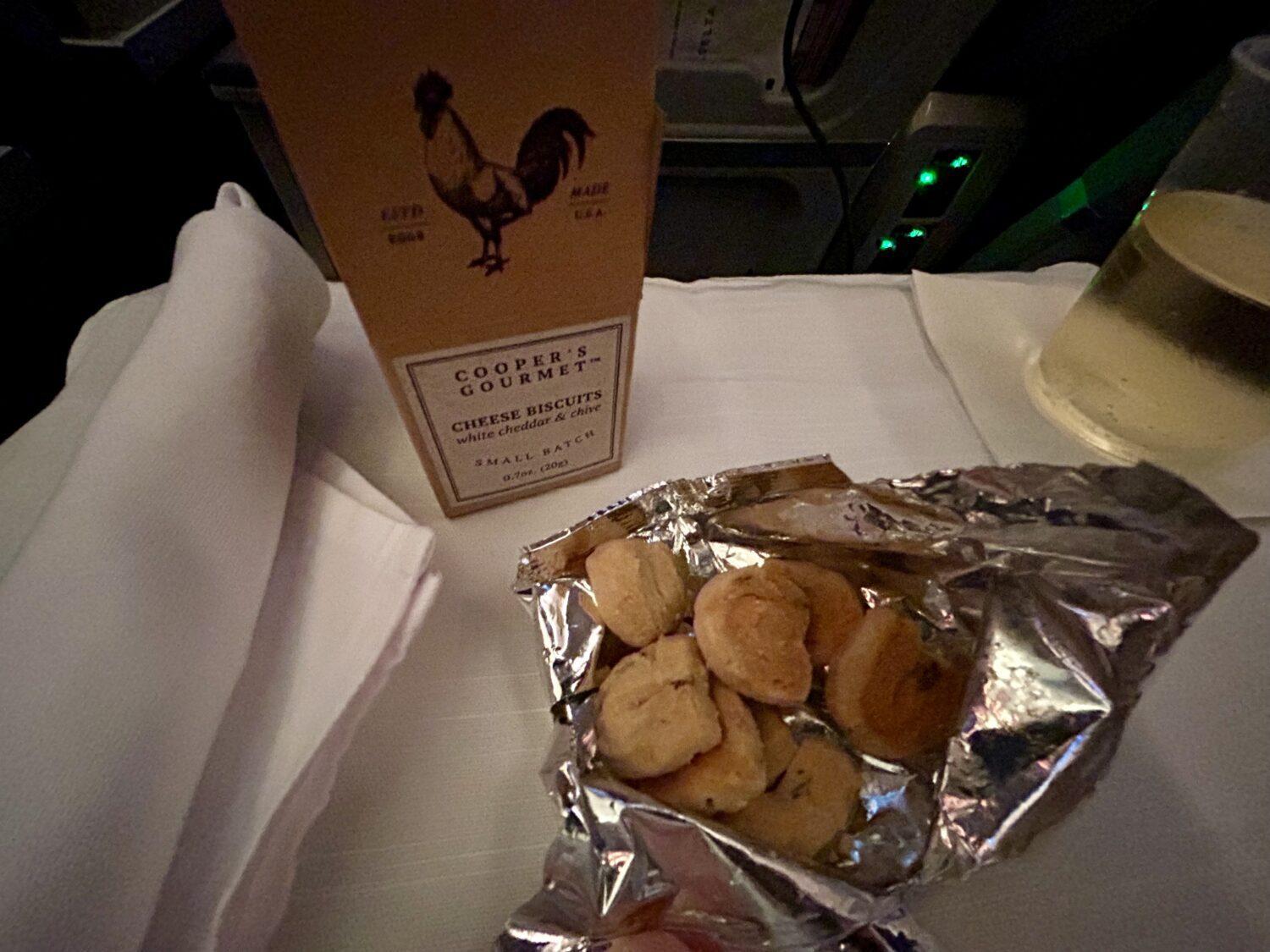 Soon after, we were given our dinner service. While it was dropped off on a nice plate, the plating that was once a hallmark of Premium Select was gone. The meal itself was still wrapped and covered in tin foil, much like in economy.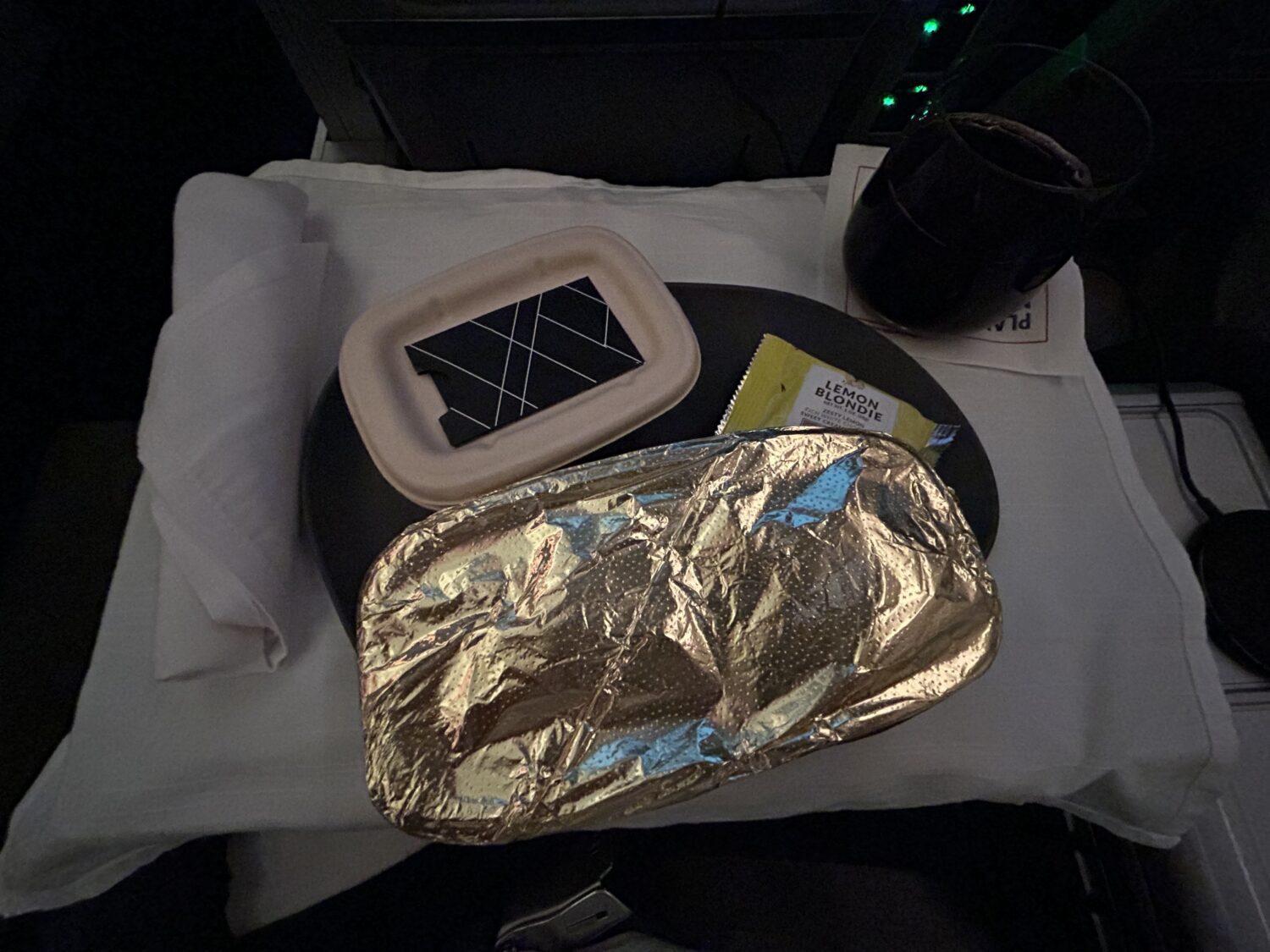 The chicken thigh and mashed potatoes did not look great, though they were actually pretty tasty. The vegetable tangine was not my cup of tea, but my wife enjoyed it.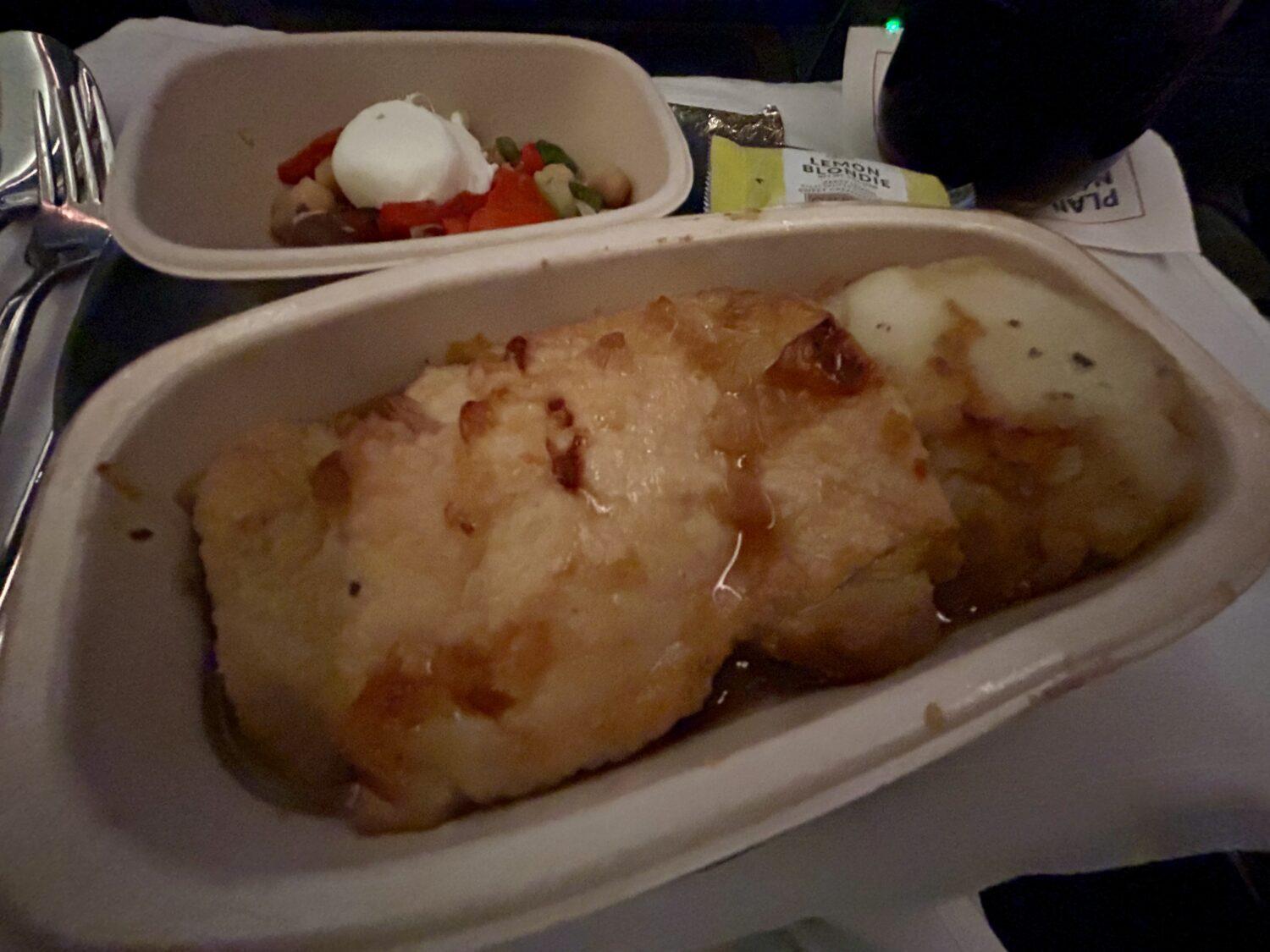 As we neared our destination in the morning, we were given a simple breakfast sandwich and a fruit cup along with a coffee. There were no bells and whistles with tablecloths, and the food itself was almost exactly what you'd get in economy.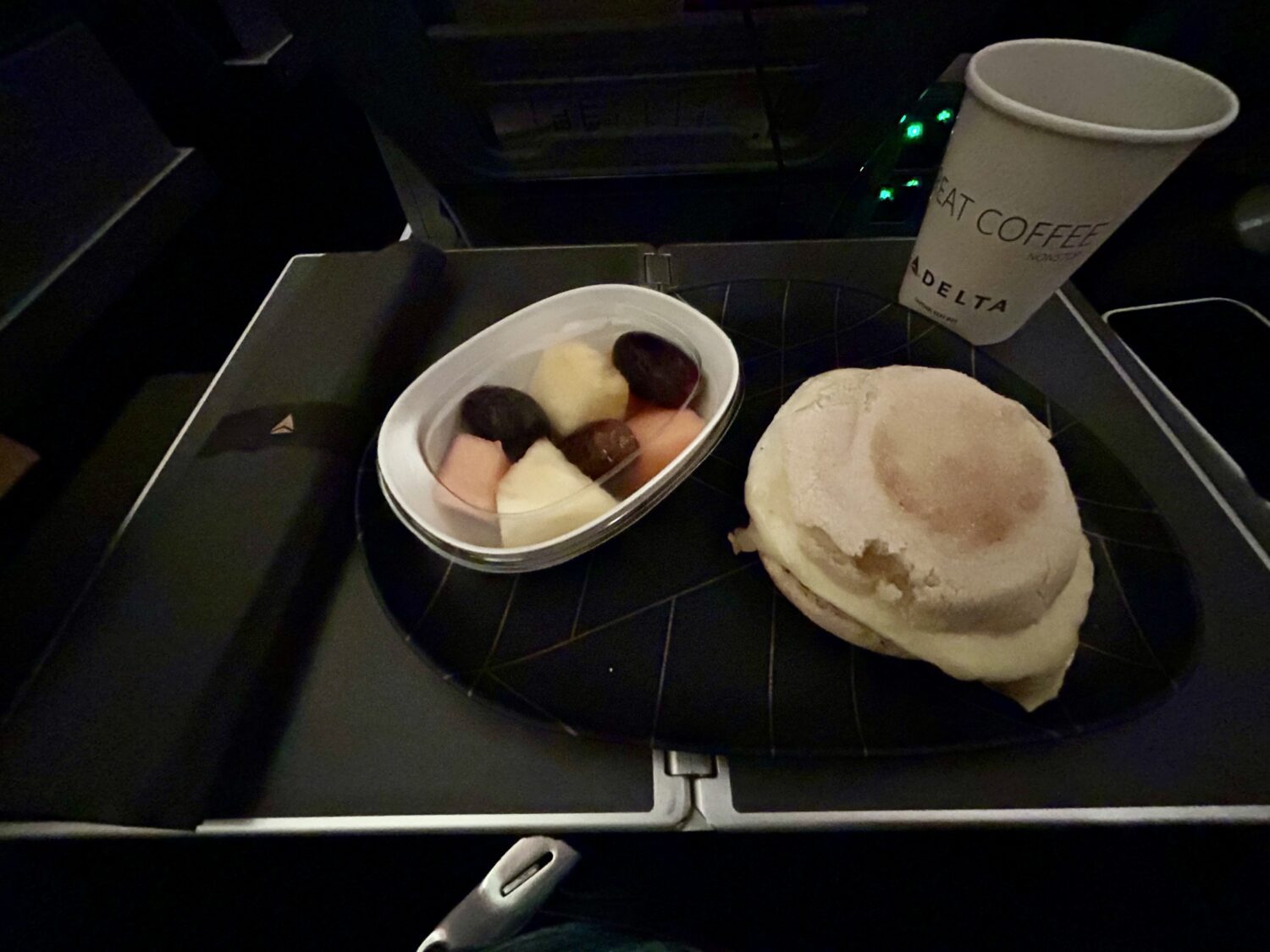 On the return flight to the U.S., the food was just fine – but not great.
This Guinea fowl was … suspect. It didn't taste terrible, but it was certainly not a "premium" meal. The salted caramel ice cream that came with it for dessert, however, was amazing. It didn't take long for me to search for Beckleberry's ice cream after landing.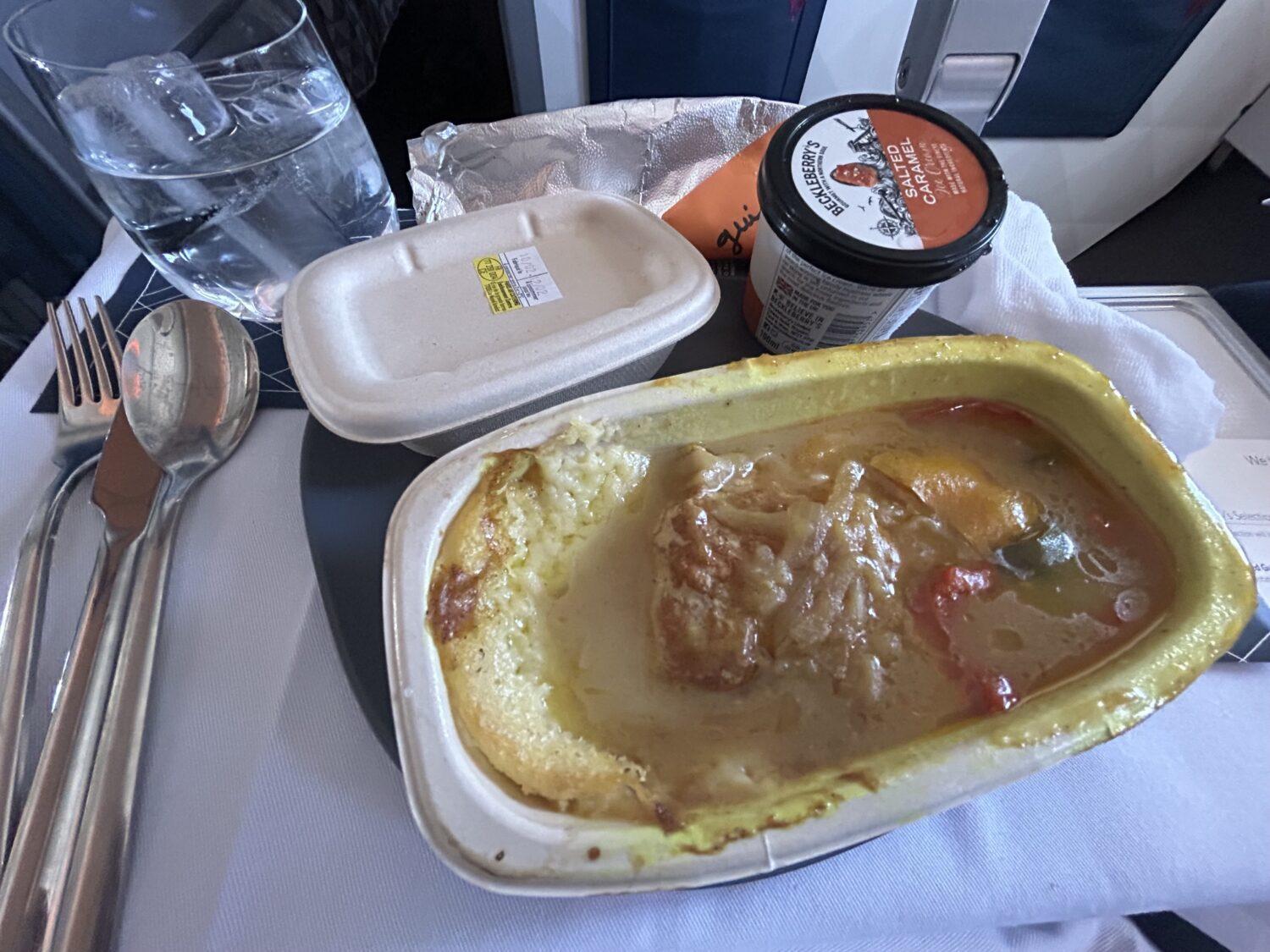 Later in the flight, we were served another snack. This time, it was an Asian chicken spring roll that was very tasty. Maybe too tasty, as I forgot to take a photo before devouring it. The mousse served alongside it was also really good.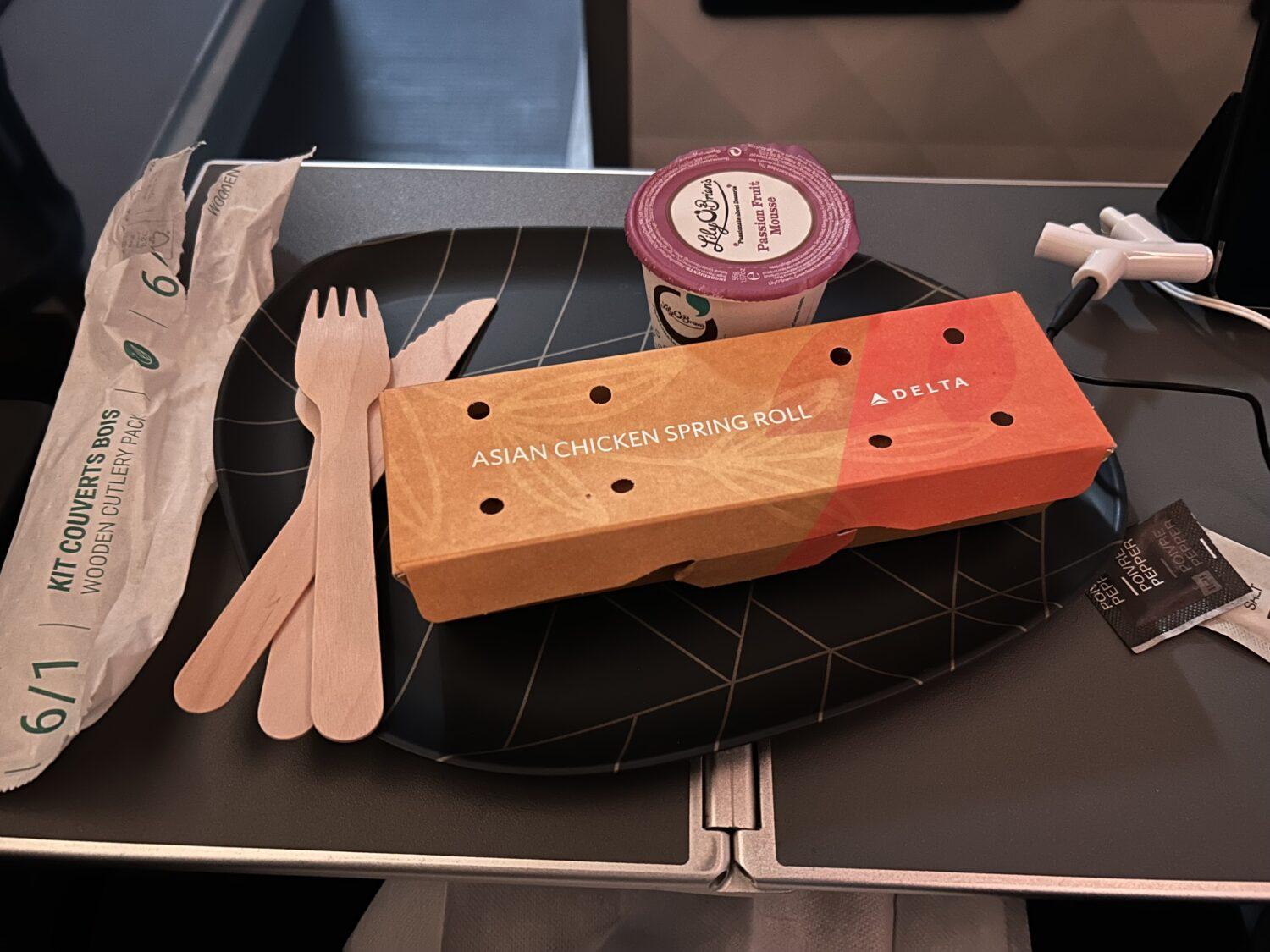 Finally, our service wrapped up with a coffee and a warm cookie before landing. Both really hit the spot.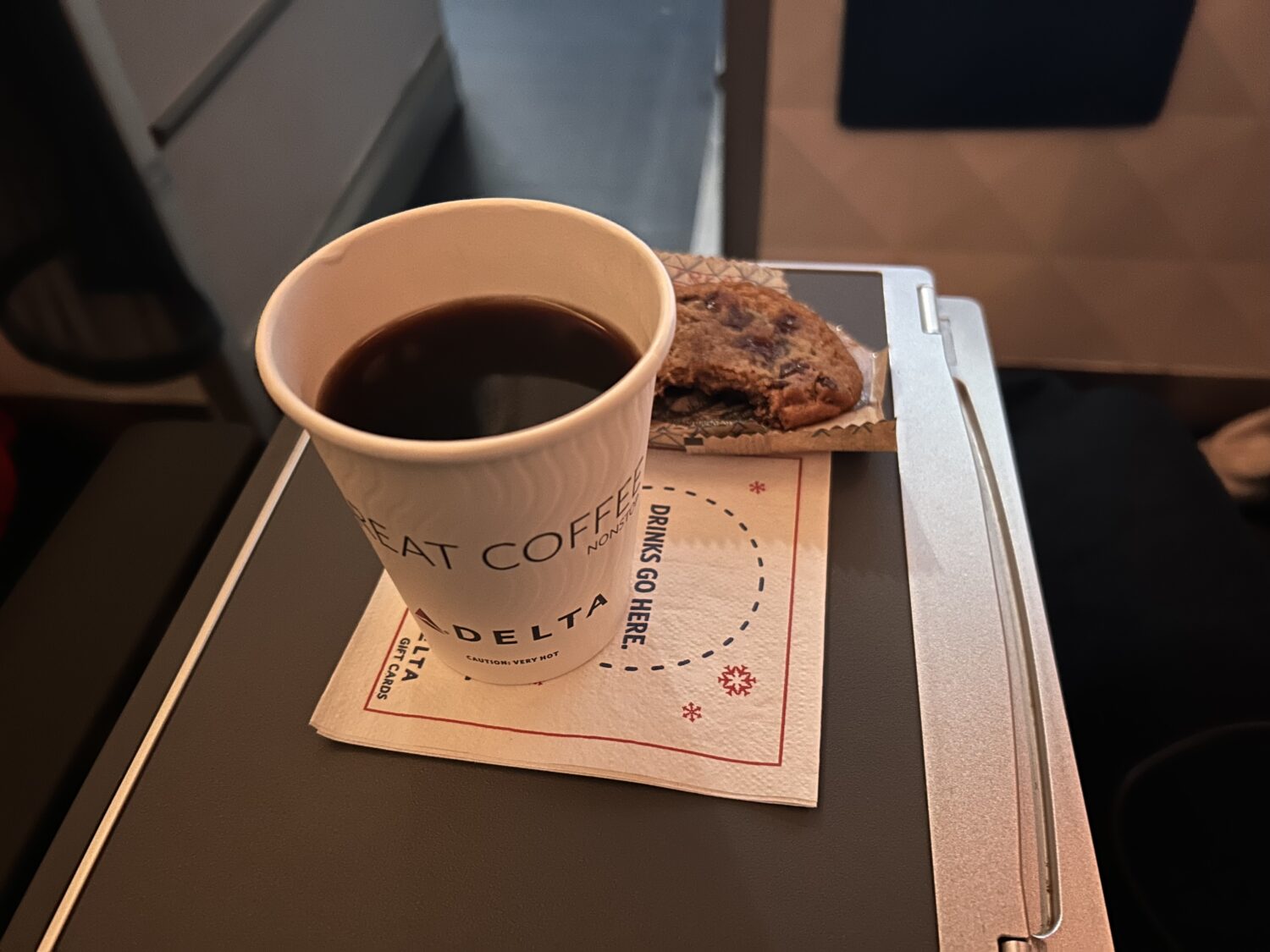 Our flight attendants on both legs of the journey were great and helpful, but you won't get that personalized attention and service that you get in business class when flying Premium Select. Aside from an earlier option of either sparkling wine or sparkling water shortly after takeoff, it was just like economy.
Lesson learned: Until Delta ups its game, don't book a Premium Select seat if you're looking for a high-end dining experience. Book Premium Select for the extra seat comfort onboard.
Bottom Line
There's a lot to love about flying Delta Premium Select, but it doesn't get high marks for everything.
Most importantly, the seats are a significant upgrade from economy: wider, more legroom, better padding, and more recline to help you sleep. Extra amenities and Sky Priority benefits sweeten the deal, especially if you need to make a connection.
The food and in-flight service, however, still have a ways to go before you could call them "premium." For now, it's not much different than what you get back in economy.