Nearly two years after Chase unveiled its plans to open its own airport lounges, the credit card company is ready to open the first location in the U.S. And trust us, travelers are in for a treat.
The Chase Sapphire Lounge in Boston (BOS) officially opens next Tuesday, May 16, giving U.S.-based travelers and Chase cardholders a chance to finally scope out Chase's lounge game after years of anticipation as other banks built out their lounge networks. Could Chase possibly live up to the standards set by the likes of Amex Centurion Lounges – or even better, the new Capital One Lounge in Dallas-Fort Worth (DFW)?
After getting a sneak peek ahead of next week's grand opening, we can confidently say it holds its own … and then some.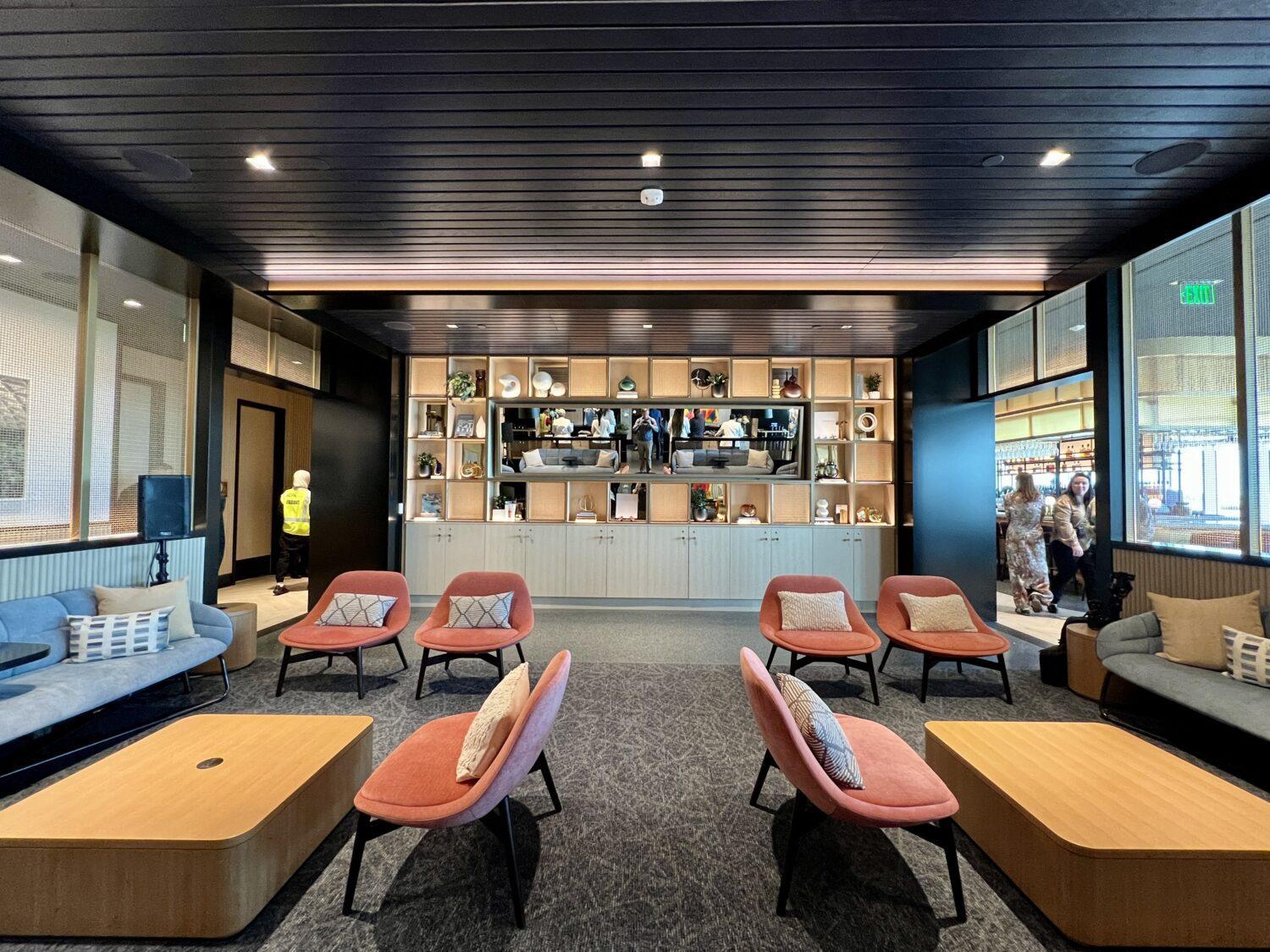 Chase's new Boston lounge is beautifully designed, packs in plenty of seating alongside some excellent amenities, and offers travelers good food and great drinks to boot. Chase has eight more U.S. locations in the pipeline, so more are on the way.
These lounges will no doubt be busy: Chase cards have been a mainstay in travelers' wallets for more than a decade, after all. But the bank has made some surprising decisions about which cards will get travelers into their lounges for free in hopes of avoiding the frustrating lines regularly forming outside of American Express lounges and Delta Sky Clubs.
Keep reading for an early look inside Chase's first lounge in the U.S. before it opens next week and how you can get in.

Getting into The Chase Sapphire Lounge
Once the Chase Sapphire Lounge in Boston opens its doors to the public on May 16, it'll be open from 5 a.m. to 10 p.m. daily.
You'll find it located between gates B39 and B40 in the Boston airport's relatively new B-to-C connector. The entrance is unmistakable.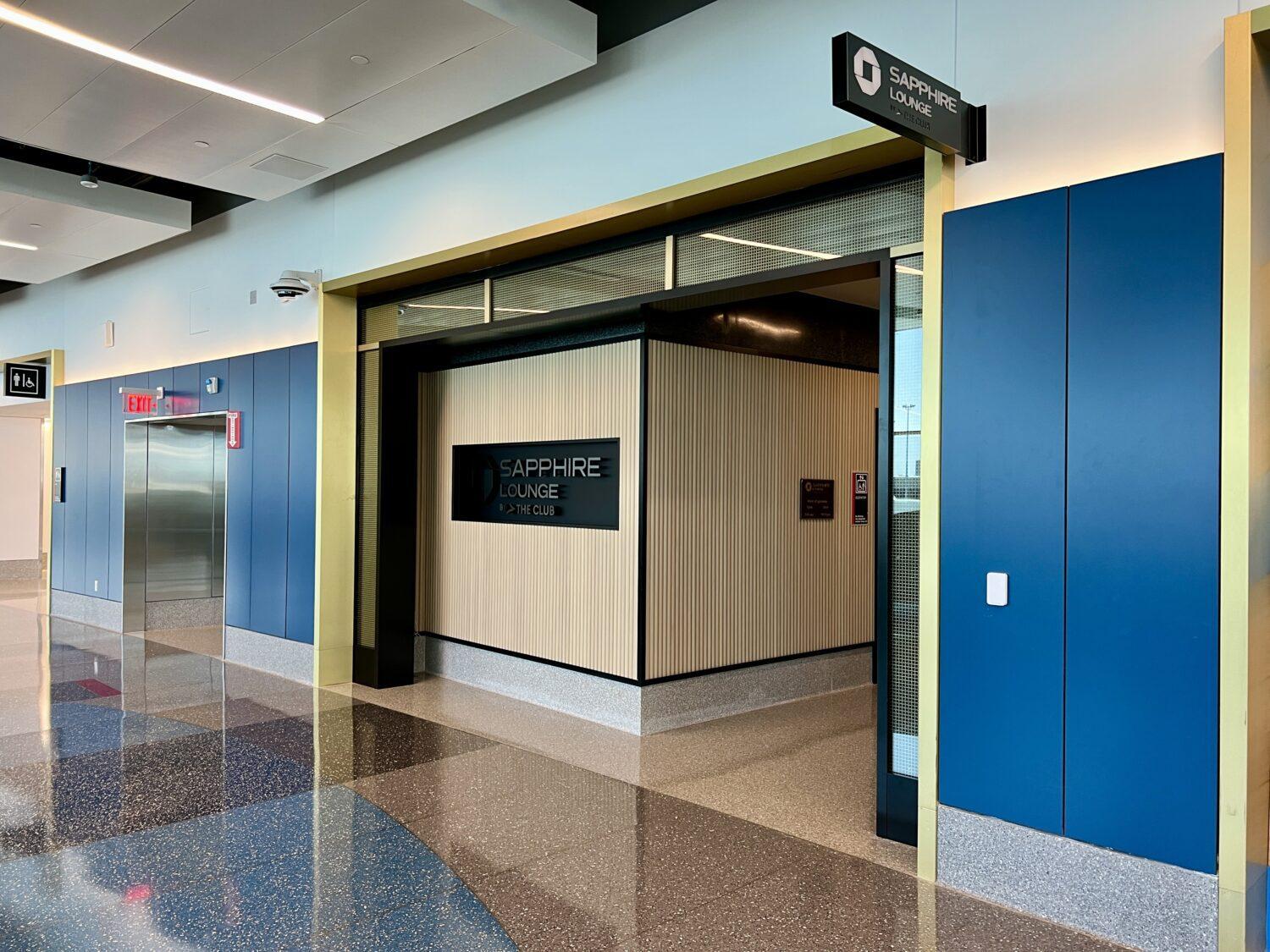 Its location will make it easy for JetBlue flyers to pop in as well as United, American, and a slew of major international airlines – at least so long as you're up for a bit of walk. But for loyal Delta flyers, it'll be a pain: It'd be at least a 20-ish minute walk from Terminal A where Delta flies in and out of, requiring you to re-clear security multiple times. With an excellent and recently expanded Delta Sky Club in Boston close by, that may not be worth the effort.
But finding the lounge is only part of the equation – getting in is another question. Chase has kept travelers guessing on access policies ever since announcing its vision for Sapphire Lounges.
Surely top-tier Chase Sapphire Reserve® cardholders could get in free, but what about travelers with the Chase Sapphire Preferred® Card? Or would it be a free-for-all for absolutely anyone with a Priority Pass lounge membership – whether it's from Chase, American Express, or Capital One cards – as has been the case over at Chase's first-ever Sapphire Lounge in Hong Kong (HKG) since it opened last fall?
Good news or bad, the Chase Sapphire Lounge in Boston and others throughout the U.S. will be fairly restrictive: Only Chase Sapphire Reserve® cardholders will get free entry every visit to a Chase lounge, along with up to two free guests each and every visit. Beyond that, getting in gets much tougher.
Travelers with a Priority Pass Select membership from other cards like The Platinum Card® from American Express or the Capital One Venture X Rewards Credit Card will get one free pass into a Chase Sapphire Lounge each calendar year – and not at each Chase location, but one total across the entire network

After that one-time entry, travelers with Priority Pass can purchase day passes for $75
Priority Pass members won't get free guests – they'll have to pay full price

Got a Chase Sapphire Preferred® Card? You're out of luck: You'll have to pay the full $100 for a day pass to get into this new Boston lounge
Day passes to the Chase Sapphire Lounge in Boston will be available to any traveler for a steep of fee $100 per person – though that figure may vary as future locations open
Read more on Chase Sapphire Lounge access policies!
When the lounge gets busy, Chase may even turn away Priority Pass members and travelers hoping to buy a day pass.
"Making sure that Chase Sapphire Reserve customers have a priority entrance was key to the strategy," Dana Pouwels, Chase's Sapphire Lounge General Manager and head of Chase partnerships, explained in an interview. "They will always have access to the lounge."
There are other restrictions to limit crowds inside the lounge, too. As is common at many lounges throughout the U.S., you can only get in before flying out of Boston – not upon arrival. There's also a three-hour entry limit before departure. Fortunately, the company will relax both restrictions for travelers making connections in Boston and other future locations.
If you make the cut, head down the hallway, hop in the elevators, and make your way up to the Chase Sapphire Lounge in Boston on the fourth floor.

Read more: Everything You Need to Know About Chase Sapphire Lounges
A Look Around the Chase Sapphire Lounge in Boston
Despite sharing a name with "The Club" lounges that dominate Priority Pass in the states, the Chase Sapphire Lounge in Boston is not your standard, lackluster U.S. airport lounge – not even close. And that's clear from the moment the elevator doors swing open to the check-in desks and welcome area.

Right off the bat, Chase hits you with sharp and tasteful design that carries through every corner you turn. There are soft, wood grains, bold splashes of black color, and gold accents throughout. And it's not just looks: Every inch, from floor to ceiling, is clearly high quality.
It's striking yet simultaneously inviting, punctuated by art on the walls from local Boston artists as well as a special few pieces from the incredibly rare (and incredibly valuable) J.P. Morgan Chase Art Collection.
The entire lounge measures in at just over 11,600 square feet – not massive by any means, but by no means tiny. And the layout of the Boston Chase lounge makes it feel even bigger.
It's laid out in a large and long O shape, with the elevators spitting you right out into the center of the action. You'll find restrooms and most amenities on the left side as you enter, with corridors guiding you all around. At the back and curving clockwise through the space, you'll find much of the seating, not one but two bars, dining spaces, and the food itself.
The entryway opens up into something you could easily mistake for a chic yet cozy living room, with lots of seating and artwork. The pastel-colored furniture gives it both a pop of color and some inviting warmth.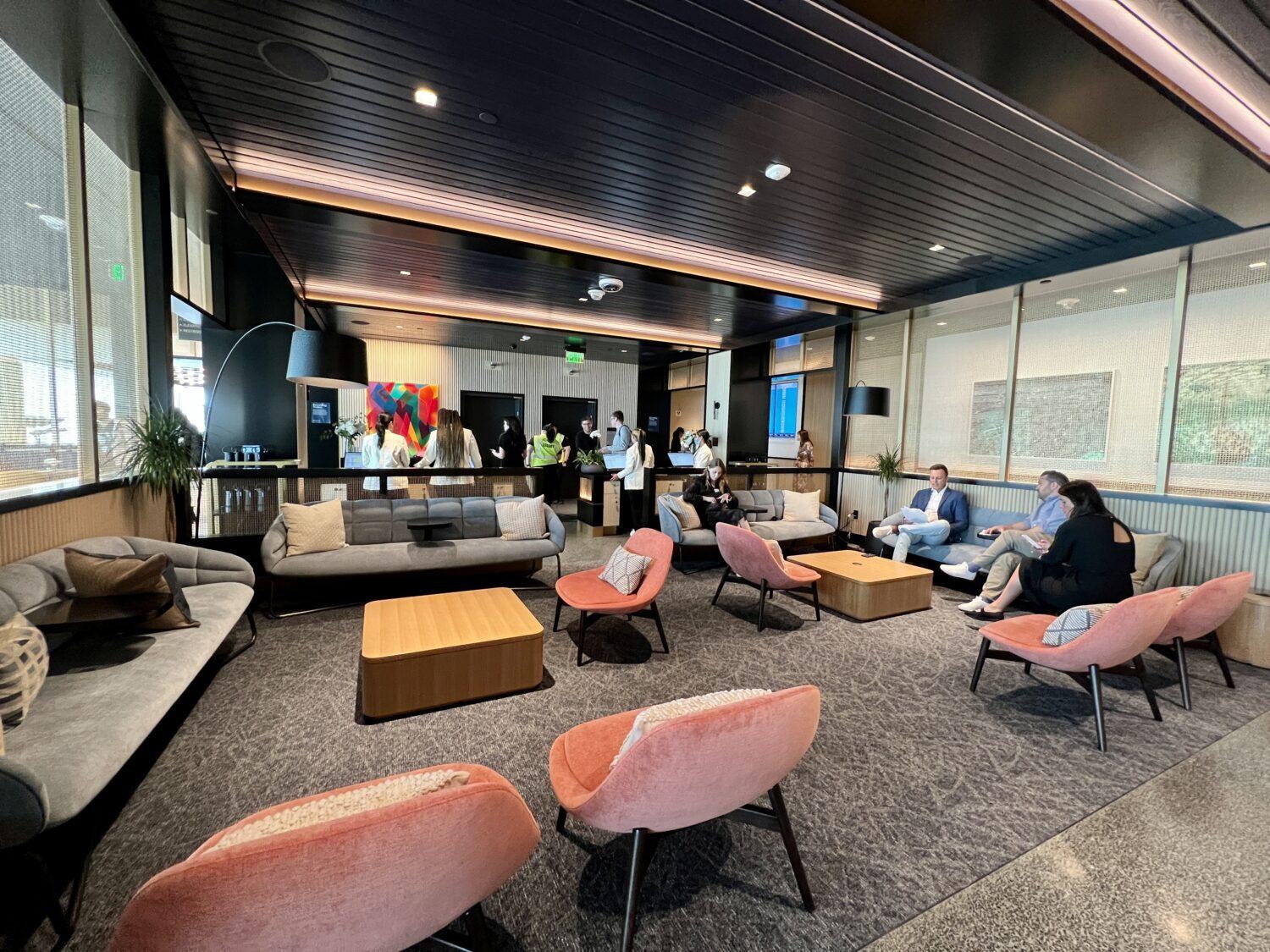 Down the corridor to the left, you'll find the lounge's wing dedicated to several amenities. Don't worry, we'll come back to those later.
The back of the lounge opens up into one of several dedicated seating areas, with an assortment of loungers and private armchairs as well as one of two dedicated beverage stations. The overhead lighting feature is just another example of the artistic yet functional flair you'll find throughout the lounge.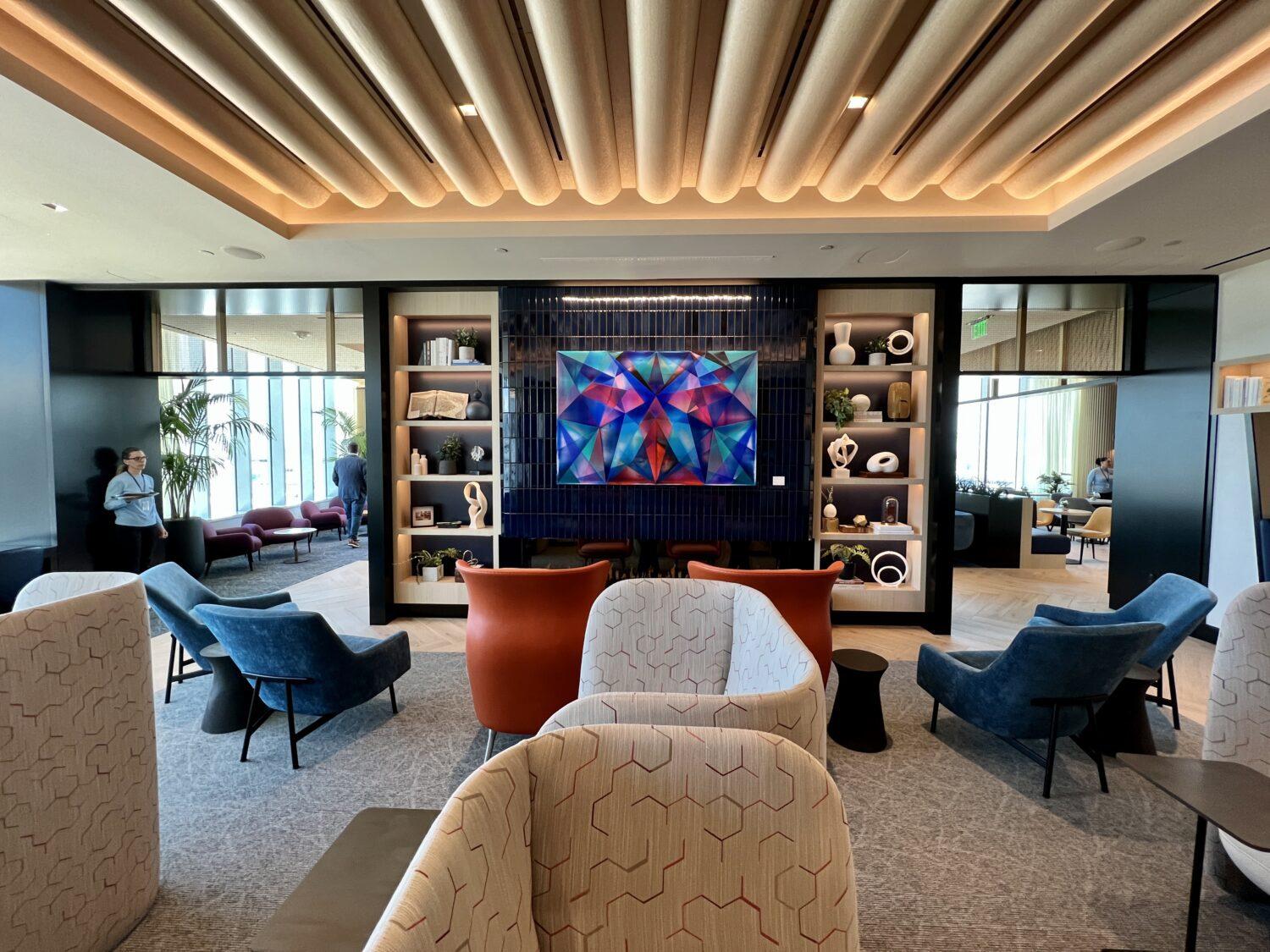 There are also a pair of benches and tables tucked inside of cubbies back in this room – a perfect spot for groups or families to set up.

Speaking of families, there's also a small, dedicated family room in this area with seating, toys, and tons of sunlight.

Continuing onward into the lounge's other main corridor, you'll find – you guessed it – another dedicated seating area, including a long, curving couch; more armchairs and tables; and some pastel poufs which could easily double as a chair or an ottoman.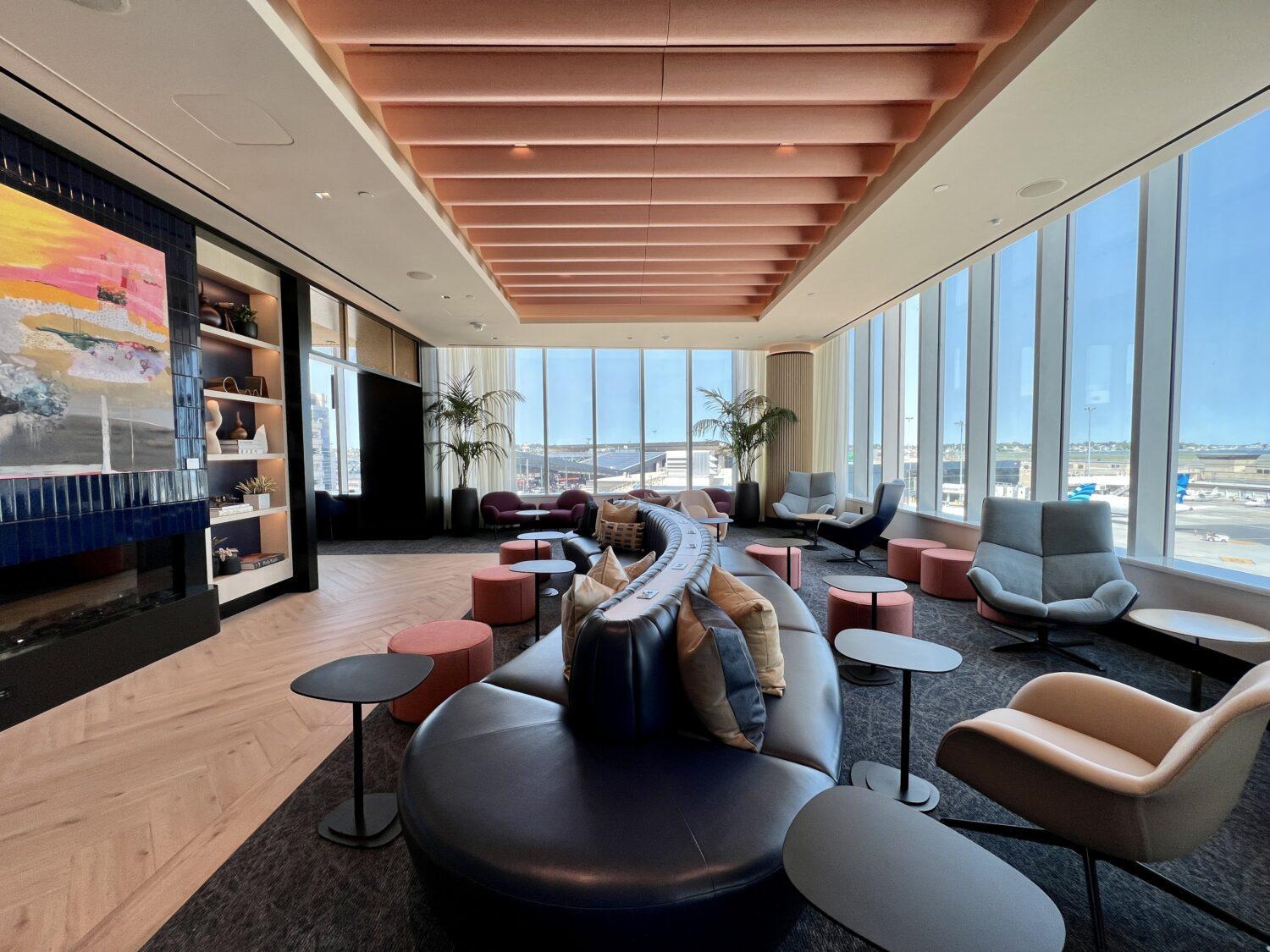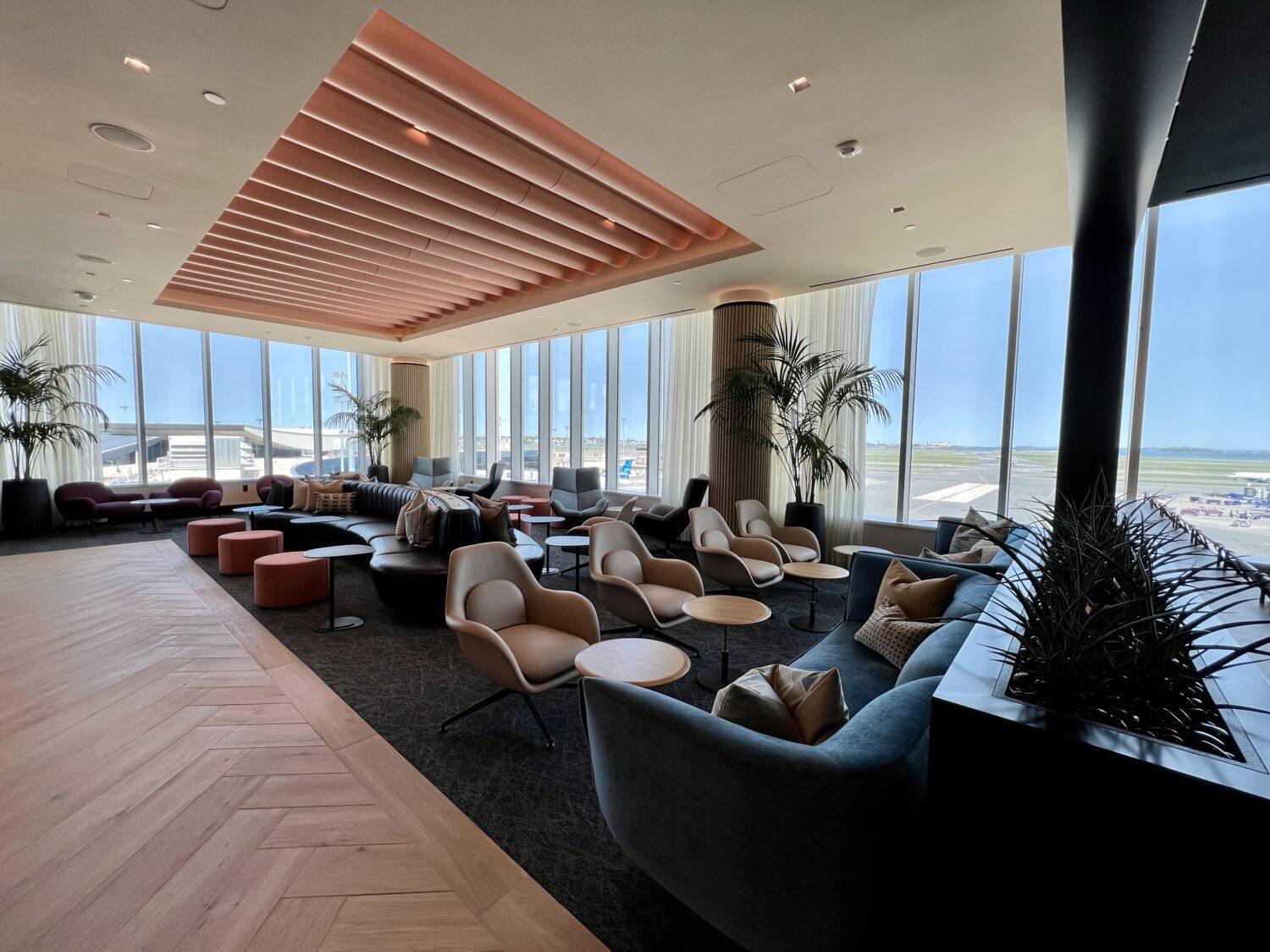 From this area to almost any seat in the house, you won't have to work hard to find a spot to charge – outlets are everywhere. And that includes universal power sockets, standard USB ports, and even blazing-fast USB-C outlets.
But art is never far away, either. The installation in this area complete with shelving and a gas fireplace is just another homey touch.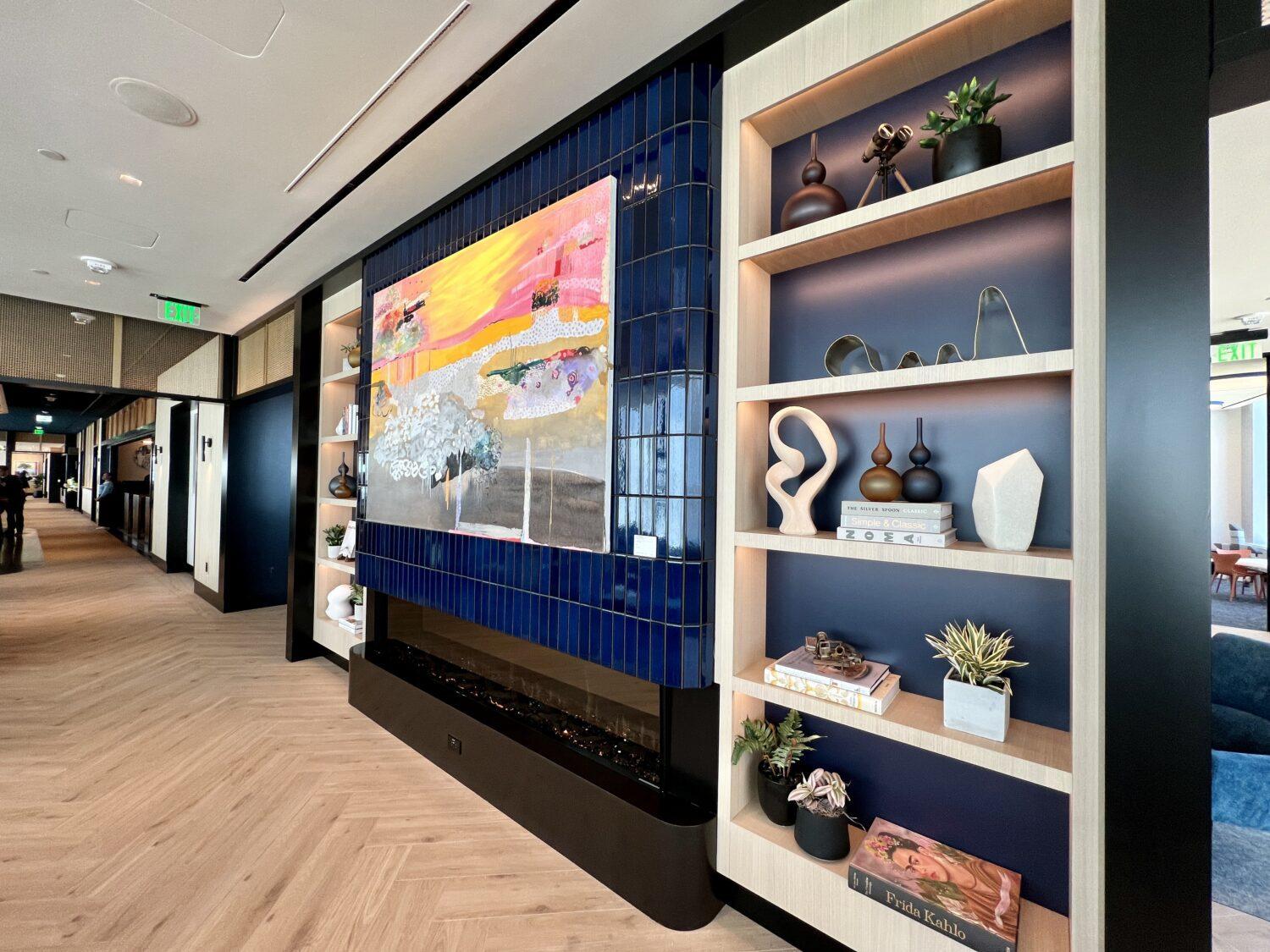 Even the departure boards scattered throughout the lounge feel like an art installation.

The space continues down this corridor into the section of the lounge devoted to eating and drinking, with plenty of cafe-style seating. The gold dividers help break up the space without walling things off – a smart and classy touch.

A lounge isn't complete without a beautiful bar, and Chase delivers with not just one signature bar but two. There's a drop-dead-gorgeous marquee bar where you can get anything from cocktails to wine to beer. But there's also a separate bar nearby that Chase calls its Taproom, a cozy space that screams "Boston" thanks to its design, artwork, and local brews on tap.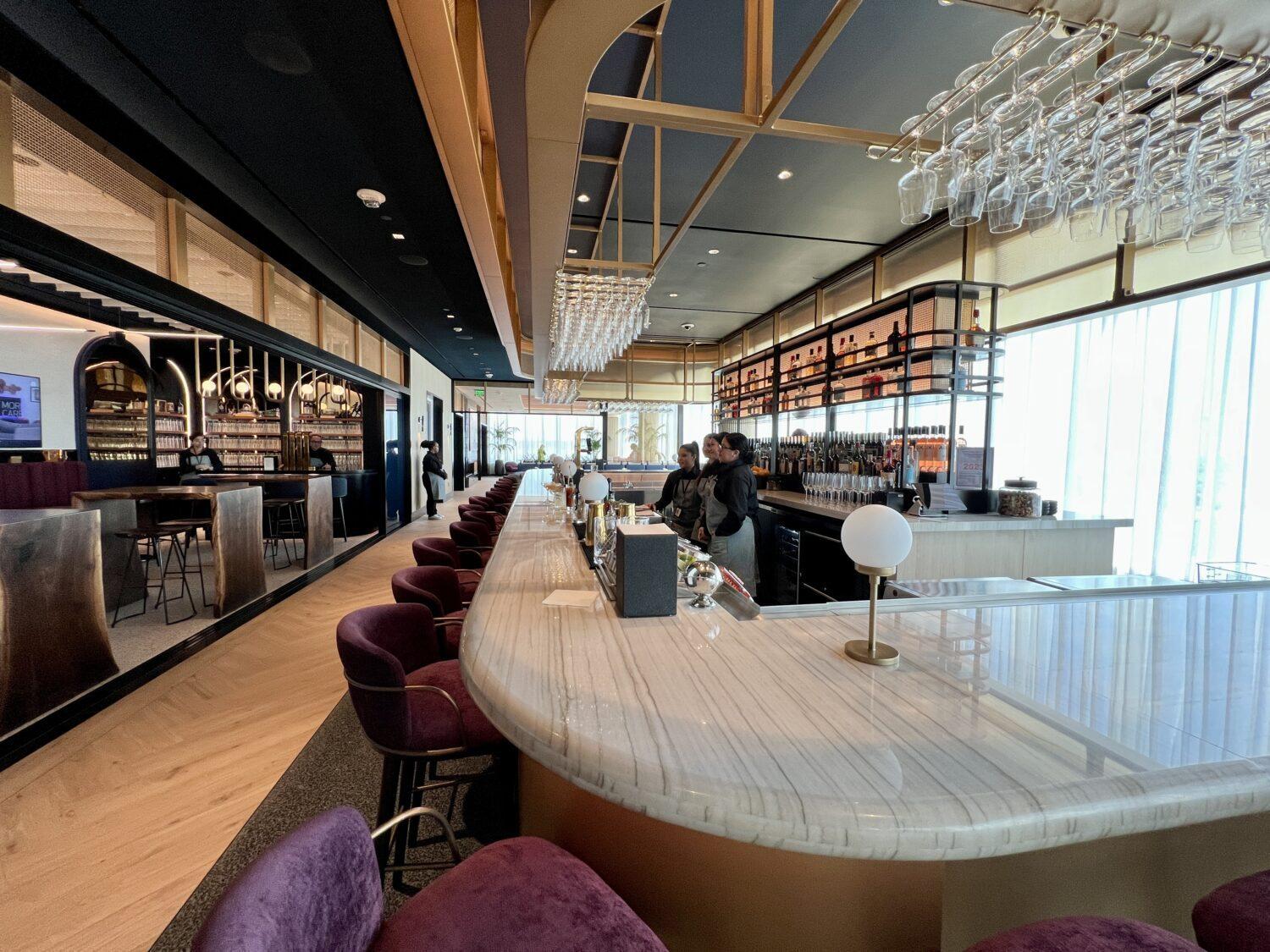 Even saddled up at the bar you'll be able to stay plugged in, thanks to outlets and purse hooks at every space.

Beyond that, there's – surprise – even more seating to enjoy a bite or drink. Soft white curtains block some of the bright sun without sacrificing daylight, though lounge staff can easily pull them back for a full view of planes coming and going.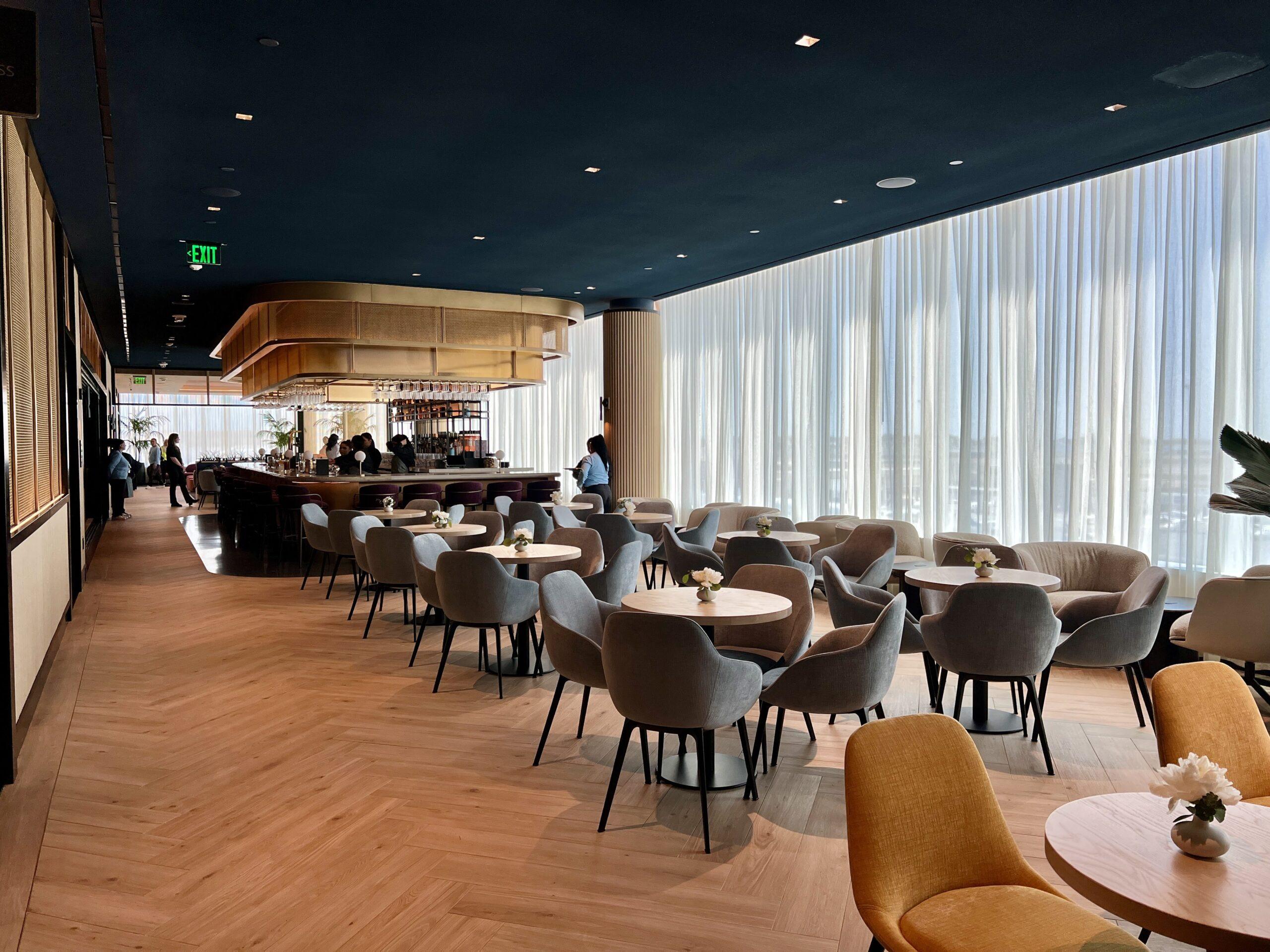 There are plenty more seats and tables in what you might call the dedicated dining room, in the back corner of the lounge. Plus, check out that overhead lighting!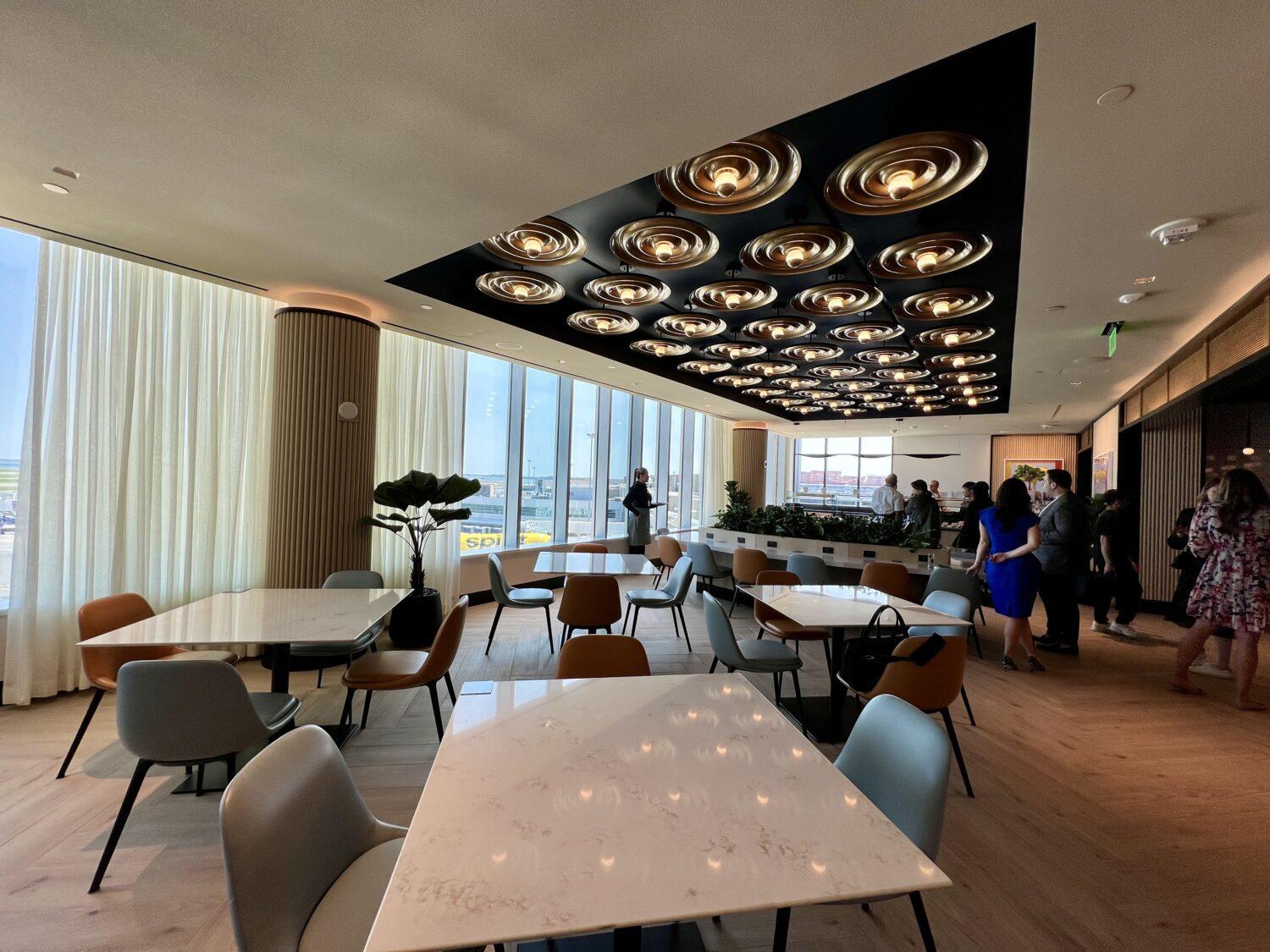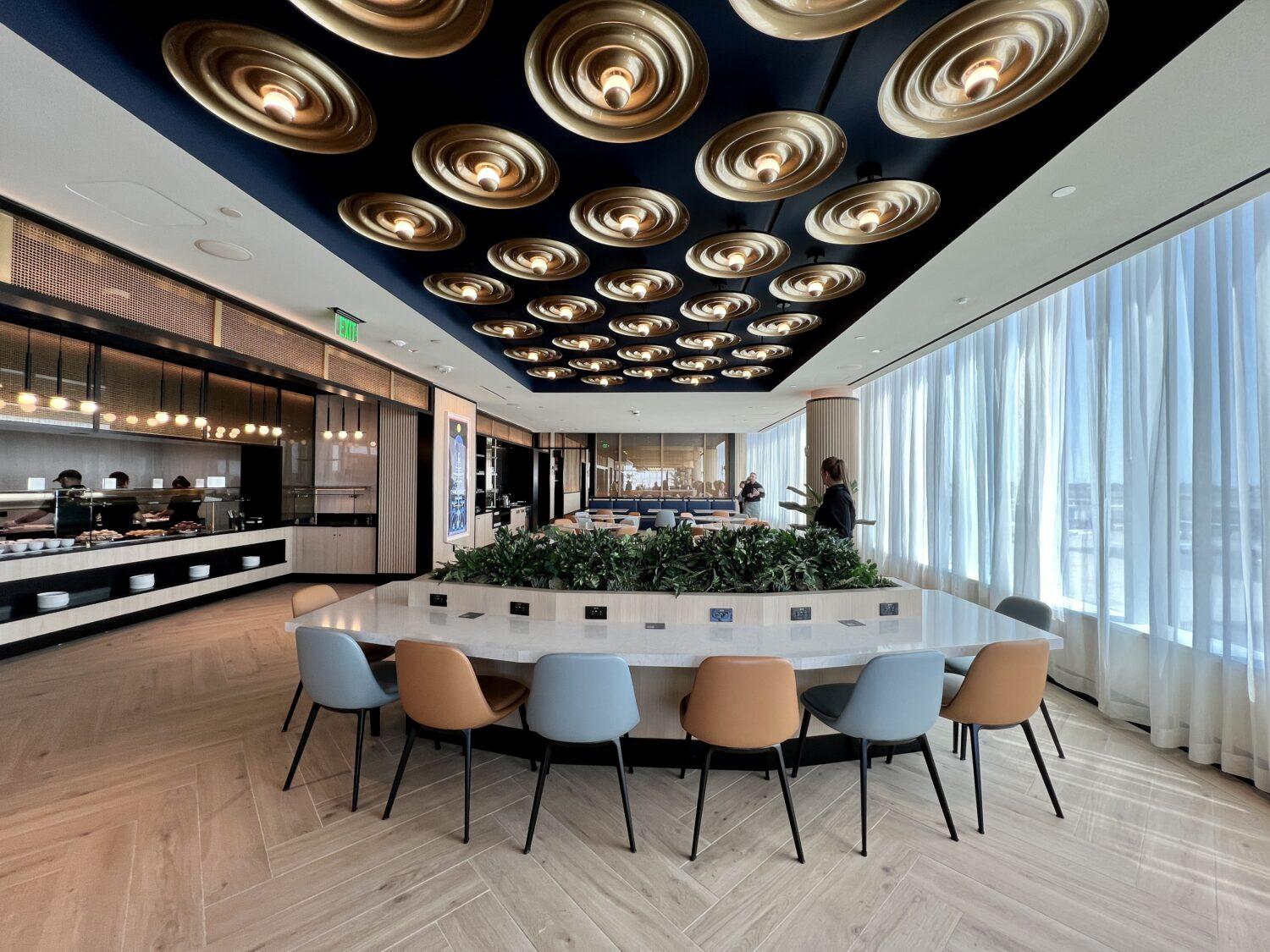 Back toward the center of the lounge and off to one side is where you'll find the restrooms: one for men, one for women, and one all-gender bathroom. The bathrooms feel like art too, thanks to deep, dark aquamarine tiles, gold accent lighting, and jet-black doors.

Chase stocks Apotheke toiletries in the bathrooms, which are quite nice.

Food & Drinks inside the Boston Sapphire Lounge
Come to the Chase Sapphire Lounge in Boston with an appetite – and get ready for something you haven't seen in many airport lounges before.
In addition to the usual spread of dishes, snacks, treats, and soups you can grab yourself, you can also order plates a la carte via QR codes throughout the main dining area. The ability to order a fresh-made meal is an option you typically only see in United Polaris lounges and other exclusive business class outposts – not a lounge run by a credit card company.
Just scan the QR code, enter your name and table number, enter your order, and your food will come out.

Unfortunately, Chase didn't have this feature up and running for its media preview event this week.
Still, we managed to try a handful of dishes – including some that'll normally be served a la carte – like shrimp risotto milanese, dandan noodles, vegetable lasagna, seafood chowder, Korean BBQ chicken croquettes, and more. Chase teamed up with local chef Douglass Williams to add some Boston panache to the menu along with fixtures that you'll find in future Sapphire Lounge locations.

Everything we sampled was certainly good – and a huge step above what you'll find at your typical U.S. airport lounge – though not quite great. Keeping food hot, fresh, and tasty during big media events like these is a tall task. We're hoping the dining is even better once the lounge officially opens to the public.
But there is no shortage of options to pick from when you're feeling hungry. Aside from ordering from the exclusive QR code menu, you can swing through and grab small dishes of whatever catches your fancy from this buffet-style setup.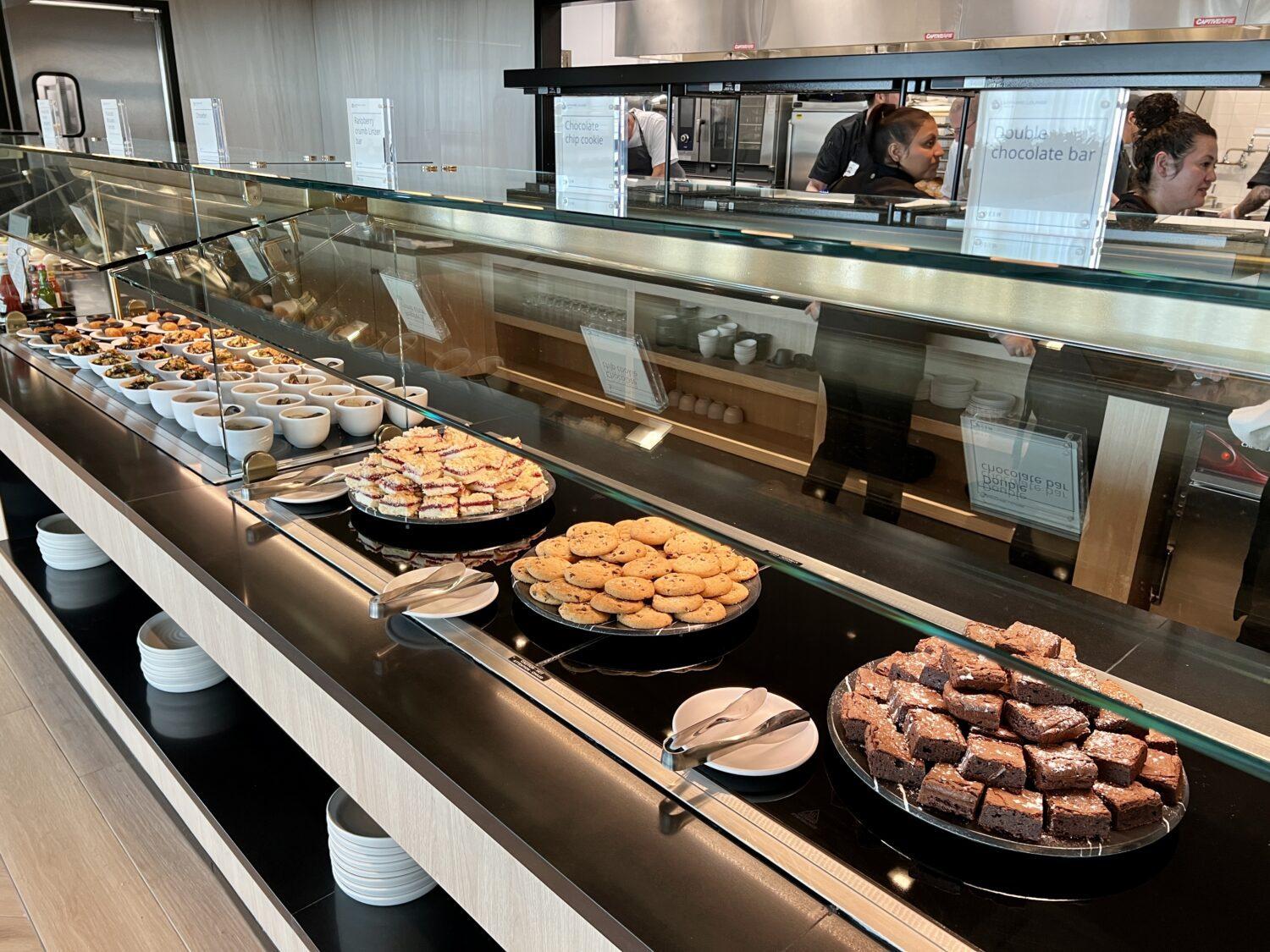 There are two beverage stations in the lounge – one here in the dining room and another at the other end of the lounge – where you can grab coffee, water, soda, and more.

Even the coffee and espresso cups are just cool.

But the stars of the show at the new Chase Sapphire Lounge Boston are the bars – plural. Chase has whipped up an excellent menu of tasty signature cocktails to pick from in addition to the usual roster of wines, beers, and spirits. Bartenders told us they've spent nearly a month training for opening day to perfect each drink.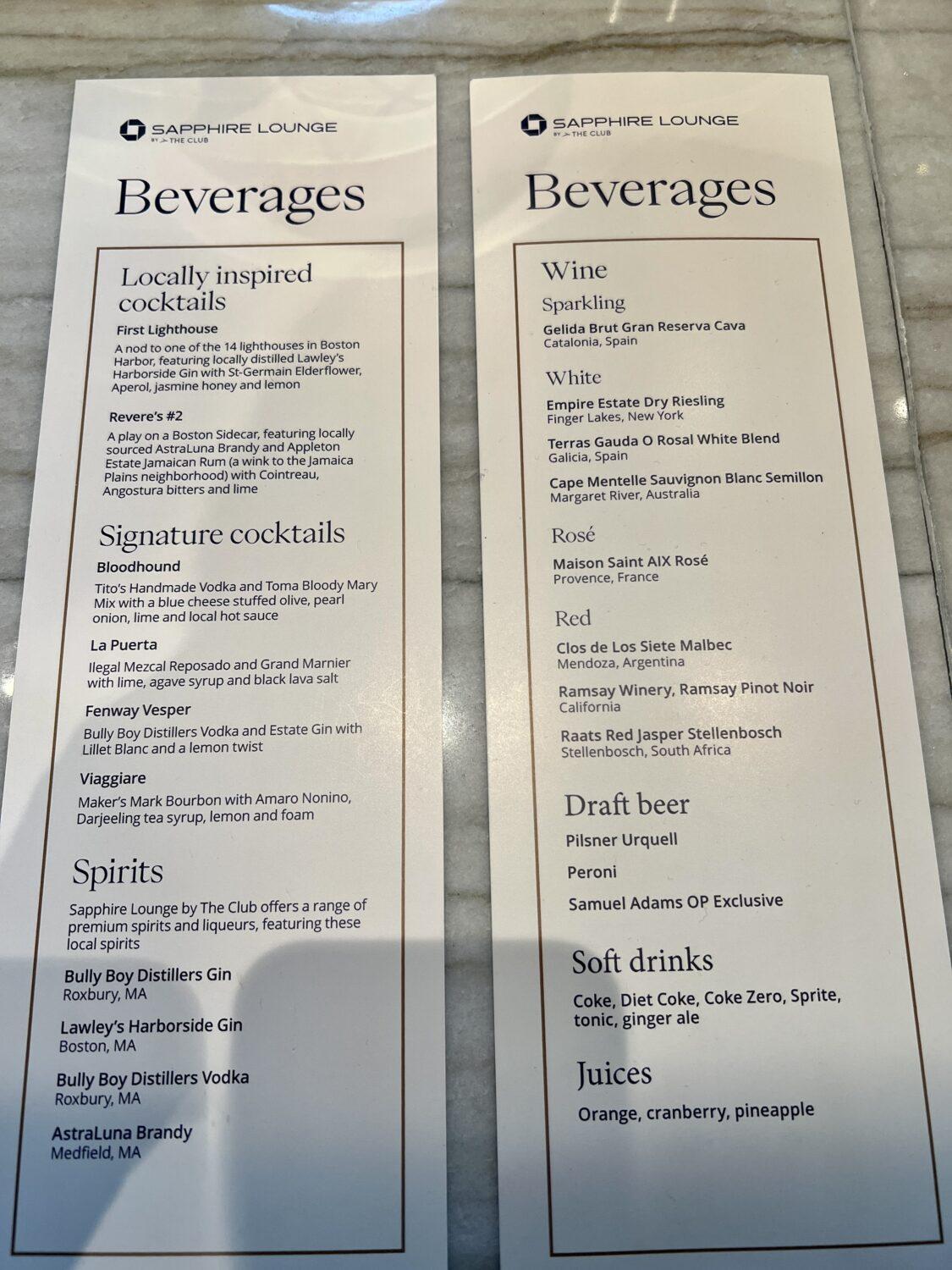 The Viaggiare – a spin on the classic Paper Plane cocktail – was tangy and truly top-notch. It wasn't just one of the best cocktails I've had at an airport: It was the best, period.

Turn around a grab a stool inside the Taproom, a distinct but substantial space dedicated to Boston-area brews.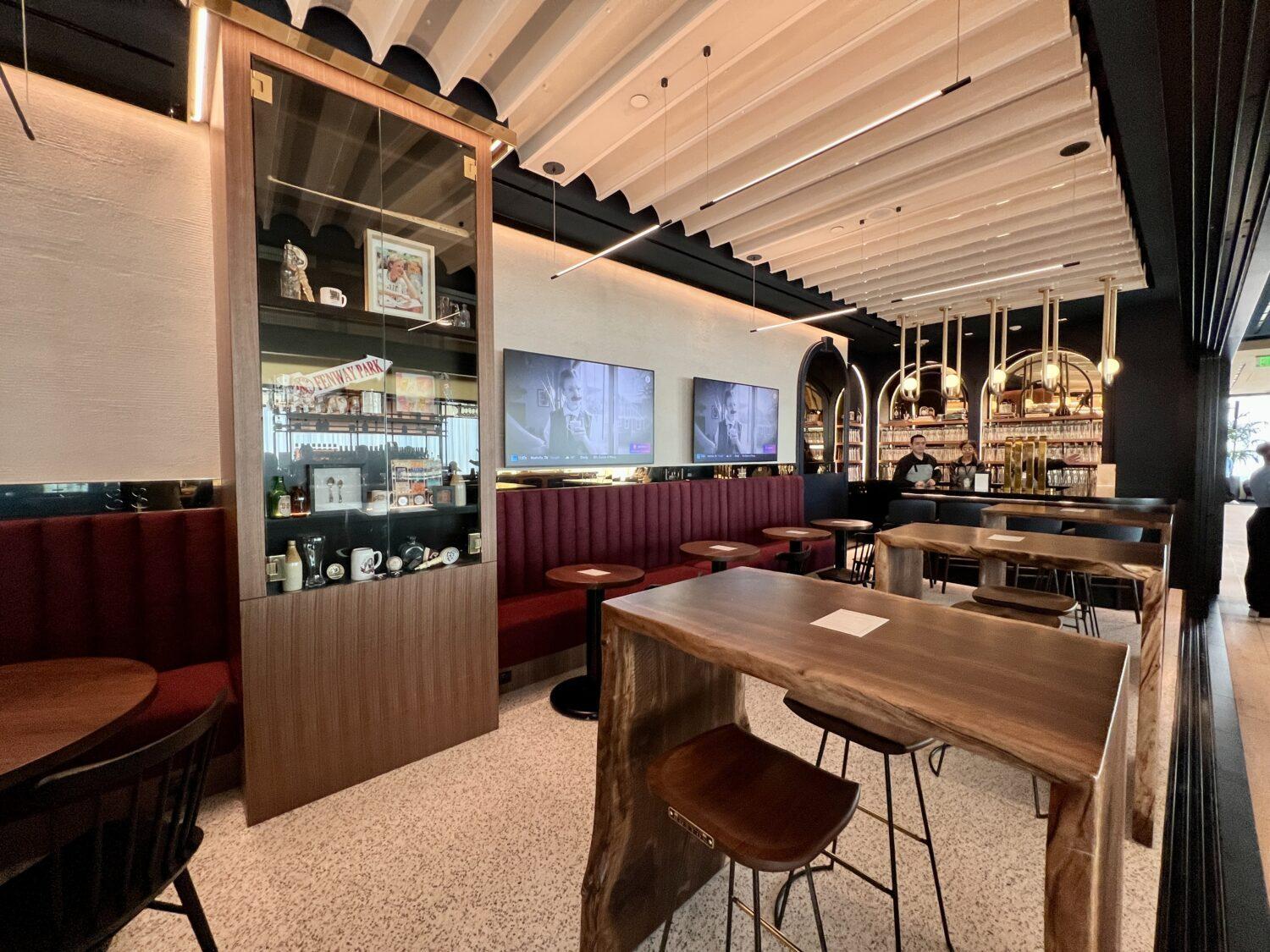 The taps weren't flowing during this week's sneak peek, but it's a cool space you won't find in other lounges.

Amenities
There are a few standard amenities and features inside the Chase Sapphire Lounge in Boston … plus some unusual (and unusually cool) amenities, too.
For starters: There are a pair of showers you can reserve to freshen up. They're available to schedule via QR code or with an agent at the front desk. Each suite is spacious and well-designed, decked out with a rainfall showerhead and the same Apotheke-branded toiletries you'll find in the restrooms.

Each shower suite has its own toilet, too.

There's also one nursing room available, which is very nice.

But it's in the back corner of the lounge where you'll find the real fun. Chase calls it its Wellness area. Here, you'll find a trio of quiet relaxation pods – quiet, curtained rooms with comfortable armchairs to rest away from the rest of the lounge. These are available on a first-come, first-served basis.

But there are also a pair of anti-gravity massage chairs if you really want to unwind – complete with the accompanying LED face mask. You'll need to reserve these to use them.

What's Next for Chase Lounges?
The Hong Kong Sapphire Lounge has been open for months. In a matter of days, this lounge in Boston will join. Oh, and there's a "Chase Sapphire Terrace" in Austin (AUS), but that's not a bonafide lounge.
Chase has plenty more lounge locations in the works.
The bank has publicly identified eight other locations for upcoming Sapphire Lounges – all in the U.S. The list spans from major airports like New York City-LaGuardia (LGA) and Washington, D.C.-Dulles (IAD) to some smaller hubs like Phoenix (PHX), Philadelphia (PHL), and San Diego. It will likely take years for all eight additional locations to open their doors.
But more are on the way soon. Pouwels, the general manager of all Chase Sapphire Lounges, said Wednesday that the company will open at least two more locations by the end of 2023. Lounge construction is notoriously tricky so those timelines could change – for the better or worse.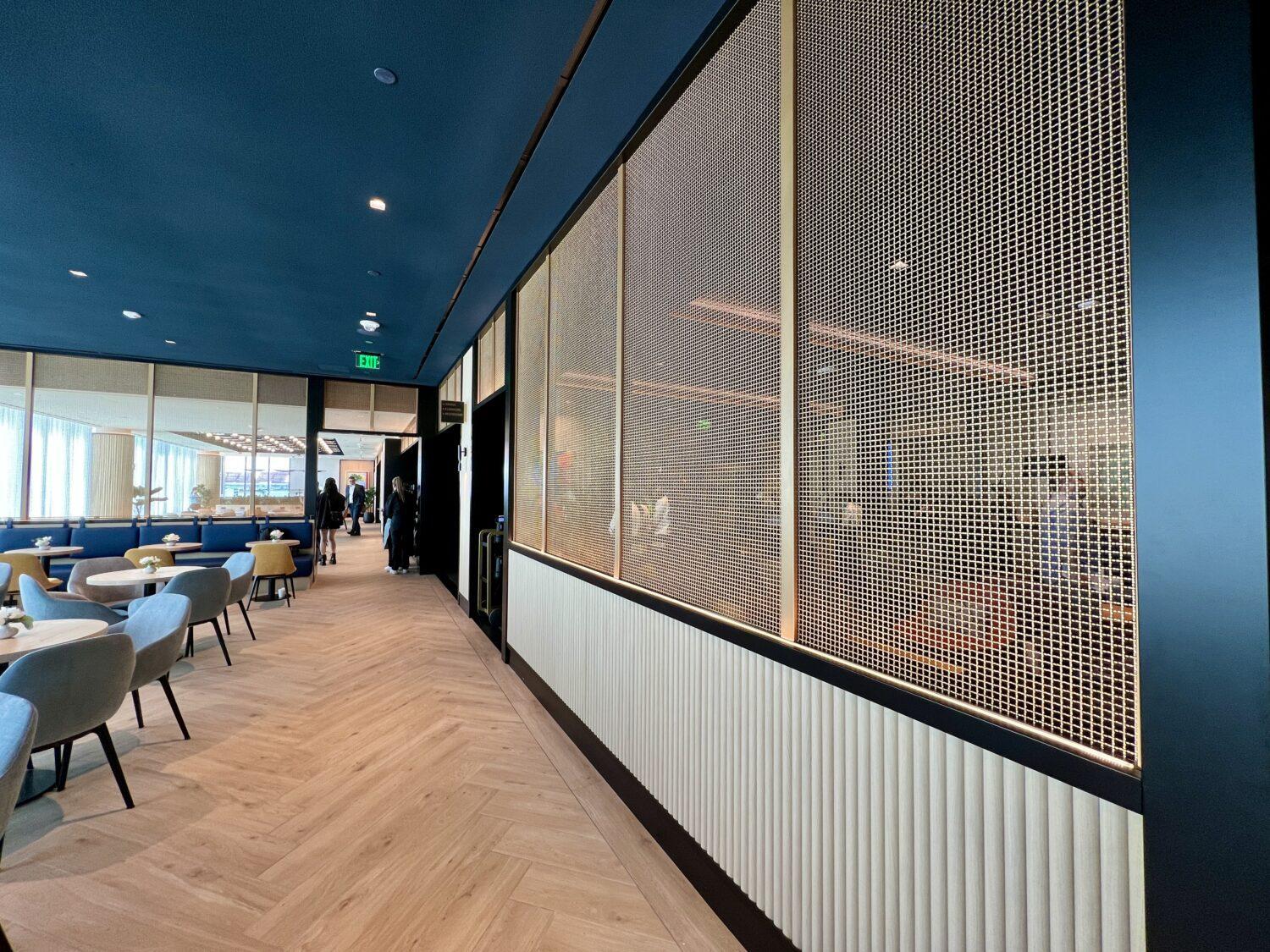 Which Chase lounges are up next? Chase won't say. But ahead of next week's opening in Boston, Chase has been promoting its upcoming locations in Las Vegas (LAS), Philadelphia (PHL), San Diego (SAN), New York City-LaGuardia (LGA), and Phoenix (PHX). Based on the permitting timelines for those five lounges, locations in Vegas, San Diego, and LaGuardia seem like the safest bets to open next.
But don't bet on Chase stopping at 10 lounges total, either. All the big travel credit card companies have pivoted hard to cater to premium travelers, and building out their own lounges is "part and parcel to the strategy elevating the experiences for our travelers," said Jason Wynn, head of travel at JP Morgan Chase.
Chase is staying tight-lipped about how big the Chase Sapphire Lounge network will grow beyond the 10 they've publicly identified, but executives made clear that more domestic and international Sapphire Lounges are part of the plan.
"We're really focused on where our Chase Sapphire customers live, and where they're traveling to and through. And that includes locations in the U.S. as well as abroad," Pouwels said.
Bottom Line
Travelers with top Chase cards in their wallets have been waiting for a chance to visit the first Sapphire Lounge by the Club for nearly two years. We can safely say: It'll have been worth the wait.
The Chase Sapphire Lounge in Boston is set to open next Tuesday, May 16. And it's easily on par with the dozen-plus Amex Centurion Lounges as well as even the first Capital One Lounge down in Dallas. The decor and layout are stunning, the space is functional, the food is good, and the cocktails are great.
What more could you want? Well, more Chase Sapphire Lounges. At least two more are scheduled to open before 2023 ends, Chase says. Where will Chase go next? Stay tuned.