Delta's third – and biggest – Sky Club at Minneapolis-St. Paul Airport officially opens on Wednesday, and it's a much-needed upgrade.
Located down the airport's recently expanded G concourse, this brand-new Sky Club is the first Delta has designed and built out itself at MSP, and the other two Sky Clubs don't even compare. Delta's current primary lounge near the F and G concourse entrances is out of date and regularly overcrowded, even after repeatedly cracking down on who can get into these lounges. Meanwhile, the smaller lounge in the airport's C concourse is a relic from Northwest Airlines.
This third Delta Sky Club adds over 21,000 square feet to the airline's lounge footprint at MSP with seating for more than 450 guests, including over 100 seats on its expansive indoor-outdoor Sky Deck. It features many of the sharp, high-quality finishes and top-tier amenities of the airline's other recently opened Sky Clubs like the outposts in Los Angeles (LAX) and Chicago O'Hare (ORD). And of course, there are plenty of local touches, from the food and drink offerings to the art on the walls to the design and layout of the space.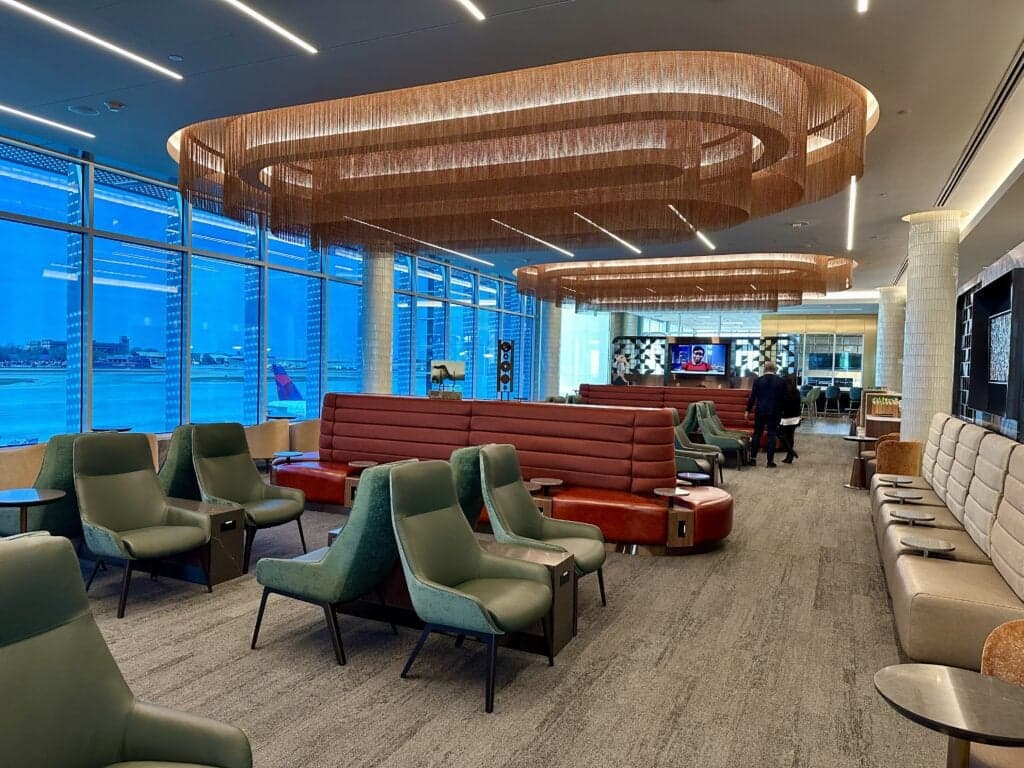 "We like to focus on the city we're in," Claude Roussel, the Delta Sky Clubs managing director, told Thrifty Traveler at Tuesday's media preview.
Across the three Sky Clubs, Delta now has more than 900 lounge seats at MSP, according to Roussel. He's confident this will help alleviate some of the congestion issues these lounges have been facing over the past year.
Read on for our initial review of what to expect at the new Delta Sky Club at MSP when it opens bright and early at 4:30 AM Wednesday morning.
Getting Into the Delta Sky Club at MSP
The new Delta Sky Club at MSP, which Delta is calling the MSP-G Club, is located near gate G17 in the airport's G concourse, where many Delta flights come and go. It's on the second level, perched above a new, soaring rotunda that floods the concourse with natural light.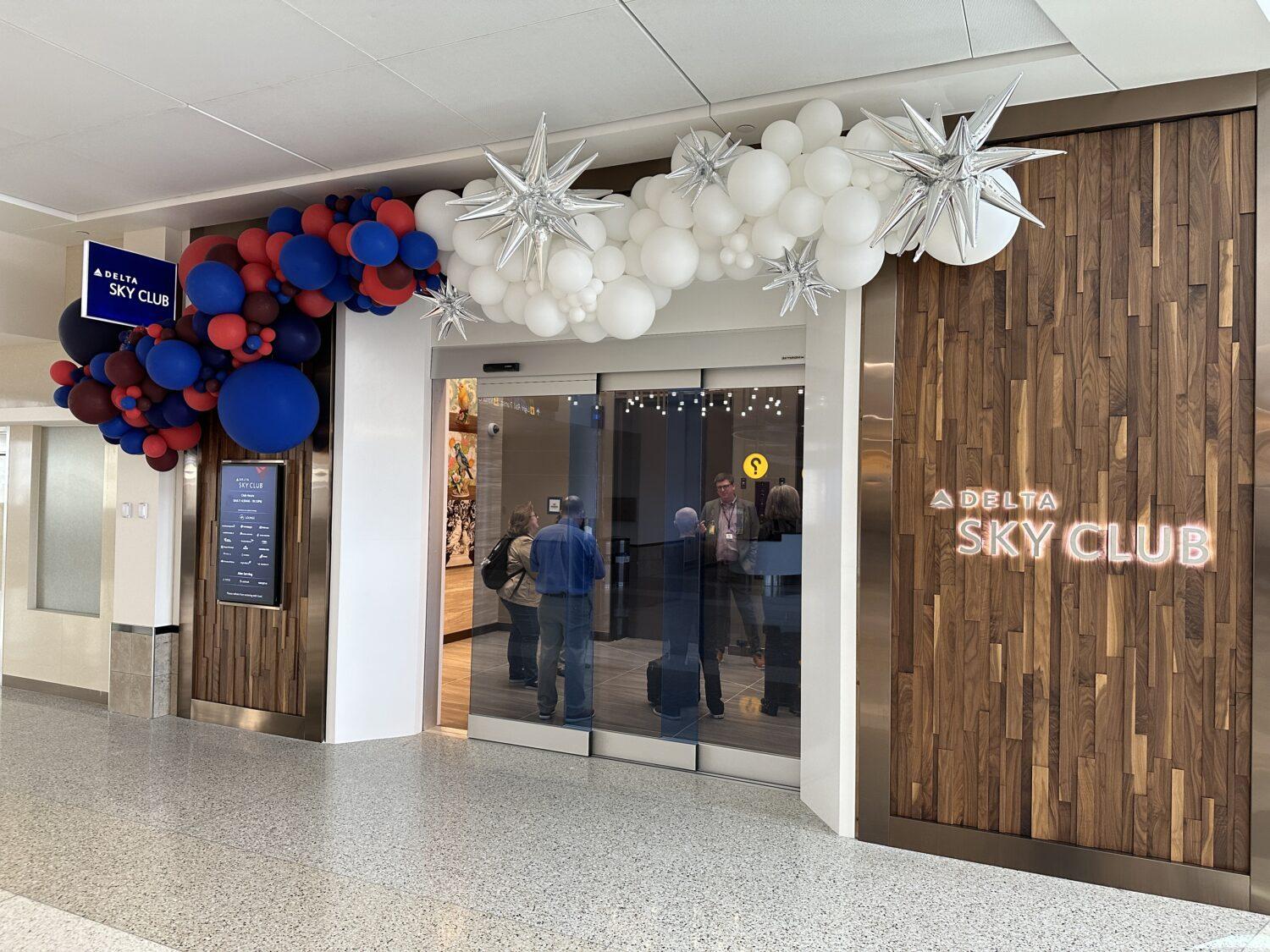 To enter, you'll pass through a set of automatic doors and head up to the second floor via either the elevator or a spiral staircase to your right.
There are three kiosks situated at the entrance to the Sky Club so guests can complete an easy self-check-in, although there are several customer service desks should you need assistance.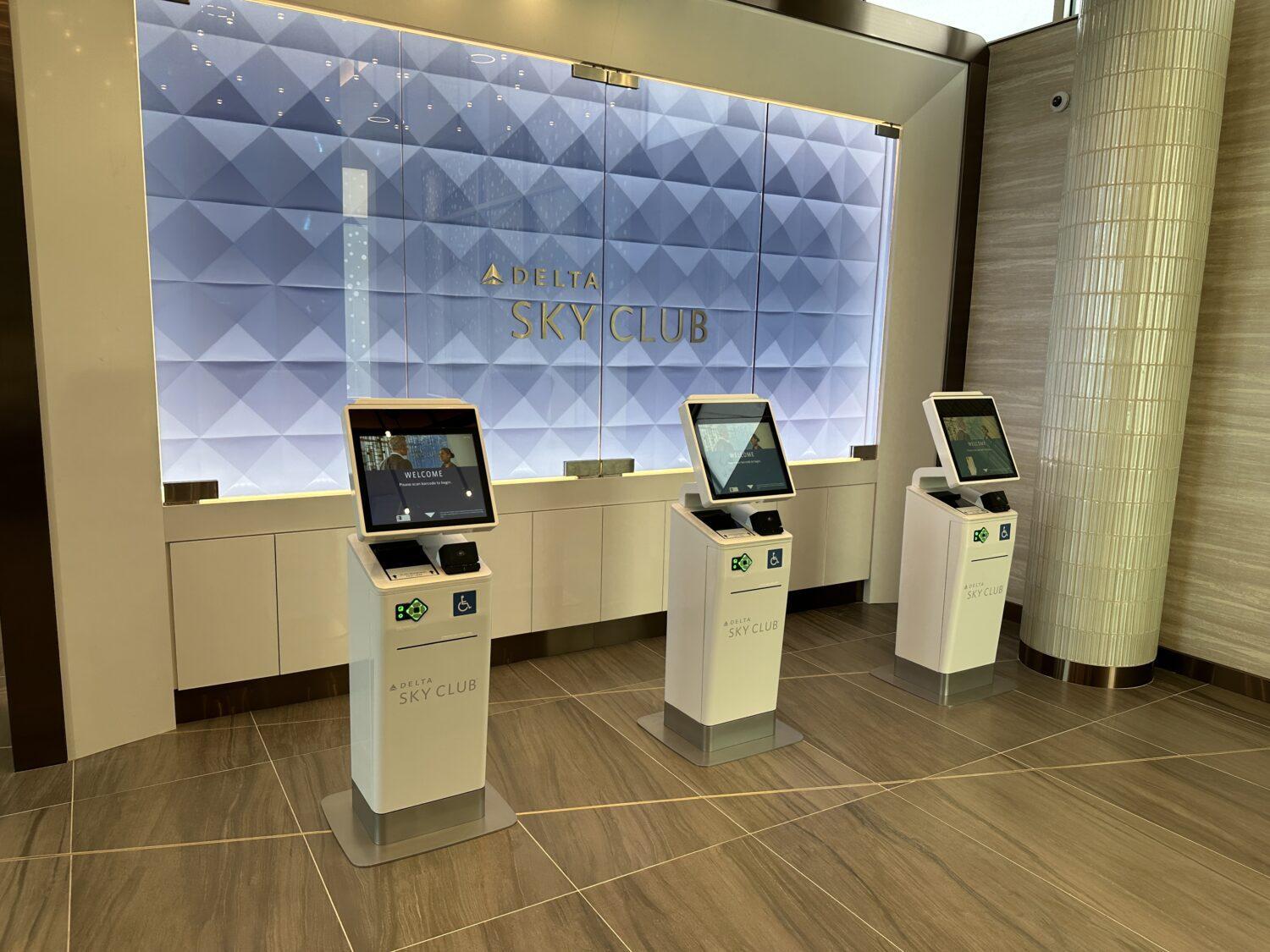 Read next: The First Thing You Should Do Before Heading to a Delta Sky Club
Take a moment to appreciate some of the spectacular local artwork, including this MSP sculpture. A Delta employee was quick to point out that the polka dots on the walls are meant to resemble falling snow – fitting for Minnesota.
To get into the new Delta Sky Club at MSP, you'll need to have access. And like all Delta Sky Clubs, there are a few ways to get into this new lounge. No matter which route you take, though, you need to be flying Delta that day to get in. 
The easiest way is by simply holding The Platinum Card® from American Express – and not the co-branded Delta version.
This card opens more lounge doors than any other travel credit card on the market. So long as you're flying Delta that day, you can just show your Platinum card and your boarding pass, and gain access. You can bring up to two additional guests, but it will cost you: As of Feb. 2, 2023, each guest now costs $50.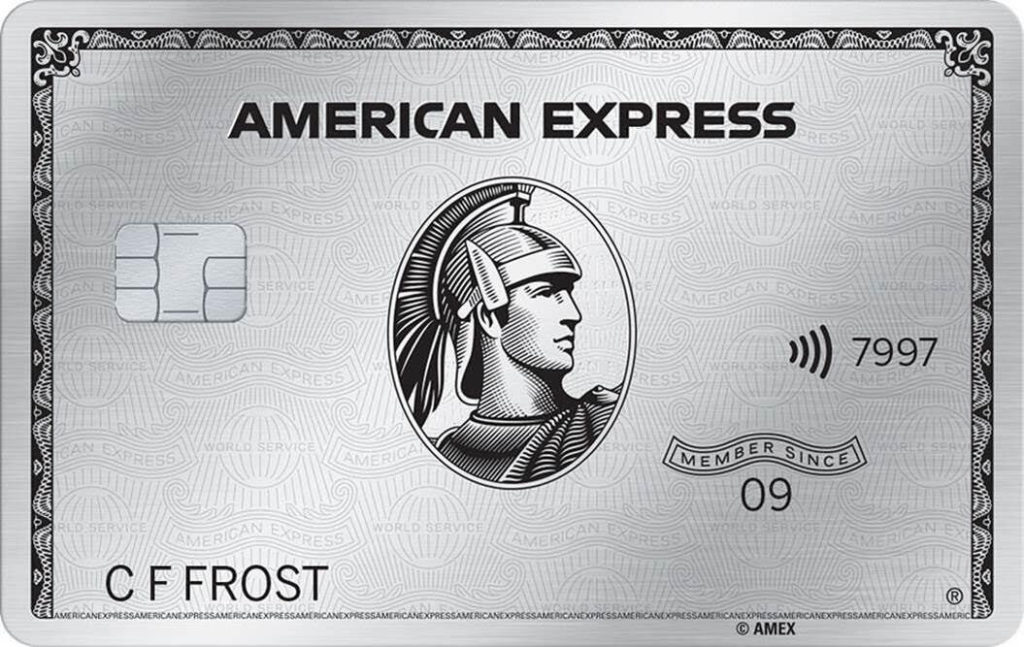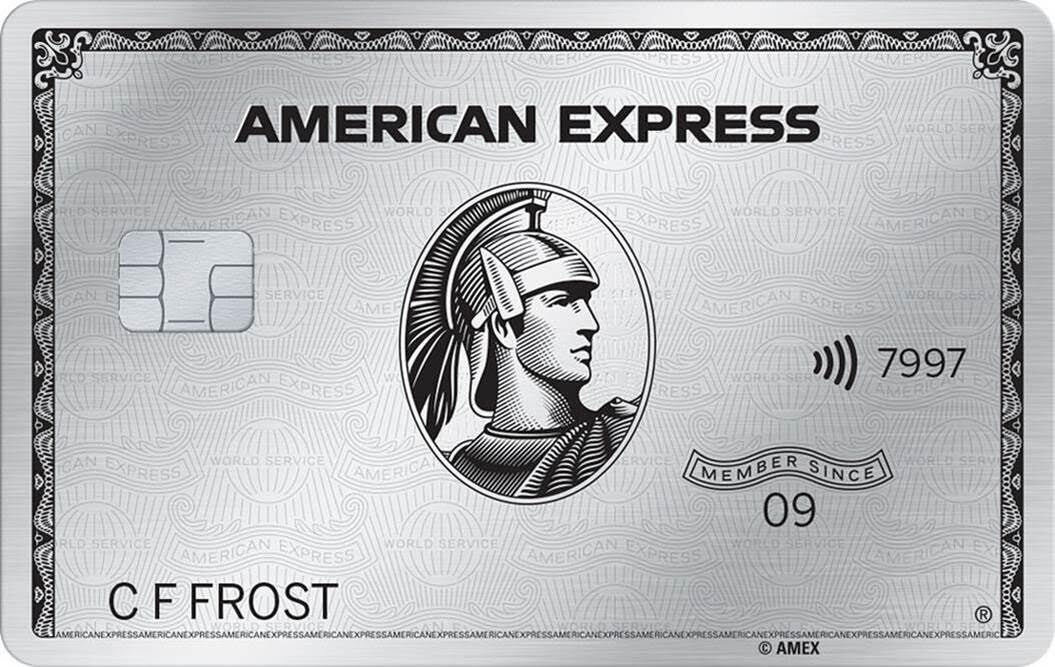 Learn more about The Platinum Card® from American Express.
You can also get into the Sky Club for free if you've got Delta's top co-branded credit card, the Delta SkyMiles® Reserve American Express Card. Much like the Platinum card, you can enter any Sky Club for free so long as you're flying Delta that day. Reserve cardholders also get two, one-time guest passes each year. After that, you'll have to pay $50 per guest, too.
Learn more about the Delta SkyMiles® Reserve American Express Card. 
And even cardholders with one of Delta's lesser co-branded cards can get in – for a fee. If you've got the Delta SkyMiles® Platinum American Express Card, you can enter any Delta Sky Club when you're flying Delta that day by paying $50.
Unfortunately, flyers with the Delta SkyMiles® Gold American Express Card will not have access to the Delta Sky Club, even for an extra fee.
Finally, you may need to watch the clock. In a bid to battle lounge overcrowding, Delta now limits lounge access to three hours before departure. However, flyers still have the ability to get into the lounge upon arrival from a flight after the airline scrapped its plans to eliminate that option.
Read our full guide to getting Delta Sky Club access!
A Spacious, Nature-Inspired Lounge
It's clear walking into the new Sky Club that this lounge is a huge step up from Delta's other offerings at MSP. For starters, it's significantly larger, clocking in at roughly 21,000 square feet – nearly double the size of the F/G Concourse Sky Club.
Roussel said the design of this new Sky Club drew inspiration from Minnesota's moniker as the "land of 10,000 lakes." From the furniture to the fixtures, the lounge features a mix of earth tones like sage greens and pale blues paired with rich copper and amber hues all meant to evoke summer sunsets at the lake, Roussel said.
The main bar area is massive, with lots of classy accents.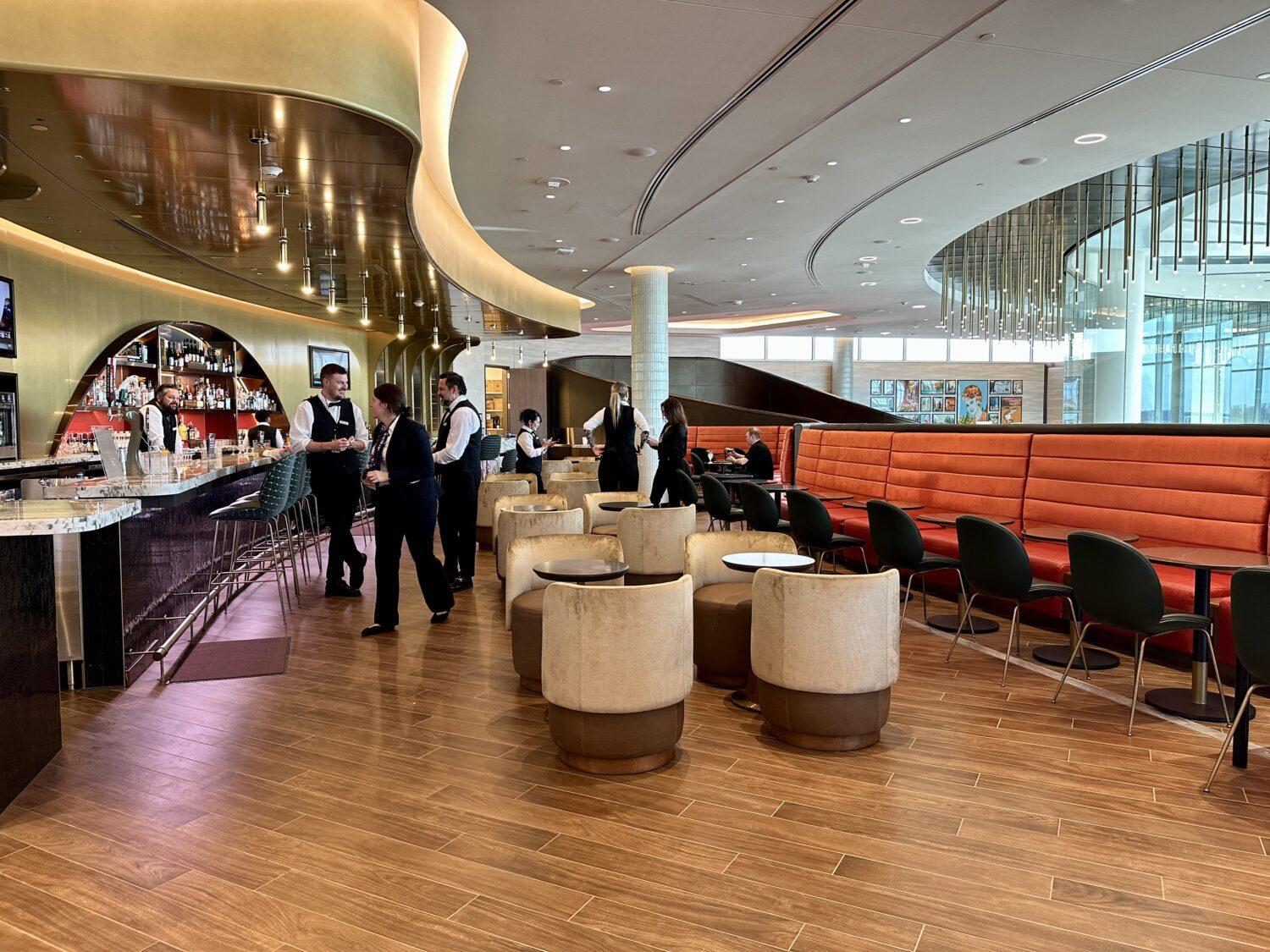 For those who want to get some work done before their flight, there's a section of more private, high-walled workstations as well as three soundproof booths – something we've seen a several other of Delta's newer Sky Clubs.
There's plenty of plush seating throughout.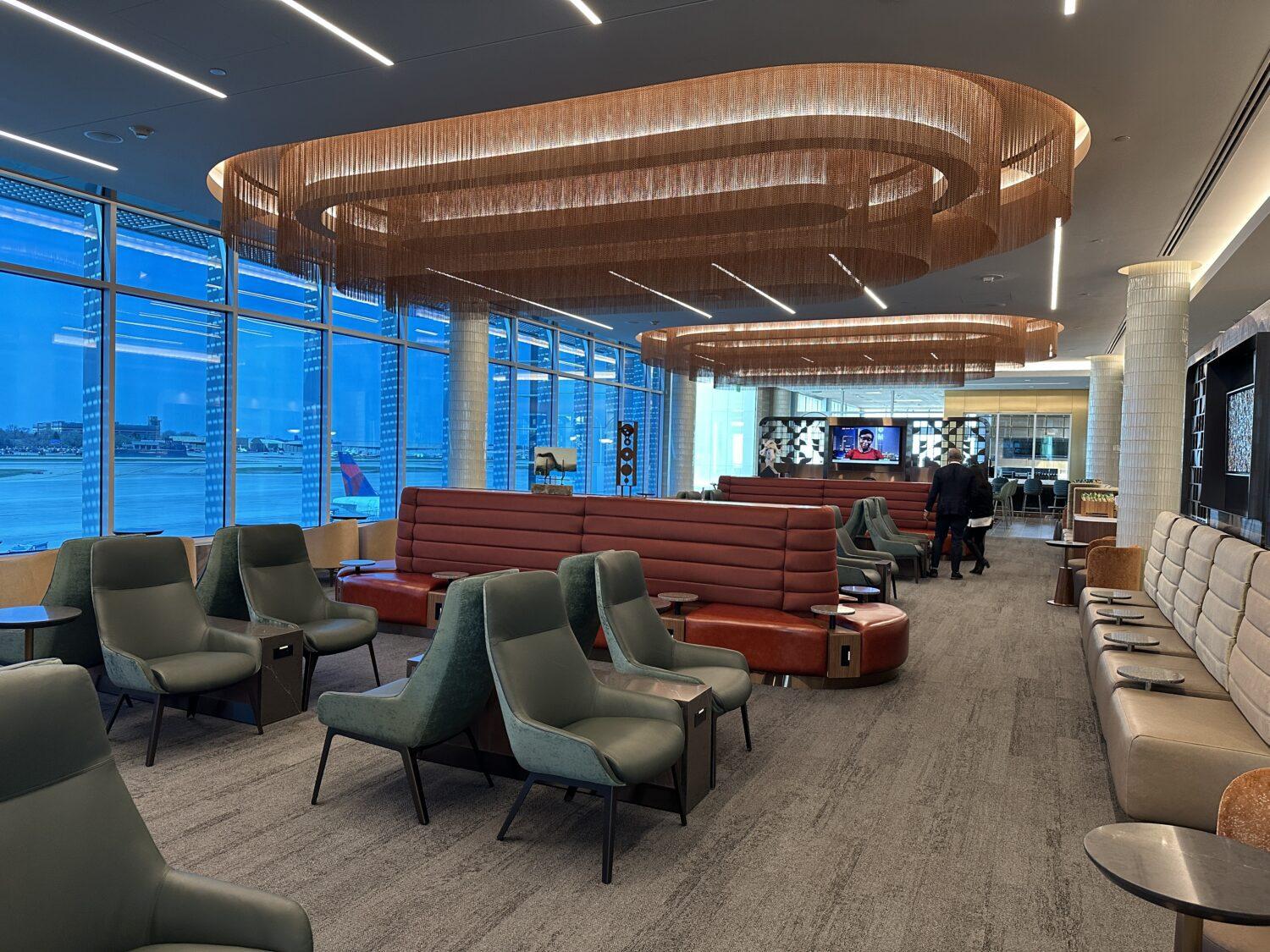 The space is flooded with tons of natural light and has plenty of glass windows with an expansive view of the tarmac.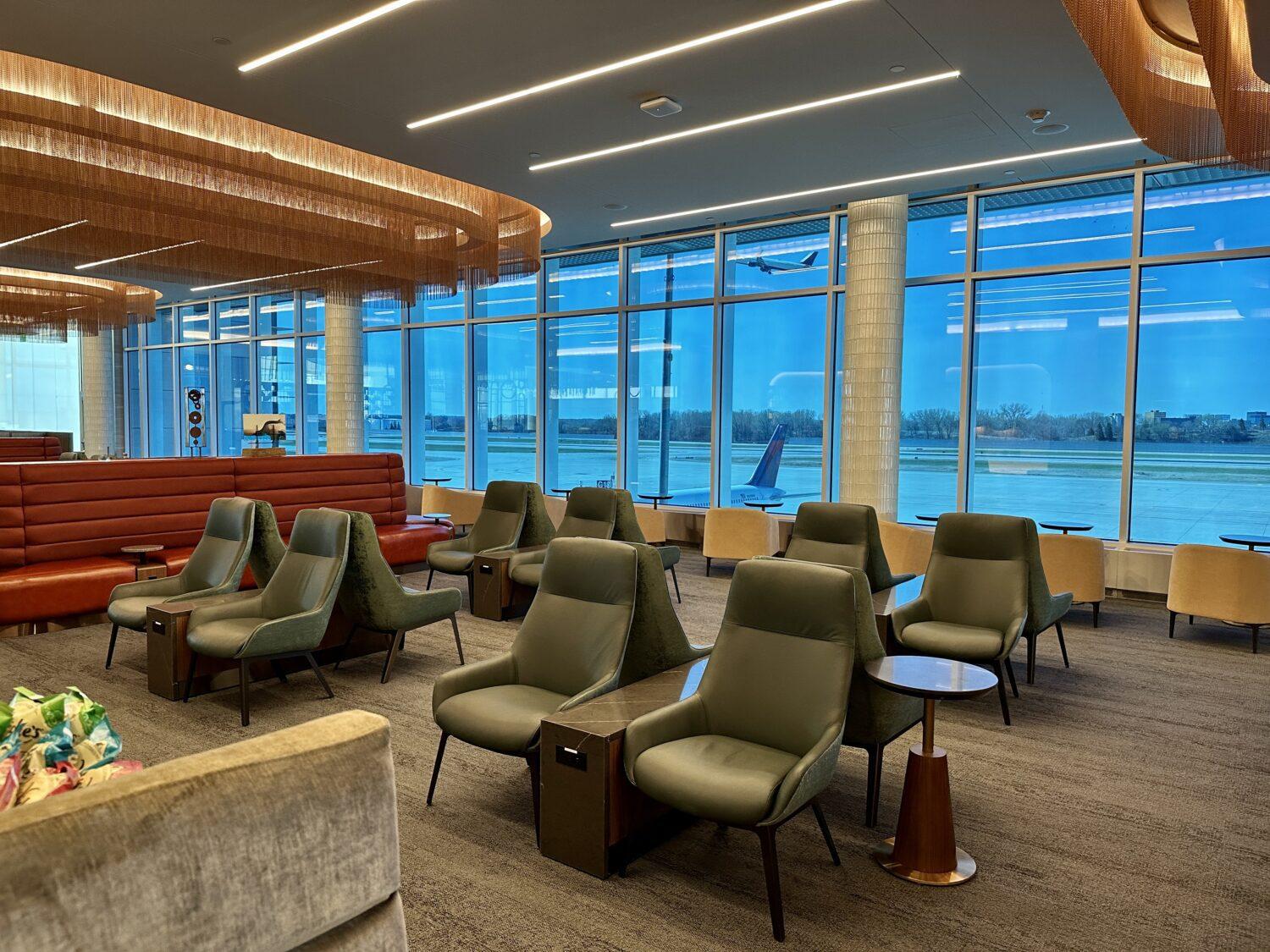 Almost all of the seats in the space have their own power outlets, including most of those on the Sky Deck.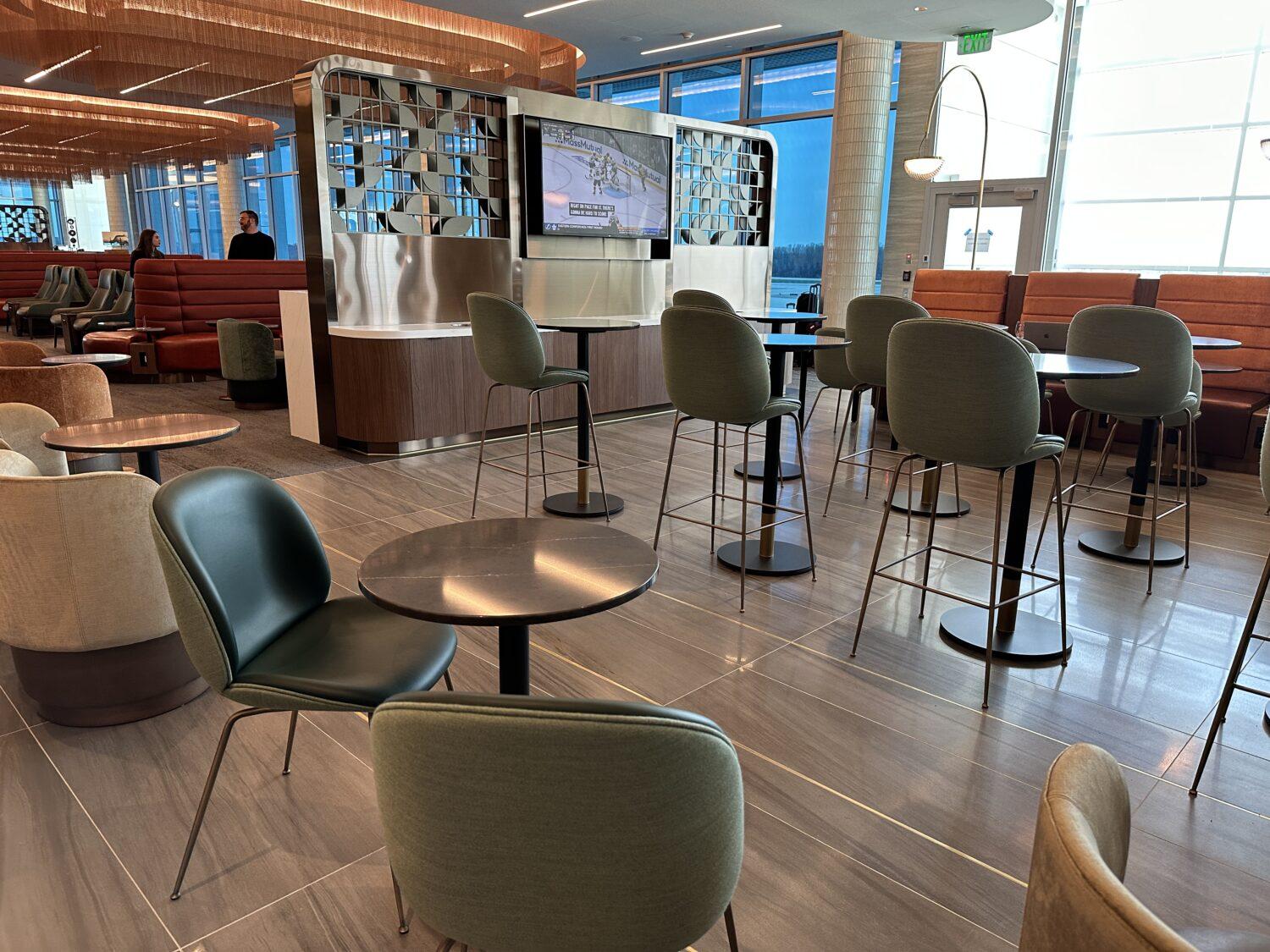 There were two all-gender individual restrooms as well as separate women's and men's restrooms with additional stalls.
Some travelers may be disappointed to see there are no showers at this Sky Club. Roussel said the volume of international travelers in the G concourse didn't necessitate it, and they take up valuable space within the Sky Club.
The Sky Deck
One of the most exciting parts of this new Delta Sky Club at MSP is the Sky Deck, a 3,000-square-foot indoor-outdoor space with seating for 110 guests.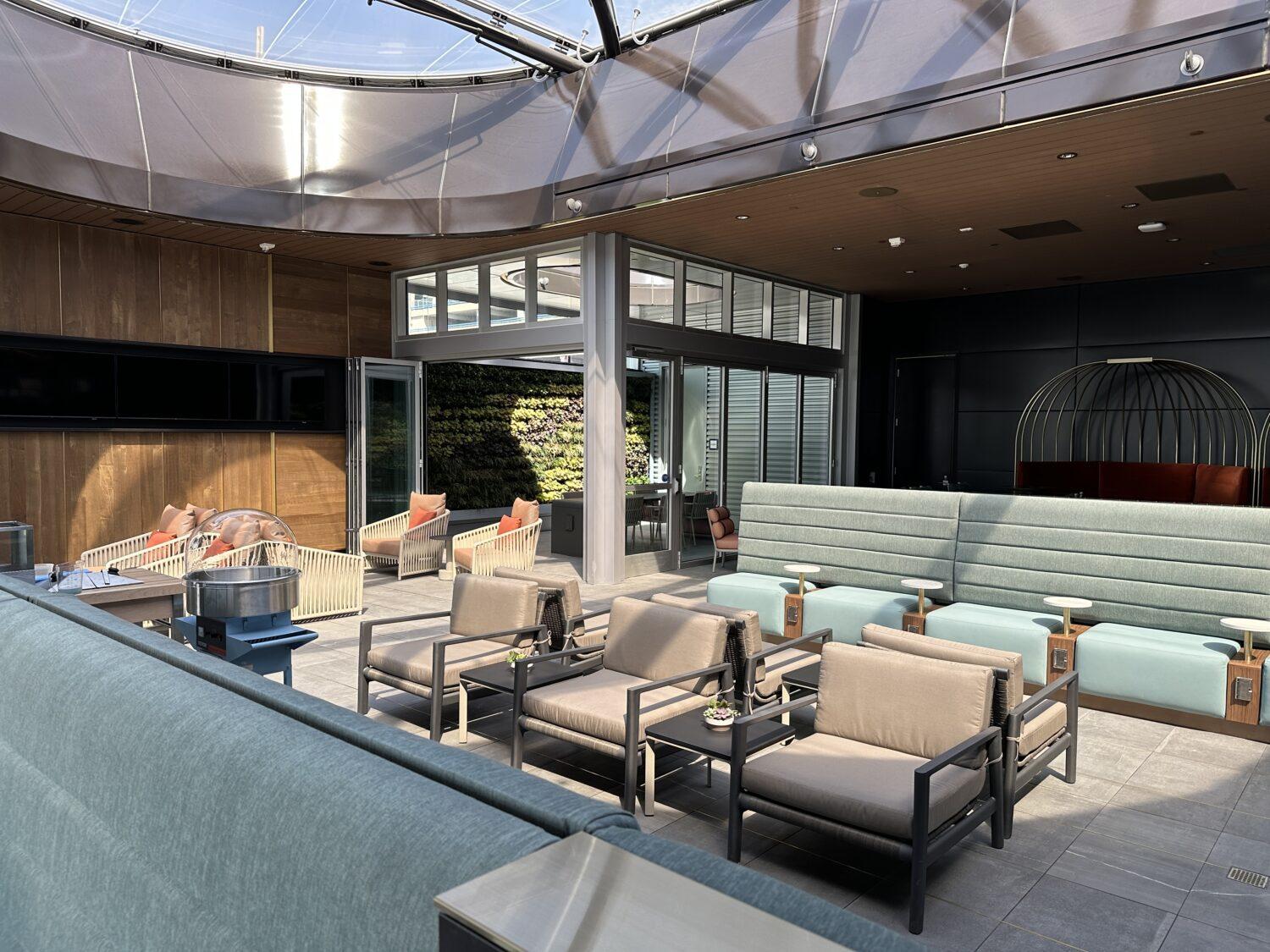 The Sky Deck will be open year-round, with double-paned windows that can be opened during the warmer months and closed to shut out the chill of a Minnesota winter. The space will also be heated as necessary.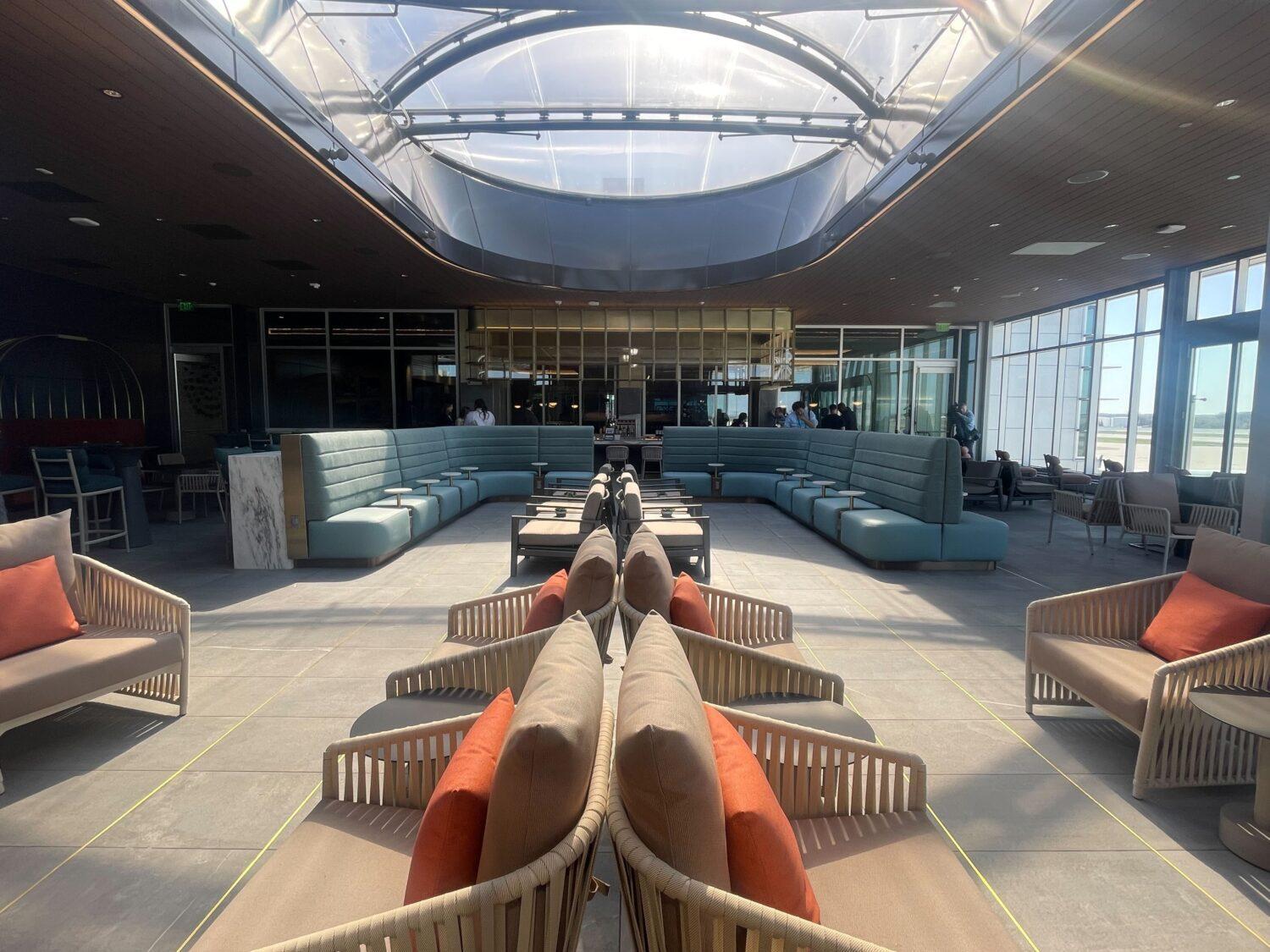 There's a massive, wraparound bar on the Sky Deck that serves the entire drink menu. The bar itself is stunning, designed to evoke a sunset over a lake, according to Roussel.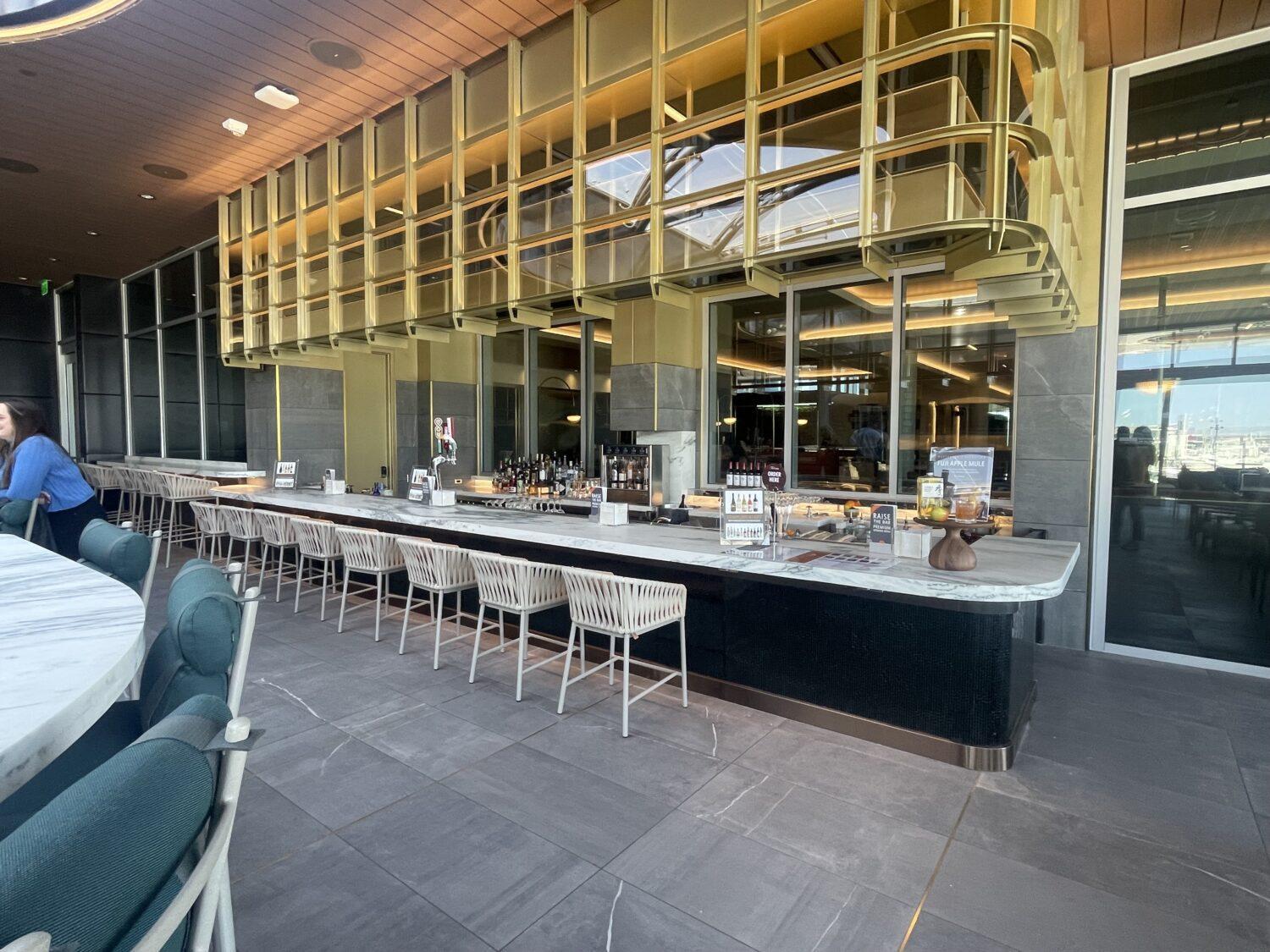 Guests can either sidle up to the bar and sit or snag one of the other seating options including lounge chairs, couches, or counter seating.
The space is flanked by two mostly open-air seating areas that will be open seasonally.
One of these two open-air spaces features a living plant wall – another nod to the foliage of Minnesota, which Roussel said will be refreshed several times a year.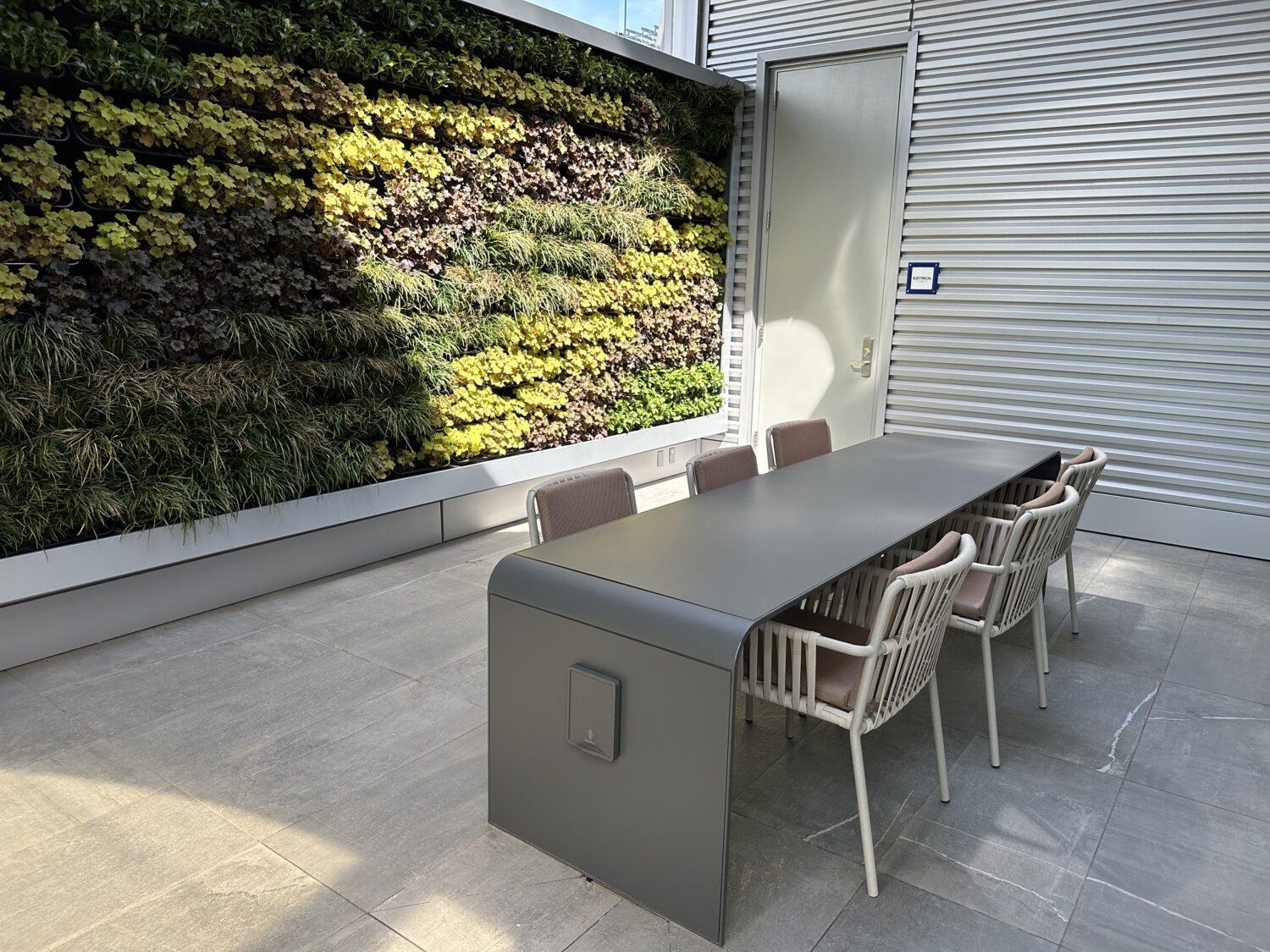 Another fun addition: A self-service ice cream station. Delta has recently added these to a few of its other Sky Clubs in both Los Angeles (LAX) and Atlanta (ATL), but it was the first one we've seen. There were three machines that could churn several different flavors of gelato or sherbert. Think Keurig coffee, but for gelato.
A Delta spokesperson said the ice cream station will be available year-round. Given it took over a minute for the machine to prepare a small bowl of ice cream, be prepared for a long wait if you're looking for a sweet treat.
Food & Drink
For food, there's an ample buffet with plenty of options to fill you up as well as some grab-and-go snacks available throughout the lounge.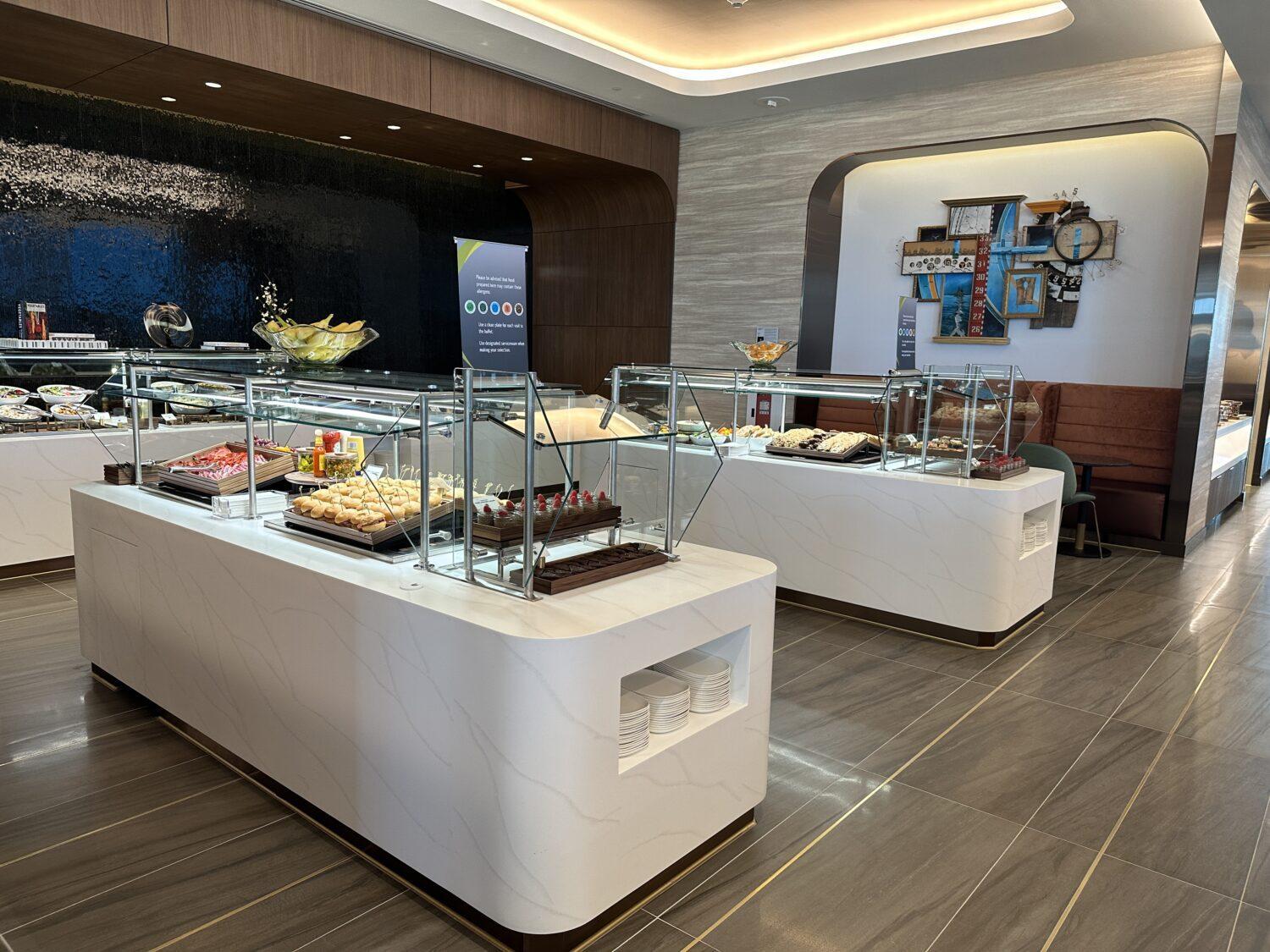 There are also two self-serve beverage stations, a more basic one near the business center area and another near the buffet where you can grab espresso drinks, sparkling and flavored water, juice, and a variety of other beverages.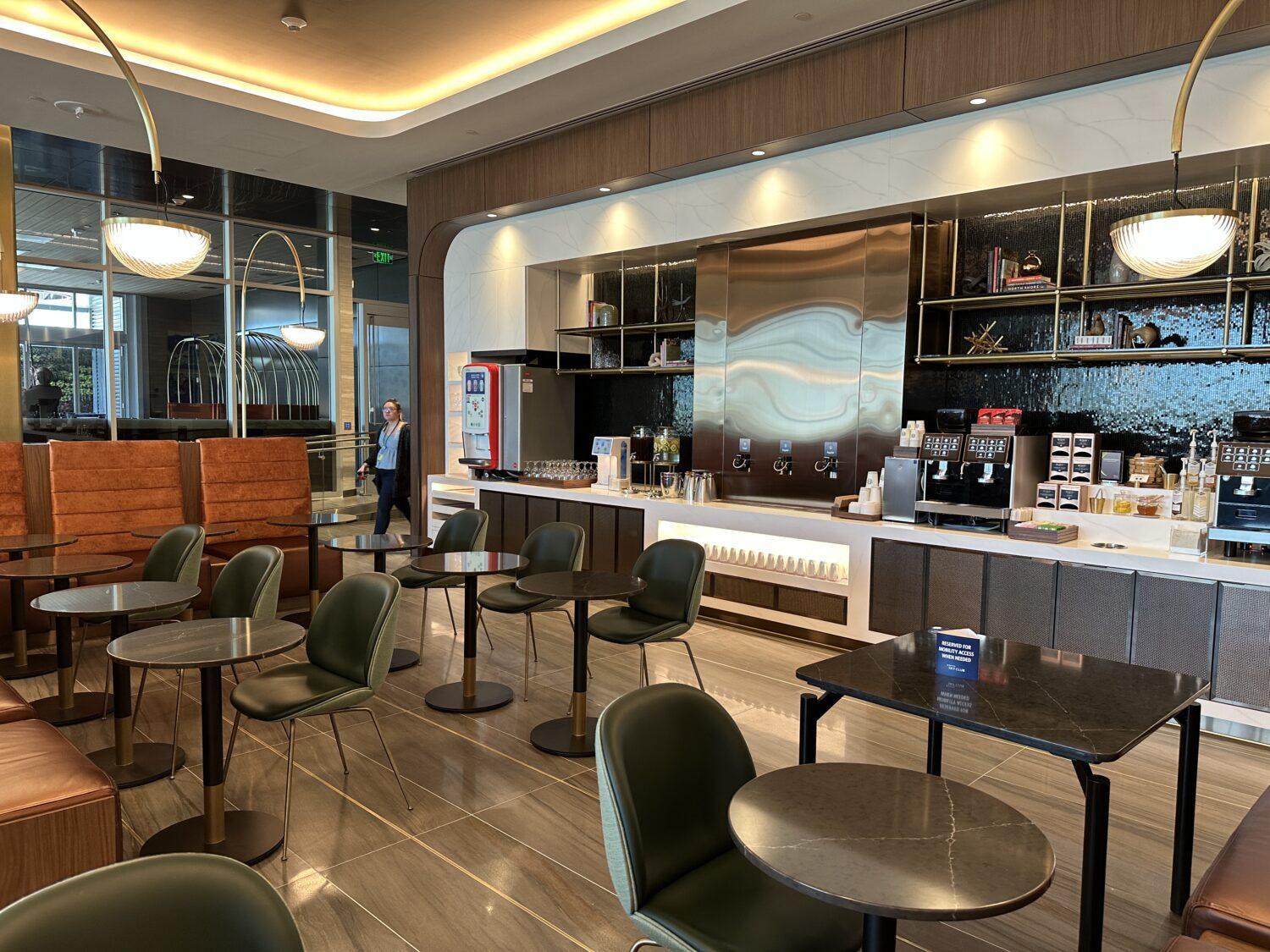 Like many of the newer Sky Clubs, the food at this lounge is part of Delta's Local Flavor program, which showcases recipes from a rotating queue of local chefs. First up: Justin Sutherland, Iron Chef winner and alum of Bravo's Top Chef, who owns several restaurants in the Twin Cities, most notably Handsome Hog.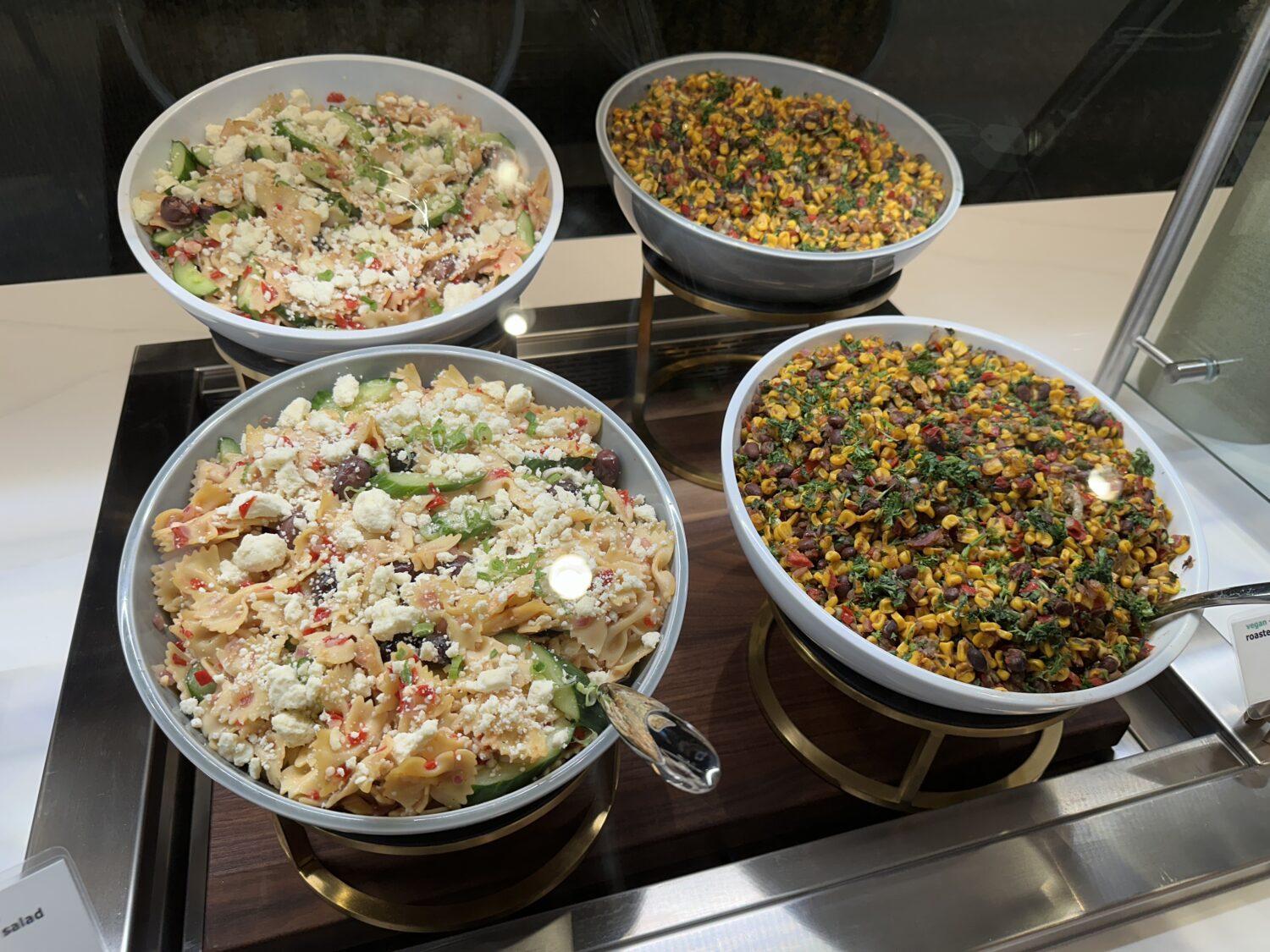 There's also some local flair when it comes to the drink offerings, particularly with the signature espresso martini cocktail called "Thistle While You Werk," which was made with spirits from Dampfwerk Distillery in St. Louis Park.
The cocktail will be exclusive to the new Sky Club location and won't be available at the clubs in the F and C gates. A Delta employee said that the cocktail won't be complimentary, and will be priced similarly to their other signature cocktail offers at around $9 to $12.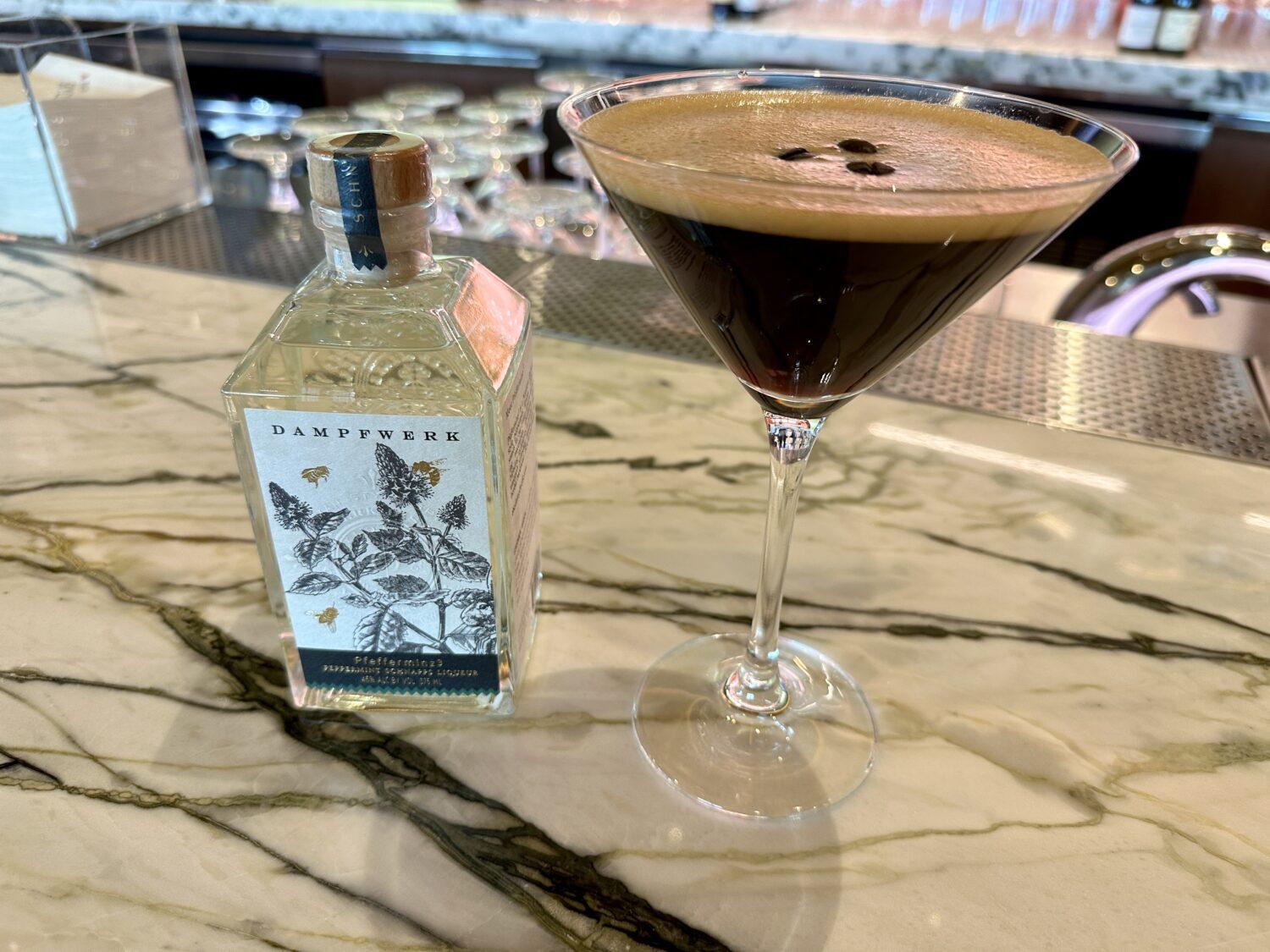 Bottom Line
Delta's latest and greatest 21,000-square-foot Sky Club located near Gate G17 officially opens for business on Wednesday morning April 19.
The space should provide some much-needed lounge capacity for the Atlanta-based airline in their Minneapolis-St. Paul hub, and it is sure to be a treat for Delta travelers with Sky Club access traveling in and out of MSP.