Putting greens and golf simulators may not be every traveler's favorite way to relax before a flight. But is it worth swinging into the PGA MSP Lounge, even if you're not a golf fan?
For starters, some travelers may not have a choice: The PGA Lounge is the only Priority Pass lounge at Minneapolis-St. Paul (MSP). And while it's far from new – it opened way back in 2017 – it's still not on the radar of many travelers who head for one of two (and soon, a third) Delta Sky Clubs or the nearby Escape Lounge MSP.
It's not the largest lounge, and much of the square footage is devoted to golf. But there's still space to relax, maybe get some work done, and a unique option to get some free food or drinks. Oh, and don't worry if you've got the Capital One Venture X Rewards Credit Card or The Platinum Card® from American Express – even though Amex and Capital One have stopped comping meals at Priority Pass restaurants, that doesn't change what you can get to eat or drink inside the PGA Lounge.
Read on for our full review of this one-of-a-kind lounge.

How to Get into the PGA MSP Lounge
The PGA MSP Lounge is located in Terminal 1 in Minneapolis at the north end of the airport mall, almost immediately across from the North Security Checkpoint between the D and E concourses. It's on the mezzanine level, one level up from the main floor of the airport mall.
Unless you happen to glance up and see someone swinging a golf club, the lounge is easy to miss. Your best bet is to look for the sign for Ike's Clubhouse, the relatively spacious restaurant connected to the lounge. You can take the spiral staircase up to the mezzanine level or just use the elevator around the corner.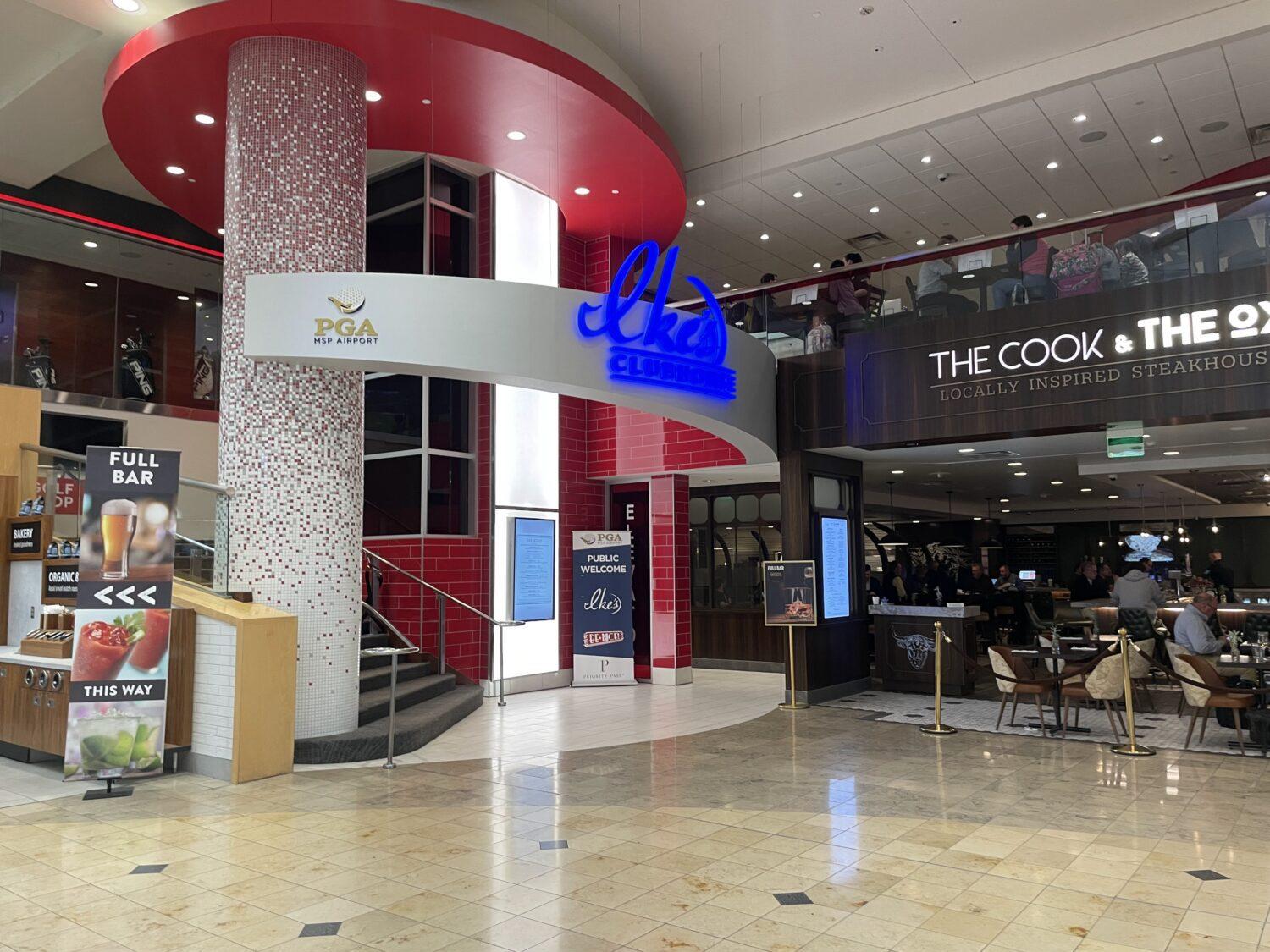 The staircase spits you out into the PGA golf shop. The lounge is on the left through a set of automatic doors, while the restaurant is off to the right. But to get into the lounge, you'll first need to check in with staff at the golf shop counter.
The PGA MSP Lounge is part of the Priority Pass network, which means many top travel rewards credit cards including the Chase Sapphire Reserve®, Capital One Venture X Rewards Credit Card or The Platinum Card® from American Express can get you in the door for free – along with up to two guests. Just hand your Priority Pass card to the employee at the desk inside the store or have them scan the QR code on your digital card in the Priority Pass app.
But from there, the PGA MSP Lounge is different than almost any Priority Pass lounge. After checking in, you and each guest will each get a $15 voucher that you can use for a golf experience (the lounge offers golf simulators, a driving range, and sometimes even lessons) or food and drink from Ike's, the adjoining restaurant. They come in the form of a paper receipt, which you'll need to provide when you go to pay. And no matter how many credit cards you have that can get you into the lounge, you'll get one voucher per person, per visit.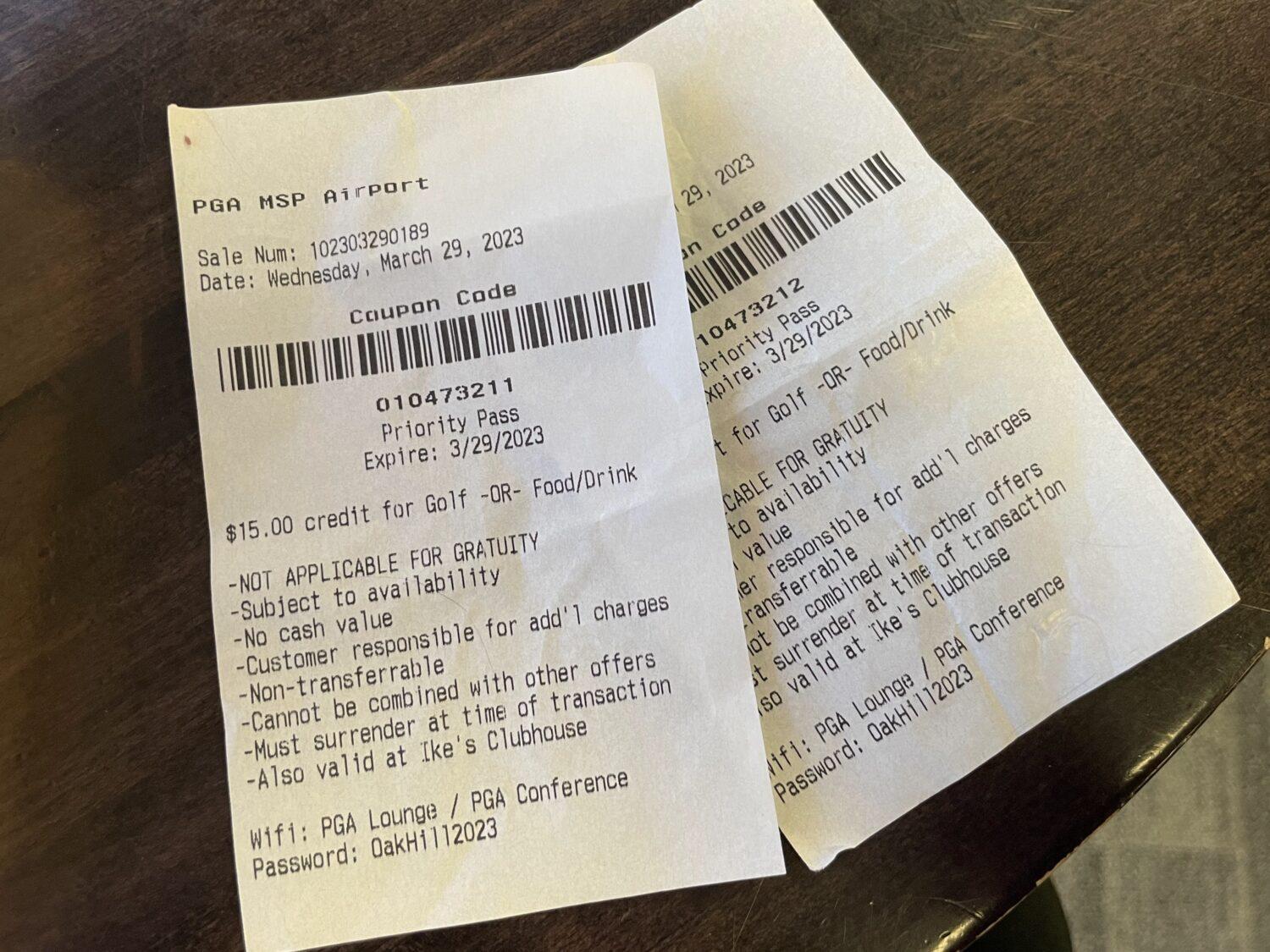 The PGA MSP Lounge is typically open Monday through Friday from 8 a.m. to 8 p.m. and Saturdays and Sundays from 8 a.m. to 7 p.m.
Read more: Everything You Need to Know About Priority Pass Lounges 
The Lounge Space & Amenities
When you enter through the automatic doors, you'll see a row of golf simulators straight ahead, down a hallway. Turning right will take you to the rest of the lounge.

There's a moderately sized bar with several TVs and eight seats, each with its own dedicated outlet and coat hook. There's also a departures screen, which is helpful for keeping tabs on your flight.

Past the bar, you'll find several comfier seating options, including a two-person couch right in front of another set of TVs. Odds are, these TVs will be showing – you guessed it – golf. But I've been able to catch the news and even the Olympics during some past visits.
There are a few high-top tables for two to three people located throughout the space, along with several leather club chairs, and most have easy access to an outlet. But overall, the seating options are fairly limited – and many of the seats are starting to show some wear and tear.

The lounge is dominated by a massive putting green right in the middle of the space. While you have to pay to use the golf simulators or the driving range, anyone can grab a club and a ball and practice some putting while spending time in this lounge. There were more than a few kids burning off some energy in this area at the time of our visit.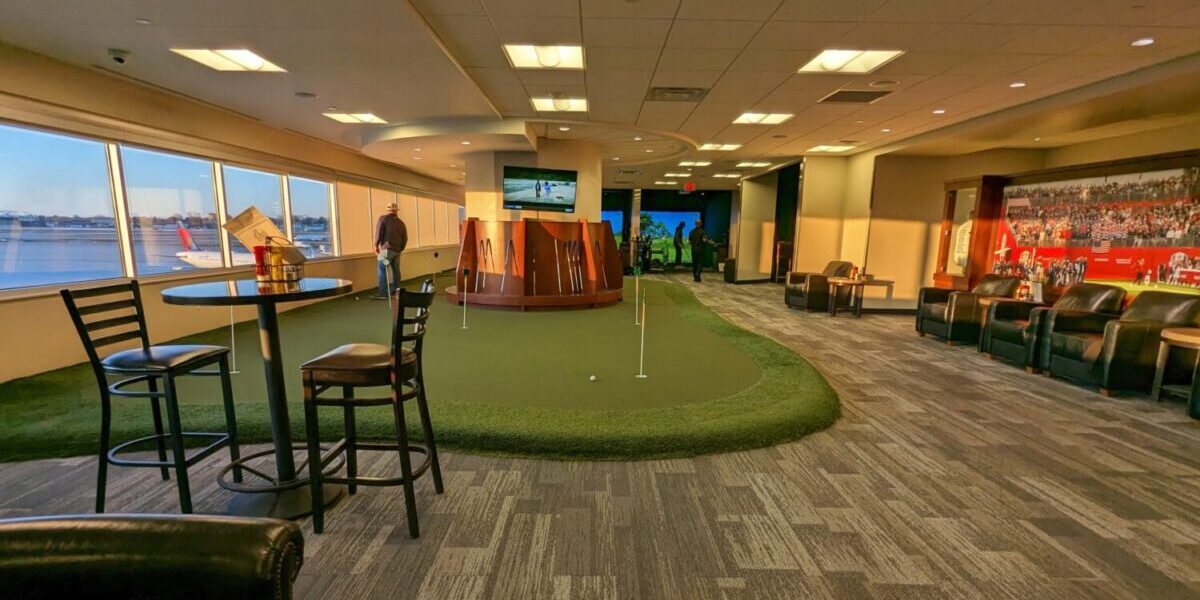 The wall of windows along the lounge allows for lots of natural light and a decent view of the tarmac –  mostly smaller domestic aircraft, although we did see one private jet on this visit. You can even can catch a glimpse of the Minneapolis skyline in the distance.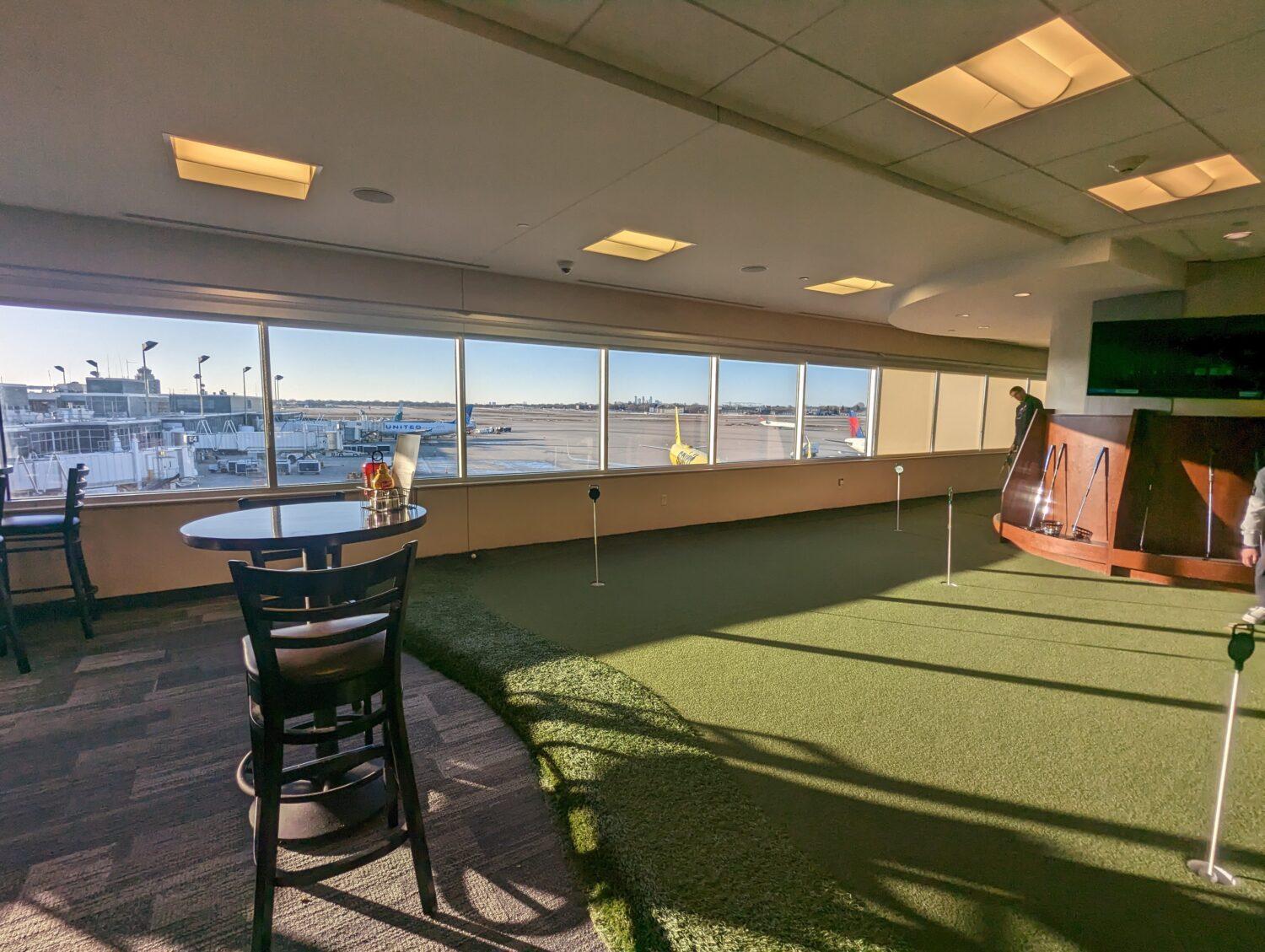 Continue past the putting green and you'll find four oversized lounge chairs tucked into a hallway by themselves along the windows. While this looked like a comfortable place to kick back, the chairs were a little saggy, and the outlets were inconveniently placed on the wall opposite the seating area.

In total, there are five golf simulators you can pay to reserve and use while spending your time in this lounge: two down the hallway right as you walk in and three more in the main lounge area. The sound of people hitting golf balls can be slightly unnerving in such a small space, but luckily they never seem to be that popular.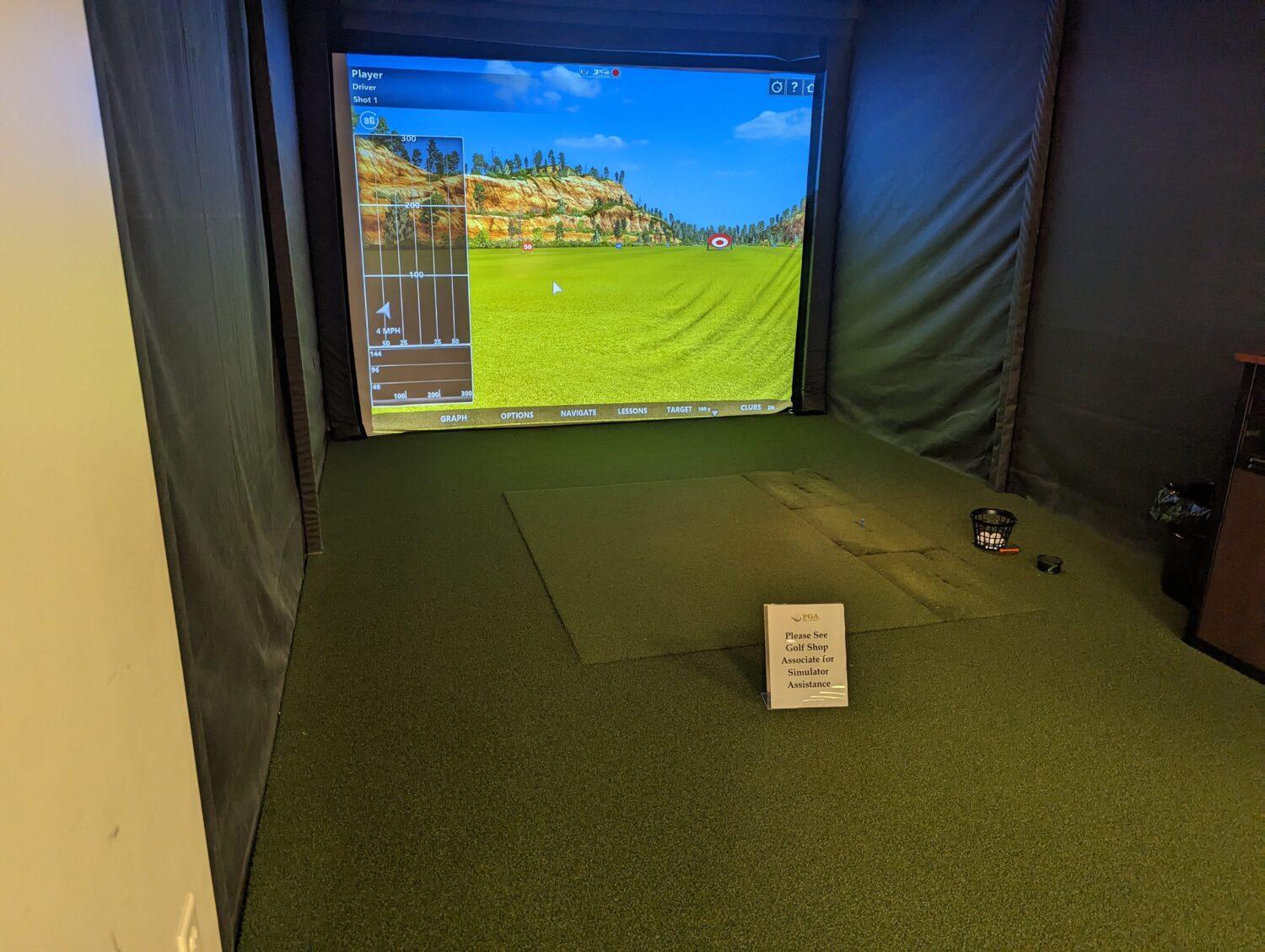 There's only one, single-stall restroom for the entire lounge. In my experience, this lounge is rarely busy, so it has never proved a problem. If you need it, there is a set of public restrooms close by, just outside the lounge through the Ike's Clubhouse restaurant.
The lone restroom is flanked by two changing rooms, each named for a pair of legendary professional golfers. Inside, they were sparse – just an empty room with a full-length mirror and a bench to put down your belongings.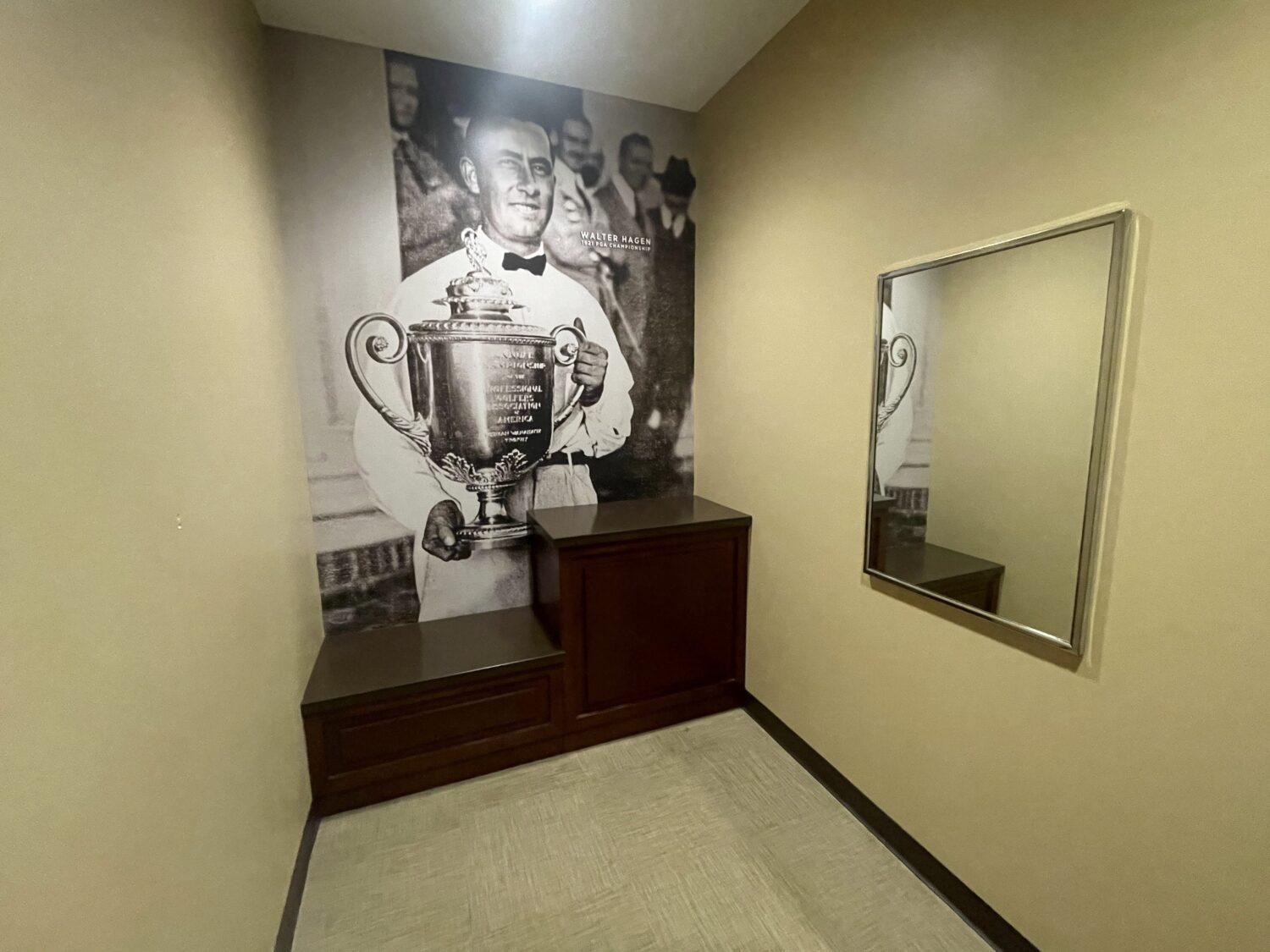 These weren't the best use of the space in my opinion, and a staff member told me they're pushing to turn them into something else, possibly private workspaces.
As far as decor goes … well, it's a PGA lounge. From display cases of memorabilia to trophy replicas to blown-up photographs wallpapered across the space, it's pretty much all golf, all the time, everywhere you look.

The PGA MSP Lounge bills itself as a great place for business travelers, but that's a stretch. Beyond the bar and the scattered high-top tables, there aren't many good workspaces. You'll be hard-pressed to find a private place to take a call or meeting, especially if anyone is golfing, as our flight deal analyst Peter recently found out the hard way.

Food & Drink
All food and drinks in the PGA MSP Lounge are ordered through the lounge staff and come from the adjoining restaurant, Ike's Clubhouse. Guests have access to the full food and drink menu and that $15 credit you get when checking in can be used towards all of it.

No matter where you're sitting, the staff services the entire lounge. Every worker was friendly and despite only seeing two servers for the entire space on a weekday night, service was always prompt. Glasses of water arrived at our high-top table within minutes of sitting down and the server repeatedly checked in throughout our visit to see if we needed anything else.
For food, you won't find much on the Ike's Clubhouse menu that will keep you under the $15 credit besides appetizers and sides.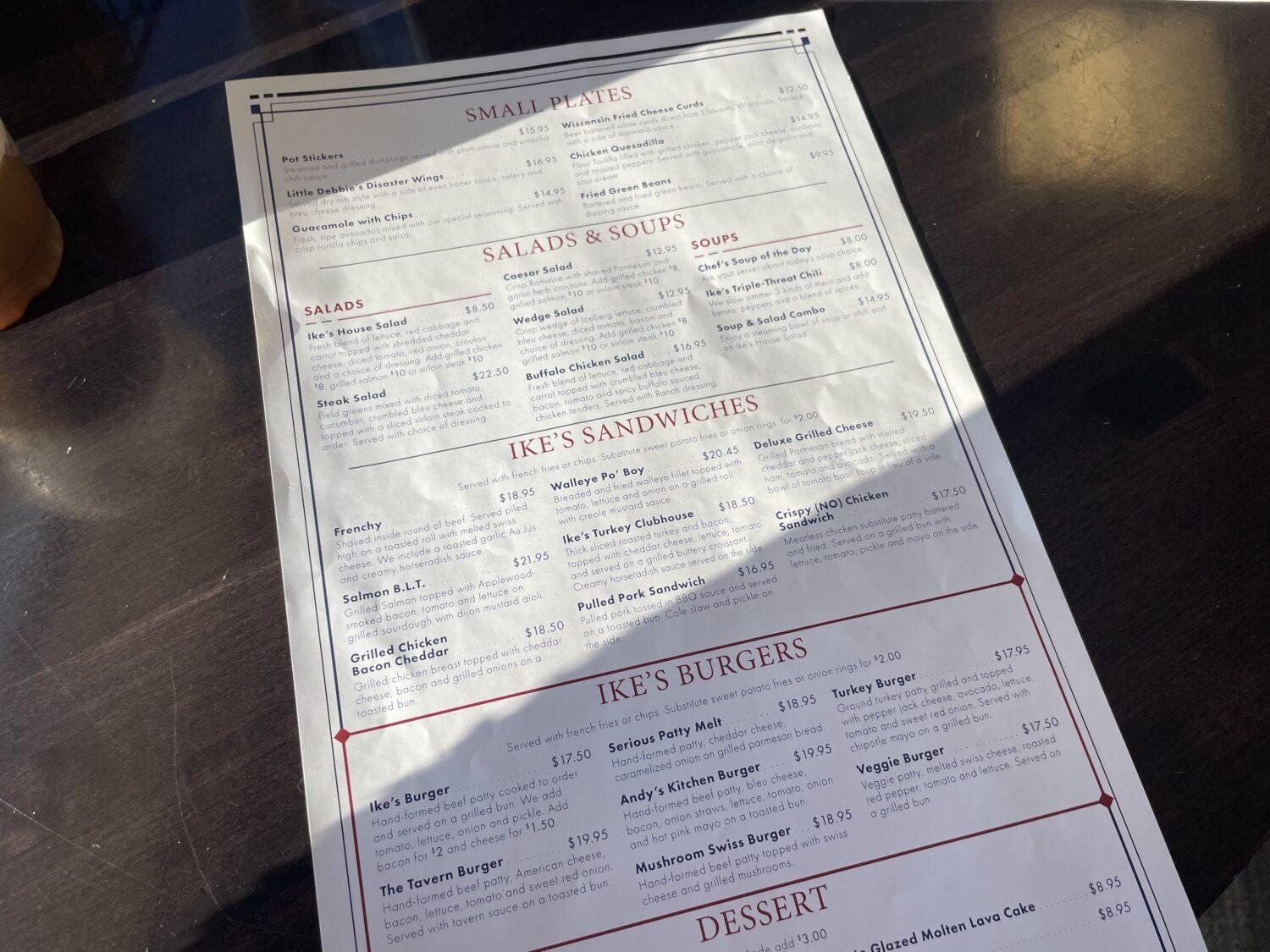 I can personally vouch for the chicken quesadillas, a hearty appetizer with a good scoop of both guacamole and pico de gallo that is more than enough to satisfy one person. A bowl of Ike's Triple Threat Chili for only $8 will also fill you up before your flight. The deluxe grilled cheese, made with crispy parmesan bread and served with a side of tomato soup in lieu of fries, is another solid option.
This time around, I opted for the turkey burger, which came with a side of fries. While it's nothing to write home about, it's on par, maybe even slightly better, than burgers I've had at many other airport restaurants.

The drink menu isn't extensive, but you'll find a variety of local Minnesota beers on tap from Summit to Surly to Liftbridge. Ike's also touts craft cocktails.
It's easy to redeem your $15 credit for food and drinks at the PGA MSP Lounge. Just be sure to give your voucher to the server before asking for the check to make things smoother. The credit is immediately applied to your bill. You'll be responsible for any remaining balance, plus a tip.
You also have the option to dine in the restaurant and use your credit there. Either way, you'll have to check in at the counter inside the golf shop in order to get your voucher.
If you're in a hurry, you can use your $15 credit to purchase grab-and-go items from the case located inside the restaurant. The selection included a variety of prepackaged salads, sandwiches, cereal, snacks, juices, and other beverages.

Bottom Line
Golf fans will find a lot to love about the PGA Lounge in Minneapolis, but even for the rest of us, it's still worth swinging in – even if just for the novelty of visiting a golf-themed lounge.
While it won't win awards as the world's best Priority Pass Lounge, it's a solid option to kill time before your flight. The $15 credit may not cover your whole dinner or lunch, but it'll save you some money on better food than the simple snacks you'll find in most airline lounges.
Plus, you can get some swings and even a little putting practice in. Where else can you get that inside an airport lounge?